Trail Report / Training Report Drawing
Submit a trail report and be entered into our weekly $50 store gift certificate drawing.


Standing Rocks, February 8, 2016 (Photo: Andrew Jennings)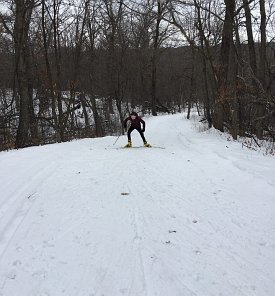 Murphy-Hanrehan, February 7, 2016 (Photo: Natalie Yarbrough)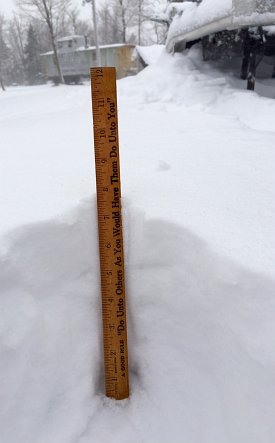 Fresh snow piling up on Sunday, Maplelag Resort, February 7, 2016 (Photo: Jay Richards)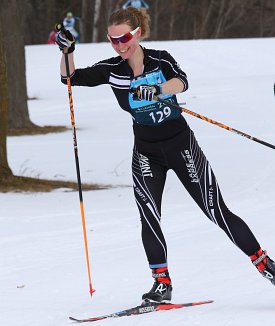 Alice Flanders, City of Lakes Loppet, February 7, 2016
Skinnyski FAQ
December 4, 2011
We've collected together a bunch of common questions to assembly our own FAQ for cross-country skiing in the Midwest and using the Skinnyski website.
Skinnyski Photos
February 5, 2009
Found a photo you'd like to get a copy of? Looking for images from a past event? Find out how to dig through our archives and help support the web site by purchasing photographs.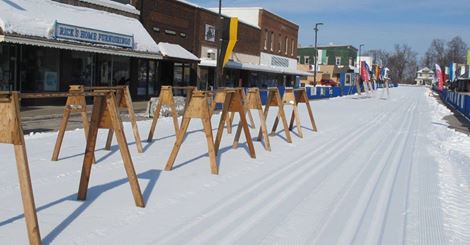 Vasaloppet to Start and Finish in downtown Mora
February 9, 2016
Vasaloppet organizers announced on Tuesday that their snow harversting and snowmaking operations will allow them to have the traditional finish on the streets of downtown Mora, as well as a unique start from that same location! The course will be a 10K loop that uses much of Nordic Center trails as well as part of Lake Mora, and of course, the Bell Tower climb. Online registration closes Friday afternoon!
Related:
Racing Outlook


DXC Snow Ball Gala this Sunday
February 8, 2016
Duluth is celebrating winter and the future of Nordic skiing in Duluth with a Snow Ball Gala event this Sunday, Feb 14th. Dinner, cocktails, craft beer, auctions and more -- limited tickets available!

Birkie To Host US Premiere of Birkebeinerne
February 8, 2016
The American Birkebeiner folks scored the US debut of the film 'Birkebeinerne', a dramatization of the historical events of the Birkebeiners and the rescuing of Prince Haakon! Limited number of tickets are on sale, the film will be shown Birkie weekend in Hayward!

Weekend Trail Reports
February 7, 2016
Warm weather, followed by a cool snap, will generate some icy trails until things can be groomed out -- be patient. Meanwhile, fresh snow for parts of Minnesota! New reports from Greenbush, Madeline Lake, Trade River, Coon Lake, Mother Bear

, Lake Bemidji SP, Anvil National, Rock Lake, Whitefish Dunes SP

, Highland 9-hole GC(2), Newman Springs, Jackson Meadow, Univ of Minnesota GC, Elm Creek(3)

, Lebanon Hills, Saint Mary's Univ, Theodore Wirth(4), Evergreen/Maywood, Norpine (Deeryard/Lutsen), Bally Creek, Zillmer(2), Pike Lake Unit, Balsam Branch, Afterglow Lake

, Levis/Trow Mound, Minocqua Winter, Amen Lake, Suomi Hills, Woodland, Banadad, Sleeping Giant Provincial, Hixon Forest, Fox Hill

, French Rapids, ABR, Maplelag

, Riverview Gardens, Essex, Vadnais/Sucker Lakes, Standing Rocks, Trinorse

, William O'Brien SP, North End, Flathorn-Gegoka, Plover River, Hormel Nature, Willow River SP, Hartley, Biskey Pond, Mt. Ashwabay, Nose Lake, Bagley Nature, Raven, Flambeau Hills

, After Hours, Mirror Lake SP, Hyland Lake, and recent reports from Mukwonago, Mt. Ashwabay

, Murphy-Hanrehan(2)

, Korkki

, Peninsula SP, Nine Mile Forest, Washburn Lake, Maplelag

, George Washington Pines, Cottage Grove Ravine, Jay Cooke SP(2)

, Reforestation Camp, Cleary Lake, Hickory Ridge, Noquemanon, Lester, Phalen GC, Fort Snelling SP

, Willow River SP, Three Eagle(2)

, Greenbush, Boyne Highlands, Camp Forest Springs, Swedetown, Escanaba , Pincushion Mtn, Sugarbush, Uller, Hyland Lake, French, Bunker Hills

, Afterglow Lake

.

Skinnyski.com High School Rankings - Final
February 7, 2016
It's already that time... The Minnesota high school Nordic season comes to an end on Thursday with the State Meet. So we took a hard look at the recent results and have published our final rankings of the season. Margie Freed and Zak Ketterson remain our top picks, but the contenders have been shuffled. The Wayzata boys take over the number one team ranking, while Robbinsdale-Armstrong girls survive a close call with Wayzata. Wednesday we'll publish our State Meet Preview!
Related:
Minnesota State Meet Coaches Information
Section 6: A Skier Goes Down, And A Helping Hand Appears


Minnesota State Meet Start Lists Posted

Wisconsin State Meet Results
February 7, 2016
The Wisconsin high school level racing season wrapped up this weekend in Cable with two days of racing to determine the state champions. Mack Fitzpatrick, Lakeland, took a sizeable lead after the classical races Saturday and held on to win the boys title with teammate Will Bodewes second, and Russell O'Brien, Madison, squeaking out third in a sprint finish with Michael Jarzin, Ashwaubenon. Abby Jarzin, Ashwaubenon, won the girls title, starting with a slim lead after classic over teammate Alissa Niggemann, Jarzin extended her margin in the skate pursuit on Sunday. Wausau's Olivia Dreger was third. Team titles went to the Lakeland boys and Ashwaubenon girls.
Related:


Wisconsin High School Nordic Championship Recap
City of Lakes Loppet Freestyle Coverage
February 7, 2016
Surviving a warm night, the City of Lakes Loppet course proved to be remarkably good conditions given temperatures in the upper 30s as over 700 skiers hit the trails Sunday morning for the City of Lakes Loppet freestyle races. In the 42K, Alex Vanias moved to the front of the race by midpoint and solo'd in for the victory, with yesterday's champ Chris Pappathopoulos, second, and Mark Johnson taking third. Alice Flanders dropped the hammer earlier and smoked the womens field, winning by over six minutes, with Natalja Naryshkina coming in second and Kim Rudd a close third. For the 21K Pouli race, the father and daughter duo of Mark and Ashley Herman took the titles. Results linked in, along with over 600 photos broken into six photosets.
North End Classic Results
February 7, 2016
Andy Elvester cruised to overall title in the 25K race at the North End Classic on Sunday morning in Cable. Julie Meyer was the fastest in the womens field. In the 12K event, Zach Nemeth and Rachel Elvester logged the best times.
Related:
Erik Judeen Results and Photos Posted
World Cup Holmenkollen: Womens 30K Classic
February 7, 2016
On Sunday, it was the womens turn at the Holmenkollen venue in Norway as they raced 30K classical with huge crowds on the course. Like the mens race on Saturday, the conditions were once again very warm and even foggier! Therese Johaug skied away with the victory, posting a winning margin of nearly four minutes. The US had a trio of top 25 finishers, with Sadie Bjornsen 22nd, Liz Stephen at 23rd, and Jessie Diggins 25th.
Related:
Results: Womens 30K classical


Fischer: Therese Johaug skies up and away at Holmenkollen
SuperTour: Annie Hart Wins Vermont SuperTour Skate
February 6, 2016
Minnesotan Annie Hart scored an impressive victory on Saturday morning, topping the womens 5K skate field in the SuperTour at Craftsbury, Vermont.
Pre-Birkie Results
February 6, 2016
With the Birkie just two weeks away, roughly 750 skiers turned out for the Pre-Birkie races Saturday in Hayward. In the big 42K freestyle, Duluth skiers Adam Swank and Annalisa Peterson posted victories, while the big distance classic titles went to Joseph Raebaey and Alyson Chapman. Jonathon Rulseh and Elaine Nelson won the original 26K freestyle race, with Hugh Duffy and Maria Huffy striding to the classic wins.
Related:
Moraloppet Results Posted
Snowjourn Results and Photos Posted
City of Lakes Loppet Classical Coverage
February 6, 2016
Nearly 400 skiers participated in the classical races Saturday morning for the City of Lakes Loppet. Racing from Wirth to Uptown, skiers found the course double-tracked for much of the way, with scattered thin/icy sections on an otherwise beautiful trail system. Chris Pappathopoulos outsprinted Nick Power for the mens title, with Kyle Bratrud bringing home third for a CXC sweep. Natalja Naryshkina topped the womens field with Bonnie Weiskopf Albrecht second and Josie Nelson charging in for third. The 20K titles went to Kevin Johnson and Emily Johnson. Results posted, along with nearly 500 photos.
Related:
Loppet Classical Recap
Worldloppet: American Birkebeiner Steps in to Host 5th Stage
February 6, 2016
With horrible snow conditions in Europe, the Worldloppet has announced that the American Birkebeiner race will step in to replace the Tartu Marathon (EST) as the 5th stage of the series. The Birkie was originally scheduled to take an "off-year" for this season.
Biathlon: Burke 7th in Canmore World Cup
February 6, 2016
American Tim Burke finished 7th Saturday at the IBU World Cup in Canmore, Alberta, Canada. Burke battled toe-to-toe with the big names in the sport and turned in a season-best result in the men's 15-kilometer mass start.
World Cup Holmenkollen: Mens 50K Classic
February 6, 2016
Racing at the famed Holmenkollen venue in Norway, the worlds best competed in the big marathon event of the season, the mens 50K classical Saturday morning. With temperatures near 40F, skiers not only battled tough waxing conditions, but a course shrouded in fog. Norway's Martin Johnsrud Sunby continued his domination of the distance events with teammate Niklas Dyrhaug second and Russian Maxim Vylegzhanin third. Noah Hoffman was the top American, finishing 24th. Sunday morning the women will race 30K, including the US squad and Minnesota's own Jessie Diggins (live coverage starts at 5:30 am).
Related:
Results: Mens 50K classical


Fischer: Martin Johnsrud Sundby celebrates his first Holmenkollen success
Wisconsin Nordic High School Championship Predictions 2016
February 4, 2016
Ken Schoville brings us up to speed with the favorites at the Wisconsin High School Nordic Championships, being held this weekend in Cable.
Loppet Volunteers Still Needed
February 4, 2016
The snow is here and the 2016 Loppet course is in great shape, but the Loppet is still looking for volunteers to pull off the big event -- Sunday volunteers are especially needed (and earn a cool hat in the process).
Hoigaards Winter Clearance
February 4, 2016
Hoigaards is ramping up their own winter clearance, with savings getting larger every few weeks, as inventory drops. Feb 5-19, save 25-35% off all winter goods.
New Moon: Pre-Birkie Madness
February 4, 2016
New Moon has a number of activities surrounding the Pre-Birkie, this weekend, and the build up to the main event in two weeks. Check out wax clinics, wax service and grinding, and the Birkie museum, in their latest newsletter.
Gear West: Loppet Waxing Notes
February 4, 2016
Want to race on the same wax as the five time City of Lakes Loppet champion Matt Liebsch? Keep up to date on what is gliding fast and kicking well on the Gear West Blog. The Gear West team will be testing kick and glide constantly this whole Loppet weekend to give you the best combination for the fastest skis on the course. They also offer race wax service for all the major marathons.
Related:
Gear West Premier Wax Service
Section 4 Coverage
February 4, 2016
An epic day of racing on the trails at Hyland for the Section 4 championships. For the individuals, comeback was the theme of the meet, as both Hanna Torvi, Roseville, and Jack Christianson, Mounds View, started off in third place for the skate pursuit, and reeled in the competition for the victories (matching their conference championships a week ago). The team competition was a nail biter, as the Stillwater girls took first with Forest Lake edging out Roseville by a single point for second. The boys battle was even closer, as the Forest Lake boys pulled off the victory over rival Stillwater after going to the tie-breaker -- an incredibly slim 4 second margin of victory. Results online now, posts coming later tonight.
Section 7 Coverage
February 4, 2016
Racing on the State Meet courses at Giants Ridge, Section 7 titles were decided Thursday. C-E-C's Anja Maijala used an impressive skate race to launch herself into the girls title, winning by over 30 seconds over Anna Johnson, Mesabi, with Erin Bianco, Ely, third. In the boys race, Sam Olson, Proctor/Hermantown, chased down Ely's Seth Prigge and finished just two seconds ahead, with Prigge's teammate Cole Helms in third. The Ely and Duluth East squads, both girls and boys, collected the top two team scores. Results linked in, plus great photos from Joe Bianco.
Section 2 Coverage
February 4, 2016
Section 2 championships were held on the snowmaking loop at Wirth on Thursday. The girls race featured a slate of upcoming stars as only one senior (no juniors) was in the top five. Edina sophmore Triana Willmert stood atop the podium, followed by a pair of freshman from Mpls Southwest, Kasia Bednarski and Lily Richmond. Edina girls won the team title in a tie breaker over Eden Prairie! Number one ranked Zak Ketterson bested the boys field by two minutes with Mpls Southwest William Kerker 2nd, and Kevin Jeter, Eden Prairie, 3rd. The Mpls Southwest and Eden Prairie boys proved to be the two dominated squads on the day. Results linked in, photos from the classic race coming this evening.

Adventure Center at the Loppet
February 4, 2016
This weekend, stop down at the Vendor Village at the City of Lakes Loppet to check out plans and hear the latest news on the major Adventure Center project at Wirth. Through a Loppet partnership with the Minneapolis Park Board, the Adventure Center building will be the hub of activity for year-round outdoor endurance-based activities in the Minneapolis area.
BNS Midwest and the City of Lakes Loppet
February 3, 2016
Boulder Nordic Sport in Bloomington is amped up for the City of Lakes Ski Festival and is posting regular waxing reports, prepping race skis, and will be at the Vendor Village this weekend.
Pepsi Challenge Races Set for Feb 27th
February 3, 2016
Pepsi Challenge is reporting great conditions for their big races at Giant Ridge, this year coming the weekend right after the Birkie.
Fitzharris: Skinny Ski Sale
February 3, 2016
Fitzharris Ski and Sport in St. Cloud is offering a special Skinny Ski sale with big discounts on Nordic products including Salomon Equipe 10 skis, Madshus Nanosonics, rec ski packages, Nordic clothing and more. Sale ends Feb 20th!
Section 5 Coverage
February 3, 2016
Skiing on the fresh snowfall from Tuesday, and under a brilliant blue sky, the Section 5 schools competed for State Meet advancement at Theodore Wirth today. Mora's Sadie Peterson dominated the girls race, taking a minute lead after classic in the morning and extending it nearly another 30 seconds during the freestyle for the girls title. Andover and Champlin Park girls were the top two teams, Champlin Park edging out Maple Grove by 4 points. As expected, Xavier Mansfield, St.Anthony/SLP, rocketed to a sizable margin of victory during the skate pursuit to post the boys top time. The Mora and Champlin Park boys earned their trip to State. Results linked in, photos from the skate pursuit races posted.
Racing Outlook
February 3, 2016
Everything looking pretty darn nice for the weekend! City of Lakes Loppet is full course! Pre-Birkie has moved their start (parking the same). Check out all the updates.
World Cup Drammen: Classic Sprints
February 3, 2016
A sunny and warm afternoon for classical sprints on the streets of Drammen, Norway Wednesday for the World Cup. The US women came out flying, as Jessie Diggins, Sophie Caldwell and Sadie Bjornsen all posted top 12 qualifying times. Unfortunately, the heats were a little tougher, as none of the women advanced. Simi Hamilton fared well for the US men, qualifying 12th and advancing to the semifinals before getting bumped out. Racing action continues this weekend at the famed Holmenkollen with marathon distance classic events!
Related:
Results: Classical Sprints
Finn Sisu: Enjoy the Snow Deals!
February 2, 2016
Finn Sisu is celebrating the new snowfall with deals on Yoko YXRs and Fischer Carbonlites, with free prep wax included. Plus 40% off Stoneham ski clothing. And check out their race wax service for the big February events.
Section 3 Coverage
February 2, 2016
Also racing Tuesday in the middle of a major winter storm, Section 3 titles were decided at Theodore Wirth Park. Erin Moening, Highland Park, took the early lead after the morning classic, but it was Rocky-like performance by East Ridge's Megan Schiferl (starting in 4th) to make up a 46 second deficit and power on to win by over 30 seconds! Minnehaha Academy dominated the boys race with Sam Meyers cruising to the boys title, followed by teammates Tyler Radke and Bennett Pope. The Highland Park and East Ridge girls along with the Minneahaha Academy and St. Paul Central boys earned the right to compete at State. Results online, along with snowy photos from the freestyle pursuit.
Section 1 Coverage
February 2, 2016
Section 1 skiers faced off at Hyland Lake on Tuesday, battling not only each other but a major winter storm as well. The girls classic race got in clean, but just as the boys lined up the storm broke over Bloomington, dropping significant snow for the remainder of the meet. Kelly Koch, Burnsville, strided to an early lead of nearly a minute in the classic race, but Margie Freed, Eastview, came on hard in the skate to make up the gap and then double it for the victory. Eastview girls won the title by just four points over Burnsville. Eagan's Patrick Action also used a strong skate performance to take the boys title, as his team took first, with the Burnsville boys collecting second. Results linked in, photos from the classic races posted.
Section 8 Coverage
February 2, 2016
Racing on the trails at Maplelag, the NW and central teams of Minnesota squared off in the Section 8 championships Tuesday. Kendal Hendrick collected the girls title and helped led the way for her team as Little Falls placed five skiers in the top 7 for the team title. St. Cloud Cathdral-Sartell was second, besting Bemidji by 4 points. Hunter Zupko, Little Falls and Robb Pike, Brainerd, had another tight match with Zupko holding Pike by 5 seconds for the boys title. The Brainerd and Bemidji boys both advanced to State. Results linked in, plus a number of photos from Jay Richards.
Out There: Birkie Wax Service Filling Fast
February 2, 2016
Out There's Birkie wax service only has roughly a dozen spots left open for their premiere wax service.
DXC: Birkie Bus
February 2, 2016
Live in or near Duluth, and want to avoid the lodging and transportation hassles of the Birkie? The Duluth XC Club (DXC) is offering coach bus transportation to and from the Birkie on Saturday, Feb 20th. There are a limit number of seats available, reserve yours today.
Gear West: Fast Twitch Meets Slow Twitch, Thursday Morning Ski
January 13, 2016
Come out this Thursday morning to Wirth to ski with Jennie Bender (fast twitch) and Jan Guenther (slow twitch)! Fun ski and coffee shop stop afterwards.