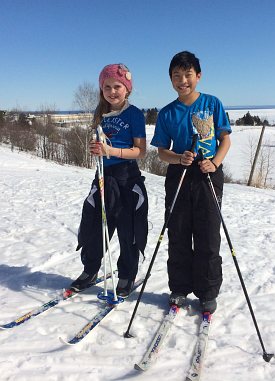 Marshall School kids enjoy a tshirt skiing day, March 10, 2014 (Photo: Dave Johnson)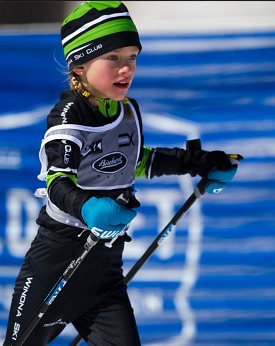 Midwest Junior Championships, March 9, 2014 (Photo: Steve Kotvis)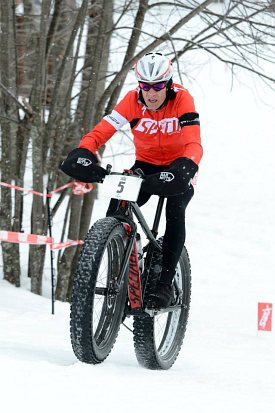 Ned Overend, Fat Bike Birkie, March 8, 2014 (Photo: Kelly Randolph)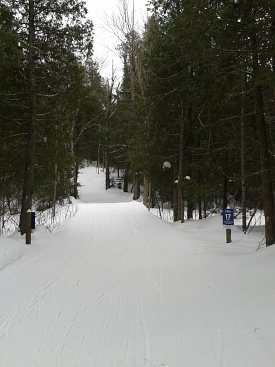 Noquemanon trail, March 9, 2014 (Photo: Sue Schroeder)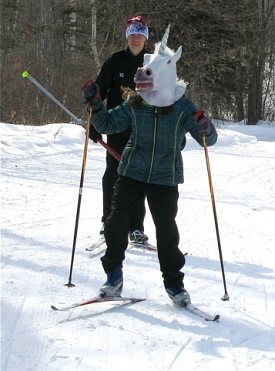 Black Lake Loppet, March 9, 2014 (Photo: David Harrington)
Battle Creek Snowmaking Funding
February 27, 2014
Endurance United is helping to lead the push for support on a state bonding bill that would provide funding to help expand the snowmaking operations at Battle Creek in St. Paul. Weigh in with your support now!

Junior Nationals Preview
February 26, 2014
Hard to believe, but Junior Nationals competition starts up next Monday at the Trappe Family Lodge in Stowe, VT. We've got a breakdown on the events and a look at the 2014 Midwest Junior National squad. Check back for on-site coverage all next week!
Skinnyski FAQ
December 4, 2011
We've collected together a bunch of common questions to assembly our own FAQ for cross-country skiing in the Midwest and using the Skinnyski website.
Skinnyski Photos
February 5, 2009
Found a photo you'd like to get a copy of? Looking for images from a past event? Find out how to dig through our archives and help support the web site by purchasing photographs.

Fat Bike Birkie Recap
March 10, 2014
Saturday's Fat Bike Birkie brought more than 500 riders to the Birkie trail, making it the largest Fat Bike race to date. World mountain bike champion and Mountain Bike Hall of Fame member Ned Overend took the victory and claimed the first U.S. National Fat Bike Championship. View results, photos and video.
Related:
Balsam Basher Fat Bike Race at Korkki Nordic Saturday, March 15th

Midwest Junior Championships Coverage
March 10, 2014
Allie Rykken reports: An incredibly pleasant and sunny weekend for the Midwest Junior Championships which featured age-class races in both classic and skate, as well as mixed team relays, sprint relays, an advanced skicross course that will set new standards in the midwest skicross history, and wrapped up with the skiball tournament. High level competition, a fun atmosphere, incredible volunteers, and the smiles coming off of over a 150 Midwest Juniors ages 15 and under made this weekend a hit.


Madshus Celebrates Caitlin Gregg's Birkie Victory
March 9, 2014
Madshus celebrates Caitlin Gregg's 2014 American Birkebeiner victory and looks at the gear that helped bring her down the trail this season.
Related:


Madshus Product Lineup

Weekend Trail Reports
March 9, 2014
Warm days and cold nights are generating a few icy trails, but still plenty of good skiing to be found across the region. New reports from Elm Creek

, Rock Lake, Reforestation Camp(2), Nine Mile County Forest, Hidden Valley, William O'Brien SP

, Chomonix GC, Hawk Ridge Snowmobile

, Bagley Nature, Mississippi River County, Maplelag

, Theodore Wirth(2)

, Minocqua Winter(2), Madeline Lake, Highland 9-hole GC, Hiawatha GC

, Lebanon Hills

, Soaring Eagle, Bridgewood, Lone Rock

, and recent reports from Battle Creek West, Blue Hills, Underdown

, Lester, Grand View Lodge - The Pines, French, Birkie, Craftsbury, Nordic, Zillmer(2)

, Lakewood XC

, Elm Creek, Sugar Hills, Noquemanon

, Hickory Ridge, Brown Deer, Baker, Raven, Cottage Grove Ravine, Miljes, Willow River SP

, Spring Lake, Theodore Wirth(2), Fox Hill, Hiawatha GC, Minocqua Winter.

Great Bear Chase Results
March 9, 2014
A field of roughly 500 skiers took to the Swedetown trails in the UP Saturday for the annual Great Bear Chase races. In the 50K skate, Jan Myrda and Erica O'Hearn posted the top times. Victories in the 50K classical went to Ben Cogger and Malin Eriksson. The 25K skate titles were won by Darrell Morse and Elizabeth Slaby, with 25K classical winners Allen Limberg and Mary Kozloski.
Related:
Black Loppet Loppet Coverage
Springloppet Coverage

US Ski Team: Randall 12th in Oslo 30k
March 9, 2014
World Cup sprint champion Kikkan Randall put forth a solid race effort Sunday, earning a career-best 12th in the 30k classic World Cup at Holmenkollen. Sadie Bjornsen also posted a career-best 30k result in 14th. Norwegian Marit Bjoergen sped to victory with an astounding one minute, 41-second lead over second-place finisher Therese Johaug of Norway.
Related:


Biathlon: Burke 7th in Mass Start in Slovenia
NCAA: Olex, Frankowski Take Second; Six All-Americans
March 8, 2014
Second-place finishes for both Alaska's Max Olex and Northern Michigan's Rosie Frankowski in the mass start freestyle races wrapped up a banner week for the CCSA at the NCAA Championships at Soldier Hollow Resort in Utah. In addition to the pair of silver medals, the region's skiers also collected six more All-American places to bring its total to 11 for the championships.
Related:
NCAA Championships Results
Pepsi Challenge Coverage
March 8, 2014
Over 300 skiers turned out Saturday morning for the Pepsi Challenge races at Giants Ridge. In the 48K freestyle race, Adam Swank and Elaine Nelson took top honors. The 48K classic titles went to John Wessling and Josie Nelson. The 24K skate races were won by Reed Melicher and Ashley Herman, with 24K classic crowns for Christian Kvalseth and Ingrid Thyr. Results linked in, along with over 200 photos.
Related:
Buena Vista Snowjourn Results
Pole Pedal Pant Coverage
Junior Nationals: Relays Coverage
March 8, 2014
Junior Nationals in Stowe, VT, wrapped up on Saturday with the 3X3K freestyle relay events. The Midwest team finished the week strong, especially in the U18 division where the girls collected 2nd and 3rd and the boys 3rd and 6th. The U20 gals also snagged a podium spot with Kris Bourne anchoring the victory by a boot throw. Tom Bye nearly pulled his U20 team onto the podium as well, finishing 4th by less than a second. Other top results: U16 girls nail down 5th, boys 9th and Nicole Schneider racing up with the U20s helped secure an excellent 5th showing. Results linked in, video recaps of most of the races, and a few post-race photos added.

US Ski Team: Hoffman Leads USA in Olso 50k
March 8, 2014
Noah Hoffman muscled through the Holmenkollen 50k classic World Cup race Saturday to earn the top result for the USA in 29th. Daniel Richardsson of Sweden skied to the victory with Martin Johnsrud Sundby of Norway in second and Alexander Legkov of Russia third.
Related:
Biathlon:10th Place for Bailey in Pokljuka Pursuit
Summer Training Groups
March 7, 2014
The summer training group information is rolling out, here are a couple of the latest...
Vakava - Finn Sisu's adult sessions begin in May, junior training fires up in June.
Lake Superior Ski Club - James Kyes leads the way for the Duluth area junior training programs.
Junior Nationals: Freestyle Coverage
March 7, 2014
Friday's mass start freestyle races in Stowe for the 2014 Junior Nationals showed some great Midwest team results. Tom Bye skied up from 11th position to snag the 3rd U20 finish and the 2nd American in the 15k. Matt Nichols and Jan Ketterson finished 5th and 7th. Kris Bourne finished 4th in the girls U20 10k with teammates Nora Gilbertson, Sonja Hedblom and Maria Hauer claiming 7th, 8th and 9th. Ian Torchia represented the Midwest on the podium with 3rd in the boys U18 10k skate. Zak Ketterson claimed 7th. Midwest U18 women were dominant in the 10k skate, with Vivian Hett claiming 3rd place, and teammates Caroline Brisbois finishing 5th, Rocci Wohlk 6th, Alayna Sonnesyn 7th, and Mattie Watts 9th. Wrapping up the U16 classes, Anders Sonnesyn had the best Midwest boys 5k time in 15th place while Erin Moening finished 9th for the girls. Results linked in, along with big photosets from all the races.
Fitzharris Year End Closeout Sale
March 6, 2014
Fitzharris in St. Cloud is offering some big discounts as they close out their winter include. Deals like Madshus skate skis, new, for $250, and more.
Hoigaards Winter Blowout Gets Bigger
March 6, 2014
Hoigaards Winter Clearance Sale reaches new highs starting Friday, March 7th, as discounts grow to 50%! As always, shop early for best selection.
Bearskin March Specials
March 6, 2014
Bearskin is offering a couple good March specials: a variety of 3 nights for the price of 2 options and a mushing/skiing/dining offering for next weekend only.
Endurance United Junior Information Sessions
March 6, 2014
Endurance United will be hosting several information sessions this month, celebrating the success of the junior program for this winter, as well as looking forward to training sessions this summer. All interested juniors (and parents) are welcome!
NCAA Championships Classical Coverage
March 6, 2014
NCAA Championships featured classical technique races on Thursday at Soldier Hollow in Utah. Midwest posted some strong results, with Nichole Bathe finishing 4th and Rosie Frankowski 6th! Kyle Bratrud posted a strong result in 5th. Other top results: Mary Kate Cirelli 10th, Anne Hart 11th, and Paige Schember 15th; Adam Martin 13th. Results linked in, along with a full video replay.
Related:
NCAA: Bathe, Bratrud Lead CCSA as Region Collects Five All-American Spots at NCAAs
Junior Nationals: Freestyle Start List Posted
March 6, 2014
Friday's race at Junior Nationals is the last individual award event, a mass start freestyle race on the Trapp Family Lodge trails. It will feature the same course as the classical race on Monday. Start list reflects the ordering for the chevron mass start.
Cities Cup Banquet March 23rd
March 6, 2014
The Cities Cup Banquet, celebrating the winners of the Fast Wax Cities Cup as well as honoring MN Nordic Ski Association's Lifetime Achievement Award winners, will be held Sunday, March 23rd at the Theodore Wirth Chalet. Tickets can be purchased online.
Continental Demos for Tour Duluth
March 5, 2014
Continental is offering free demo skis in support of the Tour Duluth event this Saturday. Stop down and checkout a pair of new Rossis to test drive.
Gear West Grinding
March 5, 2014
Gear West is offering a stonegrind special of $44.95 through the end of March. A new grind will open up your bases which may have been sealed with all that green wax and any overheating. Get your ski bases ready for next season. Plus, a hot box wax application is included.
Junior Nationals: Classical Sprint Coverage
March 5, 2014
It was an outstanding morning for Midwest athletes at Junior Nationals in Stowe as classic sprint qualifying heats wrapped up. The top 30 athletes from each age division advanced to afternoon quarterfinals and included a large contingent of Midwest team athletes (over 30 skiers). Noteworthy morning results: Zak Ketterson: 5th fastest MU18 qualifier, Luke Brown: 9th best MU20 time, Amanda Kautzer: 5th fastest FU16 qualifier, and Mattie Watts: top FU18 qualifying time of the morning. Skiing through quarterfinals and semis brought a select group to the top of the heap, including Amanda Kautzer 1st overall for FU16 girls, Zak Ketterson 5th overall MU18, and Kris Bourne 5th overall FU20. Mattie Watts and Vivian Hett went 2-3 in the FU18 final with Sarah Bezdicek bringing home another 5th place for the Midwest Team. Results linked in, along with big photosets of the Midwest skiers and video recaps of all the A finals.
US Ski Team: Randall Clinches Third Straight Title
March 5, 2014
Kikkan Randall clinched her third straight FIS World Cup sprint title Wednesday, finishing seventh in a classic sprint in Drammen. Randall missed out on a finals spot by a mere boot length in the semi-finals. Norway swept the wins in the city sprint with Ola Vigen Hattestad winning for men and Maiken Caspersen Falla for women.
Local Stars
March 4, 2014
17 Days of Dreams - Brian Gregg recaps this whole Olympic experience.
Good Old Days - A look back to another very warm Olympic 50K race.
Unbelievable Loomis - Ben Loomis, younger brother of Adam Loomis, dominates Junior Nationals competition for jumping/Nordic combined.
Caitlin's Birkie - FasterSkier interviews Caitlin Gregg on her Birkie victory.
Joes Final Winter Blowout Sale
March 4, 2014
Joe's Final Winter Blowout Sale is this weekend on March 8-9th. Shop everything from skis, boots, bindings and accessories - early bird gets the worm! Plus coupon sale deals.
Tour Duluth this Saturday
March 3, 2014
Duluth's annual celebration of Nordic skiing is the Tour Duluth, scheduled for this Saturday, March 8th. Follow the suggested ski tour plan, or ski your own schedule, then meet up at Hartley Saturday evening for post-ski celebration (food, beer and music).
Birkie Gift Bag Expiration Approaching
March 3, 2014
The virtual Birkie Gift Bag offer expires this weekend, on March 8th. Still some post-race deals to be had.
Ski Hut Demos Weekend
March 3, 2014
Ski Hut will be offering Nordic equipment demos this weekend at Snowflake (Tour Duluth) and Giants Ridge (Pepsi Challenge). Come out and drive test some of the latest skis!
Junior Nationals: Classical Coverage
March 3, 2014
Junior Nationals in Stowe, VT, began the competition with individual start classical races Monday. The Midwest had a banner day, posting some of the best results in years as a team. Leading the way, Zak Ketterson and Ian Torchia took 2nd and 3rd respectively in the boys J1 race and Vivian Hett was second in the J1 girls by less than 3 seconds! The J1 girls posted 6 in the top 14 and the J2 girls had 5 in the top 12. Other top results: Matt Nichols 7th OJ, Sam Elfstrom 8th OJ, Jan Ketterson 11th OJ, Tom Bye 13th OJ; Nick Gardner 10th J1, Leo Hipp 11th J1; Nora Gilbertson 8th OJ girls, Kris Bourne 10th OJ girls; Rocci Wohlk 6th J1, Mattie Watts 7th J1, Anna French 11th J1, Alayna Sonnesyn 12th J1, Allison Ternes 14th J1; Amanda Kautzer 5th J2, Hannah Rudd 6th J2, Claire Benton 9th J2, Anna Johnson 11th J2, Erin Moening 12th J2. Results linked in, full photosets posted.
Pioneer Midwest Progressive Sale Week 3
March 2, 2014
Pioneer Midwest's Annual Progressive Sale is now in its final two weeks with storewide savings up to 50%! They still have a good selection so be sure to stop in soon.
Biathlon: Back to Back Gold for Doherty
March 2, 2014
Sean Doherty won his second gold medal of the 2014 IBU Junior World Championships on Sunday in the youth men's 10-kilometer pursuit. Posting a time of 28:51.8/+3, Doherty finished 1:03.6 minutes ahead of Marco Gross (GER) in second (29:55.4/+3) with Dmitrii Shamaev (RUS) third (30:54.5/+4).
Minnesota Pursuit Championships Coverage
March 2, 2014
Denny Green reports: 92 racers braved the cold for a record number of skiers in the Minnesota State Pursuit Championships Sunday afternoon. Jon Miller pulled double duty by skiing the 10K pursuit as well as the first leg of the relay for Joe's Ski Shop, and was able to win the individual title as well as help Joe's Ski Shop take home the Shop Trophy for the first time. Bonnie Weiskopf-Albrecht had a solid day finishing in the top 10 overall while taking the female title. Henry Hall and Kasia Bednarski took home the U13 5K Pursuit titles as 11 U13 skiers took to the Back 40 Loop at Wirth in the second year of this portion of the Championships. Results and videos linked in.
US Ski Team: Randall Leads USA in Lahti 10k
March 2, 2014
Kikkan Randall took the top spot for the USA Sunday with 21st in the 10k freestyle World Cup race, the final event of the Lahti Ski Games. Randall came off her Lahti sprint victory to finish 1:36 back from race-winner Marit Bjoergen of Norway. Noah Hoffman led the U.S. with 24th in the men's 15k race, where Norway's Martin Johnsrud Sundby took the win.
Sleeping Giant Loppet Results
March 1, 2014
Delayed and slightly shortened, skiers still turned out in good numbers for the Sleeping Giant Loppet races in Thunder Bay Saturday. In the 40K freestyle, Chris Hamilton and Daphne Haggarty took the titles. The 40K classical victories were earned by Matt Lee and Kayla Billett. In the 20K, Scott Hill and Jennifer Jackson were champions.
Related:
River View Loppet Results
Loppet Nordic Racing Juniors Open House
March 1, 2014
Loppet Nordic Racing will host an open house event March 3rd and 4th at Wirth Park. Juniors looking at their summer training options are encourage to come out and "test drive" Loppet Nordic and meet with coach Piotr Bednarski.
Nordic Legend Ed Harjala Passes Away
March 1, 2014
Peter Vorhes writes about the passing of one of the Midwest Nordic legends, Ed Harjala. Harjala passed away on Friday in Copper City, MI, just a week shy of his 92nd birthday. Visitation March 4rh, Memorial Service on March 5th.
Related:
Ed Harjala Visitation and Memorial Service Details
Squirrel Hill Pursuit Results
March 1, 2014
Racing under some crisp temperatures, the Squirrel Hill Pursuit featured a continuous pursuit format over the scenic trails at Minocqua Winter Park on Saturday morning. Chris Pappathopoulos pulled away in the freestyle portion to sail in the for the mens victory. Paulette Niemi dominated the womens division.
US Ski Team: Randall-Caldwell Land Double Podium
March 1, 2014
Two-time World Cup champion Kikkan Randall made a statement Saturday with rookie teammate Sophie Caldwell as the two took first and third at the Lahti World Cup sprints, the first-ever double podium for U.S. women. It was a career-first podium for Caldwell, as well as the first time a woman other than Randall has landed on an individual World Cup podium in the modern era.
Pepsi Challenge Planning for Warmer Weather Ahead
February 28, 2014
Pepsi Challenge is looking forward to warmer weather along with great trail conditions for the races next weekend. Online registration will be open through Wednesday, March 5th and on-site through Friday.
MTB Legend Ned Overend to Ride Fat Bike Birkie
February 28, 2014
Mountain biking legend Ned Overend is just one of the stars playing to ride the second annual Fat Bike Birkie next weekend in Hayward. Only a few openings are left in the event, this year branded the National Championship for Fat Biking.
Related:
Bookkeeping/Accountant Position Opening at Birkie Foundation
Gear West XC Ski Clothing Deals
February 28, 2014
Gear West is offering 40% off cross country clothing, including beautiful sweaters and outerwear at Gear West Adrenaline and Casual. Sale through the end of March. Brands like Swix, Craft, Brooks, Pearl Izumi, Arc'teryx, Lole, Smartwool, Patagonia, Bogner, Eider, Nau, Orage.
Biathlon: Gold for Doherty in Junior World Championships
February 28, 2014
Fresh off his Olympic debut in Sochi last week, Sean Doherty won the youth men's 7.5-kilometer sprint Friday at the IBU Junior World Championships. Doherty posted a time of 19:35.0 with four penalties to finish 1.7 seconds ahead of Marco Gross (GER) in second with a time of 19:36.7/+2. Dmitrii Shamaev (RUS) was third (19:53.9/+3).
Midwest Mountaineering March Newsletter
February 27, 2014
Midwest Mountaineering's latest shop talk includes 50% coupon items, discount on spring break shorts!, other specials, the Gear Board (in shop), and a breakdown on their March events.
Out There Fling Into Spring Sale
February 27, 2014
Out There shop is making ready for warmer weather with the Fling into Spring sale, starting this Saturday, March 1st. Big discounts on skiing equipment, rollerskis and even a binding special.
Bike Dr Weekly Newsletter
February 27, 2014
The Bike Doctor's latest newsletter highlights a post-Birkie Blast, big discounts on skis, clothing and more, the upcoming Bike Swap, shelter fundraising for McMiller, and thanks out to the staff.
Local Stars
February 25, 2014
Birkie, Birkie, Birkie - Caitlin Gregg, 2014 champ blogs on her Birkie experience.
The Sweater - Check out this feature on Caitlin's cool Birkie sweater.
First Oly - Brian Gregg writes about his first Olympic race.
Closing - Jessie Diggins report on the final 30K race and closing ceremonies. And read her post on the Olympic park.
Salty - Get the background on salting the snow at the Olympics.
Polar Torx - Neat visual feature on January's big cold snap.