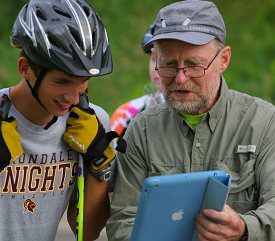 Reviewing video, Vakava Juniors, July 24, 2013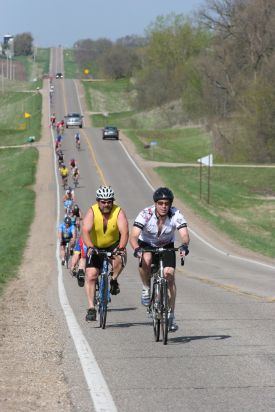 Ironman Bike Ride, April 29, 2007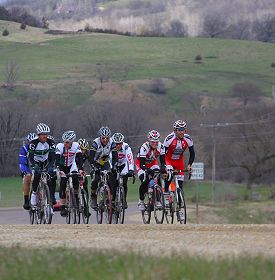 Ken Woods Road Race, April 23, 2011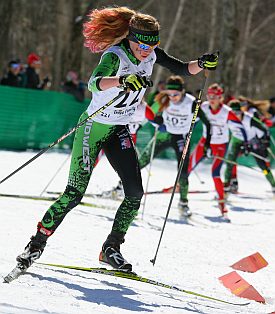 Caroline Brisbois leading the chase for U18 girls, Junior Nationals freestyle, March 7, 2014
Skinnyski FAQ
December 4, 2011
We've collected together a bunch of common questions to assembly our own FAQ for cross-country skiing in the Midwest and using the Skinnyski website.
Skinnyski Photos
February 5, 2009
Found a photo you'd like to get a copy of? Looking for images from a past event? Find out how to dig through our archives and help support the web site by purchasing photographs.

Big Expo/Swap Weekend
April 24, 2014
The Twin Cities will hopping this weekend with three major events going on...
Outdoor Adventure Expo - Midwest Mountaineering hosts three days of presentations, exhibits and big sales.
Bike and Boat Swap/Sale - Hoigaards will have hundreds of new bikes and boats on sale, as well as a huge swap. And visit with Olympians Caitlin and Brian Gregg on Friday evening.
Spring Training Expo - Finn Sisu has their own expo, with a variety of training groups in shop Saturday to answer all your questions.
And up in Duluth...
Bike Swap - Continental has a two day bike swap and festivities.

Weekend Events
April 23, 2014
Final weekend in April already!
Apr 26 Ken Woods Road Race - Great country roads with a couple of good climbs in this spring tradition bike race.
Apr 26 Chippewa 50K - Ultramarathon and 10K trail runs on the Ice Age trail system.
Apr 26 Falls Duathlon - Run and bike duathlon based out of scenic Cannon Falls, MN.
Apr 27 Minnesota Ironman - The annual spring bike classic, now in their second year based out of Washington County.
Apr 27 Strada Fango Spring Classic - 100K loop touring the dirt roads just east of Rice Lake.

CXC Midwest Competition Committee Spring Meeting Minutes
April 23, 2014
The CXC/Midwest Competition Committee held their open spring meeting last weekend in Eau Claire. A strong turnout provided some great dialog and generated a number of action items, including changes in U16 scoring/selection and trip leader, election of the 2015 head coach, policies revisions, and much more.
Continental Bike Swap This Weekend
April 22, 2014
Continental's annual Bike Swap is this weekend, April 26-27th, in Duluth. New this year, they will be closing First Street down for vendors, food/drink, cycletrack, and more!
Mpls Rowing Club: Learn to Row
April 22, 2014
Junior athletes interested in rowing, the Minneapolis Rowing Club is offering an introductory sessions this spring. There will be an open house on May 3rd for more information, with multiple sessions available in May.
Olympic Heroes
April 21, 2014
Olympian Sophie Caldwell touches the life of a 2nd grader from Minnesota in a memorable exchange that exemplifies the warm personalities that make up our Nordic world.

Midwest Mountaineering Spring Outdoor Adventure Expo This Weekend
April 21, 2014
Midwest Mountaineering's annual Spring Outdoor Adventure Expo is this weekend, April 25th-27th. Special event coupons are featured in their latest newsletter, along with links for more expo details and special sale pricing.
Local Stars
April 21, 2014
Vasaboard - Mark Byrnes rolls out a new invention - a long board designed for double pole workouts.
Jumper - Skydiving is one of Jessie Diggins latest adventures.
Alaska and Home - Brian Gregg highlights their recent trip to Alaska and finally come back home to the Twin Cities.
Team Gregg at Hoigaards Sale and Swap Friday
April 21, 2014
Olympic XC skiers Brian and Caitlin Gregg will be at Hoigaard's on Friday April 25th for a meet and greet as part of Hoigaard's Annual Bike & Boat Sale & Swap! Come out and chat with the Greggs and check out the big sale and swap.
Weekend Trail Reports
April 20, 2014
While the temperatures have been very spring like, there is still some skiing going on up north. New reports from Lac La Belle backcountry

, and recent reports from Lac La Belle backcountry

, Birkie, Piedmont

, Snowflake, Spirit Mtn

.
Lindsey Dehlin NMU Sports Hall of Fame Inductee
April 19, 2014
Lindsey (Weier) Dehlin will be inducted into the Northern Michigan University Sports Hall of Fame Saturday, April 26, in the Great Lakes Room of the University Center. Dehlin was a National Champion, a five-time All-American and a two-time member of the U.S. Olympic Team in Nordic skiing. She also earned four letters competing in cross country.
Hoigaard's Bike and Boat Swap Entries
April 18, 2014
Now in it's 5th year, the Hoigaard's Bike and Boat Swap will feature a variety of used bike, canoes and kayaks of all types on sale April 25-27th. Submit your used equipment before April 24th to be included.
Finn Sisu: Summer Training Expo and Salomon Demo Days
April 17, 2014
Finn Sisu will be hosting a Summer Training Expo next Saturday, April 26th, with local training groups presenting their programs at the shop. Confirmed participants include WAMXC, Loppet Nordic Racing, Endurance United, and the Rice Street Boat Club. And a Salomon demo day is set for Wednesday evening, April 23rd.
CXC Midwest Competition Committee Meeting Saturday
April 17, 2014
The CXC Midwest Competition Committee will be holding their annual spring meeting this Saturday, April 19th, in Eau Claire. Topics on the agenda include draft JNQ schedule, timing, review of last season, and election of a new head coach. The meeting is open to all.
Welcome Home Celebration for Diggins
April 16, 2014
There will be a "welcome home" for Jessie Diggins on Wednesday evening, April 30th at the Lake Elmo Nordic Center. Come out and celebrate another great season, hear a recap of her Olympic year, and pick up an autographed poster.
Soldier Hollow Seeking Executive Director Candidates
April 16, 2014
The Soldier Hollow Legacy Foundation is seeking candidates for taking the helm of the executive director. Soldier Hollow was the site of the 2002 Winter Olympic XC ski competition, and continues to offer a world class venue. Application deadline is May 15th.
Team Gregg Goes Arctic with NanaNordic
April 15, 2014
Team Gregg (Caitlin and Brian) recap their recent trip north of the Arctic circle to the village of Kotzebue, where they shared their love of Nordic skiing as part of the NanaNordic program. Lots of photos!
Mt. Borah Epic Prepares for a Big Year Two
April 15, 2014
The second annual Epic is being held Saturday, May 31st. The 30 mile point-to-point race through the singletrack of the CAMBA trail system will feature an expanded race field of 500 this year. And perhaps best of all, the profits benefit the CAMBA trail system.
Related:
Minnesota High School Cycling League Spring Informational Meeting Schedule
Tuesday Night Worlds Coverage
April 15, 2014
The Minnesota criterium scene started up under some brisk conditions at the State Fairgrounds for the Tuesday Night Worlds competition. Temperatures in the mid 30s were tapered by clean streets and light winds. Photos from the womens and mens 1/2/3 races.
Related:
Photoset:

Womens Race - 50 photos,

Mens 1/2/3 Race - 59 photos
Photoset:

Top Picks (high res)
Local Stars
April 14, 2014
30 Days of Skiing - When not busy running Maplelag Resort operations or out grooming the trails, Jay Richards enjoys his skiing - including 30 days straight in March!
IMAC - A number of Twin Cities private schools have banded together to form a new high school conference for next season.
White House - Jessie Diggins and the US Olympians enjoy a day at the White House.
Vasa Fat or Not? - A battle is rising over Fat Bike access on the Vasa trail in Michigan.
Return to Boston - KARE11 featured a number of runners who participated in last year's Boston Marathon event and plan to return this spring.
Suit Up - Podiumwear had Jessie Diggins in for new suit design reviews.
Going Strong - Kamview Nordic in Thunder Bay is still grooming with good conditions, as well as a few other places in the upper Midwest.

Robin Baker Passes On
April 14, 2014
Long-time coach for Deer River High School, Robin Baker passed away last week. Baker played a steady role in northern Minnesota skiing, especially with section 7 and 8, and was the groomer of Blueberry Hills ski trail. There will be a memorial service at Our Redeemer Lutheran Church in Cohasset, Saturday, April 19th.
Minnesota Coaches Association Spring Meeting
April 14, 2014
The annual spring meeting for the Minnesota High School Nordic Ski Coaches Association will be held Saturday, April 26th at the Vasaloppet Center in Mora. The current state meet proposal will be review, along with the recap on the last state meet and a discussion on the state of skiing in Minnesota. RVSP to secure lunch numbers.
Minnesota College Skiing Meeting Thursday Evening
April 14, 2014
For those interested in Minnesota collegiate skiing (especially racing), there will be a follow-up meeting this Thursday evening, April 17th at Finn Sisu. The meeting will pick up from last time, exploring the vision and developing a strategy, along with an update on Gustavus. The meeting is open to all.
Miesville Grinder Coverage
April 13, 2014
Marsh Jones recaps the Miesville Grinder, a fun spring cycling adventure through the mostly gravel roads south of the Twin Cities. Roughly 70 riders turned out on Sunday, successfully navigating a few obstacles (snow drifts?!) and many enjoyed a post-event meal at Kings Place in Miesville.
Related:
Photoset from Marsh Jones:

Miesville Grinder
Results: Iola Trail Run Results, Trail Mix 25K, 50K Results