Trail Report / Training Report Drawing
Submit a trail report and be entered into our weekly $100 lodging gift certificate drawing.

ABR, November 28, 2014 (Photo: Jenneke Oosterhoff)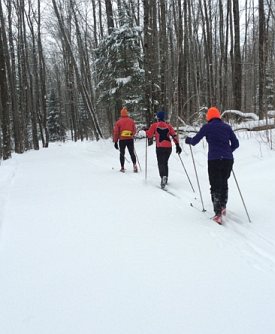 Afterglow Lake Resort, November 28, 2014 (Photo: Tom Rulseh)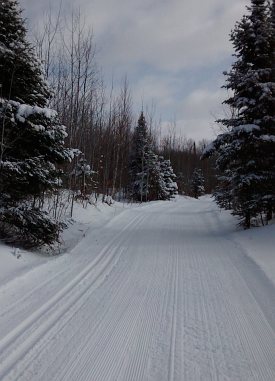 WinMan trails, November 27, 2014 (Photo: Robert Polic)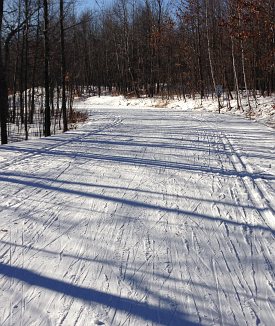 Spirit Mountain trails, November 27, 2014 (Photo: Tim Holst)
2014-15 Minnesota High School Nordic Season Preview
November 10, 2014
The Minnesota High School Nordic season kicked off Monday with a major winter storm - perhaps foreshadowing for the season? We provide a breakdown on the sections and even a preseason ranking to get the juices flowing.

Midwest Racing Season Preview
November 2, 2014
With the end of daylight savings time, the early sunset signals that winter is not far away! We've updated our racing calendar with the latest info on the citizen, collegiate, and high school events. Our annual preview covers some of the big changes on tap this winter, along with some new additions and a few losses.
Skinnyski FAQ
December 4, 2011
We've collected together a bunch of common questions to assembly our own FAQ for cross-country skiing in the Midwest and using the Skinnyski website.
Skinnyski Photos
February 5, 2009
Found a photo you'd like to get a copy of? Looking for images from a past event? Find out how to dig through our archives and help support the web site by purchasing photographs.

CXC Youth Cup and Skiwerx Series
November 28, 2014
Central Cross Country Ski Association and the Minnesota Youth Ski League have partnered to bring together a regional Youth Cup that compliments the metro Skiwerx Series for young racers.

Solstice Chase Fat Bike Race
November 28, 2014
Cyclova XC is hosting a Fat Bike race on the trails at Big Rock Creek near St. Croix Falls on December 20th. Register by Nov 30th to save some cash prior to the next price hike.

Nordic Combined: US Team Named
November 28, 2014
USSA reports: Three Olympians were named to the 2015 U.S. Nordic Combined Ski Team that opens its FIS World Cup campaign this weekend in Ruka, Finland. The team includes Olympic champion Billy Demong along with World Championship medalists Bryan and Taylor Fletcher.
Related:
US Ski Team: XC Team Ready for Ruka Opener


Gear West Black Friday Sale
November 28, 2014
Gear West has jumped into the Black Friday craze with their own set of deals this weekend. Discounts on Atomic race skis, Fischer ski packages, BK's favorite kickwax kit and more.

Weekend Skiing and Trail Reports
November 27, 2014
Some fresh snow and moderate temperatures should provide some great skiing opportunities this weekend. New reports from Fox Hill

, Mt. Ashwabay, Theodore Wirth, Ney, Magney-Snively, After Hours(3)

, Lapham Peak, Hyland Lake(2)

, Three Eagle, Afterglow Lake(2)

, He-Nis-Ra, ABR(2)

, Nordic, Lake Elmo(2), William O'Brien SP, Wild River SP, Reforestation Camp

, Michigan Tech Univ, Northland Arb, Birkie(2)

, Como GC, Battle Creek West, Quarry, Elm Creek, Maplelag

, Wolverine

, Warner Lake, Graystone, Listening, Lake Mary Plains Pathway, Iron River Cross Country, Spirit River Nature, Honey Tree Farm, Minocqua Winter, CAVOC, and recent reports from ABR

, Woodland, Battle Creek West, Blueberry Ridge, Hyland Lake, Graystone, Elm Creek, Quarry Hill, Minocqua Winter, WinMan

, Santa Monica Beach, Spirit Mtn

, Mount Itasca, Honey Tree Farm, Phalen GC, Snowflake(2), Sugar Hills, Norsk Golf Bowl, Lapham Peak, Birkie, Northwood GC.

Midwest Collegiate Nordic Page Offering Prizes for Snow Photos
November 27, 2014
The Midwest Collegiate Nordic Skiing page on Facebook is offering some cool swag for those Midwest skiers that post the best on-snow photos. Contest wraps up Nov 30th, so get snapping!
Minnesota Finlandia Registration Now Open
November 26, 2014
The Minnesota Finlandia registration is now open. The Finlandia has released a homebrewed promotional video to help get your amped up for the big races on February 14, 2015.
World Cup: Nordic Opener this Weekend
November 26, 2014
The FIS World Cup season opens this weekend in Ruka, Finland with a pair of events. Saturday, Nov 29th, will be classical sprints, and Sunday, Nov 30th, are womens 10K and mens 15K classical races. Minnesotans Jessie Diggins and Caitlin Gregg are scheduled to compete as well and many of the top stars in the World Cup, including Kikkan Randall.
Related:
Video:

Livesteam and Recaps
World Cup 2014-15 Season Preview
Ruka World Cup - Nordic Opener
Bike Dr: Black Friday and Small Business Saturday and Sunday
November 26, 2014
Bicycle Doctor is offering special savings all weekend long, beginning Black Friday. Plus check out upcoming events including Bock with Doc.
Woodlands Team/Group Practice Policy
November 26, 2014
The City of Elk River and the Elk River Nordic Ski Club have implemented a reservation policy for groups of more than 15 individuals (generally teams and clubs).
MYSL Announces New Club Programs and Website
November 26, 2014
The Minnesota Youth SKi League is rolling out a brand-new website, as well as new branding for their traditional club programming.
Cycling Innovator Steve Hed Passes Away
November 26, 2014
Steve Hed, founder of Hed Cycling, passed away on Tuesday. Hed developed groundbreaking designs in bicycle wheel designs, building the company into a major international brand while remaining based out of the Twin Cities. No details yet on funeral services.
Related:
CaringBridge: Steve Hed
Star Tribune: Steve Hed: A cycling big wheel

Podiumwear Black Friday Sales Event
November 25, 2014
Podiumwear will be holding a 4-day sales event starting on Black Friday and ending Cyber Monday, featuring seven brand-new ski suits designed by World Champion and Podiumwear Ambassador Jessie Diggins. A portion of these sales will help benefit Diggins world Nordic tour.
Pioneer Midwest Nor-ski Sale
November 25, 2014
Pioneer Midwest is offering 10-50% off Norwegian product from Swix, Bjorn Daehlie and Madshus starting Black Friday and continuing through the weekend, Nov 28-30th. Shop small this Saturday!
NNF/WYSEF Masters Race in West Yellowstone
November 25, 2014
The National Nordic Foundation and the West Yellowstone Ski Education Foundation have joined to offer a masters ski race on Saturday, Nov 29th. The event will be a short 5K skate race, with interval starts.
Related:
A Thank You from NNF Executive Director, Dave Knoop
Ski and Tea Clinic Jan 2
November 25, 2014
The annual Ski and Tea ski clinic will be Friday, January 2nd at the Hwy OO trailhead on the Birkie trail. The womens ski clinic is open to all levels of skiers, and will cover both skate and classic techniques. Cindy Swift and Jan Guenther will be leading the sessions. Registration is limited.
Local Stars
November 24, 2014
Thanksgiving Break - Kyle Bratrud is staying up in the UP this Thankgiving break as he dials in new equipment.
Dear Santa - Rosie Frankowski goes through her Christmas wish list, most of which is already fulfilled!
Homeland - Ben Saxton covers his transition from Vermont stopping back in the Twin Cities before flying out to West Yellowstone.
Lapland - Jessie Diggins updates from Finland as she prepares for the World Cup opener this weekend (with some great photos).
Hello from Finland - Caitlin Gregg is also overseas for the World Cup, posting an update from Finland last week.
Yellowstone - Brian Gregg, meanwhile, is out in Yellowstone getting ready for the SuperTour opener.
Just In Time - Adam Loomis gets a little on-snow time in Park City Utah last week before flying out to Finland.
Skier's Holidays - Paige Schember blogs on a typical skier's holiday calendar, coming up her own rebranding.
And if you haven't already seen it...
It's Hard: Skate Skiing - NY Times travel section featured the cross-country skiing and the tricky skate technique.
Midwest Mountaineering Holiday Deals
November 24, 2014
Midwest Mountaineering has a big Black Friday deals, along with a special $15 of $40 coupon, as well as a free fluorinated glide wax application.
Hoigaards: XC After Hours - Shoulder Problems
November 24, 2014
At Hoigaards this Tuesday evening, as part of their XC After Hours series, Melissa Shirriff of Institute for Athletic Medicine will provide her insights on common shoulder problems and how to treat them.
US Ski Team: Cross Country Team Named
November 24, 2014
The 2014-15 U.S. Cross Country Ski Team was announced today on the eve of the International Ski Federation (FIS) World Cup opener this weekend in Ruka, Finland. Midwest skiers include Jessie Diggins (A Team) and Ben Saxton (D Team).
Skihut's 60th Anniversary Sale
November 23, 2014
Ski Hut is celebrating their 60th anniversary with a huge three day sale coming up this weekend, Nov 28-30th. Lots of deals, including ski packages and even combos with National Forest Lodge.
Minnesota CX Championships Coverage
November 22, 2014
Given the cold November, relatively warm temperatures on Saturday generated some slick conditions for the Minnesota Cyclocross Championships at Bassett Creek. Still waiting for official results online, but former Maine cross-country skiing champ Corey Coogan-Cisek popped a great race to finish second overall in the womens cat 1/2/3 race. Photos from the Saturday afternoon races are up.
Related:
Photoset:

Womens Cat 1/2/3 - 167 photos,

Mens Cat 1/2 - 231 photos
Cold November Stretch
November 21, 2014
Mark Lahtinen shares an update on the recent cold weather stretch, and how it might correlate to the rest of winter.
Related:
NOAA: What's in store for the United States this winter?
Fall Coaches Update
November 21, 2014
A short update on the Minnesota HS Nordic Coaches Association happeneings, including another opportunity for USSA Level 100 certification, and discussion on State Meet formats.
Birkie Twin Cities Fundraiser Coverage
November 20, 2014
The American Birkebeiner Ski Foundation was in the Twin Cities Thursday evening for a special fundraiser event. The capital campaign to secure the start area, improve the finish area, and build upon the Birkie legacy received strong support from the community. If you missed out, you can get more information and show your support online.
Related:
Photoset:

Birkie Twin Cities Fundraiser
Birkie: Honoring the Legacy - Ensuring the Future

Gear West: Grind Testing
November 19, 2014
Gear West staff, including Birkie champ Matt Liebsch, have already been out testing out new grinds on our recent snowfall. Matt shares some of his findings. And you can still get your skis prepped for Yellowstone, and get a free bar of wax in the deal.
Related:
Yellowstone Grinding and Free Block of Swix Wax
Winter Outdoor Adventure Expo: History of Nordic Skiing
November 19, 2014
Woodenskis.com's own Greg Fangel will be at the Winter Outdoor Adventure Expo this Saturday, giving a pitch on the history of Nordic skiing, especially related to the Midwest.
Level 100 Certification Session in Minneapolis
November 18, 2014
There will be a Level 100 CXC/USSA Coaches certification clinic, Sunday, Nov 30th at Theodore Wirth Park in Minneapolis. The day long clinic provides the opportunity to take the Level 100 test, along with CXC and USSA memberships and more.
Finn Sisu: Trollhaugen Nordic Clinic
November 18, 2014
Finn Sisu will be helping run a two-day Nordic Race Clinic at Trollhaugen, the weekend after Thanksgiving, Nov 29-30th. Top coaches will be providing technique work and video analysis, plus equipment demos and waxing clinics. Registration is now open.
Local Stars
November 17, 2014
Life as a Pro - Rosie Frankowski works on her fundraising (and giving thanks), plus an update on training.
Goodbyes - Annie Hart shares her farewells as some of her best friends head overseas for Euro racing.
How to Make Snow - Elm Creek has put out a video on their snowmaking process.
Its the Sauna - MinnPost has an article on how early Minnesotan's might have survived winter: the sauna.
And if you already miss rollerskiing...
Formula 1 - Rollerski racing on a Formula 1 race track.
Midwest Mountaineering Expo Newsletter with Coupons
November 17, 2014
Midwest Mountaineering has released with Expo Newsletter, featuring a number of special coupons for free or greatly reduced items.
Womens XC Clinic Dec 12-14
November 17, 2014
Riverbrook and Gear West are teamed up to provide a special women's XC weekend on snow -- on the Birkie trail -- Dec 14-16th! Expert instruction focused on improving technique and efficiency, while being pampered with treats and positive attitudes.

Midwest Mountaineering Winter Outdoor Adventure Expo
November 16, 2014
Midwest Mountaineering huge winter celebration, the Outdoor Adventure Expo, is coming this weekend, Nov 21-23. Over 80 free presentations to attend, more than 70 vendors on display, the Banff Mountain Film Fest Tour, and of course, everything in the shop on sale!
Related:
Winter Outdoor Adventure Expo Newspaper
Ski Hut Wax Clinics
November 15, 2014
Ski Hut has posted their wax clinic schedule, with the first event on tap this Thursday, Nov 20th.