Hitting the big water after the morning workout, National U16 Camp, July 29, 2016

Jessie Diggins, National U16 Camp, July 29, 2016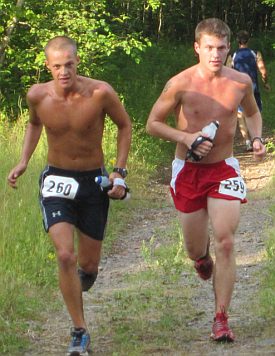 Minnesota Voyageur Trail Ultra, July 28, 2012 (Photo: Eve Stein)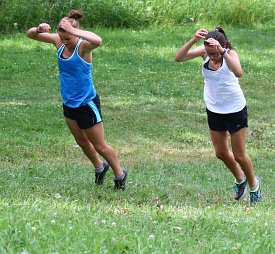 DXC Juniors workout at Chester Bowl, July 26, 2016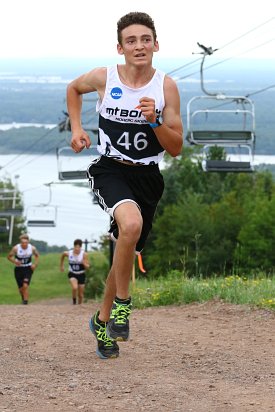 Uphill time trial run, National U16 Camp, July 26, 2016
Skinnyski FAQ
December 4, 2011
We've collected together a bunch of common questions to assembly our own FAQ for cross-country skiing in the Midwest and using the Skinnyski website.
Skinnyski Photos
February 5, 2009
Found a photo you'd like to get a copy of? Looking for images from a past event? Find out how to dig through our archives and help support the web site by purchasing photographs.

National U16 Camp - Friday Coverage
July 29, 2016
The National U16 Camp had another epic day on the Northshore of Lake Superior as the group took in the sights (and hills) from Split Rock Lighthouse State Park Friday morning. Adding extra star power, Jessie Diggins flew into town for the workout, leading the group in warmups and participating in the classic rollerski drills. After the two and half hour workout, most the athletes enjoyed the cool waters of the big lake, including a brave few that did a little cliff jumping! The U16 camp wraps up Saturday.
Related:
Photoset:

Friday Rollerski Session - 191 photos
Photoset:

Top Picks (high res)
Video:

Friday Rollerski Session
Weekend Events
July 27, 2016
Jul 30 Turtleman Triathlon - Classic or modern format triathlon, based out of Turtle Lake in Shoreview, MN.
Jul 30 Penokee Mtb Range Classic - Wisport racing series presents a 50 mile road race thru the Chequamegon National Forest.
Jul 30 Minnesota Voyager Ultramarathon - One of the oldest ultrarunning races, 50 miles from Carleton to Duluth and back!
Jul 30 Hoot Lake Triathlon - Fergus Falls, MN, hosts a great short distance triathlon using Hoot Lake just east of town.
Jul 30 Hilloopy 100 - Huge relay race (and party) covering 165K running 5K loops on the campus of UW-Parkside in Kenosha, WI.
Sue Tibstra Passes On
July 27, 2016
Sue Tibstra, one of the long-time owners of the local ski shop in Bemidji, the Home Place, passed away on Wednesday. Tibstra was very involved in the cross country ski community and served as treasurer for the Bemidji Area Cross Country Ski Club for many years. Funeral service is set for August 1st in Bemidji.
Related:
Sue Tibstra Obituary
Spotlight: DXC Juniors Program
July 27, 2016
After chasing the National U16 Camp around the front part of the week, we dropped in Tuesday afternoon to catch one of the local clubs, the Duluth XC (DXC) Juniors for a dryland workout at Chester Bowl. The group started with a 20 minute trail run warmup, before working on strength and quick power drills at the downhill area. The group did a number of repeats including balancing/hoping skills, core strength, and some hill bounding. The session wrapped up with a short warm down run.
Related:
Photoset:

35 photos
Photoset:

Top Picks (high res)
Midwest MTB Report
July 26, 2016
Jay Richards Midwest MTB Report this week covers the recent racing action in the Minnesota and Wisconsin series, a short update from Telluride 100 from a Midwest racer, the Strava Ride of the Week, a number of interesting bike related news, and the usual look ahead to upcoming events.
National U16 Camp - Tuesday Coverage
July 26, 2016
The string of warm, humid weather continued Tuesday as athletes in the National U16 Camp in Duluth took to the hills of Spirit Mountain for a morning uphill time trial. Novie McCabe and Ben Ogden posted the top times in the grueling run. There was some rest scheduled for the afternoon, with an optional stand-up paddleboard session on the big Lake Superior.
Related:
Photoset:

Tuesday Uphill Run TT - 202 photos
Results: Uphill Run TT
Top Picks (high res)
Web Roundup
July 25, 2016
Mid-Summer Brief - Adam Loomis updates on this summer training, including trying to stay ahead of his younger brother Ben.
Training 101 - Annie Hart maps out her training session flowchart, and prepares for a much deserved break.
Alaska Pt 2 - Jessie Diggins wraps up her time in Alaska, skiing on the Eagle Glacier.
Utah - Team Gregg posts a photo update from their training in Utah with the LNR club.
More Haig - One more video highlight from the recent Midwest trip to the Haig Glacier.
Sundby Dope - Norwegian star Martin Johnsrud Sundby has been penalized for his asthma treatment.
Bike Balance - Just how does a bicycle stay balanced on two wheels?
Borah Epic Donates $20K to CAMBA
July 25, 2016
In only its fourth year running, the Epic was able to generate a $20,000 donation to benefit the Chequamegon Area Mountain Bike Association.
LNR Time Trial at Soldier Hollow Coverage
July 25, 2016
Loppet Nordic Racing juniors have been out in Utah, training at Soldier Hollow, in part as preparation for US Nationals and possibly the World Junior Championships. On Sunday, LNR joined Wasatch Nordic for a skate rollerski time trial. Results and photos posted.
National U16 Camp - Monday Coverage
July 25, 2016
The National U16 training camp is being held in Duluth, MN, this summer, on the campus of the College of St. Scholastica. Monday was the first full day of training, starting with a morning rollerski technique/drills session, to be followed in the afternoon with strength assessment testing. Numbers tallied from the strength assessment had Anders Sonnesyn and Novie McCabe collecting the top scores.
Related:
Photoset:

Monday Rollerski Session - 112 photos,

Monday Strength Assessment - 71 photos,

Monday Presentation - 20 photos
Photoset:

Top Picks (high res)
Video:

Monday Rollerski Session,

Monday Strength Assessment
Results: Strength Assessment
Nordeast Grind Coverage
July 23, 2016
Bike racing action came to the streets of Northeast Minneapolis Saturday for the Nordeast Grind, part of the new Big Waters Classic three day series. After a steamy morning, the water finally broke out on the field for the womens Cat 4 race and most of the afternoon events as well. Photos from most of the morning races, with results linked in.
Related:
Photoset:

Cat 5/Citizen - 65 photos,

Mens Cat 4/5 - 57 photos,

Juniors - 94 photos,

Womens Cat 4 - 99 photos
Results: Nordeast Grind
Midwest MTB Report
July 19, 2016
This week's Midwest MTB Report has a major international flavor as Jay Richards writes about an epic trip to Iceland, including participating in their National MTB Championship. Plus catch up on the local races, some national stars, the Strava Ride of the Week, and the upcoming events.
Web Roundup
July 18, 2016
Olympics - Annie Hart writes about Olympic dreams and one of her new sponsors.
Alaska Pt 1 - Jessie Diggins covers her early training sessions in Alaska before heading up for glacier skiing.
Is it the bike? - Does a $2000 bike simulator make you fitter?
Spotlight: Nordicwerks Program
July 18, 2016
On a warm Monday evening Nordicwerks training program hosted a combined workout and rollerski time trial with Endurance United elite members. After an easy warm up rollerski tour around the time trial course, the teams got down to business with an interval start skate rollerski time trial. Endurance United's Jack Christianson passed Tamer Mische-Richter in the final meters to post the top time on the evening. Fellow teammate Erin Moening raced to the top time for the women. After the time trial wrapped up, skiers finished with a warm down on the quiet backroads near Scandia.
Related:
Photoset:

210 photos
Photoset:

Top Picks (high res)
Video:

Warmup
Rivet Run Coverage
July 17, 2016
Eve Graves reports: The impending storms luckily stayed away for Sunday's 5k Trail Rivet Run/Walk at Pattison State Park. We had light rain pre-race and sunny skies with temps in the lower 70's during the event. Participants ranged in age from 3 to 67, with well over 100 registered and 82 starting and finishing. Braden Curnow was the first overall male in a time of 20:36 (and he ran the 26 mile grueling Curnow trail race yesterday too!). Laura Mueller was the first female to cross the line in 28:13.
Related:
Photoset:

Rivet Run
Results: Rivet Run
Mora Welcomes Swedish Juniors
July 15, 2016
The Mora community has been host to junior athletes from their sister city, Mora, Sweden, for a week of training and bonding with the Mora Mustang Nordic training program.
Loppet Job Openings
July 15, 2016
The Loppet Foundation has three new openings posted: Sponsorship Sales Manager, Marketing/Communications Manager, and Adventure Center Director -- all full-time positions.
Hoigaards Paddle Derby Results
July 15, 2016
The first seven events of the Hoigaards Paddle Derby are on the books. Check out the updated results, and join them for one of the last three events this season.
Related:
Results: Paddle Derby
Hoigaards Paddle Derby
Finn Sisu: Dr. Heather Cichanowski on Tales of a Traveling Team Physician
July 15, 2016
Finn Sisu continues their lecture series with Dr. Heather Cichanowski speaking next Monday, July 18 about her experiences as the team physician for the US Cross Country Team. She'll also have tips on how to stay healthy during the skiing season.
Bike Dr: Flamingo Fest, MTB Clinic, HS MTB
July 13, 2016
The latest Bicycle Doctor newsletter highlights their Flamingo Fest events this weekend, MTB clinic this Sunday, and formation of high school MTB teams.
National Development Project Grants Awarded
July 13, 2016
New for 2016, the National Development Project is a program designed to directly benefit the many clubs, coaches and officials that play a tremendous role in skiing development across the United States. Wayata Nordic, Iola Winter Sports Club and CXC were part of the inaugural recipients.
Web Roundup
July 11, 2016
Haig Yes - Maria Berg put together a nice highlight video of the recent Midwest trip to the Haig Glacier.
Haig Recap - Brian Gregg posts an update on recent training, including a trip to the Haig Glacier.
Comfortable with Uncomfortable - Annie Hart covers the topic of pain vs discomfort.
Dinomite - Team Gregg gets a living fossil to try rollerskiing -- seriously.
Air Travei - Jessie Diggins devotes this week's blog to the trials and tribulations of air travel.
Back in the UP - Caitlin Gregg joins the REG and Dream Camp workouts in Marquette last week.
Podium Project Recap - Recap video from the recent Development Podium Project camp in Utah.
War - Russian developers are working on a "war theme" ski resort.
Butt Kicker - Scientists breakdown just how hard the Tour de France is on a cyclists body.
Spicy Solution? - Could spicy foods be the key to preventing muscle cramps?
Duluth Planning Commission Hearing on Grand Avenue Nordic Center
July 11, 2016
The City of Duluth Planning Commission will be holding a Public Hearing this Tuesday evening, July 12th, to receive comments on the Spirit Mountain Recreation Area Environmental Assessment Worksheet, which addresses projects including the Grand Avenue Nordic Center, as well as a number of other silent sport efforts.
USSA: Bryan Fletcher Talks Future in Nordic Combined
July 8, 2016
USSA reports: After winning the annual Fourth of July nordic combined cup on Howelsen Hill, soon-to-be-dad Bryan Fletcher talked with Joel Reichenberger of Steamboat Today about his Olympic history, his hopes for future medals...and why he was wearing a hot pink suit.
REG and Dream Camp Coverage
July 6, 2016
CXC is holding the Central Regional Elite Group camp, as well as their Youth Dream Camp up in Marquette, MI, this week. The REG group took in an uphill time trial run and agility testing on rollerskis in the opening days.
Related:
Photoset from CXC:

REG Camp,

Youth Dream Camp
Results: Uphill Run TT, Double Pole Time Trial
Midwest MTB Report
July 5, 2016
This week's Midwest MTB report by Jay Richards covers a wide range of topics, from Buck Hill races to the World Championships, viral videos and bear attacks, and of course, the Strava Ride of the Week and a look at the upcoming events.
Wisconsin High School Nordic Championship Venue Change
July 5, 2016
The Wisconsin State High School Nordic Championships have announced they will help christen the new Birkie start area with their big event scheduled their for early February.
Web Roundup
July 4, 2016
TV Stars - NMU's Nordic skiers and their summer training were recently featured by local TV news.
Racing - Jason Kask writes on the topic of racing and perspectives.
Easy and Awesome - Jessie Diggins posts a quick update on training with SMS and their annual Independence Day Parade on rollerskis.
Training, Travel and Adventures - Felicia Gesior travels across the globe, finding new adventures and squeezing in some training.
Sweet Westerlies - Ben Saxton discusses the latest doping revelations and keeping things in perspective.
June Recap - Head coach Chris Grover recaps the US Ski Team June training, primarily in Bend, OR and much of it on-snow.
Totally Tubular - Star Tribune featured the winter sports/snowmaking project at Edina's Braemer Park.
No Motor Bikes - NPR highlights how the Tour de France is planning to catch the use of motorized bikes.
In Your Gut - New study suggests chronic fatigure syndrome may be related to gut microbes.
Afton Trail Run Coverage
July 2, 2016
Beautiful conditions Saturday morning for the annual Afton Trail Run events at Afton State Park. Temperatures were in the low 60s to start and rose into the upper 70s by late morning as runners did one (25K) or two laps around the big park. In the 50K, Kurt Keiser took the lead early and stretched it to a five minute margin of victory. Annika Hempel won the womens division, just a minute ahead of runner up Lisa Dunnigan. Matthew Berens also had a strong performance for the men in the 25K, winning by over three minutes. Kate Pallardy cruised to nearly a five minute lead over the womens 25K field.
Related:
Photoset:

50K - 264 photos,

25K - 414 photos
Photoset:

Top Picks (high res) - 50K Race,

Top Picks (high res) - 25K Race
Results: Afton Trail Run
Bike Dr: July 4th Web Sale
July 1, 2016
Bicycle Doctor's latest newsletter highlights their online only 4th of July sale, the upcoming Crafty Cow ride, their FlamingoFest in a few weeks, and MTB events for juniors and adults.