Frozen Thunder Classic Sprints
October 24, 2014
On Friday, the Frozen Thunder event at Canmore Nordic Centre hosted classic sprint races on 1.6K loop of recycled snow. Andy Newell and Ida Sargent won the sprint finals, with Jessie Diggins finishing fifth.
Related:
Photoset from Noel Rogers/Angus Cockney:

Classic Sprints
Results: Qualifying Times, Heats/Finals
Noah Hoffman: Frozen Thunder Classic Sprints
Cross-Country Canada: Frozen Thunder Classic Sprint Report

Birkie Bash MYSL Fundraiser
October 23, 2014
Join MYSL on Sunday, Nov 2nd, for their Birkie Bash MYSL Fundaiser at Theodore Wirth pavilion. Get info on the big plans for the Birkie as well as MYSL programming and new website. The evening includes dinner from Birchwood Cafe and silent auction!

Bike Dr: Ski Shop Open, Birthday Bash Nov 1st
October 23, 2014
Bicycle Doctor's latest newsletter highlights their ski shop all geared up, Fischer U, the Doc's big Birthday Bash, Fat Bikes, Mountain King run, and upcoming Fright Hike!

SuperTour: Yellowstone Race Info
October 23, 2014
Detailed information on the Yellowstone Ski Festival races, Nov 28-29, has been posted. Covers the SuperTour events, as well as the masters, juniors and biathlon events.
Weekend Events
October 22, 2014
Oct 25 Baycross CX - Bayfield holds their fall cyclocross race at Prentice Park with scenic views of Lake Superior.Z
Oct 25 Halloween Hustle - A freaky 5K run in Duluth, proceeds benefit St. Scholastica ski team.
Oct 25 Loppet Games - A day full of youth games, including adventure races, orienteering, age-gap relays and more.
Oct 25 Night of the Running Dead - Go full undead with an evening 5K running race in Park Falls.
Oct 25 Surf the Murph - 25K, 50K and 50 mile running races on the hilly terrain of Murphy-Hanrehan.
Oct 25 Red Barn CX - Erickson Brothers Tree Farm hosts some spooky cyclocross races on Saturday.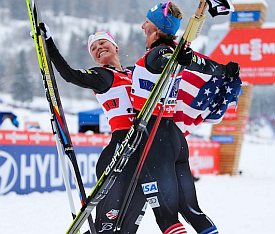 Finn Sisu: Kikkan in Town, SuperFit, and Fall Fest is On!
October 22, 2014
Finn Sisu is going all out this weekend, with World champion Kikkan Randall in shop Saturday and their big Fall Fest sale going on, plus CXC SuperFit with their athletes and coaches on-hand for expert advice.
Related:
CXC Super Fit Coming to Finn Sisu this Weekend
Request For Midwest JN Team Coaches Applications
October 22, 2014
Junior Nationals will be held March 5-15 in Truckee, California. Chris Harvey has been selected as the head coach, with Bonnie Fuller-Kask acting as trip leader. Applications are still being accepted for the glide and kick coaches, as well as general coaching staff positions. Application deadline is November 1st!
Fall Ski Swaps
October 22, 2014
The fall ski swaps are rolling on, this weekend events at Out There in Rice Lake, as well as Thunder Bay, Duluth, Forest Lake and even ski sprints at the swap in Traverse City!
Podiumwear: Thick Bikes Case Report
October 22, 2014
Podiumwear details one of their recent production runs - cyclocross uniforms for Thick Bikes.
Midwest MTB Racing Report
October 21, 2014
Enjoying the fall weather, Jay Richards latest MTB report covers the Red Wing Classic, WORS finale, and Otter Creek 55. Plus a look ahead to the MN HS MTB race at Whitetail this weekend.
Loppet Games
October 21, 2014
The annual Loppet Games is this Saturday, Oct 25th at Theodore Wirth. Designed for kids ages 8-14, it features a number of events including Adventure Race, Obstacle Course, DP Test, Orienteering, and Age Gap Adventure Race (adult-kid pairings).
CXC: Bike Drawing, Coaches Clinic and SuperFit Weekend
October 21, 2014
CXC is busy this month with custom Eriksen road bike drawing (enter by Nov 1st), Coaches Level 100 clinic in Mora this weekend, and SuperFit tour stop at Finn Sisu.
Yellowstone Ski Passes on Sale
October 21, 2014
Heading to West Yellowstone this Thanksgiving for the big Yellowstone Ski Festival? Ski passes for the Rendezvous trail system are on sale through the end of October, including group rates.
Related:
Yellowstone Ski Festival
Clarification on Yellowstone Ski Festival Coaching Fees
Bay Nordic Announces Project Illumination
October 21, 2014
Bay Nordic in collaboration with Brown County Parks are undertaking Project Illumination, a plan to raise funds for Bay Nordic programs and install a lighting system along roughly 4K of the Reforestation Camp trails.
Local Stars
October 20, 2014
Retro - Jessie Diggins goes "retro", along with a training update from Utah.
Park City - Rosie Frankowski post a big update on the recent Park City training camp.
Coaches Conf - CXC has a big photoset from the Conferences Conference last weekend in Cable.
Gettin' Muddy - Caitlin and Brian Gregg competed in the Warrior Dash World Championships last week!
Fall in the Cities - Brian Gregg updates on their recent training and activities in the Twin Cities area.
Lake Placid and Beyond - Adam Loomis writes about the recent National Championships and training in Switzerland.
Brooks Marathon - Holly Brooks is the newest Birkie ambassador, and will be racing the FIS Marathon circuit this season.

Finn Sisu: Kikkan is Coming!
October 20, 2014
Multi-time World Cup champion, World Champion, and Olympic hero Kikkan Randall is coming to Finn Sisu this weekend! Randall will be in shop Saturday, Oct 25th, celebrating her new partnership with Yoko poles and gloves.
Outdoor Diva Night Thursday Oct 23rd
October 20, 2014
Midwest Mountaineering will have Ann Bancroft in-house Thursday evening as part of their Outdoor Diva night. In addition to Bancroft's talk on Adventures Near and Far, there are numerous coupons and special offers for Thursday.
Duluth Trail Maintenance
October 20, 2014
Duluth XC is working to get the area trails in shape for winter -- and could use your help! Events are scheduled through the start of November.
Art House B and B Specials
October 20, 2014
The Art House B&B is one of our new members. They offer unique lodging experience on the North Shore, in Grand Marais.
Related:
Nov 20-23 Winters Gathering and Arctic Film Festival
Mesabi East Update
October 20, 2014
The huge Mesabi East Invite is scheduled for Jan 10, 2015. With the new event center being constructed at Giants Ridge, the old dorms have been torn down. Coaches should make their lodging plans early - a listing of the area lodging options has been posted.
Midwest Collegiate Nordic Community
October 19, 2014
A new Facebook community was rolled out Sunday evening to help spearhead the support and growth of collegiate Nordic skiing (varsity and club programs) across the upper Midwest. Show your support for this new group by "Liking' their page.
State Nordic Coaches Fall Meeting Oct 25th
October 19, 2014
The annual Minnesota Fall Coaches meeting will be this Saturday, Oct 25th at the Vasaloppet Center in Mora. The big topic will be accommodating the new State Meet format (2 teams per section). There will also be a CXC/USSA Level 100 clinic option.
Related:
MNSCA Fall Meeting Oct 21 Update
Jessie Diggins Fundraiser Dinner Nov 9th
October 19, 2014
The Chilkoot Café and Cyclery in Stillwater will once again host a fundraiser dinner for Olympian, World Champion and US Ski Team member, Jessie Diggins. Reserve Sunday, November 9th on your calendar and call to book your tickets. All proceeds will support Jessie's training and racing expenses. In addition to an evening of wonderful food and great race stories from Jessie, Jessie will be auctioning off some Olympic gear!

Gear West: A Different Kind of Ladies Night
October 19, 2014
Gear West is offering a women's empowerment training session on Sunday, Oct 26th. Lead by a former Navy seal, the session focuses on simple, effective ways to stay safe and prevent assaults from happening. RSVP by Oct 22nd.
Frozen Thunder Opens in Canmore
October 18, 2014
Since 2009, Canmore Nordic Centre has been opening the North American ski season with their Frozen Thunder event. This year they've pushed out a 2K ski loop using snow saved from the end of last season.
Related:
Photoset:

Opening Day
Blue Hills Fundraiser Banquet
October 17, 2014
The Blue Hills Trail Association is holding their annual fundraising banquet on November 1st. The evening includes a delicious buffet meal, two major raffles, plus thousands of dollars in prizes offered as many silent auction items. RSVP due by Oct 29th.
Skijor Racing Coming to the 2015 Vasaloppet
October 16, 2014
The Vasaloppet USA is partnering with Skijoring USA to introduce the first-ever skijoring races at the 43rd annual Vasaloppet USA to be held in Mora, MN February 6-8, 2015. Two skijoring races will be held on Sunday, February 8th following the Miniloppet.
Kyle Bratrud: A Time for Reflection
October 16, 2014
Entering his senior season skiing for Northern Michigan University, Kyle Bratrud reflects back on his growing expectations and benchmarks, and appreciates the "free" benefits that have come with collegiate racing.
Borah Teamwear Offering Birchleggings Nordic Apparel
October 16, 2014
Borah Teamwear has released an exclusive lineup of American Birkebeiner Birchleggings Club ski wear, including race suits and warmups. Online ordering is open now!
CXC Super Fit Weekends
October 15, 2014
CXC is firing up their SuperFit Weekends Tour, bringing technical expertise and experience from top athletes and coaches to a number of regional shops this fall. First on the tour stop will be Finn Sisu, Oct 24-26th!
Podiumwear Announces New and Improved Products
October 15, 2014
Podiumwear is showcasing some of their new and improved products for this season, including a women's Silver Suit, Silver Nordic Vest and upgraded men's and women's Gold Suits.
Hoigaards Kid's Sale
October 15, 2014
Hoigaards is running their Kids Sale event, Oct 15-26, with up to 15% off kids ski equipment, and up to 20% off kids outerwear.
Out There Athletes
October 15, 2014
Did you know Out There ski shop sponsors athletes from across the globe? Skiers from New Zealand, Spain, Brazil, Netherlands, Hungry and more!
East Metro High School Cross-Country Ski Scheduling
October 15, 2014
Ramsey County and St. Paul Parks will be holding the high school winter scheduling meeting on Wednesday, Oct 28th in Maplewood. Ski coaches in the east metro should attend to reserve their dates and venues for the upcoming season.
Midwest MTB Racing Report
October 14, 2014
Highlighted in Jay Richards MTB report this week: Blacks Grove River Crossing recap, MN HS Cycling League first-hand report from Mankato, BrewMonster Enduro photos, big news for the Laddies Loppet, and the look ahead to some upcoming events.
Related:
Dec 20 Solstice Chase Fat Bike Race - Price Hike Oct 15th!
Fischer University Kicks Off Two Days of Racing Dealer Outreach
October 14, 2014
Nordic racing dealers from across the United States are in the Twin Cities for a two-day Fischer University event. Participants will get the latest info on the Fischer Nordic products, including the new boots, as well as historical perspectives and industry outlooks.
Duluth XC Hill Bounding Starts Wednesday
October 13, 2014
Sarah Allen and Eleanor Bacso will be leading hill bounding sessions at Chester Park starting this Wednesday evening, Oct 15th -- bring your poles! Workouts are free and open to the public.
Local Stars
October 13, 2014
Day in the Life - Annie Hart shares an entire days adventure training out in Utah with the National Elite Group.
Road Blocks - Paige Schember has an article full of suggestions on dealing with training road blocks.
Ramping Up - Adam Loomis updates his early October training (Loomis finished third last weekend in NC Championships).
Thin Air - Jessie Diggins is also out in Utah, and recaps the recent training (and adventures).
Soldier Hollow - USSA has been posting photos from Soldier Hollow NEG training.
Event Center - Giants Ridge is demo'ing the dorms this month to make room for their new chalet/event center.
Tough Winter? - Early September snow may signal a tough winter.
Midwest Mountaineering October Newsletter
October 13, 2014
Midwest Mountaineering is featuring a wine and cheese event this Wednesday, Oct 16th, to check out the latest Icebreaker gear. And the following Thursday, Oct 23rd, Ann Bancroft will be the guest speaker with her presentation, Adventures: Near and Far.
Sisu Ski Fest: Did You Sisu?
October 13, 2014
Sisu Ski Fest registration is now open and there are less than 90 days until the big weekend of events in the UP. The race offers early season 42K marathon and 21K half marathon point-to-point races, starting at ABR and finishing in downtown Ironwood.
Pepsi Challenge Coming March 7th
October 13, 2014
Pepsi Challenge will be back for their 31st annual event coming this March 7th. Package of the race registration includes a free pass for Nordic skiing at the Ridge on Friday (test those kids, check out the conditions).
Nordic Combined: First U.S. Title for Bryan Fletcher
October 12, 2014
USSA reports: Bryan Fletcher added another jewel to an already star-studded nordic combined career, winning his first national title at the U.S. Nordic Combined Championships in Lake Placid. Fletcher parlayed a strong jump to take the win in rollerskiing over brother Taylor, who won the rollerski. Adam Loomis (Eau Claire native) took bronze. Note: Ben Loomis, Adam's younger brother, finished 9th!

Brewski Weekend with Matt Liebsch
October 12, 2014
Join Matt Liebsch from October 24-26 for a weekend of relaxation and ski specific training in Seeley, WI, brought to you by Fischer and Gear West. Workouts will include individualized coaching and technique analysis, while beverages will be provided for "recovery" between sessions. RSVP, space is limited.
Gandy Dancer Trail Marathon Recap
October 12, 2014
Over 300 runners turned out Saturday for the inaugural Gandy Dancer trail marathon events, hosted by Cyclova XC. Mark Swiontek and Tammi Braund claimed the first marathon titles. In the half marathon, Dan Schoepke and Megan Felling posted the top times. Read the full event recap.
Related:
Results: Gandy Dancer Trail Marathon