Spotlight: Duluth Summer Training
July 29, 2014
Duluth has a very active skiing community, hosting multiple summer training programs. We dropped in earlier this week to catch two sessions. Monday evening featured a small set of Duluth XC juniors working out at Spirit Mountain, punctuated by five sets of six minute interval ski walks up the long downhills (with one of the best backdrops in the state). Tuesday morning Superior Performance brought some of their collegiate skiers to join the Duluth XC juniors for a tandem workout based out of the famed Duluth East High School. The group worked on rollerskiing agility and technique, including some video analysis, then did an easy skate out the smooth Lakewalk trail.
Related:
Photoset:

Spirit Mountain Dryland - 76 photos,

Rollerski Technique/Drills - 126 photos
Photoset:

Top Picks (high res) - Dryland,

Top Picks (high res) - Rollerski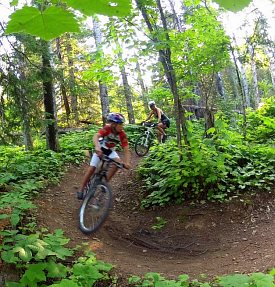 Midwest MTB Racing Report
July 29, 2014
Race reports from the Red Earth Classic and Elm Creek 40 miler, and a tour of the North Shore MTB trails, plus the look ahead, fill Jay Richards MTB report this week!
Related:
FAST KIDS LNR 2014 Mountain Bike Series - Two Events Left!

Birkie T-Shirt Design Nominees
July 29, 2014
Voting is happening this week on the 2015 American Birkebeiner official t-shirt design. There are five candidates to choose from, cast your vote!
Local Stars
July 28, 2014
FAST Kids MTB - Photos from the Loppet Foundation's youth MTB races, including some age gap relays. Video clip too.
Man Camp - Kyle Bratrud blogs on summer training with APU and USST men, and heading to the glacier.
Man Camp 2 - Brian Gregg also has an update on training with APU and USST men and glacier skiing.
Week on the Edge - Caitlin Gregg has a full writeup on her adventures in Alaska, getting some serious on-snow time and top-level training.
The Haig - Paige Schember posted a big update on her recent trip to the Haig Glacier, including loads of great photos.
Illinois Roller Ski Race Series Kicks Off Saturday
July 27, 2014
The Illinois Rollerski Race Series starts this coming Saturday, August 2nd, with a 10K race (5K for juniors) at Moraine Hills State Park in McHenry. This first race will is the Leatherleaf Bog trail which is surfaced with crushed limestone and paved on the hills.
Related:
Ringer Roll Coming August 8th
Spotlight: SCAR
July 27, 2014
The St. Croix Area Racing program (SCAR) was out Sunday morning for an overdistance rollerski on the hilly backroads of Afton, led by coach Kris Hansen. The group was joined by Vakava masters/racing members, with skiers doing one or two big laps of the area (25K or 50K).
Related:
Photoset:

Afton Rollerski Session - 46 photos
Photoset:

Top Picks (high res)
Duluth Looking for Input on Trail Segment Names
July 26, 2014
Duluth XC along with Duluth Parks is seeking input on adding some names to local trail segments. The goal is to improve signage on the trails, and to provide more meaningful names to the ski loops. Input deadline is Aug 31st.
Borah Teamwear Generates Over $13K for CAMBA
July 24, 2014
With more than 500 racers, the 2014 Mt. Borah Epic brought in over $13,000 in race profits to benefit CAMBA (Chequemagon Area Mountain Bike Association).
Urban Trail Marathon Next Month
July 24, 2014
Endurance United's Urban Trail Marathon is less than a month away -- August 23rd. Races start in downtown St. Paul and finish at Battle Creek with a number of distances available, and even a relay format.
Tri-Loppet Bans Racing Boats
July 23, 2014
In an effort to provide a more level playing field, the Loppet Foundation is banning racing boats from the Tri-Loppet. From the Loppet website: After the wind of the 2014 event, organizers have concluded that race boats have no place at the Tri-Loppet ... Going forward, no race boats of any kind will be allowed at the Tri-Loppet. No race canoes. No race kayaks. No surf skis. ... The hope is that this rule change will make for a more "democratic" event.
Midwest MTB Racing Report
July 22, 2014
Jay Richards latest MTB racing report features first-hand reports from the Afton Avalanche and Dakota Adventist Academy race, an update on Brian Matter's US Nationals, as well as highlights of upcoming events including the Dakota Offroad series, the new Cycling Museum of Minnesota, and North Shore trail explorations.
Midwest Skiers Heading to National U16 Camp
July 22, 2014
The Midwest will be well represented next week at the National U16 Camp in Jackson, Wyoming. Earning their trip west: Claire Benton, Anna Johnson, Amanda Kautzer, Erin Moening, Hannah Rudd, and Henry Gore, plus Great Lakes division skiers Bethany Wright and Mitchell DeLong. The crew will spend a week (July 27-August 3) working out with top juniors from across the US, along with USST Development coach Bryan Fish and other elite coaches.
Related:
National U16 Camp Roster
U16 National Camp Schedule
Mt Itasca Run For Snow Results
July 22, 2014
Petra Cervenkova reports: Mt.Itasca Nordic Ski Association held its fourth annual 5K Run for Snow on Saturday, July 19 at the Itasca County Fairgrounds. Over forty runners came to support snowmaking at Mt. Itasca. Overall male winner was Sam Nelson (18), Minneapolis, with time 18:43, Jakob Ellingson (19), Minnetonka, finished second with time 18:52, and third placed Patrick Gibeau (16) from Grand Rapids, 19:42. Overall female winner Andrea Nelson (40), Bemidji, ran 20:41, followed by Siena Ellingson (17), Minnetonka, 21:11 with Dawn Fairchild (38) from Grand Rapids, 22:22 in third.
Related:
Results: Run for Snow
Local Stars
July 21, 2014
Team Effort - Rosie Frankowski blogs on training with the US Ski Team and enjoying the Alaskan summer.
Camp Recap - LNR recaps their recent training camp along the North Shore.
On Snow - Team Gregg is up enjoying some on-snow on the Eagle Glacier.
Pretty in Pink - Some new suits spotted on the Eagle Glacier.
Ramping Up - The Minnesota high school MTB league is expanding, with over 30 schools on the roster this season.
And across the ocean...
Blink - Many of the top Nordic skiers will be competing in the Blink Festival in late July.
Spotlight: Nordicwerks
July 21, 2014
Enduring some of the hottest weather this summer, the Nordicwerks Skiklubb worked out on some quiet roads just south of Scandia Monday evening. The practice started with some balance drills in a parking lot under the eye of head coach Deno Johnson. The group then rollerskied out to an underdeveloped neighborhood where they did laps on a custom course that included sprint, slalom, and hill climb segments (with frequent waterbreaks). Practice winded down with an easy rollerski back to the parking lot.
Related:
Photoset:

Skate Workout - 102 photos
Photoset:

Top Picks (high res)
Birkie Announces New Director of Race Operations
July 21, 2014
The American Birkebeiner Ski Foundation (ABSF) has appointed Allan Serrano as its new Director of Race Operations. Serrano will replace Shellie Milford, who announced her retirement earlier this year.
Hoigaards Challenge Standings
July 20, 2014
The 2014 Hoigaards Challenge standings have been updated, reflecting results from the first three events in the series: City of Lakes Loppet, CityTrail Loppet, and Tri-Loppet. The final event of the series is the Trail Loppet, set for Sept 20th.
Related:
Trail Loppet
Long Lake Lap Coverage
July 19, 2014
The Rice Creek Boat Club hosted their annual Long Lake Lap races Saturday morning in New Brighton. Participants raced 1, 2 or 3 laps around Long Lake, dealing with some current from fast flowing Rice Creek, as well as battling some gusty southerly winds.
Related:
Photoset:

252 photos
Photoset:

Top Picks (high res)
Results: Long Lake Lap
Time Trial for the Common Man
July 17, 2014
Ride and Glide is hosting another trial time this summer, this one dedicated to the "common man". They encourage cyclists of all skill levels to come out and give it a try! Special award categories.
Midwest Junior Championships Registration Opens
July 16, 2014
The Loppet Foundation has rolled open the Midwest Junior Championships registration. The big event is scheduled for March 6-8, and is expanding again this year! Act before July 31st for the lowest pricing.
Bike Dr: Flamingo Fest Summer Fest
July 16, 2014
The Bicycle Doctor is hosting their first annual Flamingo Fest Summer Fest this Saturday, July 19th. Doc's band will be playing, plus there will be a number of fun cycling-related events and raffle. And they are running at big sale, July 17-28th.
CXC Chicago Masters Clinics
July 16, 2014
Join the CXC Masters Team for monthly technique clinics in the Chicagoland area, meeting at the Cook County Forest Preserve. Sessions include rollerski technique clinics along with video analysis. Next clinic is this weekend, July 19-20th.
Midwest MTB Racing Report
July 15, 2014
Featured in Jay Richards MTB racing report this week, racing action from the huge WORS Cup and the MN MTB series in Duluth, plus some commentary on primitive trails, and the usual look ahead to upcoming events.
Hoigaards Inline Skate Clinic this Saturday
July 15, 2014
Join Chuck Smerdon and Kathy Wagle from Team Hoigaard's Inline Race Team for this free clinic focused on technique on the trail. Included will be tips on maintaining wheels and bearings plus skating safety. Bring your gear, they'll be outside!
New Fall Rollerski Race Announced
July 15, 2014
Providing a great way to gauge the fall training, a new rollerski race will be held at Baker Park on Saturday, October 4th. Free rollerski ferrules for early registrations!
Local Stars
July 14, 2014
Alaska and ER - Jessie Diggins posts a major update, with adventures in Alaska and to the ER.
Family - Kyle Bratrud updates on his training (back off snow for a bit) and some family time (and llamas!).
On the Road - Caitlin Gregg is up in Alaska, training with the USST/APU gals.
Viva la Marwe - Elite French skiers test out rollerskis - guess which brand comes out on top? (great video too!)
Speedy - Brian Gregg crushes a personal record, and updates on their work with area youth.
You Can Play - Brian Olsen, former top biathlete and Bloomington high school star talks about the new 'You Can Play' initiative.
Give em a Break - Washington Post posted a response to some recent tirades against cyclists.
Loppet Registration Opens
July 13, 2014
The City of Lakes Loppet Ski Festival registration opens today, Monday, July 14th. Note there are new field caps this season, and a number of events did fill last year -- so get your place at the start line secured today!
Midwest Mountaineering MidSummer Sale
July 13, 2014
Midwest Mountaineering is running a mid-summer sale with plenty of savings, including coupons for 25% sleeping bags and pfds, 50% off cargo shorts, and some free deals with kayak purchases. Plus check out their July events.
Rivet Run Coverage
July 13, 2014
Eve Graves reports: Perfect weather with temps in the upper 50's, low humidity, and a slight breeze made for a great Rivet Run today on the trails of Pattison State Park! Leah Holmes easily "chicked" all the males as she "jogged" in to win in 22:51, almost 3 minutes ahead of the next finisher. Leah, from Superior just finished her first year running for UW Milwaukee. The second finisher was Saif Robida a 14 year old who ran it in 24:49. Our youngest participant was 7 and the oldest 70! Rivets from ships are given out to age group winners.
Related:
Photoset from Eve Graves:

Rivet Run
Results: Rivet Run 5K
Ringer Roll Coming August 8th
July 13, 2014
The annual Ringer Roll rollerski race at Baker Park will be Friday, August 8th. While the event features some of the top juniors from the Midwest, it is also open to citizen racers.
Hoigaard's Heat of Summer Sale
July 11, 2014
Still another month before school fires up again... Hoigaards is running their summer sale with deals on bikes, swimming gear, camping equipment, trail running shoes and now. Now through July 20th.
Illinois Rollerski Race Series
July 11, 2014
The Illinois Roller Ski Race Series consists of four races at Moraine Hills State Park with racers earning points towards the season champion awards. The series uses a mix of crushed limestone and asphalt trails. The first race is August 2nd!
Out There: Free Rollerski Bag Offer
July 11, 2014
Out There Shop is offering a free rollerski bag with any purchase of One Way rollerskis, now thru July 19th.
Joes Seeking Sales Associates
July 10, 2014
Joe's Sporting Goods in St. Paul has part-time openings in their Nordic/Alpine/Snowboard sales department. Apply online, or mail in your application.
Best of Both - Birkie and Loppet Trail Runs
July 10, 2014
The Loppet Foundation and the American Birkebeiner have teamed up to offer a "best of both" award for runners participating in both fall trail running races.
Related:
Birkie T-Shirt Design Contest
Midwest MTB Racing Report
July 8, 2014
Tips on negotiating trail obstacles, riding in the White Earth State Forest, the trend of endurance events, and a Lyme reminder all make up Jay Richards' MTB report this week.
REG Camp Tuesday Coverage
July 8, 2014
Tuesday morning brought cooler, cloudy weather for the Central Regional Elite Group Camp. The group held a skate distance and technique session on some quiet backroads near Spider Lake. USST Development coach Bryan Fish led the technique sessions, emphasizing quick, snappy power in V1, V2, and V2 alternate drills.
Related:
Photoset:

Skate Distance/Technique Session - 101 photos
Photoset:

Top Picks (high res)
Video:

Skate Distance/Technique
National Nordic Foundation: The Regional Elite Group Explained
Local Stars
July 7, 2014
Western Howe - Former Forest Lake and NMU skier, Stephanie Howe has had a stellar ultrarunning career, recently winning the Western States 100.
Eagle Glacier - Kyle Bratrud reports in from the Eagle Glacier in Alaska and some on-snow training.
Team - Paige Schember blogs from Sun Valley, discussing the major role a team plays in an individual's success.
Bend - The Canadian National team crossed the border to train in Bend, Oregon, in June.
More REG - In addition to the coverage we've posted, CXC has photos of the REG Camp running TT.
REG Camp Monday Coverage
July 7, 2014
The Central Regional Elite Camp on Monday featured a morning rollerski time trial on the hilly terrain of Hwy OO, racing from Seeley to the Birkie trailhead. Zak Ketterson and Nichole Bathe cranked out the top times, with some stiff competition. After a wet afternoon classic workout, Bryan Fish gave an extensive presentation on skate technique in the evening, complete with video review of top World Cup skiers.
Related:
Photoset:

Rollerski Time Trial - 156 photos,

Skate Presentation - 8 photos
Photoset:

Top Picks (high res)
Results: REG Camp - Skate Rollerski TT
REG Camp Sunday Coverage
July 6, 2014
The Central Regional Elite Camp is going on this week, July 5-11th, in the Hayward area. Top Midwest junior skiers are training and competing in a variety of drills and events, with USST Development coach Bryan Fish overseeing the workouts. Sunday's events included a strength assessment in the morning followed by an afternoon agility test on rollerskis.
Related:
Photoset:

Strength Assessment - 84 photos,

Rollerski Agility Test - 153 photos
Photoset:

Top Picks (high res)
Video from CXC:

Rollerski Agility - Men,

Rollerski Agility - Women
Results: REG Camp - Running TT, REG Camp - Strength Assessment, REG Camp - Rollerski Agility

Gear West: Womens Night Out
July 6, 2014
Gear West is hosting a special Women's Night Out this Thursday, July 10th. They'll have guest speakers discussion the topics of building strength and preventing injuries along with treats and special deals.
Tofte Trek Results
July 5, 2014
Over 125 athletes came out Friday for the Tofte Trek trail run along the Northshore. Dan Schwamberger and Kaelyn Williams took the titles in the 10K.
Related:
Results: Tofte Trek
Conrad Hoigaard Passes On
July 4, 2014
Conrad Hoigaard passed away last Friday, June 27th. He was the grandson of CJ Hoigaard, who founded Hoigaards in 1895. Conrad took over the reigns of Hoigaards from his father in 1984.
Midwest Mountaineering July Specials
July 2, 2014
Celebrating the 4th of July, Midwest Mountaineering has coupons for a free mug/cup/bottle/pint with any $10 purchase. Plus details on dozens of events, including their Pint Night and SUP One Design Challenge race series.
Midwest MTB Racing Report
July 1, 2014
Jay Richards' MTB report this week provides recaps on the Lutsen 99er and Buck Hill Birch Bump races.
Local Stars
June 30, 2014
Igor Camp - Bill Pierce recaps the recent Igor Legacy Camp, a weekend camp that helped introduce a group on young juniors to the world of Nordic ski training.
On Snow! - Rosie Frankowski hits the Eagle Glacier for some great on-snow training.
Eastsiders - Endurance United summer juniors agility training in featured in a nice highlight video.
Chilling - Jessie Diggins blogs on the art of relaxing, celebrating Ben Saxton's birthday, and reminiscing with old friends.
Adventure - The Loppet Foundation's Adventure Camp is featured in Caitlin Gregg's latest update. Brian highlights the Olympic Day activities.