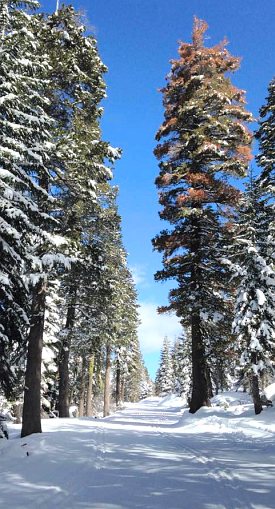 Auburn Ski Club trails, site for 2015 Junior Nationals, March 3, 2015 (Photo: Caroline Brisbois)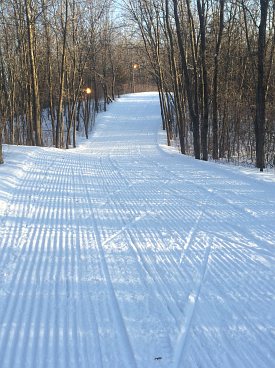 French Regional Park, March 3, 2015 (Photo: Bill Lundberg)

Jessie Diggins leads the charge on the first lap of the girls OJ race, Junior Olympics, March 9, 2011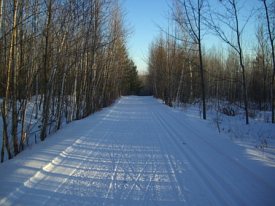 Giants Ridge, March 2, 2015 (Photo: Tim Salo)

Minnesota Pursuit Championships, March 1, 2015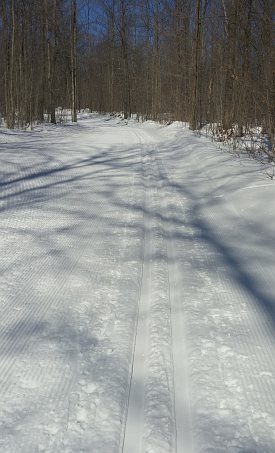 Nine Mile, March 2, 2015 (Photo: Dave Gorringe)
Skinnyski FAQ
December 4, 2011
We've collected together a bunch of common questions to assembly our own FAQ for cross-country skiing in the Midwest and using the Skinnyski website.
Skinnyski Photos
February 5, 2009
Found a photo you'd like to get a copy of? Looking for images from a past event? Find out how to dig through our archives and help support the web site by purchasing photographs.

Trail Report Updates
March 3, 2015
Fresh snowfall on Tuesday is rejuvenating many trails systems. New reports from Wild River SP

, Jackson Meadow, Scotch Creek Woodland Preserve, Balsam Branch, Lapham Peak(2), Three Eagle, Coon Lake, Graystone, Valley Spur, Mukwonago

, Piedmont, Lake Wissota SP, Cassian Two-Way, High Cliff SP, Korkki, UW-Parkside, French

, Birkie, Elm Creek, Bridgewood, Gartzke Flowage, Escanaba (2)

, McNaughton Lake

, Goose Lake, Lebanon Hills, Hyland Lake, Stoney Ridge, Michigan Tech Univ, Swedetown, Hormel Nature, Minocqua Winter, Watersmeet, Zillmer, Tower Ridge, Barron Association, and recent reports from Giants Ridge

, Columbia GC

, Washburn Lake Solitude(3), Porcupine Mtns Wilderness SP

, Sleeping Giant Provincial, Nine Mile Forest

, Korkki, Theodore Wirth(2), Pleasant View GC, Nordic, Maplelag

, Magney-Snively

, French, Battle Creek West

, Lake Kegonsa SP, Hyland Lake, Afterglow Lake, Timberland Hills West, Voyager Village GC, Michigan Tech Univ, Howard Wagoner, Cleary Lake, Minocqua Winter, Iola Winter Sports, Sugarbush.
Related:
Regional Snowfall Reports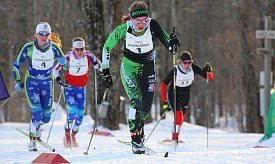 Junior Nationals Preview
March 3, 2015
Junior Nationals starts on Monday, March 9th, at the Auburn Ski Club near Soda Springs, California. The Midwest is bringing one of their biggest squads ever, packing a lot of podium potential! We've posted a preview of the team along with a collection of resources to help follow all the action.

Fitzharris: End of Year Blowout
March 3, 2015
Fitzharris Ski Shop in St. Cloud has cut their remaining inventory even lower, with Salomon Equipe 10 and Madshus Nanosonic Skate skis more than 50% off, plus deals on poles and bindings.

CCSA: Field Announced for 2015 NCAA Championships
March 3, 2015
The Midwest field for the 2015 NCAA Championships, March 11-14, in Lake Placid, NY, has been announced. Northern Michigan leads the CCSA representation at the NCAA Championships with a full allotment of six skiers.
Related:
NCAA: 74 men, 74 women named as 2015 skiing championship participants

Local Stars
March 2, 2015
The 10K - Jessie Diggins recaps her incredible silver medal in the World Championships 10K freestyle.
Pioneers - Jessie Diggins and Caitlin Gregg featured by US Ski Team as pioneers. Plus Gregg highlights some of perks of winning a World Championships medal.
Salting - An article from the Socchi Olympics about salting Nordic courses in warm weather.
Laundry Day - Members of the US Ski Team in Falun, including Ben Saxton, get some laundry help.
Lichtenstein - Annie Hart reports in from the OPA Cup tour and racing in Lichtenstein!

Racing Outlook
March 2, 2015
Posting updates on races coming up this weekend, including the Pepsi Challenge, SpringLoppet and many others.

Wisconsin Biathlon Cup #5 this Weekend
March 2, 2015
The final event of the 2015 Wisconsin Biathlon Cup Series will take place this Saturday, Mar 7th at Blackhawk Ski Club. Included will be an open race and novice event, perfect for first timers.
BeFAST Licensed for Univ of Minnesota, Michigan
March 1, 2015
BeFAST Sportgear is announcing that they are now licensed to teams and clubs at both the University of Minnesota and the University of Michigan! You can use official school logos in your new BeFAST designs.
Birkie Establishes Award Honoring Shellie Milford
March 1, 2015
The American Birkebeiner has announced the establishment of a new award, The Shellie Milford Spirit of the Birkie Award. Milford, the director of race operations, is retiring next month after 28 years with the Birkie.
Midwest Junior National Team Naming
March 1, 2015
The final roster for the Midwest Junior National team has been released. The team will bring 54 athletes, along with a big coaching/support staff to Soda Springs, CA, for the Junior National competition the week of March 8-14.
Related:
Midwest U16 Championships Team Named
Nordic Spirit Coverage
March 1, 2015
After being rescheduled due to poor snow conditions in January, the Nordic Spirit ski races were held under much better conditions including perfect temperatures. Nikolai Anikin edged out Chris Parr for the mens 26K freestyle title, with Elaine Nelson posted the top womens time. Kendall Hill won the 14K skate with Sara Zimmer the top female. Results linked in, along with a photoset from Eve Graves.
NCAA Regional Championships Classical Coverage
March 1, 2015
The Midwest NCAA Regional competition held 15K and 20K classical races on Sunday at Al Quaal. Fredrik Schwencke, NMU, took the mens 20K victory with Logan Hanneman, UAF, and Adam Martin, NMU, just seconds back. Ulrika Axelsson, MTU, won the womens 15K in a sprint finish over teammate Deedra Irwin, with NMU's Felicia Gesior less than 15 seconds back for third. Results linked in, photos from Jennifer Brisbois.
Related:


CCSA: Michigan Tech's Axelsson, NMU's Schwencke win classic event at NCAA Central Regionals
World Championships: Mens 50K Classical
March 1, 2015
The World Championships in Falun, Sweden, concluded on Sunday afternoon with the premiere event, the mens 50K classic. Falling snow and tactics lead to a slow pace for much of the race, with a large pack of roughly 20 still in the hunt going into the final kilometers. Reclaiming his crown as the king of Nordic, Petter Northug skied a conservative race until the final 500 meters, moving up to third coming into the stadium then unreleased a brutal double pole to win! Lukas Bauer, switching to new skis for the final lap, took second with Johan Olsson settling for third. American Noah Hoffman skied much of the race near the lead pack to finish 31st.
Related:
Results: Mens 50K Classical
Fischer: Petter Northug sprints to his 13th carreer's gold in 50k classic mass start
Squirrel Hill Skiathlon Results
February 28, 2015
Minocqua Winter Park celebrated great conditions Saturday with their Squirrel Hill Skiathlon events. In the full 24K skiathlon, Andy Keller easily skied away with the title winning by nearly three minutes. Paulette Niemi was unchallenged in the womens race, handily besting the field.
Stump Farm Race Results
February 28, 2015
Nearly 100 skiers turned out Saturday morning on the Reforestation Camp trails for the Stump Farm Races. Andrew Bailey and Paula Kastenson collected the 15K freestyle titles, as Kevin Berg and Elizabeth Slaby won the 4K races.
Related:
Our Neighbors Race Results
Snowjourn Coverage
February 28, 2015
The 35th annual Snowjourn races were held at Buena Vista ski area on Saturday morning. The 12K freestyle titles went to Jenna Truedson and Brad Kuzel. Classic victories for Darla Lenz and Mark Walters. Results and photos posted.
Related:
Rainbow Resort Coverage
NCAA Regional Championships Freestyle Coverage
February 28, 2015
The Midwest NCAA Regional competition got underway Saturday with the 5K and 10K freestyle races at Al Quaal in Ishpeming. Alice Flanders, MTU, continued her hot hand in skate races, winning by three seconds with NMU's Jordyn Ross second, and Sharmila Ahmed, CSS, third. In the mens 10K, Erik Soderman, NMU, took the victory by 30 seconds with Logan Hanneman, UAF, second and Håkon Hjelstuen, MTU, third. Results linked in along with some photos from Jennifer Brisbois.
Related:
CCSA: NMU's Soderman, Michigan Tech's Flanders win freestyle race at NCAA Central Regionals
Post-Birkie Invite Coverage
World Championships: Womens 30K Classical
February 28, 2015
In Saturday's World Championships, the women's 30K classical featured a dominating performance by Norway's Therese Johaug. Johaug put down a blistering pace early on, shredding the field, and then held on to win by nearly minute over teammate Marit Bjoergen. Sweden's Charlotte Kalla third. The US had some solid numbers with Liz Stephen 11th, Rosie Brennan 16th, and Sadie Bjornsen 20th.
Related:
Results: Womens 30K Classical
Fischer: Therese Johaug celebrates outstanding success in in 30k classic mass start
World Championships: Mens Relay
February 27, 2015
The mens 4x10K relay at the World Championships Friday afternoon in Falun proved to live up to billing with an exciting battle between Sweden and Norway. After a number of lead changes, it was Petter Northug dropping the hammer on the final short climb into the stadium and then out sprinting Sweden's Calle Halfvarsson for the victory. France pulled off the bronze medal, staying with the two superpowers the entire race. Canada was 10th, USA 11th.
Related:
Results: Mens Relay
Fischer: Norwegian becomes relay World Champion ahead of Sweden and France
Pepsi Challenge Updates
February 27, 2015
Pepsi Challenge organizers are reporting ideal conditions for the big race next weekend. Online registration closes on March 5th.
Pioneer Midwest: Winter Clearance
February 26, 2015
The snow may not have been deep this year, but Pioneer Midwest discounts on all winter products are stacking up -- stop in now through Mar 15th for savings on all winter products. And check back throughout the spring as they bring in new summer products.
Fitzharris: End of Season Blowout
February 26, 2015
Fitzharris Ski and Sport in St. Cloud is clearing out their remaining winter gear, including huge savings on Madshus and Salomon skis, Swix poles, and winter clothing.
Junior Nationals: Course Update
February 26, 2015
Very sparse snow conditions are forcing Junior Nationals organizers to scale back courses and limit access to the trails as they prepare for the 2015 event in less than 10 days. Skiers going out early may need to plan for alternate workouts.
World Championships: Womens Relay
February 26, 2015
The womens relay was the featured event on Thursday at the World Championships in Falun. Norway took control of the race by the third leg and never looked back as Marit Bjoergen coasted across the finish line for the team victory. Finland and Sweden fought it out for the remaining podium spots, with Sweden's young star Stina Nilsson taking the sprint finish for second. The US squad came back to finish 4th, matching their best performance ever.
Related:
Results: Womens Relay
Nordic Combined: Impressive Day for Fletcher
Fischer: Norway's women celebrate relay title followed by Sweden and Finland
Tour Duluth this Saturday
February 25, 2015
Tour Duluth is an annual celebration of cross-country skiing, giving skiers the opportunity to ski as many of Duluth's great ski trails as they wish. At the end of the day, there is a dinner at Hartley Nature Center. And stay for Sunday and compete in the Nordic Spirit ski race!
Out There: World Championships Celebration Deals
February 25, 2015
Out There shop in Rice Lake has special offers on Johaug gloves and Madshus skis, in celebration of the awesome results by the US skiers at the World Championships. For each pair sold, Out There will contribute a portion of the proceeds to support the athlete.
Birkie: iSUP Fundraising Partnership Announced
February 25, 2015
The Birkie has partnered with Mike Cichanowski, 38-year Birkie vet and owner of Wenonah Canoe and C4Waterman paddle boards to help ensure the Birkie future. Buy any new iSUP (inflatable stand-up paddleboard) and C4Waterman will donate 20% of the sale to the Birkie Capital Campaign.
CyclovaXC: Padding Adventures, Fat Bike Tech
February 25, 2015
CyclovaXC in St. Croix Falls is continuing their Adventure and Tech Social Series this Thursday evening, Feb 26th, with presentations on paddling adventures and the trends in Fat Bike technology.
ONEWAY: Mathias Wibault Skis to 4th at Birkie
February 25, 2015
Athletes using ONE WAY poles and skis did very well at the American Birkebeiner, including Mathias Wibault fourth place finish on the new ONE WAYT Premio HD skis in the mens 51K skate race.
2014-2015 Contest Winners
February 25, 2015
With the wrap up of our trail drawings, we post a summary of all the prize drawings and winners. Thanks to everyone that contributed trail reports, and especially the fine sponsors.
World Championships: Mens Freestyle
February 25, 2015
The World Championships mens 15K freestyle race was Wednesday afternoon in Falun, Sweden, on another warm and wet day. Sweden's own Johan Olsson topped the field. Noah Hoffman was the top US skier at 34th, Minnesotan Kyle Bratrud finished 52nd.
Related:
Video:

Behind the Scenes in Falun with Fischer Nordic Racing Service
Results: Mens Freestyle
Fischer: Johan Olsson World Champion in 15k free race
Local Stars
February 24, 2015
Teammates - Before Caitlin Gregg scored her third place finish at the World Championships, she was already giving thanks to all her supporters.
Team Sprinting - Jessie Diggins recaps the exciting team sprint from the World Championships on Sunday.
Supernovas and Doom Clouds - Alice Flanders juggles school, job opportunities and racing as she recaps the last few weeks of racing.
Channeling Elasti-girl - Paige Schember blogs on having flexibility during those long ski trips as she travels in Europe.
Diggity - Jessie Diggins is featured on NRK TV in Falun -- a hilarious interview (w/ Liz Stevens roped in). Commentors switch to English about 2 mins into the video.
Finn Sisu: End-of-Season Sale
February 24, 2015
Finn Sisu is having an end-of-the-season blowout, with 40% off all winter clothes, 30% off all skis, 20% off all saunas, plus special deals on select boots and poles.
Annual Yellowstone Rendezvous Race Fast Approaching
February 24, 2015
The Rendezvous Ski Race, back in West Yellowstone, MT, is coming up in less than two weeks. Organizers report great conditions and are excited for the 36th annual event!
USSA: Let's Celebrate!
February 24, 2015
USSA President Tiger Shaw celebrates the historic US podiums at the World Championships, and encourages the skiing community to show their continued support via their RallyMe campaign!
Related:
NNF: A Dream Come True - Historic U.S. Podium in Falun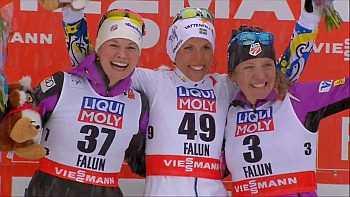 World Championships: Womens Freestyle
February 24, 2015
A truly historic day for the United States (and Minnesota!) as Jessie Diggins and Caitlin Gregg rock the world finishing second and third overall in the womens 10K freestyle at the World Championships in Falun, Sweden! Sweden's own Charolette Kalla dominated the field for the victory. Liz Stephen completed the incredible American performance with 10th!
Related:
Video:

Womens 10K Freestyle Replay,

Post-Race Interviews,

Highlights
Results: Womens Freestyle
Salomon Congratulates Diggins - Carbon Skate Lab Skis at Gear West
ESPN: U.S. skiers win silver, bronze
Fischer: Charlotte Kalla goes for gold in adverse conditions
Star Tribune: Miracle on snow for Minnesota skiers in Sweden
Tackling the Giant at 90
February 23, 2015
The Sleeping Giant Loppet celebrates local legend O.E. (Olie) Olynyk returning to participate again this year, still enjoying the skiing at age 90. The Sleeping Giant Loppet races are March 7th in Thunder Bay, with online registration closing on March 4th.
Minnesota Junior Cycling (MNJRC) Kick-Off Meeting
February 23, 2015
Minnesota Junior Cycling is geared up and ready to go, holding their kickoff meeting this Friday evening, Feb 27th, at KSTP 5 in St. Paul. They welcome anyone interested in learning more aboutyouth development through cycling program.
Hoigaard's Winter Clearance Sale
February 23, 2015
Hoigaard's is running their Winter Clearance sale, with savings up to 25% Off XC apparel for men, women and kids along with deals on all XC skis, boots, bindings and poles!
Midwest Junior Championship and Festival
February 23, 2015
The Midwest Junior Championship and Festival is March 6-8 at Theodore Wirth Park in Minneapolis. The event offers a huge range of events including relay races, SkiCross obstacle course, paintball biathlon, tug of war, scooter soccer, and of course, classical and freestyle ski races.
Birkie Wrap
February 22, 2015
A sampling of the big Birkie coverage over the weekend:
Birkie Video Recap - The American Birkebeiner put out an excellent event recap video, showing highlights from both the mens and womens races.
Full Birkie Replay - CXC's Livestream channel has the full Birkie video replay.
Birkie Shootout - Sawyer County Record's feature article on the mens and womens races at the Birkie.
Brooks Wins 2nd Title - Alaska Dispatch highlights Holly Brooks second womens Birkie champion title.
Skiers Swarm the Birkie - NorthlandNews article and video features on the Birkie races.
Bridge Reviews - The Eau Claire Leader-Telegram had skiers extolling the International bridge addition for the Birkie.
Liebsch Skis On - Duluth Tribune featured Matt Liebsch and his Birkie aspirations.
And we've got our own Skinnyski photosets posted and you'll find more on the Birkie Facebook photo page.
Minnesota HS Nordic Ski Coaches Association Award Winners
February 22, 2015
The Minnesota High School Nordic Ski Coaches Association announced the winners for coach, assistant coach, and volunteer of the year, at their banquet back on Feb 11th. Cloquet-Esko-Carlton swept the awards with Glen Sorenson coach, Ben Croft asst coach, and Brent Smith, volunteer.
World Championships: Team Sprints
February 22, 2015
Sunday featured the team sprint events at the World Championships. The day was dominated by Norway, which easily swept the mens and womens titles. The US women finished 8th, with the men taking 7th.
Related:
Results: Team Sprints
Fischer: Norway wins gold in both teamsprints
American Birkebeiner Coverage
February 21, 2015
Nearly perfect snow conditions greeted the skiers participating in the 42nd annual American Birkebeiner. Sergio Bonaldi of Italy collected top honors in a sprint men's finish for the 50K Skate while USA's Holly Brooks was the women's champion. Ole Christian Mork strided to the fastest men's spot in the 54K Classic with Natalia Naryshkina winning for the women. In the 24K Korte Skate, Daniel Pederson and Hannah Bettendorf topped the podium. Mac Fitzpatrick and Diane Meinholz posted the fastest times in the 24K Korte Classic. Results linked in, along with photosets from Double OO and the finish area.
Related:
Birkie Live Video Feed
Press Release: Brooks and Bonaldi Win the American Birkebeiner
World Championships: Skiathlon
February 20, 2015
Saturday featured the skiathlon format events at the World Championships in Falun, Sweden. Skiers raced freestyle mass start, then switched to classical equipment on the fly, halfway through the race. Norway and Sweden topped the podium for the women's 7.5K/7.5K race with 1-2 going to Norway's Therese Johaug and Astrid Jacobsen, followed by sweden's Charlotte Kalla in 3rd. The top US women's finisher was Liz Stephen in 11th. For the men, Russia's Maxim Vylegzhanin powered his way to 1st, followed by Dario Cologna of Switzerland and Canada's star Alex Harvey in 3rd. The top US male finisher was Erik Bjornsen in 38th.
Related:
Results: Skiathlon 15K, 30K
Fischer: Therese Johaug and Maxim Vylegzhanin capture gold medals in skiathlon
Buena Vista Snowjourn is On
February 20, 2015
The Snowjourn ski races at Buena Vista, just north of Bemidji, are on for Saturday, Feb 28th. Snowjourn features a 12K classical and skate race and a variable distance tour of up to 12km.
Birkie Friday Coverage
February 20, 2015
A little fresh snow greeted skiers on Friday for another full day of events at the American Birkebeiner. The Junior Birkie raced in almost balmy temperatures (low teens), followed in the afternoon with the Barnebirkie and Family Tour/Nikkerbeiner events. Plus the bib pickup and the expo were busy all day. Weather looks very good, as do the trail conditions, for the 42nd annual American Birkebeiner race on Saturday morning.
Related:
Photoset:

Junior Birkie/Team Relays - 200 photos,

Barnebirkie, Tour - 53 photos,

Expo - 27 photos
Photoset:

Top Picks (high res)
Junior Birkie Results
Birkie Thursday Coverage
February 19, 2015
The American Birkebeiner festivities were well underway on Thursday as bright sunshine and light winds made for a beautiful afternoon in Hayward. On Main Street, spectators checked out the views from the International Bridge, then watched the Barkiebirkie skijor races. As the sun began to drop, the opening ceremony was held with skiers of all age levels. Founders Jackie Lindskoog and Ernie St Germaine helped lead a procession from the bridge down Main Street to the torch lightning. The afternoon wrapped up with the hilarious Giant Ski event.
Related:
Photoset:

Thursday Events - 203 photos
Photoset:

Top Picks (high res)
World Championships: Classical Sprints
February 19, 2015
The 2015 World Championships opened under warm conditions Thursday in Falun, Sweden with classical sprint events. The mens final was an impressive show of power with Canadian's Alex Harvey nearly pulling off an upset of the winner Petter Northug. Marit Bjoergen bested the womens field. Simi Hamilton and Sophie Caldwell both advanced all the way to the semi-finals before being bumped out.
Related:
Results: Classical Sprints
Fischer: Double Triple Victory for Fischer at the World Championship Kick-off
31st Annual Pepsi Challenge XC Race Mar 7th
February 18, 2015
The 31st edition of the Pepsi Challenge is scheduled for Saturday, March 7th at Giants Ridge. The event offers 10K, 24K, and 48K distance classic and freestyle races. Register before Monday, Feb 23rd, to avoid the next price jump.
Birkie Double Header
February 18, 2015
Cancelled due to forecast cold weather. Ever thought you wanted to ski the Birkie course from Hayward back up to Telemark? And maybe do it the morning after the official Birkie race? Now's your chance...
Biathlon: Minnesota Biathletes Race at World Junior Championships
February 18, 2015
A number of Minnesota biathletes are racing at the World Junior Championships this week in Minsk, Belarus. Siena Ellingson and Amanda Kautzer had great ski races on the first day of competition.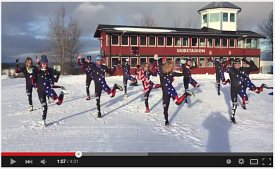 US Ski Team Gets Funky Before the World Championships
February 18, 2015
Showcasing their prowess at producing great music videos, the US Ski Team has posted their rendition of Uptown Funk on the eve of the World Championships in Sweden! Racing action starts Thursday morning at 6 am (Midwest) with the classical sprint qualifiers, sprint finals around 8:15 am. Watch it all online, via the US Ski Team website or Falun 2015 Live Arena app (Apple App store)!
Related:
US Ski Team: Nordic Worlds Live Stream Schedule Announced
Official Falun 2015 World Championships Website
Skiwerx Series/CXC Youth Cup and Cities Cup Points Update
February 18, 2015
Skiwerx, Youth Cup and Cities Cup point totals have been updated. Just a few races left in the series, including the Junior Birkie this Friday.
Junior Birkie Changes
February 18, 2015
Due to the forecast cold temperatures on Friday morning, the Junior Birkie will start one hour later -- 10 am.