Trail Report / Training Report Drawing
Submit a trail report and be entered into our weekly $100 lodging gift certificate drawing.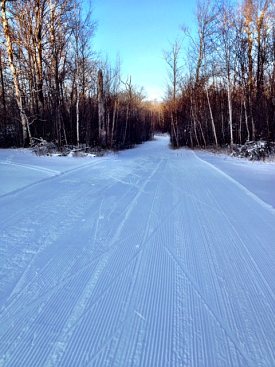 Fresh base at Giants Ridge, December 17, 2014 (Photo: Shawn Callahan)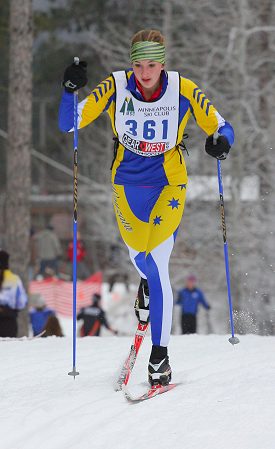 Holiday Relays, December 17, 2011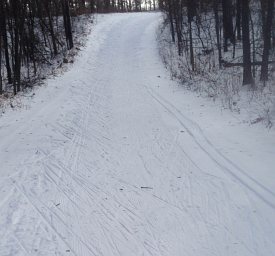 Graystone trails, December 17, 2014 (Photo: Bob Baldwin)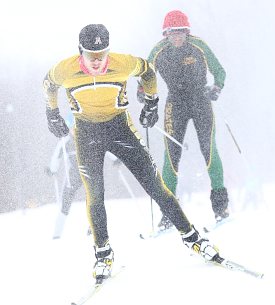 Coming out of the snowmist, NWSC Meet, December 16, 2014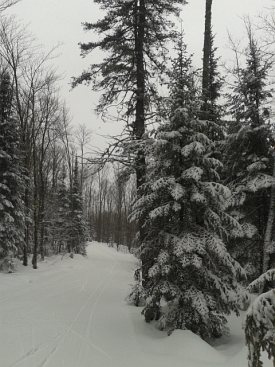 ABR ski trails, December 17, 2014 (Photo: Sue Schroeder)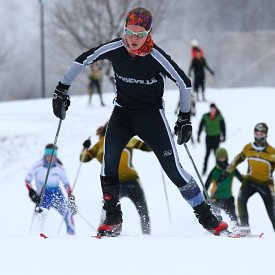 Hanna Torvi, NWSC Meet, December 16, 2014

Midwest Racing Season Preview
November 2, 2014
With the end of daylight savings time, the early sunset signals that winter is not far away! We've updated our racing calendar with the latest info on the citizen, collegiate, and high school events. Our annual preview covers some of the big changes on tap this winter, along with some new additions and a few losses.
Skinnyski FAQ
December 4, 2011
We've collected together a bunch of common questions to assembly our own FAQ for cross-country skiing in the Midwest and using the Skinnyski website.
Skinnyski Photos
February 5, 2009
Found a photo you'd like to get a copy of? Looking for images from a past event? Find out how to dig through our archives and help support the web site by purchasing photographs.

Weekend Racing
December 17, 2014
A little pre-Holiday racing action this weekend...
Dec 20-21 Michigan Tech CCSA/JNQ - Juniors and collegiate racers descend on Houghton, MI for a pair of classical technique events this weekend.
Dec 20 Holiday Relays - The big high school team event, moved from Trollhaugen to Wirth this season. Classical relays in the morning, skate in the afternoon.
Dec 20 Gear West Holiday Tuneup - High school and citizen races at Elm Creek, with some optional free video analysis.
Dec 20 John Hugus Invite - Wisconsin has their own mega meet, racing on man-made snow at Greenwood Hills on Saturday.
Check the Racing Outlook for the latest event updates.
Related:
Race Series Events


CXC Spotlight: Oyvind Solvang
December 17, 2014
CXC highlights an interview by Peter Graves with their President Oyvind Solvang, discussing his background and goals for the development of CXC. CXC is holding their En dof the Year fundraising drive, trying to meet a 1 for 2 challenge grant.
Related:
CXC End of Year Fundraising Drive
NNF Funding Allocations Announced

World Cup Davos Weekend Series Redux
December 17, 2014
Rescheduled from La Clusaz, France, the World Cup FIS series repeats again this weekend in Davos, Switzerland. The lineup this weekend includes a womens 10K and mens 15K skate race Saturday, with freestyle sprint races on Sunday.
Related:
Video from Ahvo Taipale:

Bjorn Daehlie Interview
NNF: Davos Double Poling Distance with Chris Grover
US Ski Team: Davos Redux - 8 Things to Watch this World Cup Weekend

Trail Report Updates
December 17, 2014
After the big meltoff, there are still a number of trail systems alive and thriving. Most of the snowmaking venues are up as well, though Hyland is closed for a couple of days while they fortify their base. New reports from Elm Creek, Noquemanon(4)

, Lauterman National(2), Hyland Lake(3), After Hours(2)

, Lapham Peak(2), Mt. Ashwabay(2), Mount Itasca, WinMan, Birkie, Hartley, ABR

, Snowflake(2)

, Lakewood XC, Giants Ridge

, McNaughton Lake

, Minocqua Winter(2), Three Eagle

, Drummond, Mt. Valhalla, Magney-Snively

, Graystone(2)

, Anvil National, Pine Valley, Theodore Wirth(2), Afterglow Lake

, Navarino Wildlife, and recent reports from Spirit River Nature, ABR(4)

, Theodore Wirth, Snow Mtn Ranch

, Wolverine, Three Eagle, Elm Creek(4), McNaughton Lake(2)

, Spirit Mtn, Maplelag

, Hyland Lake(3)

, Escanaba , Raven, Madeline Lake, Minocqua Winter, Woodland.

Price Hike: Boulder Lake Ski Races
December 17, 2014
The Boulder Lake ski races, Jan 18th, in Duluth, have their first price hike coming up this weekend. Registration by Friday, Dec 19th to get the groundfloor pricing.

Finn Sisu: JNQ Waxing Service
December 16, 2014
Finn Sisu will be providing elite-level racing service at all 4 weekends of Midwest Junior National Qualifying races for the 2014-2015 season. They hope to provide all skiers with access to high quality waxing service (epsecially if they don't have club service) and assist coaches with information and on-site access to the best wax.
Monday Snowfall Totals
December 16, 2014
Not a big snow producer for Minnesota, with only about an inch of new snowfall for much of the area. A couple of inches across central Minnesota and a little more along the Northshore. Northern Wisconsin, and especially the UP of Michigan, are expected to continue receiving snowfall through Wednesday (snowfall totals for the UP could reach 10").
Related:
Regional Snowfall Reports
Marquette Weather Story
Webcam: Michigan Tech Trailhead
Local Stars
December 15, 2014
Slick Business - Fast Wax, the Twin Cities wax company, was recently profiled in the Star Tribune.
Confidence - Annie Hart writes on the topic of confidence, losing it and bring it back - good stuff.
Stress - Alice Flanders covers the battle between racing and school finals, with neither going quite as planned.
Early Season - Rosie Frankowski updates her early season racing in Montana.
Davos Home - Jessie Diggins highlights her time in Switzerland, just before the weekend races at Davos.
Van Life - Paige Schember reveils the glorious van ride lifestyle of the Nordic ski racer.
Dubay - St. Scholastica's Joe Dubay cracks top five at the Wildcat Invitational.
Velodone? - The National Sports Center Velodrome needs some serious funding help to repair and maintain the facility. A fundraising project is underway.
Skinnyski.com High School Rankings - Week 2
December 15, 2014
Week 2 of the Minnesota High School Rankings: some interesting results last week generated a shuffling in the rankings, including a new number one for the girls.
December Salomon Demos
December 15, 2014
Salomon is making the rounds in December, hosting demos events at a number of venues. Come test their latest equipment, including the new Equipe RC Skin classic skis, at Elm Creek on Dec 17, Hyland on Dec 20 or the Birkie trail on Dec 27.
Racing Outlook
December 15, 2014
Updates on a number of races including the Elm Creek series, the opening JNQ series in Houghton, the Holiday Relays, and the John Hugus memorial race at Greenwood Hills.
Nordic Spirit Registration Open
December 15, 2014
The Nordic Spirit race, Jan 11th, at the Spirit Mountain trails in Duluth, is open for registration. They are also offering Facebook promo prize for the 100th "like" to their page.
Wirth Winter Recreation Area Update
December 15, 2014
An overview of the snowmaking operation and priorities at Theodore Wirth, along with a a general update on snow conditions, has been posted.
Related:
Hyland Snowmaking Trails Closing Tuesday Night (Dec 16)
Holiday XC Ski and Fat Bike Demo
December 14, 2014
New Moon and Riverbrook will be hosting a combined Holiday Equipment Demo, Saturday Dec 27th, at the Hwy OO Birkie trailhead. Come out and test drive the latest in ski equipment or take a new Fat Bike for a single on the nearby CAMBA singletrack.
Biathlon: US IBU Cup Trails / MN Cup #2 Results
December 14, 2014
Mt. Itasca hosted two days of biathlon racing this past weekend, featuring some of the top junior and senior skiers in the country.
Related:
Results: U.S. IBU Cup Trials / MN Cup #2
Collegiate: Wildcats Invitational Classical Pursuit Results
December 14, 2014
Northern Michigan University wrapped up the weekend Wildcat Invite with a set of exciting classical pursuit races on Sunday. Starting off based on Saturday freestyle time, mens race came down to a sprint finish with NMU's Adam Martin edging out teammate Kyle Bratrud by a boot throw! Freshman Ian Torchia posted the second fastest classical time, coming in just 10 seconds back for third. In the womens race, former NMU skier (now APU) Rosie Frankowski won the pursuit, but was closely followed by NMU's Kris Bourne, finishing first for the collegiate women and roughly 10 seconds back of Frankowski. Jordyn Ross and Felicia Gesior, also NMU, collected second and third. Results for both the pursuit and the classical splits are posted.
World Cup Davos: Freestyle Sprints
December 14, 2014
Sunday featured freestyle sprints in Davos, Switzerland for the World Cup. Norway continues to dominate, sweeping both podiums (including the top five women!). The US women qualified three for the heats: Ida Sargent 16th, Kikkan Randall 20th and Sophie Caldwell 22nd, but none were able to advance. Andy Newell qualified 15th, but did not make beyond the quarterfinals. The World Cup will remain in Davos for a pair of weekend races, rescheduled from France (due to low snow conditions).
Related:
Photoset from Ahvo Taipale:

Race Day - 15 photos
Video from Ahvo Taipale:

Bjorn Daehlie Interview
Results: Freestyle Sprints
Continental: Anikin Wax Clinic
December 14, 2014
Nikolai Anikin will doing a general wax clinic at Continental, Tuesday evening, Dec 16th, discussing both glide and kick wax applications. He will also give some explanation of both grinding and kick zone marking.
Ski Hut: Holiday Gift Ideas
December 13, 2014
The Ski Hut in Duluth has suggestions for your Holiday Gift list.
Collegiate: Wildcats Invitational Freestyle Results
December 13, 2014
Racing in Marquette, at Al Quaal, Michigan Tech and Northern Michigan faced off for the second weekend in a around, with St. Scholastica skiers joining in. In the freestyle races Saturday, NMU's Kyle Bratrud edged out teammate Erik Soderman for the victory in the mens 10K with Adam Martin third. NMU also dominated the womens 5K podium, with the order of finishing being Jordyn Ross, Kristen Bourne, and Megan Edic.
Hoigaards/Breadsmith Relays Coverage
December 13, 2014
Even with a bit of fog and temperatures around 40F, the Elm Creek snowmaking loop still provided a good, reasonably fast course for the Hoigaards/Breadsmith relays Saturday morning. The tandem of Leo Hipp and Zak Ketterson, both high school skiers, dished out a little lesson in dominance as they first won the masters race, then repeated again in the juniors event. A pair of Gustavus skiers Marit Sonnesyn and Mata Agre showed some college power in taking the masters womens title. Forest Lake stars Kate Schaaf and Rocci Wohlk combined for the girls junior title. Photos, videos, Facebook photos and results are posted.
World Cup Davos: Classical
December 13, 2014
Racing on a lap course involving man-made snow and snow trucked from the mountains, the World Cup skiers in Davos competed for the classical titles on Saturday. In the womens 10K race, Norwegians Therese Johaug and Marit Bjoergen took first and second, with finn Kerttu Niskanen taking third. The US women had a strong showing, as Liz Stephen, Jessie Diggins and Sadie Bjornsen went 20, 21, and 22! Norway also took the top two places in the mens 15K, with Martin Johnsrud Sundby taking another victory followed by Didrik Toenseth, as Dario Cologna took third for his adopted homeland of Switzerland. Canadian Alex Harvey was 17th, Erik Bjornsen the top American in 48th.
Related:
Photoset from Ahvo Taipale:

Race Day - 24 photos
Video from Ahvo Taipale:

Pre-Race Interviews,

Classical Clips
Results: Classical
Nordic Combined: Near Miss for Taylor Fletcher
Metro West Meet Coverage
December 12, 2014
Metro West conference schools finally got their turn at the snowmaking venues, hold their first meet Thursday at Hyland. In one of the bigger upsets this season, and sporting some fast skis, St. Louis Park skiers Sean Cork and Liam Schmelzle bested the ranking front runners, Zak Ketterson and Tamer Mische-Richter. Benilde-St.Margaret's Amanda Kautzer cruised to the girls victory, with St. Louis Park's Rosa Hu second, and 7th grader Charlie Brown, Benilde-St.Margaret's, third. St. Louis Park sweep the team scoring. Results and photos posted.
Obituary: John Burton
December 12, 2014
The Star Tribune published a long obituary for John Burton, recapping his career and family. A memorial service is scheduled for Saturday, Dec 27th, 11 am, at Plymouth Congressional Church in Minneapolis.
Finn Sisu: Holiday Shopping Ideas
December 11, 2014
Finn Sisu has posted more holiday gift ideas for skiers and sauna lovers, plus 20% off hats.
Biathlon: U.S. Youth/Junior World Championship Team Trials Relocated to Mt. Itasca
December 11, 2014
Due to very limited snow conditions at the venue in Anchorage, Alaska, the U.S. Biathlon announced Thursday that the Dec 28-30 U.S. Youth Junior World Championships Team Trials have been relocated to Mt Itasca in Coleraine, MN.
Hoigaards Instant Cash Back Sale
December 11, 2014
Hoigaards has begun their Instant Cash Back sale, offering up to 20% off your purchases, running now through Dec 24th.
Bicycle Doctor's 12 Days of Christmas
December 11, 2014
The Bicycle Doctor is offering a special deal each day, starting on Dec 12th for .. you got it, 12 days. Check their Facebook page for the daily deals.