Trail Report / Training Report Drawing
Submit a trail report and be entered into our weekly $100 lodging gift certificate drawing.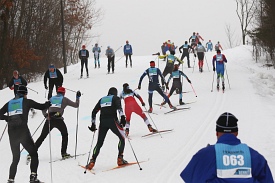 Three Rivers Ski Rennet, January 21, 2017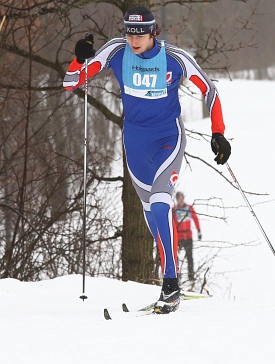 Andrew Tilman takes the 26K classic title, Three Rivers Ski Rennet, January 21, 2017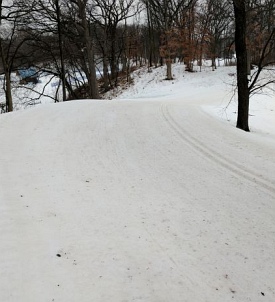 Theodore Wirth snowmaking loop, January 20, 2017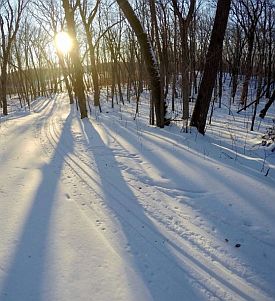 Maplelag Resort, January 19, 2017 (Photo: Jay Richards)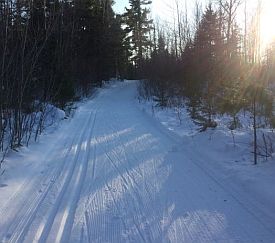 Tilson Creek, January 19, 2017 (Photo: David Kettula)
Skinnyski FAQ
December 4, 2011
We've collected together a bunch of common questions to assembly our own FAQ for cross-country skiing in the Midwest and using the Skinnyski website.
Skinnyski Photos
February 5, 2009
Found a photo you'd like to get a copy of? Looking for images from a past event? Find out how to dig through our archives and help support the web site by purchasing photographs.

Cable JNQ/CCSA Classical Race Coverage
January 21, 2017
Like most of the region, the trail conditions at the new Birkie start were warm and wet for the JNQ/CCSA classical races on Saturday. In the men's 10K, Adam Martin topped the field, over 30 seconds ahead of teammate Fredrik Schwencke with Kyle Bratrud third. Luc Golin from Wayzata HS had an impressive day taking 8th overall as the top junior! Felicia Gesior, CXC, bested the women's field with NMU's Vivian Hett and Nicole Schneider finishing 2-3 (NMU gals took 8 of the top 10 places). A great performance by Ashwaubenon's Abigail Jarzin, taking 8th overall and posting the fastest juniors time in the 5K race. Results linked in now, photos coming later tonight.

Three Rivers Ski Rennet Coverage
January 21, 2017
Warm and damp conditions on the Hyland snowmaking loop Saturday for the Three Rivers Ski Rennet races. Cory Ellertson broke away on the second of four laps and skied in for the solo victory in the 26K (20K) freestyle race. Caitlin Gregg skied strongly, finishing third overall (Alex Reich second) to easily capture the women's title. In the classical marathon, both Andrew Tilman and Josie Nelson broke away early to take the victories. Full results linked in, along with some big photosets.

Lapham Loppet Results
January 21, 2017
Over 70 skiers turned out Saturday morning for SE Wisconsin racing on the snowmaking loop at Lapham Peak. Sean Straka distanced himself from the field, taking the victory by over a minute in the 8.75K freestyle event. Aniya Langjahr was the top woman, just little over 30 secs ahead of youngster Ella Reinemann.

World Cup Ulricehamn: Freestyle
January 21, 2017
An incredible performance by Canada's Alex Harvey as he won the mens 15K freestyle race Saturday in Ulricehamn, Sweden! The US women skied well with Jessie Diggins tops at 7th, Sadie Bjornsen 12th, Liz Stephen 16th, and Rosie Brennan 24th. Erik Bjornsen led the US men, notching a top 30 finish at 28th. Sunday will feature the team relays - Live streaming begins at 4:30 am CST for the womens relay, 6 am for the mens.
Related:
Results: Freestyle 10K, 15K
CCC: Alex Harvey Wins Back-to-Back Gold at Cross-Country Skiing World Cup in Sweden
Biathlon: Quick-Shooting Bailey 10th in Antholz 20K

Weekend Skiing and Trail Reports
January 20, 2017
A number of trail closures due to warm weather (including the Birkie trail), but still great skiing being reported up north. New reports from Spring Rapids, Theodore Wirth North(3), WinMan(2)

, Pincushion Mtn, Como GC, Lapham Peak

, Snowkraft

, Valley Spur, Boulder Lake

, Snowflake, Northland Arb, Hyland Lake, Red Cedar River, Chain of Lakes, Legion, Drummond, Elm Creek, Woodland, Maplelag

, and recent reports from Mt. Valhalla

, After Hours, Mother Bear, Lake Elmo, Nine Mile Forest(2)

, French, Hixon Forest, Minocqua Winter(3), Elm Creek

, Baker, Swedetown, Mount Itasca, Wolverine, Theodore Wirth North(3)

, ABR(2), Tower Ridge, Hyland Lake, Snowflake, Gooseberry Falls SP

, Birkie(2), Saint Mary's Univ, Marshfield School Forest, Afterglow Lake, Jackson Meadow, Sugarbush, Vasaloppet

, Tilson Creek

, WinMan

, Chain of Lakes

, Lapham Peak, North End, Lodi, Giants Ridge, Mt. Ashwabay, Afton SP, Nose Lake, Lester, Lebanon Hills, Maplelag

.

NNF Announces Funding for FIS World Championships Athletes
January 20, 2017
The National Nordic Foundation (NNF) is excited to announce support for unfunded cross-country athletes attending the 2017 FIS Nordic World Ski Championships. NNF will provide $2,000 each to Caitlin Gregg, Chelsea Holmes, Kyle Bratrud, Tad Elliott, Ben Lustgarten, and Cole Morgan to offset travel and lodging expenses.
Related:
U18 Nationís Cup Trip Heads to Norway Jan 22

Nordic Spirit Race Update
January 20, 2017
Nordic Spirit Ski Race and Tour is still on for Sunday, Jan 29th! Organizers report a good 5-6" base and will reassess conditions midweek.
World Cup Ulricehamn Weekend Series
January 19, 2017
The World Cup moves to Sweden this weekend for a pair of races: Saturday's events are 10K and 15K freestyle races, then Sunday brings another shot at the four person relay! NBC Sports Live streaming on Saturday begins at 3:30 am CST for womens 10K, and 7 am for the mens 15K.
Related:
Video:

NBC Sports Live Streaming
World Cup Ulricehamn Website
World Cup Ulricehamn Facebook
CCSA: U.S. Cross Country National Championships Recap
January 19, 2017
The Central Collegiate Ski Association (CCSA) has posted a recap on Midwest collegiate performances at US Nationals last week.
Weekend Racing
January 18, 2017
Jan 21-22 Cable JNQ/CCSA - Two days of racing at the new Birkie start area, both junior and collegiate racing.
Jan 21 Three Rivers Rennet - Premiere racing at Hyland, offering both 10K and 26K distance races.
Jan 21 Laphap Loppet - Fundraiser for Lapham Peak, and a major event on the southern circuit.
Jan 22 Landgraf at St. Johns - Rare opportunity to race on the trails at St. John's University in Collegeville.
Jan 22 Boulder Lake Ski Race - Groomed up and ready to go, 11K and 32K races just north of Duluth.
There are also fat bike races at Hyland and Seeley (postponed!) this weekend. Check the Racing Outlook for our latest race updates, especially with the warm weather on tap.
Related:


BNS: Three Rivers Rennet Wax Service, Testing Notes

Price Hike: Nordic Spirit
January 18, 2017
Duluth's big Nordic Spirit ski race is coming up on Sunday, January 29th. The event features 14K classical and 14K, 26K freestyle races. The final price hike is coming on January 21st, so register by Friday night!
Gear West: Nordic Night Fever Feb 9th
January 18, 2017
Six veteran skiers, including Ben Popp, American Birkebeiner Executive Director, Lynne Cecil, former Birkie Champ and Brenda Gauvin-Chadwick, a 30-year ski marathon veteran, will share their Birkie experiences in a forum Feb 9th at Gear West. The event will also feature Birkie wax demos, food, and movies.
USSA: Strong U.S. Team Announced For World Champs
January 18, 2017
The U.S. Ski and Snowboard Association has named 17 athletes to the cross country team that will compete in the International Ski Federation's 2017 Nordic World Ski Championships Feb 22-Mar 5 in Lahti, Finland. 2015 World Championship silver and bronze medalists Jessie Diggins and Caitlin Gregg were named, as well as Kyle Bratrud.
CCSA Points List Posted
January 17, 2017
The CCSA has released the points listed through Jan 10th. NMU's Adam Martin and Vivian Hett led the way.
Racing Outlook
January 17, 2017
With a warm week on tap, stay tuned to the Racing Outlook for any event updates. Registration for weekend JNQ races closes Tuesday night at midnight.
Skinnyski.com High School Rankings - Round 2
January 16, 2017
It's about time! Finally, we crank out a new set of Minnesota High School Nordic Ski rankings. Kelly Koch takes over the girls top position with Xavier Mansfield holding on tight for the boys.
Web Roundup
January 16, 2017
Post Tour-de-Ski Party - Jessie Diggins recaps her amazing Tour de Ski performance, including that brutal final hill climb, and the recovery afterward.
Middle of the Ride - Annie Hart details her US Nationals experience, providing some great inside info and take-aways from week.
Now and Then - ABR posted a cute feature on a group of young skiers that visited their trails back in 2009, and returned on Monday, eight years later.
Recovery Camp - Noah Hoffman posted a cool video featurette on the US Ski team, including Jessie Diggins, recovering in Italy from the Tour de Ski.
Training in Tough Conditions - Finn Sisu posted an article by Jim Carlen on training in less-than-perfect conditions.
Vasaloppet Course Grooming Underway
January 16, 2017
Organizers for the Vasaloppet USA report great progress on preparing the race courses for events upcoming on February 11th. With their new snowmaking operations, the race is all but guaranteed to be held on the trails. Get your registration in soon!
Related:
Annual Vasaloppet Banquet and Fundraiser
USSA: USA Names U23 Cross Country Worlds Team
January 16, 2017
USSA has named a team of 10 athletes to represent the USA in the upcoming Under 23 Cross Country World Championships, to be held Jan 30-Feb 5 at Soldier Hollow in Utah. Midwest athletes earning their place on the team include Adam Martin, NMU, Alayna Sonnesyn, UVM, and Nichole Bathe, UAF.
Borah Epic Registration is Now Open
January 15, 2017
Celebrating 5-years, the Borah Epic opened its registration this weekend for the Saturday, June 3rd event. A total of 750 prized spots are available between the full and half race distances and racers are encouraged to register soon to ensure a spot.
Related:
Chequamegon Events Filling Fast
Weekend International Racing Recap
January 15, 2017
Rolling out hopefully a new weekly segment, we welcome Mary Kozloski as she begins covering international and midwest elite racing this season. This weekend's update covers the World Cup races in Toblach, Italy, and see the attached link for Midwest elite coverage from the Seeley Hills Classic.
Related:
Weekend Midwest Elite Racing Recap
Iola Invite Results
January 15, 2017
John Burke reports: The Iola Skate Invite was held Sunday at the Iola Winter Sports Club and unveiled a new challenging course for the varsity skiers, drawing some rave reviews from the skiers and coaches alike. For the boys, Lakeland and Ashwaubenon fought to a tie in the team competition but Lakeland prevailed on tie-breaker criteria. They were led by Luke and Noah Bodewes in 4th and 5th place and Kav FitzPatrick rounded out their team scoring in 7th place. The individual winner was Cullen Chosy who easily outdistanced the field to take the race. Two Ashwaubenon skiers finished in the next two spots with Jackson Adler beating his teammate, Timothy Spaulding for second. For the ladies, the Wausau Nordic United team continued their winning ways but it was a tight competition for second with three teams within a point of each other. Abby Jarzin of Ashwaubenon won the girls race with Olivia Dreger of Wausau Nordic United and Isabel Seay of Peak Nordic following in 2nd and 3th place.
World Cup Toblach: Team Sprints
January 15, 2017
The World Cup featured team freestyle sprints on Sunday in Toblach, Italy. Canada's Alex Harvey skied a perfect finishing stretch to easily top the mens field with partner Lenny Valjas. The US squad of Simi Hamilton and Andy Newell placed sixth. Kikkan Randall and Sophie Caldwell were the US pairing, taking 10th. Racing action moves to Sweden for the next couple rounds.
Related:
Results: Team Sprints
USSA: Strong Team Sprint for Men
Final 2016-17 World Cup Races Moved from Russia to Canada
Pioneer Midwest: Fulton Brewing Team Event
January 14, 2017
There will be a special Fulton Brewing Team Event at the Pioneer Midwest sponsored Elm Creek races on Wednesday, January 18th. Teams are composed of three skiers (or more) and must represent both genders.