BNS Stonegrinding Schedule
Get your skis in now for stonegrinding service so they are ready for the season! Stonegrinding removes sealed base material that is preventing wax absorption and reducing the durability of your wax. Stonegrinding flattens your skis so they are easier to wax and easier to scrape without any high or low spots. And stonegrinding puts a high-performance racing structure on the ski that will be ideally suited for the ski's flex and your regional skiing conditions.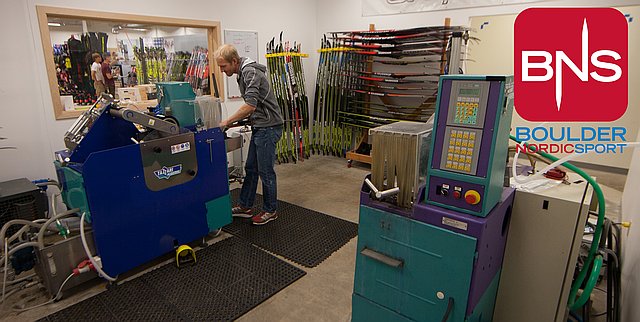 We do our stonegrinding in batches, first flattening the ski, then polishing the surface, and finally laying down the structure. Batches generally run weekly, beginning on Monday and finishing up at the end of the week. After grinding, we put our skis through a post-grind process that removes the emulsion from the grind water and gets them ready for waxing. We recommend hot box service following a stonegrind. New and freshly-stoneground skis that do not have wax in them are susceptible to the high temperatures from wax irons, and the hot box is the best way to get wax into your ski without damage from iron overheating. We first do a layer of warm yellow wax which fully saturates the base, followed by an additional layer of low fluor blue to harden the bases. You receive them ready to scrape, brush, and ski!
Our grinding schedule is mapped out below. We start the batches on Mondays and skis are ready to pick up in-store in MN after hot boxing that Friday afternoon or Saturday (depending on batch size). We need skis dropped off on Monday to make that week's batch. If you ship your skis to us, we will start them the first Monday that we have them and they will ship out the following Monday. Call the midwest shop 952-303-5683 with any specific grind questions!
Dec 10, done on the 14th, ships out the 17th
Dec 17, done on the 21st, *ships out the 26th*
***Break for US Nationals***
Jan 14, done on the 18th, ships out the 21st
Jan 21, done on the 25th, ships out the 28th
Jan 28, done on Feb 1st, ships out Feb 4th
Feb 4, done on the 8th, ships out Feb 11th ***this is the last batch if you want skis shipped back to you for the Birkie***
Feb 11, done on the 15th, ships out Feb 18 ***this is the last pre-Birkie batch for in-store pickup***
***Break for Birkie***
Feb 25, done on Mar 1st, ships out Mar 4th *last batch for junior nationals in-store pickup*
I know this looks a little confusing, but the bottom line is get your skis to us early and please give a call with any questions so we can help make sure you have your skis ready to go when you need them. Thanks!!