Rex Blog: Welcome to Biathlon
Bang!! And just like that the biathlon season has started! We begin our biathlon adventure in Pokljuka, Slovenia! We are at about 1500m of elevation, which is similar to Denver, and for this Midwestern athlete, it's hard to breathe. Every hill seems bigger and harder than it actually is. Luckily, I was testing powder and HF to help with the mix of being out of shape and at altitude.

Biathlon races happen over a four or five-day time span. Racing starts on Wednesday or Thursday typically followed by one race a day until the weekend, when there are two races a day. Races start around 2pm most days with the occasional morning race on the weekend. This provides us with more time to test and less stress before the races. My job changes because I have to test more blocks, liquids, and paraffins than normal. In cross-country, I need to test a hand full of topcoats and a select amount of powder in a short amount of time to report back to teams. In biathlon, I get an extra 2-3 hours for testing so I can test a variety of powders, blocks, and liquids. Rex has the same reputation on the biathlon side as it does on the cross-country side; we have lots of teams seeking us out on the course to ask what we are testing.
The conditions here started as extremely coarse grained, artificial snow, and changed as a small amount of new snow came every night. The powder that worked the very first day was more molybdenum, 89 powder with Sapporo, (old, coarse snow waxes) and we quickly switched to TK-245 + Hydrex 2 or TK-73 (mix of old coarse snow and new fresh snow wax). This combination has worked really well for us when the snow is "mixed or medium grained". The teams have caught on to this as well given we sold out completely of the new Hydrex 2 in the first two weekends and had to put in another order of 50 pieces for the following couple of weekends.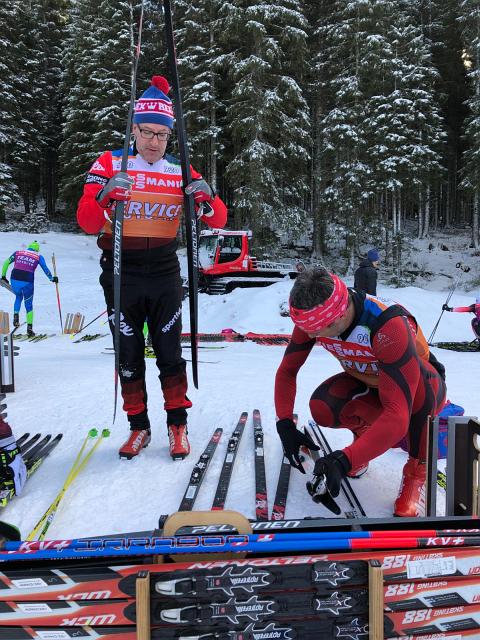 Next stop on the biathlon tour was Hochfilzen, Austria where they got 3-4 feet (!) of snow a couple of days before the race. This was the first race week where the grass wasn't showing next to the trail. We are at a slightly lower altitude than Pokljuka but still high enough to take your breath away after an easy ski. We had a very consistent week of using new snow ski waxes like 77 powder (new and wet snow) and 83 powder (new and dry snow) with our national teams and we continued with our consistent podium weekends.
Along with working for Rex Ski Wax, I was hired on as part-time help for the Salomon racing service. I am in charge of helping test and choose skis for athletes on snow with Toni Puntel. We tested almost two dozen skis with matching flex and grind for Salomon athletes. It was a nice change of pace from wax testing and I look forward to working more this season with them.
In addition to working with Rex and Salomon, I have also been asked to test different application processes of blocks and liquids for certain teams. I was approached by a Scandinavian team on the biathlon side and was given a protocol for testing and they wanted to see my results. They asked if I would do this test two or three times a week in different countries and at different race sites and to share the results. I was extremely curious of the results myself so I said yes in a heartbeat.
The test I was performing consisted of when and where to apply fluoro blocks and liquids and which would be the fastest application for a 10-15km race. I was asked to try the following applications:
Block/Liquid melted together with powder
Block/Liquid applied on top of powder with hand cork
Block/Liquid applied on top of powder with roto-fleece
Block/Liquid applied on top of powder with roto-cork
Liquid mixed with powder with a roto-fleece
Liquid mixed with powder with a roto-cork
I would ski each pair of skis for 5-10km and then perform a partner test (glide-outs) and see which pairs would go further.
After many tests, we are starting to see more correlations with warmer temps and roto-fleece applications are typically faster, whereas in colder dryer temps, roto-corks are typically faster. This will be an ongoing test this year and I'll keep you all updated with test results!
After Hochfilzen, Austria I traveled to Nove Mesto, Czech Republic, for the final races before my Christmas break. Nove Mesto is always a tricky place to wax at because the conditions are always changing. We started with really old transformed snow and ended the week in a blizzard/rain storm. We even had a race day where there was no snow projected in any forecast and then ended with 2 inches of snow in one hour. The weather can change on a dime and coaches need to be on their toes when waxing there.
Nove Mesto is one of the biggest stops on the biathlon tour and it can attract 40,000 people a day for the 4 days of racing. Sitting in the stadium watching the race is like sitting on the field of a football stadium and hearing people cheer. At times it can be deafening how loud the crowd can get.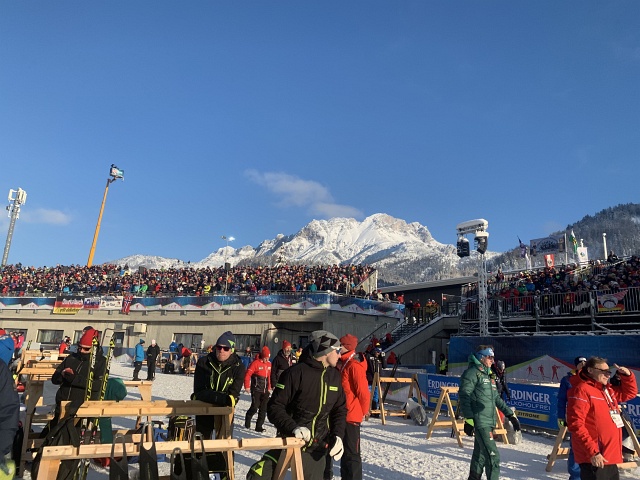 I am now on my way home to spend some time with family for the holidays. I will keep updating even when back home with different product tests and maybe let you in on some of the top-secret R&D testing that is happening in the US.
Till next time, Happy Holidays!