Postings
Darwin Vollrath, Wisport Director, Passes Away
April 4, 2005
From the Vollrath family: To all those who knew and loved Darwin Vollrath. It is with sadness that we, his family, have to inform you of his passing. It happened earlier today in Italy doing what he loved. While out for a morning bike ride he suffered a heart attack. He was 53 years old. Plans for his funeral are in the works.
George Szymansky Killed in Cycling Accident
April 2, 2004
Lake Elmo native George Szymansky was killed on Friday when he collided with a truck during a Loon State Cyclists training camp ride near Whitewater State Park. Szymansky competed in numerous area cycling and mountain biking races, including a top 200 placing in last year's Chequamegon. Wake will be Wed Apr 7 from 5-8 pm at Wulff Woodbury Funeral home. Funeral will be 11 am Thur Apr 8 at Bethany Evangelical Covenant Church in Stillwater.
Related:
Obituary and Guest book
Star Tribune article
2003-2004 Skinnyski.com Survey Results
March 23, 2004
The surveys have all been tabulated and the results are up! Check all the details, some stories behind the straight numbers, and read some of the selected comments and suggestions. And, of course, see the winners of the survey prize drawings!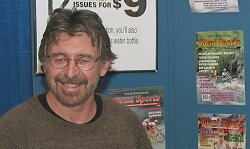 Greg Marr Passes Away
December 20, 2003
In a shock to all, Silent Sport's editor Greg Marr passed away on Friday. Details of this tragedy are still sketchy, but early reports say he passed away while skiing on Friday afternoon. Marr was a huge supporter of the silent sports, especially cross-country skiing, and his loss will be felt far and wide.
Memorial Service details: Visitation will be Mon, Dec 22nd from 4-8 pm at A.J Holly & Sons Funeral Home in Waucapa, WI. The funeral is Tue, Dec 23rd at 11 am.
Related:
Obituary
Greg Marr's Silent Sports editor column
Greg Marr's Wisconsin Cycling Book
Biathlon: Brett Miller Passes On
November 18, 2003
Brett Miller, Minnesota biathlete, lost his struggle with cancer, passing away on Monday in Park City, Utah. Memorial services will be held Friday, Nov 21st in Park City, and the following Friday, Nov 28th in his hometown of Hackensack, MN.
Update: Brett Miller's memorial has been change to December 12, 2003 in the evening at the Union Congregational Church in Hackensack, MN.
Related:
Utah newspaper obit and guestbook
Gene Marsolek Killed in Plane Crash
October 12, 2003
Gene Marsolek, well known in the skiing community and husband to JoAnn Hanowski, died when his biplane crashed into lake west of Duluth on Friday evening. Gene was a top notch pilot, flying earlier this summer in the Duluth Airshow. He was also a member of the Rossignol Ski Team.
Related:
Obituary and Guest Book
Duluth Tribune: Pilot Remembered
Duluth Tribune airshow interview and photos
Memories
September 25, 2003
Two tragic deaths in the skiing community recently...
John Lanin - John Lanin is the son of MSHSCA Hall of Fame member Pat Lanin and wife Emily Lanin. He died in an accident last Sunday, Sept 21st.
Leonard McGuire - Leonard McGuire was a key figure in developing the Stillwater ski teams and led them to their first state championship in 1977. McGuire passed away Monday, Sept 15th.
Autumn Outings Contest Winners
October 21, 2002
After much debate and scrutiny, the judges have finally selected the overall winner and runners-up in the Autumn Outings, fall creative writing contest. Thanks to REI for supporting this contest and providing some top notch prizes.
Survey Results -- Finally!
May 9, 2002
Whew, we've finally finished tabulating all the survey numbers. Check out the summary, including some web site numbers and credits, and even a short quiz. And, oh yeah, the list of winners in the survey prize drawings!
Snow Dreams Contest Winners
November 2, 2001
Check out the winner's in our 1st Annual Snow Dreams Creative Writing contest.
New Website Guide
September 7, 2000
Looking for your favorite section from the old web site? Wondering what some of the new changes are? This article attempts to highlight the major changes and features.