FOR IMMEDIATE RELEASE
Contact: Kevin Eccles
(262) 549-6801 ext 16
January 18, 2001
24 Hours of Telemark, Americaís First 24-Hour Cross Country Ski Race Concludes!
Milwaukee, WI -- With nearly 175 skiers and 48 teams competing for 24 hours, Americaís First 24-Hour Cross Country Ski Race concluded last weekend at Telemark Resort in Cable, Wisconsin. Skiers of all ages and abilities participated on teams consisting of one to six team members in eleven different categories. From noon on Saturday to noon on Sunday, skiers continuously skied a challenging 10km loop on the trails at Telemark Resort, with the team completing the most laps in each category being crowned the victor. To help them along their journey, skiers were given Red Bull Energy Drink and Clif Bar and Clif Shot Energy Products.

While most of the 175 skiers competed on teams, 15 of these athletes participated in the Solo Freak category, skiing by themselves for 24 Hours! Chris Ransom of Lake Mills, WI, won the Menís Solo Freak division completing an amazing 31 laps or 310 km. Juli Lynch, also of Lake Mills, won the Womenís Solo Freak division completing 21 laps or 210 km. Chris and Juli are now the Official Menís and Womenís North American 24 Hour Cross Country Ski Distance Record Holders. Competing with up to six team members, the Big Team Category was won by The Sawmill Six who completed 45 laps on the trails at Telemark. The Sawmill Six consisted of Pete Caron of Cable, WI, Bill Pierce of Hayward, WI, Drew Holbrook of Minneapolis, MN, Jeff Bradley of Davenport, IA, Michael King of Madison, WI, and Steve Tilford of Topeka, KS. In the Womenís 4-Skier Category, Team Ski Hut completed 37 laps (370 km) for the victory. Team Ski Hut consisted of Kelly Rogers of Esko, MN, Sara Kylander-Johms, Abbi May, and Jayme Bauer all of Duluth, Minnesota. The victory in the Menís 4-Skier Open category went to Team Home Place, completing 41 laps (410 km). Team Home Place was Devin Arenz of Cass Lake, MN and Douglas Potter, Mark Morrissey and Brett Arenz of Bemidji, Minnesota.

At the conclusion of the event, the top three teams in each category were presented with commemorative medals for their efforts. All skiers were also eligible for many prizes given away in a raffle provided by event sponsors. The 24 Hours of Telemark was put together and managed by Team Sports, Inc. Team Sports manages professional cycling teams and events including the 24 Hours of 9 Mile Mountain Bike Race held on August 10-11, 2001 in Wausau, Wisconsin and the Alpine Valley Open WORS Mountain Bike Race on May 20, 2001 in East Troy, Wisconsin. The 2nd Annual 24 Hours of Telemark is planned for January 19-20, 2002.

Photos and contact with any 24 Hours of Telemark participant is available upon request. For more information on Team Sports Events, LLC. Please call 262-549-6801 ext. 15 or log on to: www.teamsportsinc.com

###

Photos from Phil VanValkenberg, Telemark Resort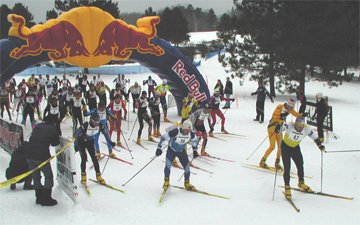 Forty-nine teams or solo skiers started the 24 Hours of Telemark.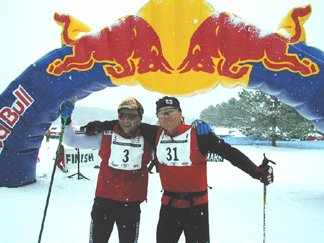 Jon Antonneau (left) of Racine, Wisconsin crosses the line with 24 hour solo winner Chris Ransom of Lake Mills, Wisconsin.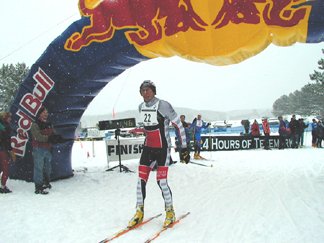 Jim Winter anchors the final leg for the top four-person Bicycle Doctor team from Oconomowoc, Wisconsin.