Renae Anderson, Bowdoin College, EISA 15K classic, February 23, 2019 (Photo: Linda Kerker)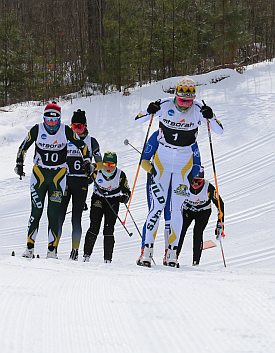 Women's lead pack, Rhinelander CCSA, January 26, 2019 (Photo: Jackie Schneider)
CXC Congress and Club Excellence Conference this Weekend
April 23, 2019
Cross country club leaders from around the Central Region will have an opportunity to play a role in the future of the sport during Central Cross Country Skiing's annual CXC Congress. The event features three days of workshops and meetings set for April 26-28 in Eau Claire, WI, and is free and open to all interested parties.
Junior Nationals: Team Relays Results
March 16, 2019
Saturday was the final competition of the 2019 Junior Nationals in Anchorage, Alaska, featuring the 3x3K team relays. Midwest finished strong with the U16 boys team of Victor Sparks, Drew Sampon and Adrik Kraftson claiming victory as well as a second MU16 team taking third place and the U20 girls taking third place.
Related:
Press Release: Alaskans Kramer, Schumacher finish four-race sweeps with relay victories at Junior Nationals
Junior Nationals: Classic Coverage
March 15, 2019
Friday was the big mass start classic races at Junior Nationals in Anchorage, Alaska. Leading the day for the Midwest again was the U20 girls, as Hannah Bettendorf took second place in the 10K event. The U16 boys really shined as well with Caden Albrecht taking 2nd and Jasper Johnston 3rd (and six in the top 10)! Other top 20 results: FU20 - Luci Anderson 6th, Regan Duffy 8th, Mae Barnes 14th, Cece Boyle 15th; MU20 - Anders Sonnesyn 13th, Luke Mackinnon 16th, Jackson Adler 17th; FU18 - Emma Albrecht 5th, Libby Tuttle 6th, Sarah Olson 9th; MU18 - Henry Snider 12th, Cooper Lennonx 13th, Matt Bourne 14th, James Schneider 19th, Eli Gore 20th; FU16 - Molly Moening 4th, Lauren McCollor 7th; MU16 - Isak Nightingale 5th, Victor Sparks 6th, Adrik Kraftson 8th, Drew Sampson 10th, Owen Williams 13th, Noah Erickson 17th, Stas Bednarski 18th. Results linked in along with photos from Jackie Schneider.
Related:
Press Release: Alaska's Kramer, Schumacher complete race sweeps with classic mass start wins
Junior Nationals: Classic Sprint Coverage
March 13, 2019
Classic sprints were the featured event on Wednesday at Junior Nationals in Anchorage, Alaska. Minnesota native Anja Maijala, racing for Alaska this year, won the U20 title, with Luci Anderson scoring 3rd. Other skiers making the semi-finals: FU20 - Hannah Bettendorf 9th, Cece Boyle 10th; MU20 - Jackson Adler 8th, Luke Mackinnon 10th, Anders Sonnesyn 12th; FU16 - Molly Moening 8th; MU16 - Drew Sampson 7th, Caden Albrecht 10th, Jasper Johnson 12th. Results linked in, along with photos from Jackie Schneider.
Related:
Press Release: Schumacher, Kramer go 2-for-2 in Junior Nationals titles during action-packed, drama-filled classic
Junior Nationals: Freestyle Coverage
March 11, 2019
Junior Nationals opened on Monday with warm conditions in Anchorage for the freestyle individual start races. The Midwest came out swinging, scoring a number of podiums! Luci Anderson and Mara McCollor took 1st and 2nd in the FU20; Libby Tuttle scored 3rd in the FU18; Adrik Kraftson was 3rd in the MU16; Molly Moening 3rd in the FU16 division. Other top 20: MU18 - Peter Moore 9th, Alex Nemeth 20th; MU20 - Jackson Adler 10th, Gus Schatzlein 11th, Anders Sonnesyn 12th; FU18 - Emma Albrecht 5th, Sarah Olson 11th, Alice House 17th; FU20 - Hannah Bettendorf 8th, Regan Duffy 10th, Mae Barnes 15th, Cece Boyle 20th; MU16 - Victor Sparks 4th, Jasper Johnston 7th, Stas Bednarski 10th, Drew Sampson 10th, Isak Nightingale 14th, Owen Williams 15th, Caden Albrecht 18; FU16 - Lauren McCollor 17th. Results linked in, along with photos of the Midwest kids from Jackie Schneider.
Related:
Press Release: Schumacher, Kramer continue standout seasons, four other skiers also crowned champions on opening day of U.S.
Borah Teamwear: Post Season Custom Nordic Program
March 10, 2019
Borah's goal is to make sure all of their customers are kitted out in the best looking and highest performing custom Nordic apparel available before the first snowflake hits the ground. So, for the 2019/2020 season, Borah is offering a 10% discount along with a custom lazer band (one band per race suit or jacket), for all orders placed before the end of the school year.
Junior Nationals Opens in Anchorage
March 10, 2019
Junior Nationals held their opening ceremonies on Sunday in Anchorage, Alaska, with racing action scheduled to begin on Monday starting with freestyle distance events. CXC will be carrying livestreaming, Superior Timing will have live results, and we'll be posting photos each night from the days events.
Related:
CXC Names Championship Teams
Video:

Livestream
Junior Nationals Official Program
Start Lists, Results
CXC: Juniors Ready for Junior Nationals in Anchorage
NCAA Championships Classic Recap
March 8, 2019
NCAA Championships wrapped up the Nordic portion of the competition with classic mass start races on Friday. NMU's Ian Torchia and Zak Ketterson lead the way for the Midwest, finishing 6th and 7th. Margie Freed, UVM, had an incredible race, falling at the start then skiing back up through the field to post the top Midwest women's result in 11th! Mary Kozloski has all the details and quotes from the Midwest crew. And check out photos from Jackie Schneider.
Related:
NCAA Championships Results and Photos
NCAA Championships Freestyle Recap
March 6, 2019
Day one of the NCAA Championships featured freestyle individual start races at the Trapp Family Lodge trails in Stowe, Vermont. Ian Torchia, NMU, scored the best result on the day in taking third place, as teammates Zak Ketterson, Abby Jarzin and Nicole Schneider all had top ten finishes. Read a full recap by Mary Kozloski.
Related:
NCAA Championships Results and Photos
NCAA Championships Preview
March 5, 2019
NCAA Championships are starting up in Stowe, Vermont -- with the alternating schedule, NCAA Championships are on Wednesday and Friday this year. Check out Mary Kozloski's brief preview and compilation of information including course map, livestream and live results.
CXC Names Championship Teams
February 27, 2019
CXC has posted the final rosters for Junior Nationals, U16 Championships, and Canadian Nationals competitions.
Collegiate Racing Recap: CCSA, EISA, RMISA
February 25, 2019
The collegiate racing season is fast approaching NCAA Championships, less than 10 days away. Brief recaps from CCSA, EISA and RMISA races the past week, including CCSA photos from Chris Schmidt and EISA photos from Linda Kerker.
CCSA: NCAA Regionals Classic Coverage
February 24, 2019
An epic day on the trails at Michigan Tech Sunday as skiers competed in classic races while a major snowstorm raged on. Amanda Kautzer, MTU, out double-poled NMU's Julie Ensrud to take the women's 15K classic and Kautzer's teammate, Kristoffer Vollset, won the men's 20K race. Results linked in along with photos from Chris Schmidt.
CCSA: NCAA Regionals Freestyle Coverage
February 23, 2019
Day 1 of the NCAA Regionals in Houghton featured 5K and 10K races on the MTU trail system. NMU's Ian Torchia took the men's 10K, nearly 30 seconds in front of Mitch Delong, with NMU's Xavier Mansfield third. Abby Jarzin, NMU, collected the girl's 5K title, just 4 seconds ahead of teammate Nicole Schneider with MTU's Sarah Goble third. Results linked in, photos from Chris Schmidt.
Collegiate Racing Recap: CCSA, EISA
February 18, 2019
The CCSA and EISA collegiate divisions were back in action last weekend, the CCSA racing at Theodore Wirth as part of a SuperTour series, and EISA holding their Middlebury Carnival on Friday and Saturday. A number of outstanding results by Midwest skiers, Mary Kozloski has the full highlights. Plus photos from the EISA racing by Linda Kerker!
Junior Teams Announced: Junior Nationals, U16 Champs, Canadian Nationals
February 17, 2019
After the conclusion of the Mayor's XC Challenge races, the end of the JNQ series, the junior trip teams were announced. This includes the Junior Nationals, NENSA U16 Championships, and Canadian Nationals teams. Note: There may be further changes to the teams as some athletes may decline.
Mayors XC Challenge SuperTour/JNQ Freestyle Coverage
February 17, 2019
The three day Mayor's XC Challenge event wrapped up on Sunday with another day of great course conditions and weather. Temps were in the 20s for most of the races, with a dusting of snow coming down near the end. Midwest's own Matt Liebsch, holding down full-time job and full-time father, still managed to crank out the fastest 10K skate on the day, topping NMU's Zak Ketterson by 5 seconds for the victory, with Akeo Maifeld-Carucci, Craftsbury Green Racing, third. In the women's 5K, it was an all-Midwest poduim as Nicole Schneider, NMU, edged out Alayna Sonnesyn, SMS T2, by 7 seconds with Schneider's teammate Abby Jarzin in third, just a 2/10 second back! Top U16 results went to Adrik Kraftson and Molly Moening. Results linked in, photos online from the women's 5K by Jackie Schneider.
Mayors XC Challenge SuperTour/JNQ Classic Coverage
February 16, 2019
Another day of perfect trail conditions for the Mayors XC Challenge races at Theodore Wirth on Saturday. The men's 20K classic started off the morning, racing five laps with some of the best climbs on the course. Ben Lustgarten and Zak Ketterson eventually broke off the field and brought the race down to a sprint finish, Ketterson pulling ahead in the final meters. Mathias Rolid was the best of the rest. In the women's 15K race (4 laps), Alayna Sonnesyn pushed off the front with Kaitlynn Miller and Elizabeth Guiney, with Miller breaking away in the final kilometer to take the win, Sonnesyn second, Guiney third. The U20/U18 boys race brought out all the best from the Minnesota and Wisconsin State Meets. Alex Nemeth pushed to the front by the end of the first lap (3 laps total) and held off Cooper Lennox for the win, Kai Meekis taking third. The U20/U18 girls also was stacked with high school stars and on Saturday, it was Regan Duffy that shined the brightest, moving up the field each lap to take the victory ahead of Luci Anderson with Hannah Bettendorf third. In the U16 races, Victor Sparks outstretched Roger Anderson for the win, and Molly Moening dropped Lauren McCollor on the last big climb to take the victory. Results linked in, photo albums posted.
Mayors XC Challenge SuperTour Sprints Coverage
February 15, 2019
Friday kicked off a weekend long SuperTour and JNQ/CCSA combo event at Theodore Wirth, with the freestyle sprints test driving the 2020 World Cup course and stadium. For the most part, the day was a big success with great course conditions and exciting action. The Midwest's own Alayna Sonnesyn continued to improve her fast twitch, taking the women's final is an extremely tight finish over Becca Rorabaugh and Erika Flowers. In the men's final, an errant PistenBully added a twist of SkiX to the event, with Canadian Antoine Briand capturing the win over Tyler Kornfield and Forrest Mahlen. Saturday will bring out the juniors and collegiate skiers for mass start classic races.
Collegiate Racing Recap: EISA
February 11, 2019
A light weekend on the collegiate racing circuit with only the East coast schools in action. Mary Kozloski has the breakdown on the racing action, including the Midwest skier highlights.
Collegiate Racing Recap: CCSA, EISA, RMISA
February 4, 2019
All three major college Nordic skiing divisions were in action last weekend -- Central, Eastern and Rocky Mountain. Caroline Brisbois steps in this week to bring us all the highlights and report on how the midwest natives shined.
Ishpeming CCSA Freestyle Coverage
February 3, 2019
Day 2 of racing in the UP for the CCSA division, featuring freestyle format races. Nicole Schneider topped the women's 5K field, winning by 5 seconds over teammate Abby Jarzin with Julie Ensrud third. In the mens 10K race, Zak Ketterson claimed yet another victory with teammates Ian Torchia second, Kjetil Banerud third. Results linked and photosets by Jackie Schneider.
Ishpeming CCSA Classic Coverage
February 2, 2019
Running under their warmest conditions this season, the CCSA held a classic distance meet in Ishpeming on Saturday morning. Zak Ketterson, NMU, continued his winning streak in taking the mass start 20K race. Abby Jarzin, NMU, scored her first collegiate victory in the women's 15K. Results linked in, photos from Jackie Schneider posted.
Collegiate Racing Recap: CCSA
January 28, 2019
Mary Kozloski recaps an abbreviated weekend of collegiate skiing as the CCSA dealt with bitter cold weather in Rhinelander and EISA and RMISA divisions were off.
World Junior/U23 Championships - Lahti, Finland: January 24-26th Recap
January 26, 2019
The World Junior and U23 Championships concluded on Saturday, and with a huge exclamation point as the US mens WJC team captured the gold medal in a dominating performance and the US womens WJC team skied to an incredible 4th place. Caroline Brisbois has a full recap of the last three days of competition.
Related:
US Ski Team: U.S. Junior Men Strike World Championship Relay Gold
Collegiate Racing Recap: Midwest, EISA, RMISA
January 21, 2019
While roughly have the collegiate field was racing last weekend in Cable, both east and west coasts had full fields for the weekend of racing. Mary Kozloski has the breakdown on all the action and Midwest skier highlights.
Cable JNQ Classic Distance Coverage
January 20, 2019
Cold temperatures delayed the start by two hours on Sunday morning, but things heated up once the start gun went off for the Gitchi Gami Games 10K classic races. St. Scholastica men swept the podium in the senior race with Emil Book Bratbak (Norway) taking the victory followed by Nicholas Matelich and Jack Christianson. Peter Moore, Endurance United, was the best of the junior field finishing 4th overall. In the senior women's race, LNR juniors did the sweeping as Luci Anderson dominated the field winning by nearly a minute with Emma Albrecht second, Libby Tuttle third. Sadie Peterson, UWGB, was the best of the collegiate field in 4th overall. U16 titles were won by Lauren McCollor and Caden Albrecht. Results linked in, photos posted from Jackie Schneider.
Cable JNQ Classic Sprints Coverage
January 19, 2019
Enduring single digit temperatures and a challenging course, skiers competed in classic sprint races Saturday in the Gitchi Gami Games in Cable, WI. Jake Ajax, UWGB, and Luci Anderson, LNR, won the senior sprint finals, U16 victories were earned by Jasper Johnston, Ely, and Lauren McCollor, Wayzata. Results linked in along with photos from Jackie Schneider.
CSS Socks For the Sisters
January 16, 2019
St. Scholastica skiers are running a fundraiser with Saints "For The Sisters" socks. If you place your before the weekend, choose "pick up" and write "Cable JNQ" in the pick-up notes and you can get them at this weekend's JNQ event.
Collegiate Racing Recap: EISA, RMISA
January 14, 2019
Major collegiate racing action picked up last weekend with races out East (EISA) and West (RMISA). Mary Kozloski has the full report with our usual emphasis on the Midwest skiers.
NNF: World Junior, U23 and U18 Championship Teams Announced
January 9, 2019
The competition teams for the World Juniors/U23 World Championships, as well as the Nordic Junior Competition (U18 Nations) have been announced. The Midwest will have Ian Torchia and Daniel Streinz from NMU along with Alayna Sonnesyn from SMS T2 competing at the U23 Championships while Mara McCollor of Mpls Ski Club will race in the World Junior Championships. Both events are being held in Lahti, Finland in late January.
Madison JNQ Weekend Results
December 23, 2018
The Madison JNQ weekend wrapped up Sunday with classical sprints. Some of the top performances of the weekend: Luci Anderson, FU20, 1st skate, 2nd classic; Mara McCollor, FU20, 3rd skate, 1st classic; Jackson Adler, MU20, 2nd skate, 3rd classic; Caden Albrecht, MU16, 2nd skate, 2nd classic; Victor Sparks, MU16, 3rd skate, 1st classic; Sudie Hall, FU16, 2nd skate, 2nd classic; Mia Case, FU16, 1st skate, 3rd classic.
WSNL Votes to Move to Great Lakes Division
December 21, 2018
The Wisconsin Nordic Ski League announced on Friday evening that based on a recent survey of the coaches, they have voted to move Wisconsin out of the Midwest junior division and into the Great Lakes division, starting next season (pending approval).
Collegiate Racing Recap: CCSA, Alaska
December 17, 2018
Mary Kozloski recaps the weekend of collegiate racing with action from the Houghton races, as well as Midwesterners competing in the Alaskan Besh Cup series.
World Cup Junior Racing Opportunity
December 16, 2018
Juniors, ever dreamed of racing at a World Cup event? The Quebec World Cup will offer a special Rising Stars juniors race on March 23, 2019 featuring a 10K classic mass start race (separate mens and womens events)! The race has a limited field with registration opening on morning of January 15th.
Related:
Korte Elite Wave Placement for Juniors
Houghton JNQ/CCSA Freestyle Coverage
December 16, 2018
Sunday on the trails at Michigan Tech skiers competed in mass start freestyle race for the Houghton JNQ/CCSA. Both mens and womens races came right down to the wire. In the women's 10K, Sarah Goble, MTU, outsprinted NMU's Nicole Schneider for the victory with Julie Ensrud, NMU, third. Mara McCollor was again the top non-collegiate junior, finishing 5th. The men's race saw NMU's Zak Ketterson best teammate Ian Torcia for the win with another NMU skier, Mathias Aas Rolid finishing third. Alex Nemeth was the top junior again on Sunday, taking 10th overall. Results linked in, photos featured from Jackie Schneider and Chris Schmidt.
Houghton JNQ/CCSA Classic Coverage
December 15, 2018
The Junior National Qualifier season kicked off on Saturday with classic races on the trails at Michigan Tech Univ in Houghton. The event also marked the first official collegiate (CCSA) race of the season. Number one ranked high school skier Mara McCollor put in a devasting race, taking the overall womens 5K title by 18 seconds. MTU's Sarah Goble was second followed by Nicole Schneider in third. The men's 10K was a close battle with NMU taking the top five, Kjetil Baanerud first, Zak Ketterson second and Ian Torchia third. Alex Nemeth posted the top junior time, finishing 13th overall. Results linked in, photos from Jackie Schneider and Chris Schmidt posted.
Collegiate Racing Recap: CCSA, RMISA
December 10, 2018
Mary Kozloski is back for another season, bringing us racing recaps from the collegiate scene across the US with emphasis on the Midwest skiers. Kozloski kicks off the coverage with recaps of the CCSA races last weekend as well as early racing action up in Alaska.
CCSA: UP Opener Classic Coverage
December 9, 2018
The format switched to classic on Sunday for the UP Opener but the results were the same -- Zak Ketterson, NMU, and Sarah Goble, MTU, repeated as champions. Ketterson's victory was over a minute ahead of teammate Mathias Rolid with Kjetil Baanerud third as NMU men took the first five places. Goble's winning margin was much smaller, less than four seconds ahead of Nadine Matter, NMU, with Sarah Bezdicek, NMU, in third. Results linked in, along with photos from Jackie Schneider of the men's race.
CCSA: UP Opener Freestyle Coverage
December 8, 2018
The Central Collegiate Ski Association (CCSA) season got underway on Saturday with freestyle races at Al Quaal in Ispeming, MI. Michigan Tech's Sarah Goble captured the first win of the season in the women's 5K with Northern Michigan's Nicole Schneider and Sarah Bezdicek taking second and third. Zak Ketterson showed strong early season form in posting the only sub-25 minute time in the men's 10K. MTU's Gaspard Cuenot was second with Kjetil Baanerud, NMU, third. Results linked in, photos from Jackie Schneider posted!
Midwest Junior Trip Staffing Announced
December 5, 2018
The Midwest region coaching and support staff for Junior Nationals, the U16 Championships, and the Canadian Nationals has been announced. Julia Curry, head coach, and Chris Harvey, trip leader, will drive the Junior National squad, Bjorn Hanson directs the U16 Championships team, and Bruce Manske will be in charge of the Canadian Nationals trip.
CCSA Season Preview
December 2, 2018
The Central Collegiate Ski Association (CSSA) begins their 2018-19 racing season this weekend! Mary Kozloski has an in-depth look at the coaches and skiers for all the teams in the CCSA.
SuperTour: West Yellowstone Weekend
November 28, 2018
The SuperTour series starts this weekend with races in West Yellowstone, MT. Saturday, Dec 1st, is freestyle sprints, Sunday, Dec 2nd, is 10K and 15K interval start freestyle races. CXC will be offering free livestreaming this weekend: sprint heats 12:45 pm Saturday; freestyle races starting at 11 am Sunday.
Related:
Super Tour West Yellowstone Website
CXC Announces College Cup Series
November 19, 2018
The CXC College Cup is a newly established race series for college clubs and teams in the Midwest region. It aims at creating a competitive structure for clubs/teams outside of the NCAA circuit.
Related:
CXC Junior Cup Race Series Prepares For Its Second Season
LNR Presentation on JNQ and Collegiate Racing This Friday
November 6, 2018
LNR Coaches Chris Harvey and Piotr Bednarski will be hosting a presentation on Junior National Qualifying and Collegiate Racing this Friday evening, Nov 9th, at the Trailhead at THeodore Wirth. This presentation is open to all parents and junior skiers.
NNF: Drive for 25 Underway, Ambassadors Needed
October 21, 2018
The annual major fundraising campaign for the National Nordic Foundation, the Drive for 25, has begun. While in the early stages, they could use your help: donate today and/or become an ambassador!
CXC: Call for Spring Junior Trip Coaches Applications
September 30, 2018
Volunteer coaches are being sought for the Midwest Junior Nationals, U16 Junior Championships, and U18 Canadian Nationals trips coming up next spring.
Related:
CXC Annual Coaches Conference and Certification, Oct 19-21
CXC Fall Coaches Education Clinics
Endurance United Junior Cup Meeting Set for Thursday
September 23, 2018
Endurance United is hosting an information meeting on junior racing this Thursday, Sep 27th, at their offices in St. Paul. Athletes and parents are encouraged to attend.
Jeremy Hecker Named UW-Green Bay Nordic Coach
September 7, 2018
Green Bay Director of Athletics Charles Guthrie has announced the hiring of Jeremy Hecker as the new head men's and women's Nordic skiing coach, effective September 2018. The native of Andover, Minnesota, comes to Green Bay after spending a year as an assistant collegiate Nordic skiing coach with Williams College.
Nordic Combined: USA Nordic Announces 2018/2019 Junior National Team
May 31, 2018
USA Nordic has announced that 23 athletes from around the country have been named to the 2018/2019 USA Nordic Junior National Teams in the disciplines of Ski Jumping and Nordic Combined. Included on the roster are two Minnesota siblings, Aiden and Charolette Ripp of Cloquet, MN. Jumpers from Wisconsin, Illinois also made the squad.
Collegiate Racing: From Cross-Country Skiing to the Marine Corps
May 3, 2018
Minnesota native and Colby College skier Andrew Egger outlines his journey from cross-country skiing to the Marine Corps, and reflects on the many benefits and support he received along the way.