Midwest MTB Racing Recap
by Jay Richards
August 4, 2009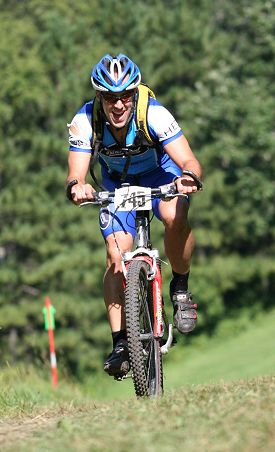 24 Hours of Afton, August 27, 2005

Racing into August is hitting full stride as end of season events are popping up on the radar. Although the Midwest MTB reports tend to focus on cross country events, there are many riders who use cross country events as training for 24 hour events such as the 24 hours of 9 mile which was held a few weekends back, and the Salsa Two Four, Minnesota's big 24 hour event at Afton Alps, coming up later this month. Other events Midwest riders are planning to compete in include ultra endurance events like the Leadville 100 which will see a return of Lance Armstrong as he tries to take the title from hall of famer, Dave Wiens, and point to point mountain bike races such as this weekends Ore to Shore and the "popular" Chequemegon lurking just over a month away.

A group of riders from Minnesota who competed in the 24 hours of 9 mile at Wasaua, WI. include Tim Hayes, also known as Super Rookie, and provided a quick report from his blog on their race: "My Behind-Bars/Little Guy Racing team won our category at the 24 Hours of Nine Mile outside of Wausau, Wisconsin. My team completed 19 total laps which was good enough for 20th overall out of 150 some-odd teams (excluding 12hour racers). My teammates for the weekend were Megan and Jeff. We were blessed to have Sarah and Jeff's wife come along for the festivities and help us keep our sanity.
Our goal going into the race was to get in some good training and do 19 total laps. Little did we know that we were going to face a tough challenge in our "Just For Fun" category by a 4 member all-male team! We were neck and neck with this squad throughout the 24 hours and even lost the lead to them on a few occasions, but we continued to claw back and solid laps by all three of us sealed the deal at the end. It should be noted that Jeff pulled some crazy laps and kept our team moving through the night with two solid laps when Megan needed a break and I was having lighting issues."

Reading reports from riders, doing a full blown report on 24 hour events appears something hard to do instead it is something you just have to experience. The results page from 24 of 9 is top notch with the breakdown of each rider and lap times with links to team information.


Regarding cross country riders using xc races for marathon events, I should also note the fourth place finish by Minnesota rider Robert Ogren in the Mens Open 60+ category at the Breck Epic which was part of the USA Cycling National Marathon Championships back in early July. Ogren was on the bike almost 6 hours racing at elevations near 12,00 feet!! Very impressive.

Cross country racing this past weekend headed to the southeast part of Wisconsin as race #7 took place in Franklin with the Alterra Coffe Bean classic. Probably the most notable result, as far as racing in the Elite category, was the win by Nathan Guerra. Guerra is another rider, I found when I visited with him at the WORS cup, that uses hockey as part of the training plan. Losing a brother back in the winter, Guerra rode a motivated and inspired ride en route to the win. I dropped a note to Nathan about his emotional win and he responded with a touching response:

"In December my brother died in a freak car accident. He rented our upper out on our duplex and was apart of an intentional christian living community that we are experimenting with in news ways to express church. So we are all very closely knit as a family and it has been kinda hard but mostly a time of growth and inspiration in light of his life and all that is is. I thought of Kyle a lot during my long indoor training rides of 4-5hours in the basement on a trainer this winter. Had some crazy moments of emotions mixing with endorphins or something out of this world while on the bike down there. Riding with him in mind gave me motivation at times to lay some extra base. Now in the season I say this one's for you Kyle a lot, but whenever I think of mountain biking with Kyle I think of this course and this race.
We would race here on Wednesday nights a lot in the summer to tune-up mid-week and a lot of family would always come and watch the team race. Mr Tree Racing Team is a family thing really, me, my wife, my siblings; Kyle, Hannah, Byron, my father in law Mark and then there is Jerry Leair who has become like family through racing together and of course Mr. Tree is my dad, but he only raced BMX back in the day a couple WORS to see how much he could suffer the long endurance stuff.
Anyways, with so much history with Kyle around this race over the last 3-4 years, cause really we had been out of touch for a long time due to drug addiction which he overcame the last two years of his life through 12 steps and a relationship with God. Actually, racing was the only thing that kept me in touch with Kyle throughout his addiction, now that I think of it. Wow lots of rambling, on Saturday night I made a little more serious dedication to Kyle and God that this one would be for Kyle in remembrance of him regardless of results. While clearing my legs out on Saturday I made up my mind to let go of all performance pressures and to ride for the love of him Kyle and God, love of the sport and the people around me enjoying it (family and friends). It just so happens I won my first WORS race the next day and really everything I had dedicated and prayed for the day before came true at that Venue. I had cousins, one of my uncles Mykul J, my dad (Mr. Tree), my wife and kids, my grandpa and grandma all there. On top of this I really try to make a point of getting to know everyone I can at the races and knowing their story, who they are. On Sunday as I walked up to the podium I realized how connected I am to so many people at the WORS races and how much I appreciate each one of them, cause that place blew up with the most cheering I have ever heard at a WORS awards presentation when they called my name for my First Overall win. The relationships were the reward, so much better then the prize money or the prestige of winning, which is great and wonderful, but only lasts a second. The reward of being loved and loving so many other people in this awesome sport while *pushing each other to our limits* is really what this dedication to Kyle was all about. That is what's for him on Sunday and that is what will last forever."

In women's Elite Abigail Strigel took another win as she begins locking down the series title.

WORS recap with link to results and other race related coverage at the bottom of the recap.
Looking Ahead
A busy weekend on tap for sure. As mentioned above, the first big point to point race takes place in the UP of Michigan with the mighty Ore to Shore. The event is also race number six of the Golden Race Series. At each of seven Golden Bike Series cross country mountain bike races, GT will crown the fastest amateur as the Golden Bike Winner. But there's a catch: the winner must defend their title by racing the GT Golden Bike at the next event in the series ­ or they forfeit the prize package worth more than $10,000 to the 2nd place finisher. When I was at Sea Otter, I saw the "golden" bike before the start of the Jr/amateur races including the cheerleaders that came with it. Not sure what the cheerleader thing did other than distract all the junior riders before the start but credit goes to the creative effort.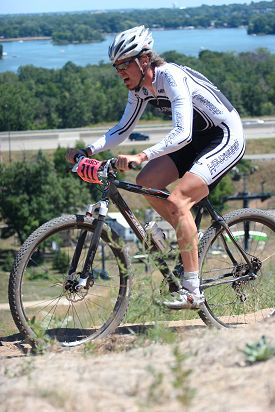 Hollywood Henderson, Expert race, Birch Bump, August 10, 2008

Anyways, looking at the preferred start list, the core Oreshorers are on the list and I see a nice battle between defending champion Micheal Simonson, TJ Woodruff, Mike Anderson, Brian Matter and Doug Swanson who said "I am feeling the anger" on a recent twitter post and later responded back in a personal message saying "I'm hoping for some good luck at O2S. I have decent form and hope to make my presence known at the race". In the women's event defending champ Jenna Zander Rinehart will face challenge from Kyia Anderson who has been training hard for this event.

MNSCS racing action goes metro with the Buck Hill Birch Bump in Burnsville . The popular Thursday night series concludes this week and if you haven't been out to Buck Hill before and plan on racing Sunday, the Thursday night race offers a good preview. One of the first mountain bike races I ever did was at Buck Hill in 1990 and the changes that have taken place are head scratching for sure but it is pretty awesome that there is still mountain bike racing there and kudos to all individuals who are keeping it going. Not a super long course but expect fast, tight and technical racing made challenging by loose sandy corners and punchy climbs.

The Black Partridge Open hosted by the Peoria (IL) Mountain Bike association popped up on the radar and thought might be nice to highlight just in case someone was traveling through the area.

National racing action takes place at the seasoned Mt Snow and the Mt Snow Mountain Bike Festival with the Snow Shootout and is also part of the Kenda Cup East Pro xc series. Hot off his world cup win, Canadian rider Geoff Kabush will be racing on the rooty and rocky course always made more fun with usual mud along with other top North American Pros.

On a personal note, you might have noticed in recent personal race reports not feeling of sorts at races the past months. Finally found out I've tested positive for Lyme's disease. Got on some antibiotics last week and keeping the wheels moving of course while things clear out!

Cheers!
About the author...

Jay Richards maintains a very active lifestyle. He somehow finds time between managing a full-time resort (Maplelag) and bringing up a family of four boys with his wife Jonell, to compete in both mountain bike and cross-country ski races. Jay rides for Maplelag Resort, Giant and Paramount Sports (Fargo, ND) and enters his 19th year of racing mountain bikes and promoting mountain bike races.