Skinnyski Race Team Weekend Recap
February 2, 2010
Quite a busy weekend as the team was racing in three different events. Paulette scored yet another Noquemanon freestyle title. Elaine continues to improve, posting an impressive 3rd place at Nordic Spirit, with husband Grant coming in 4th overall. Ben raced his first event of the season at the Marine/O'Brien and just came up short in the sprint photo finish with Jacob Beste. John was right in the mix at 4th and Chip just back in 6th. And Karl, Dave and Josie's just barely one-year-old boy skied his first race at O'Brien.
Read stories from Paulette, Grant, Elaine and Dave.
Race Results

Nordic Spirit
  Elaine Nelson        3rd female
  Grant Nelson         4th male
  Michelle Flanagan-Haag 9th female

Noquemanon
  Paulette Niemi       1st female 51K freestyle

Marine/O'Brien
  Ben Popp             2nd male 25K freestyle
  John Munger          4th male 25K freestyle
  Chip Tabor           6th male 25K freestyle
  Dave Nelson          13th male 25K freestyle
  Margin Nelson        4th female 25K classical

 
Paulette Niemi

I was a bit nervous about completing my 9th Noquemanon ski marathon this year. On the Tuesday before the event I decided to do a few lunges as part of a morning workout before work. I felt a little pull/pop in my right hamstring and knew it wasn't a good sign. But, instead of resting it that day, I went skiing with hubby Ray that night. I figured a little light skiing might "loosen it up." I didn't mention the hamstring issue to Ray. Our "ski" turned into a 7KM skate race around the Wolverine trails with Ray in the lead and me trying to keep up with my bum hamstring. He gleefully dropped me in the last 2KM and I ended up double poling in with a now throbbing hamstring. Funny thing was, I kept thinking maybe he would turn around just to check on what had happened to me. No such luck. I pulled into the stadium and there he was outside the chalet gloating to our chief groomer and some friends how he had skied me into the dust.

I spent the rest of the week "resting" my hamstring. I even pulled out all stops rubbing into it some of my old Cramer "Atomic Balm" from my track days 25 years ago. Yup, I still had the jar and it still smelled just as bad, evoking memories of shin splints and ace bandage wraps before meets.

All the relief I got from the Atomic Balm was some red hot skin possibly with 3rd degree burns on my inner thigh and hamstring. This stuff is strong and nasty! But it didn't do the trick for me this time.

Friday came and it was a beautiful day. We left for Marquette at noon. During the car ride my leg kept twitching and I told Ray that my plan at this point was to enter the race, see how my leg felt and if it was bad drop out. We had gotten the early race course reports and they were not encouraging. Apparently the trail would be icy due to rain the week prior. I hate skiing on icy courses.

We decided to go to the start and check it out along with testing our skis. The trail was fast with an icy mix and definitely firm. I tried out my "ski legs" after 3 days of rest and things seemed ok, except for climbing up hill. I definitely felt a hamstring problem on the up hills. This was not good as there are many climbs in the Noque.

On the way to the Dome I stopped at Walmart, I went into the medicine aisle and pulled about 7 pain relieving products off the shelf-Ben Gay, Aspercreme, heat packs, gels, etc. There simply were too many choices so I decided to ask an expert, not having much experience with any of them. I dumped them all on the "Consultation Counter" and told the pharmacist my dilemma: I wanted to ski a marathon the next day and I needed to get my hamstring feeling better by 10 a.m. that morning. "Which product(s) would do it?" I asked. She looked at me as if I was crazy and then realized I was serious. After studying them all, she recommended two. I thanked her and left with some Ben Gay Moist Heat Packs and a rub in Sports Crème (with the strongest concentration of pain relievers in it according to her).

I followed her advice, went back to our friend Chuck's house, put on the moist heat packs, put my legs up and had a beer to relax. It tasted so good I had another. Normally I wouldn't but I figured nothing could be worse.

Saturday came and the heat packs had worked their magic, my hamstring felt much better. I rubbed in some of the sports crème, stretched out, and told Ray I was ready to go.

It was another cold start. We warmed up together and I gingerly tested out the hills. I had decided on a stiff pair of Atomic World Cups with Fast Wax White and Cold Powder and they were perfect for the day.

Soon we were off. Two skiers went down in the first 500 yards and I avoided getting tangled up in them and then I watched 3 crashes ahead of me on the first icy downhill-which had almost a 180 degree turn on the bottom. I snowplowed and made it down, but heard Ray yell as he fell behind me. I looked back to see his face plant in the snow. I saw he was still moving, so I kept going. Soon he caught back up. We skied in a train for the first 5KM. The hills were icy and fast. I decided to take them conservatively as I didn't want to fall and lose time or get hurt. Ray went down again and after this I didn't see him until the end of the race.

The skiers finally spread out and I found myself skiing alone. The course was kind of "rough groomed" and it was hard to V2 on the uneven surface. I stayed on my left side mainly V1ing along, protecting my right leg.

I passed some skiers along the way and I made it through the hills of Granite Point and my leg was still holding in there. I was ecstatic. Things were going way better than I could have imagined. Just before the half way point I caught up to another skier #324 (Zack Zabrowski). I passed him just before the half. I knew the second part of the course would be much easier so I picked up the pace a little more. The long downhills were a nice break and the tracks were fast and a good place to rest. Very soon two skiers came up from behind (Zack again) and #363 (Nathan Haggerty). I picked up with them and we took turns through the flats. It was great to be skiing with a group and it made the KM's go by fast. We all slowed for some hydration at the next aid station and Zack got ahead of us a bit, but was nice enough to wait up. We continued on in our trio. Soon we were in the last 4-5KM to go. Zack pulled ahead in Forestville for awhile, but then I caught back up to him. We lost Nathan a bit behind us now. The railroad grade appeared and there was less than 1KM to go. I was right behind Zack when Dennis Kotcon came skiing by in the tracks to pass. I was surprised because I had seen him ahead of me at the beginning of the race and couldn't figure out what had happened (turned out he had stopped at the half with some cramping). I felt strong so I went around Zack and caught up to Dennis. He let me go by on his right. I said, "Let's put the pedal to the medal!" And I kicked it into high gear to the finish with Dennis right behind.

I was so happy that my race went as well as it did. Ray came in several minutes later. I found out he had 4 crashes, but survived. I called home to give the report to Grandma, Grandpa, and the boys and my mother (who worries a lot) said, "I'm so glad, I was praying for you all day." I think that Someone must have been listening.
Grant Nelson

The 25km freestyle Nordic Spirit race turned out to be a wonderful event. Even though mentally I didn't think I had it, everything else about the race seemed to pull me through.

The race started at 9 AM with a blustery northwest wind and a temperature of about 0F. It started right outside the downhill chalet, quickly crossed the road and then the course climbed through the Spirit Mountain campground and onto the exciting Spirit Mountain cross country ski trails. Tyler Kjorstad and Nathan Porath went out hard and immediately gapped the field, but a large chase pack quickly formed behind them. I was in the middle of the large pack and was working hard as we headed up the hill. I was skiing right behind Rhett Bonner and planned on sticking in the pack for awhile until I felt more comfortable in a pace. A few guys were a little antsy behind me and before I knew it, I glided right past Rhett and another guy on a slight downhill. Fast Wax white with my new Fischer skis was definitely running well. Without trying too hard, I slowly moved up in the pack and passed two more guys on a ripping downhill as they stood up to catch their balance near the bottom.

Surprisingly, I had managed to move up into the pack and was skiing right behind my friend Nikolai Anikin. (In a normal race, Nikolai would have been way ahead of me, but he had done the 51km Noquemanon classic race the day before and was definitely looking a bit tired.) Since we were only a few kilometers into the race and I wasn't feeling nearly as strong as my skis thought I was, I planned to stick right behind Nikolai. However, Nikolai immediately pulled over on the next uphill and before I knew it I was skiing on my own and pushing the pace.
The course was groomed to perfection and in the woods the temperature was perfect. I immediately gapped the pack and after a few kilometers on my own, I managed to catch up to Nathan and a nice guy named Scott Ellertson caught up from behind. As the three of us headed in to the Magney Snively section of the course, I looked back and saw my good friend Matt Ryan, tailed closely by another friend Rod Raymond. I was happy to see Matt back there and actually considered slowing the pace, because I didn't expect him to catch up to our pack. In less than a kilometer, however, Matt had passed Rod and caught our group. I was happy to see Matt skiing super strong and I knew he was feeling good.
For most of the rest of the race, the four of us skied together. If I was on my own, I'm confident that I wouldn't have gone nearly as hard. Even though, I felt like I was on the verge of being dropped many times, I think if it wasn't for the gorgeous course, a great group of skiers who each shared leading and a fast pair of skis that I certainly would have been dropped. As the four of us skied back on the connector into the Spirit Mountain trails, I started dreading the big climb that was waiting before us. Matt had reminded me earlier in the week, how I had used that same hill a few years ago to break away from a pack that he was in. Even though I was actually tempted to push the hill, my body was really hurting and I figured that I didn't have a chance to make a break now without easily being caught later in the race. I was a little relieved when Matt took the hill at a nice easy pace. At the top, when he pulled over to let me lead, he said, "I hurt." "Me, too" was my response and then we continued on.
With 2 kilometers to go, Nathan Porath took off hard and neither Scott, Matt or myself had anything left to try and chase him. The three of us skied hard into the finish line with Scott leading the way. Matt took a beautiful outside path and sprinted into third and I just managed to squeak by Scott at the line to finish in fourth place. I was very happy with my result and happy to ski such a nice and fun race. The organizers and race crew did a wonderful job and made me proud to live in a great community like Duluth.
Elaine Nelson

I was very excited to race this year's Nordic Spirit 25k skate race. A few days before the event, I had skied the whole course on a beautiful sunny morning with perfect (albeit a bit cold) conditions. While I skied, I used visual imagery (something I had done as a collegiate runner) to picture the course on race day, pairing positive thinking with the various challenging aspects of the course.

Sunday morning, we picked up our race packets at the chalet and I was elated to receive the bib #777. It was an ironic twist of fate after my husband, Grant, had worn the bit #666 in our previous Classic race at the Pepsi Challenge. "The ultimate Evil vs. Good..." I had to chuckle a little. With this heavenly blessing, we proceeded to warm up (or tried to in the cold temperatures) and lined up at the start line. I was on the outside of the first curve, hoping that position would prevent me from getting into a tangle with other skiers.

When the gun went off, my initial strategy of going out hard and hammering the first uphill didn't go quite as planned. I ended up getting stuck behind slower hill climbers and finally found myself being the caboose in a train of 8 skiers. I experienced the slinky effect of snowplowing to a dead stop at the foot of an uphill (or unsuccessfully double-poling alongside skating skiers), then forcing my skis into an incredibly wide "V-shape" and then climbing the hill with absolutely no initial momentum. It was a game of patience since I wasn't fast enough to pass on the downhills or flats, but I wasn't strong enough to muscle my way past by double-poling uphill. I tried to console myself with the fact that it was a longer race and I was saving energy by slowing the pace a notch.

About 10-12k into the race, the pack started to break up and I saw my opportunity. Double poling like a maniac, I managed to pass the remainder of the pack and started skiing freely on my own. I felt amazingly strong and fast and loved working all the long uphills. I really started to enjoy the beauty of the course. The connector from Magney to Spirit Mountain was fast on the downhill, but my skis seemed to slow dramatically as I attacked the uphill. The last steepest part, there wasn't so much gliding of the skis as herringboning action as I struggled the last few meters. Then the aid station loomed ahead with cheery volunteers eagerly offering energy drinks and encouragement. A few swallows of fluid and I was on my way, skiing alone.

The last part of the course was the hardest for me as the kilometers crept by slowly. I almost wished for the company of other skiers as that would've helped keep me focused on racing. At each uphill, my skis seemed to become progressively slower and my shaky legs were feeling the effects of the hilly course. After what seemed to be a inordinately long period of time, the "1K to go" sign popped into view. I shifted into high gear and powered into the finish area with my biggest fan shouting encouragement. I was ecstatic to have felt so good for a race and to have finished so well in such a challenging course. I can't wait until next year (although I doubt I will receive a bib number that would top the heavenly one I received in this race!)
David Nelson

Karl's First Ski Race
A beautiful day and excellent snow conditions brought out a record number of skiers to William O'Brien for Minnesota's oldest ski race. I was excited to compete in the 25km freestyle, my first skate race of the year, but I was even more excited to see my son Karl ski his first race the day after his first birthday! The big question was, would he really be able to ski 100m? Although they called it a sprint, I would think it would be more like a marathon for a one-year-old.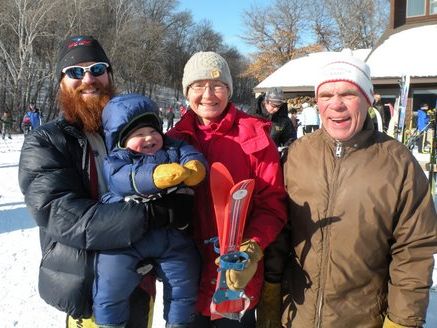 My parents couldn't turn down the invitation to see their only grandson on such a special occasion, so they were there as the cheering section to encourage Karl to the finish. When we got to the start we found quite a crowd with ~150 kids in various divisions all skiing around a big field. After strapping on Karl's skis we set him down and watched his 31" tall, 20" wide frame (with his puffy snowsuit) nimbly and fearlessly ski his way among other kids going in all directions warming up. We quickly realized that beyond the simple safety matter we didn't want Karl to wear himself out before the big race, so I put him on my shoulders to wait.

We found our way to the back of the crowd by the sign, "0-3." I sized up Karl's competition. "Oh boy, those Popp twins are going to be tough!" I quickly reminded myself that Skinnyski teammate Ben Popp's twin boys are much older than Karl and it certainly didn't matter how fast Karl skied. Just before the starting gun went off, Karl's boot and ski fell off his right foot. Thanks to quick work by Josie and my mom, Karl was ready to go just in time. As the kids took off, Karl started furiously skiing as if he was trying to keep up. My dad cheered him on from up front and Karl would stop every so often to smile and wave at him. He must have picked that habit up from his mom, Josie! We were really surprised that Karl only fell a couple of times, and thrilled that he would get up smiling and waving, as if to say, "I'm alright, folks!"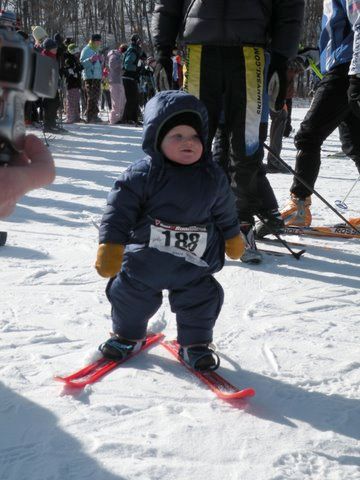 When Karl made it to about the 90m mark he stopped and leaned back like his back was tired and he was stretching it out. About then, the leaders in the older kids race started skiing by on their second lap right next to Karl. My mom proudly stood guard so Karl wouldn't get hit. Karl skied strong right past the finish line and I scooped him up to give him a big hug! Everyone left was cheering wildly. I guess it was just Josie, my parents, the race director and I, but we were all sure excited! As I suspected, the Popp twins went 1-2 in the division and Karl took up the 5th and final spot. His next race will be the Birkie, but there he'll get a free ride as Prince Hakon!

If you'd like to see a video clip from the last 50m of the race, here's a link: http://picasaweb.google.com/josie.david.nelson/20100131001#5433483494187672450
(We think it's pretty funny, but is watching someone else's kid race something like watching paint dry?)