Midwest MTB Racing Recap
by Jay Richards
August 14, 2012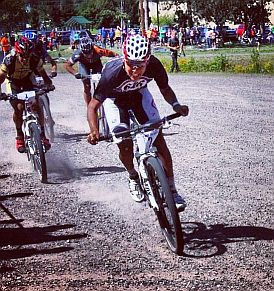 An action packed weekend of mountain biking with events not only in the region but a handful of riders from the Midwest making trek to Colorado for the Leadville 100. And, of course, an exciting day for USA mountain bikers with great results from the US in the Olympics! This weeks report includes recaps from TJ Woodruff racing at the Ore to Shore and Sam Oftedahl racing in River Falls in race #7 in the Minnesota Mountain Bike Series. We are moving in to the sweet spot of the mountain bike racing season and a couple events on tap this weekend to note make it a jam packed report.


Ore to Shore

The battle at the front in the 48 mile Hard Rock was fast and furious as once again the finish came down to a sprint finish with Cole House just nipping Brian Matter at the line. The top 7 riders were 25 seconds within each other making for exciting finish line entertainment for the spectators.
One of Wisconsin's favorite mountain bikers, TJ Woodruff, made trek to the UP of Michigan with his wife Chloe to compete in the epic point to point race and sent in an exclusive recap:
The Ore to Shore has become a favorite race weekend of mine. It's a unique style of racing that's certainly mountain biking, but with a somewhat significant tactical component to it. The strongest guys will make it to the finish together, but you have to be smart to make your move count. And, sometimes guys who are still plenty strong make mistakes and are shelled off. I'd like to fit my 2012 O2S experience into this category...

Early on the race played out like normal and it was plenty fast enough to create some separation. I was in the mix and feeling pretty good. Not phenomenal, but certainly no reason for concern. There are several railroad crossings in the early miles. One of these crossings had tracks that were far more exposed than in years past. I didn't notice this until I was 'doinking' my rear carbon Reynolds wheel against it. It hit hard. I was sure that I was soon to be stopped and fixing a flat, but miraculously that was not the case and for awhile I thought that I got off easy. Better positioning would have meant a better view of the trail and I made the mistake to sit too many wheels too far back. Not too far further down the trail we entered the first of the powerline sections which include some steep climbing. Tristan put in some hard accelerations and when he wasn't going hard Brian was taking his turn. All the of this happened while sitting at the tail end of that front group of nine or ten guys or so. Eventually small gaps got a little bigger and without really realizing it, I was soon chasing solo, riding in eighth position, just 10 seconds off the front group of seven guys.

For what seemed like an eternity I kept them at 15 seconds, but eventually I got a little tired (physically and mentally) and about at the same time Mark Lalonde bridged up to me. We chased in earnest for awhile, but the gap to the front never got smaller. The leaders went over the top of Misery Hill as we rolled into the bottom of it. By this stage of the race I knew that I had a low rear tire, likely resulting from that hit against the railroad track. I cleaned Misery hill after realizing that I could see a good line and had the cheers of some fired up locals who were standing at the top. I'm not sure if I was more surprised or if the fans were, but they were super pumped that I cleaned the hill! Perhaps I was the first in race history to ride it??? At the crest of the next climb I stopped quick to inflate my rear tire with the Big Air and told Mark that I hoped to see him soon! Apparently while I was getting dropped (and chasing) I also had a slowly leaking tire - never a favorable combination. I caught back up to Mark a few minutes later and we continued to trade pulls for the entirety of the race. Mark led onto the pavement and I jumped first before the big left hand sweeping corner onto the gravel. I had a gap, but not enough and he was able to jump around before I got to the line. It was a good two up battle after doing a lot of work together out there. Ninth wasn't what I had in mind, but it was a great day despite. It's been too long since racing at sea level, and it's tough to struggle a little bit when doing the style of racing that I enjoy so much! All part of getting myself ready for Chequamegon when I'll get another crack at it...

After crossing the line I was still nervous since my wife, Chloe, was still on course and reports were that she and Jenna Rinehart had been battling it out head to head the entire race. I was so fired up when Chloe sprinted to the line taking her first Ore to Shore win. Jenna was right there too, making it the closest women's finish in the history of the race - just how it should be! It was Chloe's third attempt and this time she was able to come through with the win, adding to what has been a great season for her. Perhaps she can make a run for that elusive triple crown title this year.

Up next will be the WORS Subaru Cup ProXCT race, then the Seeley Pre Fat, and hopefully a trip to Maplelag for us prior to the Chequamegon. It's my favorite part of season to be racing and I'm fired up for the schedule we've got coming up! It's great to have some time in Wisconsin and we'll certainly be making the most of it as we close out the mtb season.
Rolling third in the women's race was Sara Kylander-Johnson who gave hard chase after going down hard at the start. Point to point races are the few times men and women square off head to head. Most of the time it works but sometimes there are disadvantages. Scott Kylander-Johnson makes points on why he would like to see a separate start as the Iceman Cometh does.

Mining Journal Article
Full Results

Border Crossing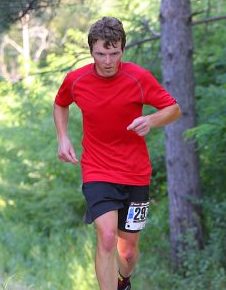 Race # 7 in the Minnesota Mountain Bike Series jumped across the big river to do battle on on the other side of the border. This time it was mostly Minnesota riders as the border battle of years past was put to rest. Sam Oftedahl files a report (who raced a half marathon trail run the day before!) and was part of a chase group in the Elite race that saw the top 10 racers within two minutes of each other in the nearly two hour race. Rebecca Sauber took her second win of the season edging out Wisconsin riders Leia Schneeberger andSophia Marchiando, respectively.
The race went surprisingly well for me. I wasn't expecting much being that I did a half marathon trail run the day before. Fortunately all the soreness & pain that I had this morning went away as I toed up to the start line.

When the start gun went off I found myself fumbling with my pedal which sent me to the back of the pack. This worked out well, as I was able to relax on the first lap & ease my way into the race. Laps 1 & 2 I worked my way up through everyone. I was feeling really good in the singletrack so I punched it through the twisty-windy. I was feeling slow on the climbs so I just kept it steady & tried to save my energy for the singletrack.
Lap 3 & 4 I found myself riding with Dave Oach's who was riding strong today. We rode together up until the last lap. He was stronger on the big climbs so I waved him by on the last hill. There was no way I could pass over the top being it was tight. I rode it into the finished satisfied how I felt throughout the whole race. Overall it was a fast race.

Conditions made it possible to be aggressive & carry some speed into corners. You found yourself going hard the whole time. There was no time to let up because there were groups chasing from behind & you were chasing the ones ahead which made for a close race. There were no huge gaps in between groups. Super fun race! Huge thanks to the race organizers & volunteers who made it all possible!
Looking Ahead
One of the more popular races in North Dakota, the Gear Grinder, takes place outside Jamestown, ND at the Pipestem dam. Host to an Xterra event earlier this summer, the event offers a full plate of racing on a demanding up and down course with classic prairie singletrack in the coulees that make for some sweet riding. Each participant will get a T-shirt and energy snacks. Awards, merchandise and cash awarded to the top finishers.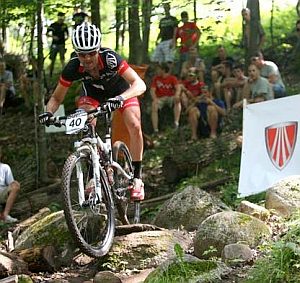 A huge weekend in Wisconsin as the big dogs come to town including this years Olympians to race in the PRO XCT race at Nordic Mountain. "Just a week after the historic success in the Olympics, mountain bike racers Todd Wells and Sam Schultz will carry their momentum to Wisconsin for the Subaru Cup Pro XCT race at Nordic Mountain, " reports Tom Held who has a nice little preview leading up to the much anticipated race in WI this weekend. MTBRaceNews has a nice feature on the weekend events as well. (Photo: WORS)

After having to switch venues due to devastating floods in the Duluth area, the Minnesota series heads back north to the Mon Du Lac ski area for the Dirt Spanker Classic. The course features a stiff climb off the start followed by some sweet flowing singletrack on the top than a kicker descent to top things off. Saturday will be the state Super D championships which is a combination of downhill and cross country riding/racing.

Keep the wheels moving!
About the author...

Jay Richards maintains a very active lifestyle. He somehow finds time between managing a full-time resort (Maplelag) and bringing up a family of four boys with his wife Jonell, to compete in both mountain bike and a few cross-country ski races. Jay rides for Maplelag Resort, manages the Maplelag/Paramount mountain bike team and enters his 22nd year of racing and promoting mountain bike races.