Midwest MTB Report
by Jay Richards
June 6, 2017
Summer like weather kicked into high gear this weekend providing warm conditions for racing and riding. This weeks report includes recaps from the Borah Epic, race #3 in both the Minnesota and Wisconsin series, a couple news and notes items include a few trail reviews and the look ahead.
Borah Epic
It was another hail mary pass in Birkie land and this time it connected for six as race organizers held off on final race course decision until the morning of. A few riders didn't make the trip over as a result, myself included, but the majority of riders still ventured to the CAMBA trails to race in near perfect surface conditions albeit a bit humid. Overall female winner in the full epic, Kyia Anderson, files a recap of her winning race.
The Borah Epic was held on the first hot and steamy summery day in the Midwest. I really didn't realize how hot and humid it was going to be until I was loading up the car while my husband and son were enjoying the free paddle boats at our Hotel on Lake Hayward on Saturday morning. Hydration was going to be important in the heat and tough to accomplish on the tight and twisty trail. I was less than organized but had empty bottles ready to be filled once we filled up with gas and loaded up on Gatorade. Intervals of sipping coffee, Gatorade and trying to nibble on a Cliff bar on the trip north to Cable I realized I still get race nerves! They settled a bit as we neared Cable, parked in some shade and began the pre race ritual. I spun down the lead out road and took a glance at the nicely mowed "power line climb" and headed back towards the start line and did a few pick ups. The legs didn't feel great as I still was feeling the effects of the muddy Detroit Lakes MTB Marathon and some higher paced group rides but I had confidence in my riding skills and knew that 35 miles of mostly single track racing was going to be tough for everyone. On the start line it was fun to catch up with friends new and old, tame the nerves, hone the focus and get ready for the fast roll out and the grassy climb, I was excited to get to the single track!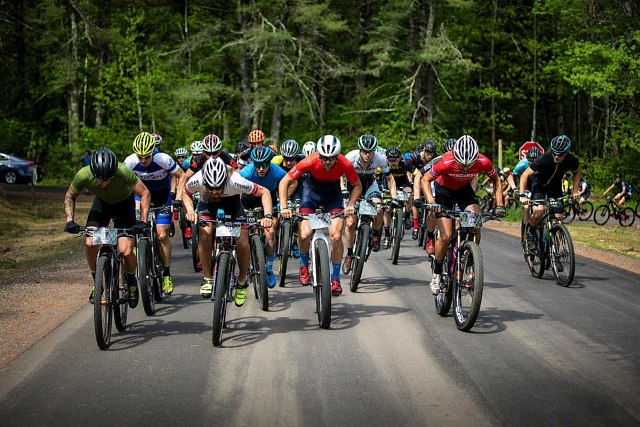 (Photo: Start of Borah Epic, Credit: Brent Prenzlow)
I positioned myself well on the road roll out. I was right behind Carly Jackson (Orion Racing) leading into the grass climb, It wasn't long and everyone was huffing and puffing up the first pitch. Rolling into the second pitch Megan Bar (Angry Catfish) made the pass and took the lead. There were 5 or so male racers between Megan, Carly and myself. As we neared the turn into the double track I moved up a few spots to file into the single track in a slightly better position. Megan hit the single track first with a male racer behind her, Carly next with a male racer between her and I. Right away the speed slowed as we navigated the tight trail and rocky terrain. It wasn't long and Carly had a slight mishap and stepped off the trail and I was able to move past her. I caught up with Megan soon there after and was happy to sit in this position as Megan was riding the trail really well and setting a good pace. At around mile 7 my husband was at the trail crossing to give us our positions (he managed to get to 7 spots throughout the race, my pit crew was on it! My son (little man) had fun rallying the fire roads of WI! - (sleeveless shirts were requested for next time). Megan lead for a few more miles and then slipped up and had to dab and told me to go ahead. I continued to ride a steady pace and ride as clean as possible as I knew any miss shifts or bad lines would have me off the trail and back in second.

(Photo: Kyia Anderson rips the gravity cavity to top the women's podium. Credit: Brent Prenzlow)
I would see Megan here and there as we weaved throughout the singletrack and kept telling myself to not let up and get complacent. I got a few splits throughout the race where I had built a moderate lead early on and then Megan whittled it down to about a minute with 15 miles to go. When I got that split which was at about 7 miles to go I really tried to dig deep and keep or expand the lead and was able to pull off the WIN! Somehow my back managed to handle the tight and technical trail and I attribute that to the full suspension MTB! It was so fun to support these sweet trails at a race and gather together with the awesome Midwest mountain bike community again. Thanks Borah EPIC and CAMBA for a great race, all the volunteers, my family for all of the bottle hand ups and dedicating your day to supporting me, Podiumwear Custom Sports apparel for the sweet race kit, Revolution Cycle and Ski, Tifossi Optics, Giro, Elena White and the awesome inlaws who help out with babysitting and other various things so I can get out to ride!
MT Kato Bluff Riders Charge Race #3 MNMBS
Junior rider Cole Johnson provides a nice recap of the racing action at Mt Kato, race #3 in the Minnesota series and highlights some impressive results by fellow junior riders:
The 2017 Bluff Riders Charge at Mount Kato was the third race in the Minnesota Mountain Bike Series this year. It was a hot and sunny day of racing with a dry and fast course for the racers. The sport/comp/elite lap was close to 4.5 miles with around 700 ft of climbing that began by going up the front ski hill. After racing along the top of the hill, racers would drop into the singletrack marked by a downhill switchback, followed by two singletrack climbs. The course then became technical as the riders descended into a series of drops, followed by a 180 degree switchback-drop. The riders then finished the lap by ascending the backside of the ski hill, and dropping through fast and steep singletrack before racing across the bottom of the ski hill completing one lap. The kids comp/citizen course was similar although the final climb and descent were omitted. I raced the sport race (2 laps) in the mens 15-18 age group. This is my first year competing in the sport category. I started in the third wave with men 18 and under. We started fast up the hill, although we had to slow down in the singletrack as we caught the waves of older riders in front of us.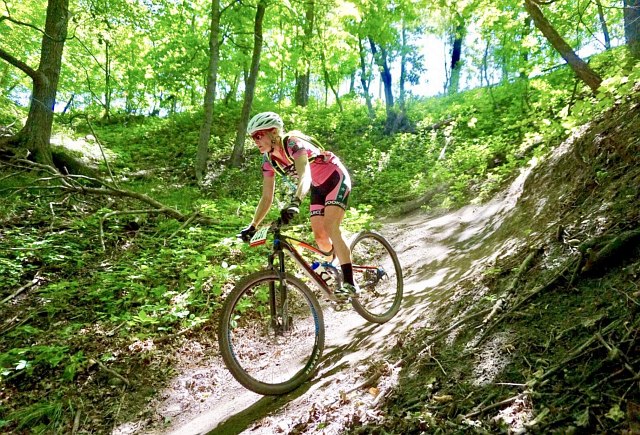 (Photo: Racing action at MT Kato, Credit: MN Trails photo)
The waves are carefully arranged by the race officials, and they work well for most all rides, although there are about ten of us in the 18 and under wave that end up catching the waves of riders ahead. Riders in wave 1 (men 19-39) and wave 2 (men 40+) are usually very polite about letting faster riders pass. Tom Beyer (15) of WEDALI racing and the Prior Lake high school mountain bike team broke off the front early to take the overall win, as the long ski hills are his favorite. I then raced with Chihiro Gustafson of the Mounds View high school mountain bike team for the rest of the race. After he gapped me on the final hill, I caught back up on the steep descent, and on the final stretch across the hill, I was able to sprint around his left side and take 2nd place in the men 15-18, as well as 3rd overall in sport men. Other races saw Mat Moore win the marathon class, with Jeff Hall and Robin Williams winning the elite races for men and women respectively. Some notable finishes from young riders were Sudie Hall (14) placing first overall for sport women, her brother Henry Hall (16) placing third overall for comp men, and Calvin Sandberg (16) placing Third overall in elite men.
Battle of Camrock Race #3 WORS
Hot conditions greeted riders as well in the WORS race #3 at Camden Rocks. Kayla Johnson files a report from the female Sport race:
The third Wisconsin Off Road Race Series happened to be on my route from Milwaukee to North Dakota on Sunday. With the first two races being that tacky mud from the overnight rains that drains your soul, the course was buzzing with what seemed like double the riders and spectators. The weather was a sunny 88 degrees, spirits were high, but riders were checking their water supply. Making my way to the starting line for the Sports race starting at 11:30, I was excited to ride on the dry course. I didn't have the opportunity to ride the course previously, so I was a little nervous about it only being 2 laps, rather than the usual 3. Three laps let you push the last 2 laps after learning the ins and outs of the course on the first lap.
As the women started to line up behind the 70+ and Clydesdale categories and wait for all the men's age groups to go through their staggered starts, the woman next to me explained that this race always seems to be the hottest race of the season. Since she had pre-road, she explained that the course would be flowy with a few short, steep, technical climbs and several fast descents with rocks and roots. I was even more excited; technical rocky areas are my favorite. No, seriously, they are.
Fast forward 10 minutes, they do the call ups for the women. I make my way to the start-line and embrace the nerves. "Ten, nine, eight, seven, six, five…[long pause]…GOOOOOOOOOO!" The lap started with the usual grassy, double-track climb to spread the riders out. It didn't take long to get onto the single-track. For the first lap, we had a row of five women riding right on the back tire of the woman in front of us. The first half of the lap was flowy, with tight and fast turns. We get to the first technical climb and…the rider in front put a foot down half way up the climb, stopping the 5 riders behind them from making the climb. After having this happen on several climbs, with little space to pass, a couple riders in the back decided to make some aggressive passes. One of them being me. That was a mistake. Entering the second lap, I quickly realized that the combination of that pass and the heat was resulting in heat exhaustion.
Slowing it way down to get through the wall and heat, I took the second lap easy. While this was disappointing, it gave me the opportunity to take in the features of the trail. On my second lap, I took in each tight turn, berm, fast decent over roots and rocks, and I was able to evaluate my ability on those technical climbs and descents. I really enjoy the effort of the trail builders to make those features. They were tough, but everything I love in a trail.
At the finish area, I quickly chugged two cold cups of water while discussing the race with the same woman I lined up with. We came to similar conclusions; this trail is awesome, but tough to pass on during a race. Thinking about the previous races with a ton of double track: what would you prefer—mostly single track with a few dedicated passing zones, or a race that is half double track where you're wondering when you get to go back onto single-track? For me, I prefer the former.
Mark Repyak Drone Footage of Elite Start
Ride the Divide
Seven Duluth-area cyclists plan to ride the Tour Divide bike race this summer, a 2,745-mile race on roads and trails between Banff, Alberta, and the Mexican border.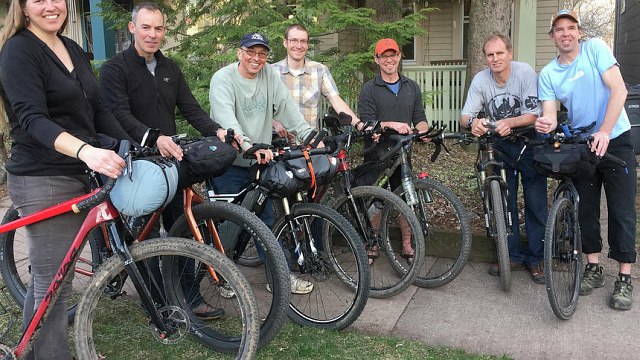 (Photo: MTB Divide riders, Credit: Duluth News Tribune)
Jeremy Kershaw had his heart checked out to make sure he was fit enough for the grueling mountain bike race he plans to ride this month.
Kershaw, 46, is one of seven Duluth-area bikers who plan to tackle the 2,745-mile Tour Divide race from Banff, Alberta, to the Mexican border in New Mexico. The race begins on Friday.
"My heart's OK," Kershaw said. "The brain tests are still pending."
The long and arduous backcountry race follows gravel roads, four-wheel-drive roads and old railroad grades that criss-cross the Continental Divide. The race has no checkpoints, no aid stations, no entry fee, no cash prizes. Riders must be self-supported and may have no family or pit crew help. Most camp along the trail each night.
Afton Alps Reborn - Trail Review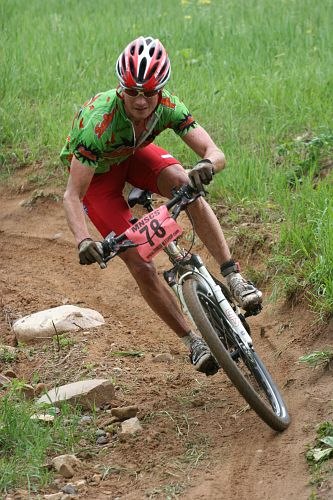 Afton Alps which has been host to many Minnesota series races and also the grueling 24 hours of Afton, has opened it's trails again to mountain biking.
(Photo: Final s turn descent, MNSCS 2008 at Afton Alps)
Stillwater assistant Nordic ski coach Kris Hansen recently was out at Afton and sent in a trail review:
Here's my context: I'm a decent rider but not phenomenal. I race sport class for women and tend to do alright. I love riding White Tail (River Falls) and enjoy Carver (Woodbury), but the latter only as an "it's been a long day and I want to unwind on my bike" type ride.
I like the trail at Afton. It's hard and it's technical. I wasn't intimately familiar with the trails Afton had before, but I understand the new trail is similar – in some cases the same - but not quite as hard nor quite as long. The technical sections kept me focused and my heart beating with more than aerobic effort; there are some pretty severe rocky patches and a few steep descents with sharp turns. Definitely not something I'd introduce to a new rider. There is one technical uphill section with extremely tight turns that I had to walk. I won't say it's un-ridable, only that it's hard for me to imagine someone doing so.
There are several nice, long climbs that put me at my threshold for longer than I liked…definitely climbs that are easier to love when you're reliving them in the parking lot than when you're puffing along for several minutes with your chest burning. It is those long, sustained climbs that really set Afton apart from other places I've ridden in the Twin Cities, Cable and Hayward. This trail will make you fit. The trail has some wonderful downhill sections through the woods…green, shaded and super fun to ride. Almost good enough to forget the heave-up-your-lung climbs. The views are gorgeous, sweeping vistas of the St. Croix Valley and the wonderfully green hills of Afton State Park. Finally, there's plenty of parking, access to indoor restrooms and a bar/restaurant to enjoy when you're done on the bike…those amenities might make it easier to meet up and socialize before and after.
So what's not to like? Clearly the trail is new. There's long grass, soft dirt spots and some low hanging branches. It needs to be ridden and maybe even slightly re-routed in one or two places to create something ridable. The trail could be marked better and a few spots that side track the downhill run would definitely benefit from bench cutting. But it's good enough that you can really see and feel the potential. And it's definitely good enough to give you the training you need to compete with those folks in Duluth who have Spirit Mt in their backyard.
If Afton Alps has done anything wrong with this new trail, it's not communicating the experience level needed to enjoy it. If you do the MORC races, Afton Alps will give you a great workout and test your technical mettle. If you're a new rider, someone who digs the easy flow of Carver, or a family with young kids, maybe you want to wait and visit Afton until the vision around the mountain develops more. You won't have fun there today. That said, it's exciting to consider what a mountain bike mecca the site could become if they built a rolling green trail to compliment the blue/black diamond that exists today.
I'm excited that Afton Alps is creating another opportunity for mountain biking in the Twin Cities. Our sport is growing and it's nice to have another place that meets the needs of certain riders – it's not right for everyone, but it will be a nice change for some. Bought my season pass today.
Strawberry Mountain Forever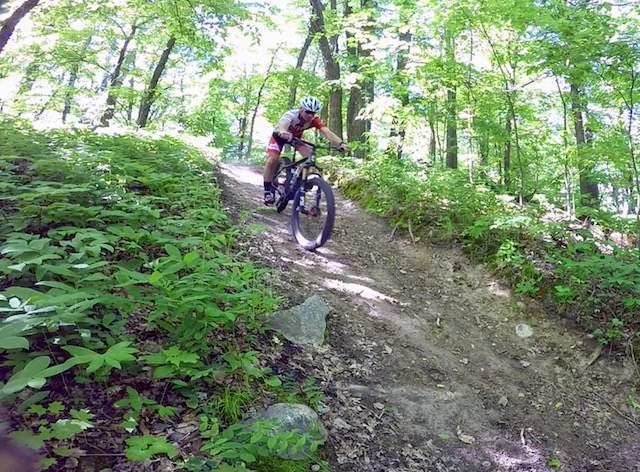 (Photo: Descending fall line trail on Strawberry Mountain, White Earth State Forest)
It was a bummer not to make it to Borah but instead got dirt therapy north from home, hitting up the rolling trails in the White Earth State Forest. The WESF contains nearly 100 miles of trail, mainly big rollers on well maintained forest roads with gravel surface that are busy in the winter with snowmobile traffic. Extending off these roads are atv trails that makes for quite a few possibilities for riding. I've been riding here the past 27 years hitting up the fun trails 2-3 times a summer. There are some registered Cat 4 climbs that make for some really fun high speed gradual descending. The climb to the top of Strawberry Mountain remains one of the toughest mountain bike climbs that I have get to clear. There is also a nice climb to the top of the old Height of Land fire tower. The WESF is definitely a place to check out if you like rolling gravel on a mountain bike, was always good training for Chequamegon. I have yet to see another mountain biker although back in the 90's The Jolly Fisherman Resort used to host a mountain bike rally a handful of people would show up each year to ride.
More info on WESF with links to maps
Looking Ahead
Minnesota series action goes back to back weekends for the first time this season, heading south again to the bluffs of Red Wing at Memorial park.
Red Wing is steeped in Minnesota Mountain Bike history. In 1997 Welch Village ski area held the first NORBA National race in MN. Pro racers from all over the world converged on the little Mississippi river town. Since that time riding and racing in and around Red Wing has always been part of the community and a great destination for cyclists of all kinds.
The Red Wing Classic has much of this rich history. Since the late 90s racers have navigated the ski trails and single track of Memorial Park. High up on the bluff the park offers beautiful views for riders and spectators alike. As the 4th race of the series the points battles are heating up.
Keep the wheels moving!
About the author...

Jay Richards maintains a very active lifestyle. He somehow finds time between managing a full-time resort (Maplelag) and bringing up a family of four boys with his wife Jonell, to compete in both mountain bike and a few cross-country ski races. Jay rides for Maplelag Resort, manages the Maplelag mountain bike team and enters his 27th year of racing and promoting mountain bike races.

Have an event or mountain bike related information to share from the Midwest? Feel free to contact Jay at