Midwest MTB Report
by Jay Richards
June 13, 2017
A mixed bag of weather made for hit and miss and riding this weekend and threw a wrench in the racing at Red Wing, race #4 in the Minnesota series. Overall typical summer like conditions as month of June rolls along. This weeks report includes highlights from the weekend, news and notes items of events including junior riders making some noise outstate, new trail build at Welch and the look ahead to a busy weekend.
Red Wing Classic
Despite forecasts of thunderstorms, race organizers and officials went full steam ahead for race #4 in the Minnesota Series. Early runs of forecast radar showed Red Wing might miss the strong storms that moved through the Minneapolis/St. Paul area but like all storms, sometimes the final tracking isn't known until it happens. The Kids Comp race went off without a hitch but when the Citizen racers hit the course, thunder and lighting followed by heavy rain forced organizers to call the race. A one hour delay was then in affect but the rain and conditions that would most like be detrimental to the course, forced officials to call the race and reschedule for this coming weekend.
Minny Boys Making Noise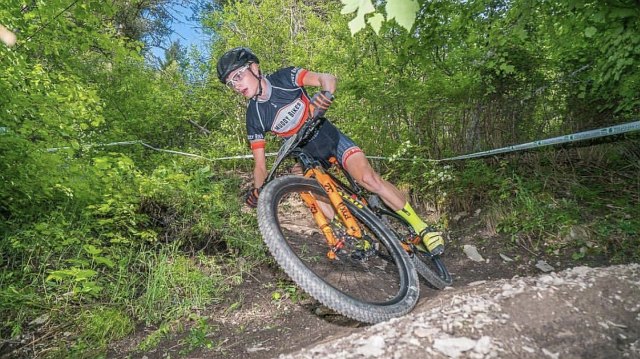 (Photo: Missoula Pro XCT)
Former Minnesota State cycling champ, Samuel Elson, was in Missoula, MT over the weekend racing in race #5 in the PRO XCT race series and recorded a solid 11th place overall in the Pro race and was the top youngest finisher at age 19. Elson stated on a Insta post: "Absolutely stoked about this result, and really happy where my fitness is right now". Elson was running in the front in last weeks Minnesota series race before succumbing to a mechanical.
Related:
Race promoters of the Missoula XC are also promoters of a true enduro race early fall, the Daisy Enduro, that looks really sweet.
Scott Enduro Series
Jr rider Max Fierak of Duluth area, who started his mountain bike racing in the cross country scene, has now focused on the gravity scene, more specifically enduro and was in New Mexico over the weekend racing at Angel Fire in the Scott Enduro Cup Series.
Max had a great weekend finishing first overall after the two races combined. Fast bike combined with suspension dialed in had Max running confident to step on the top wood block at the end of the weekend.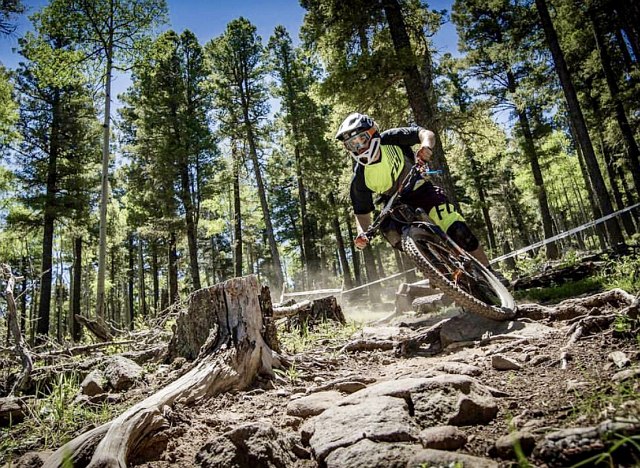 (Photo: Max Fierak, Scott Enduro Cup. Credit: Jay Dash photography)
Leogang Austria Downhill
I am a classic cross country rider to the core but can't help but be amazed by the beauty, skill set and sure out awesomeness of the downhill mountain bike race held in Austria over the weekend. The backdrop at the UCI downhill race at Leogang Austria was nothing short of spectacular as American rider Aaron Gwinn took the win in the men's pro race.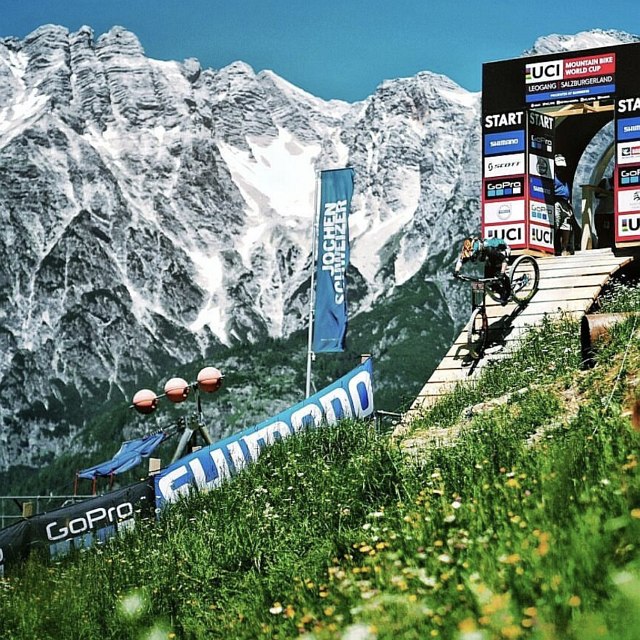 (Photo: Start ramp at Leogang, Credit: lastfreerider)
Welch Village Progress
For those of us that raced at Welch Village in the hey day of racing at the southern MN ski area, whether it was the NORBA Nationals or a Minnesota series race, will remember the infamous "RockShox Drop" or the wall climb and personally, the ridge line hand built classic descent on the far southern part of the ski area that was one of the top descents in the Midwest ,personally, with roots, rocks and tight lines to navigate. There was also some good peanut butter like mud in some of those races that only added to the fun, depending on your point of view. After a halt in the mountain bike race scene and a focus on ski area improvements including ski runs which eliminated a lot of the hand build singletrack, new trail building is in full swing with select trails to open next month. The new trails have no shortage of some massive flow with big berms, jumps and serious pump action. Welch GM has been doing a nice job updating progress on the Welch blog.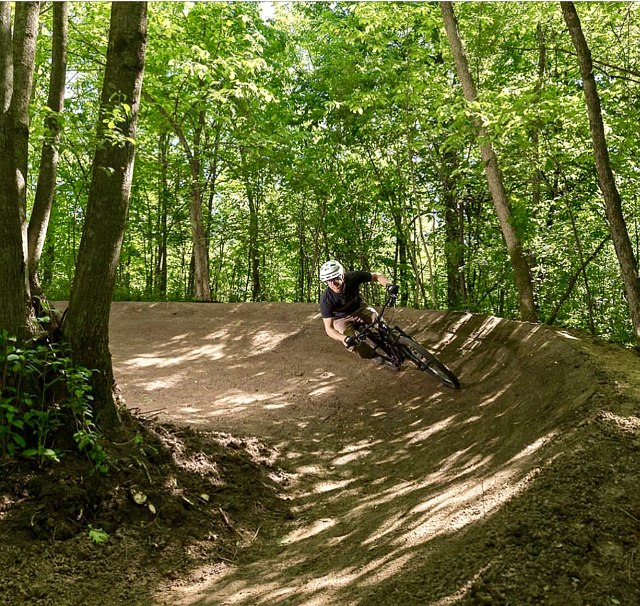 (Photo: Big berm action on the new Welch mountain bike trails)
Copper Harbor Big Boy Clinic
Woolly Bike Club team rider Ben recently participated in the Copper Harbor Big Boy Clinic and filed a nice recap on their website.
When I saw the Copper Harbor Trails Club organizing their men's skills clinic (a recent addition to their highly popular women's clinic) I was all on board. Three days of intensive skills development on some killer trails in a beautiful location sounded like just the ticket to start the summer of mountain biking.
Read Ben's full report: Woolly Bike Club - St. Croix Falls, WI - An IMBA Chapter: Copper Harbor Big Boy Clinic Recap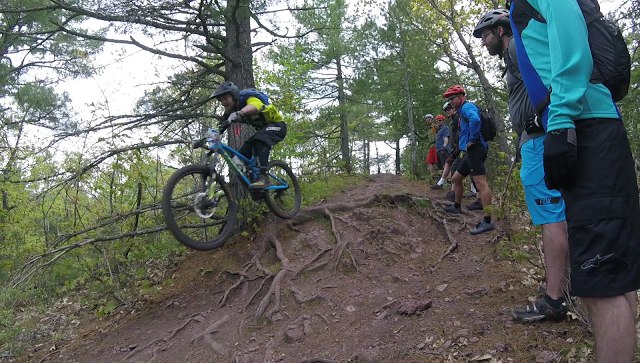 (Photo: Skills session, Big Boy Clinic)
Toughest Mountain Bike Race in the World?
I have no interest in doing major mountain bike endurance events, surviving a winter season is enough mental and physical challenge as it is, ha. I have a ton of respect for riders that put themselves completely over the edge in events such as the Ruta.
Just keep moving. Even if only an inch forward. That's the key.
How else would cyclists riding in La Ruta de Los Conquistadores — a mountain bike race marketed, quite reasonably, as the world's toughest — make it to the finish line in one piece? How else would they conquer a merciless route that includes steep climbs, choking humidity, muddy jungle trails and swift-moving rivers that may or may not contain the occasional hungry crocodile?

(Photo: Rider competing in the LaRuta, Credit: Scott Mcintyre)
New York Times in depth article at the La Ruta
Ride Camp
Early bird registration is now open for Salsa RideCamp—Wisconsin Northwoods 2017, which takes place near Seeley, Wisconsin, September 7–10, 2017. Organizers exclaim: We're excited to announce Salsa RideCamp 2017! Please join us for cool, crisp mornings, world-class singletrack and rolling gravel roads, bicycle-rich culture, and roaring fires under massive star-filled skies. We've got great rides, partners, presentations, clinics, and family fun on the docket—all we need is you!
Looking Ahead
Duluth Riders have been dialing in the lines once course maps were released and stoked for the start of the Duluth Enduro Series which will kick off at the more classic type trail system at Piedmont this Wednesday, June 14th. Two timed stages to determine the overall winner. No entry fee but a IMBA COGGS membership is required to compete.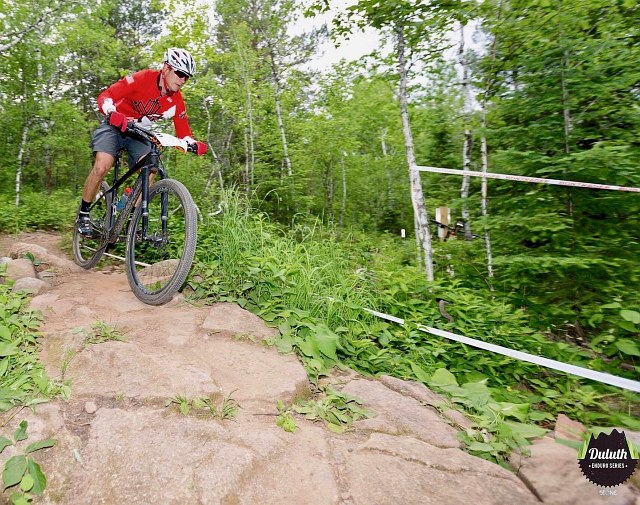 (Credit: 2016 Duluth enduro racing action)
CAMBA Land Candy Land
The CAMBA trails will be busy again this weekend with mountain bikers racing in the Chequamegon 100 or the more low key Long Ass Ride. Both events feature the popular singletrack in the Chequamegon State forest
Chequamegon 100
Long Ass Ride
MT Morris Challenge Race #4 Wisconsin Off Road Series
Featuring rolling hills, flowing singletrack and ripping downhills WORS and the Waushara Area Mountain Bike Association (WAMBA) present the Mount Morris Challenge at the Nordic Mountain ski area. The trail work at Nordic began in spring, 2006 with shovels and rakes. WORS Director, Don Edberg and Dave Reich along numerous other volunteers logged approximately 1000 man hours over two summers to construct the original 5-mile loop and the first WORS race on the trail was held in August of 2007. As the trails developed, the site hosted regional championships and multiple national Pro XCT events.
Black Hills Mountain Bike Festival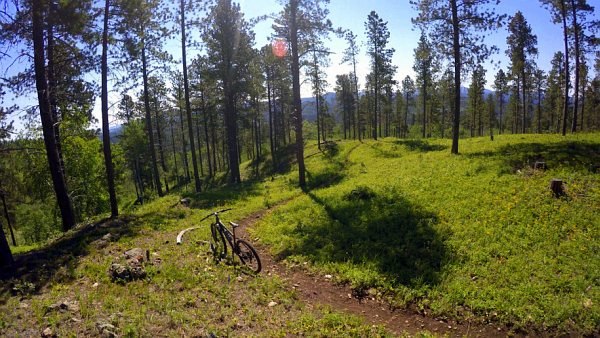 (Photo: Classic singletrack in the Black Hills State Forest awaits riders in the Black Hills Fat Tire Festival)
A handful of area Midwest riders will be heading south to the Black Hills Fat Tire Festival. The Black Hills Fat Tire Festival is a celebration of single track mountain biking and the growth of the sport in the Black Hills community. Offering a unique race, activities for those non competitive riders, and a trail run to encourage any outdoor enthusiast to check out the area Each night there will be social activities for camaraderie, brews, food and more.
From race organizers: The Revolution Cycle and Ski Single Track Escape on June 25th (MNMTB Race 4) is set to go in St. Cloud with all proceeds from the race being directed straight back to the trails! We are very excited to announce that this years fund raising raffle give away will be a Salsa Bucksaw GX1 Complete Bike (valued at $3,999.99)! Please also note that in the event of rainy weather alternate course plans have been made so rain or shine we have a great course set for racers. We are also pleased to announce that a pair of MMCC Jail Trail socks will be provided to all finishers of both the Lutsen 99'r on Saturday and the Single Track Escape on Sunday! The trail is riding great and we look forward to welcoming all racers to St. Cloud on June 25th!
Keep the wheels moving!!
About the author...

Jay Richards maintains a very active lifestyle. He somehow finds time between managing a full-time resort (Maplelag) and bringing up a family of four boys with his wife Jonell, to compete in both mountain bike and a few cross-country ski races. Jay rides for Maplelag Resort, manages the Maplelag mountain bike team and enters his 27th year of racing and promoting mountain bike races.

Have an event or mountain bike related information to share from the Midwest? Feel free to contact Jay at