Midwest MTB Report
by Jay Richards
August 15, 2017
Holy smokes, can't believe it's mid August already! Where has summer gone has been a common phrase. It's been a great summer of riding and racing and this past weekend was no exception, offering some sweet racing not only in the Midwest but also out west at the epic Leadville 100 which saw a handful of Midwest riders. This weeks report includes first hand reports from Ore to Shore, Great Hawk Chase at Spirit Mountain and Leadville. Also a look ahead as series racing in Minnesota and Wisconsin is near the end.
Great Hawk Chase at Spirit Mountain MNMBS
The Minnesota mountain bike series is winding down as the last three races head to northern locales. This past weekend the town of Duluth with its growing network of mountain bike trails was host to race #9, hitting up the slopes and trails of Spirit Mountain. The cross country race was part of the Duluth Bike Festival, which saw Enduro and Downhill racing on Sunday. The past month or so, Scott and Sara Kylander Johnson worked hard to come up with a course that could be as long as possible using the terrain and trails available by Spirit Mountain. A few weeks before I hooked up with Scott for a pre-ride of the proposed course. At that time plans were to use a segment of the North Country trail but a last minute decision by the NCT group resulted in that segment not being used. Despite the change, the course was over 7 miles long and offered pretty much everything you could see in a honest cross country course.
There was a nice mix of climbing between flow trail, quad trail, tech and tight singletrack and fresh cut fall line punchy climb. With all the climbing meant some sweet descending. Again a nice mix of fast snow cat, fresh cut fall line and my personal favorite, the enduro descent at the end of the lap which featured rock gardens, quick tight descending with a little touch of mud.
It had been a couple months since I had toed the line for a cross country race, hitting up the second race at local ski hill Detroit Mountain as the first race of the year for me. Since then I have been over to Duluth for three enduros which has been one of the highlights, riding and racing wise, of the summer. In between while working in the woods, I picked up another deer tick and had the classic bullseye. Put on a two week of Doxycycline I appeared to be in the clear. Having dealt with Lyme disease 5-6 years ago, I was cautious and hopeful I wouldn't go through the same ordeal as last time. With that said, I approached the race with a pretty conservative mindset with the idea to start out slow and try and work my way up.
I didn't get to the race venue until almost 30 minutes before, having to take care of some chores before heading out. There wasn't much time for a warm up, pretty much a 5 minute spin. I met up with son Jake (who raced the Enduro the day before, posting a top 3 finish) and we basically got our feed area dialed in than rolled to the line, lining up near the rear after the call ups.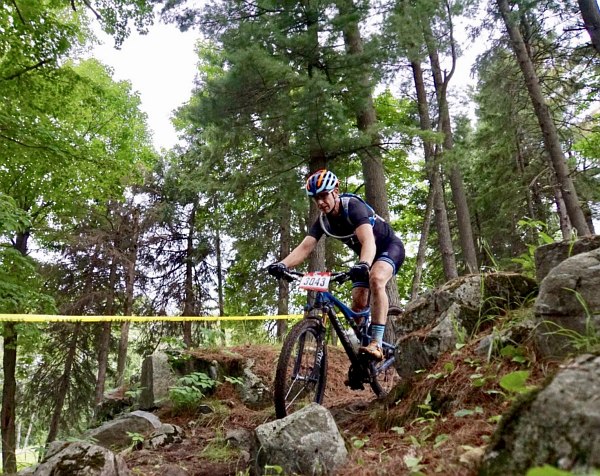 (Photo: Marathon rider negotiating the rock garden on the final descent, Credit: Minnesota Trails)
The start shot straight up the ski hill before taking a hard right to make way to the course. Even though there was the climb, everything stuck together and when we hit the flow trail singletrack, it bottlenecked pretty good. It was all good in my book as this kept the pace low and allowed for warm up within the race. Maybe not the best approach but was having fun and ready to move up. After the starter lap, I bridged up to Jay Hollywood Henderson and a few other riders. We rode together for a while than I continued to move up into the field, pacing myself on the climbs. Eventually I bridged up to Brandt Elson and we rode together for the remainder of the race moving back and forth. We caught up to Kasey Bacso on the final lap who said he was paying for a hard start. "no one was wanting to go to the front so I went for it and now I'm paying for it" Nice job Kasey for sending it.
The last climb up I was able to put a small gap on Brandt and Kasey than hold it on what was my favorite part of the course, the last downhill. A great way to finish on a super fun course. Jake had moved his way up in the race nicely, approaching the top 10 before a double flat took him out of the race. The final downhill Jake came flying in after repairing a flat only to flat again shortly after rolling the tire after railing a rock.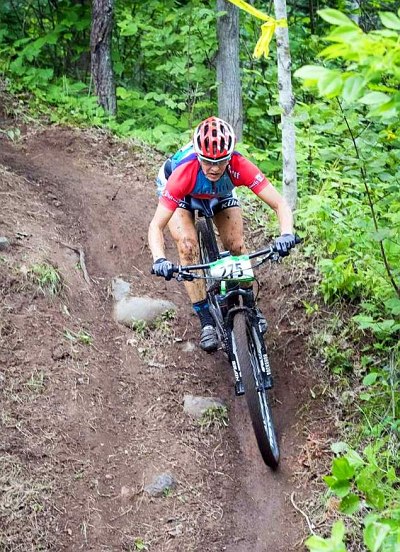 (Photo: Sara Kylander Johnson behind the saddle on a fall line descent, Credit: Tone Coughlin)
The female race saw Sara taking the win over local Eleanor Bacso. There was a good race in the Elite women with just under 15 competitors. Rounding out the top five was Megan Barr, Robin Williams and Jessica Adams.
One of the first races I ever did was at Spirit Mountain, way back in 1990. It remains one of my favorite courses in the Midwest. Nice job to Scotty and crew for the great course and hard work to put it together.
Ore to Shore
One of the larger point to point races in Midwest made way to the UP of Michigan, hitting up the towns of Negaunee, Ipsheming and Marquette. A big cash payout for the top riders in the 48 mile race always attracts a strong field of riders. Hard Rock 48 overall female winner, Kyia Anderson, provides a first hand report:
The Ore to Shore is always on my list as it's a super fun event with length, some occasionally technical spots and both large fields and crowds! This year did not disappoint and even had more mud than usual. Going into the race I knew that riding "clean" would be key. The last 2 years I had significant mechanicals and wanted to make it to the finish without double slicing my tire or bending my derailleur!
Off the start I stayed in the upper 30 or so guys and was holding on in some slow grass after the road when I saw one of my female competitors nearby. I decided to launch an attack up the luge climb and dug deep to stand up and over knowing that getting a top mens group to draft through Ishpeming would be key. I made it onto the third mens group that formed and by downtown Ishpeming my crew informed me that I had built about a 90 second lead. I rode fast but carefully (but sometimes you cant predict what happens in a group) and I found myself dealing with a 3 person pile up into a puddle in front of me! I stayed up even though we collided a bit and kept the pressure on. Going into the Misery Hill section I rode with my group and decided not to pull out my downhill skills and descend at full gas like I sometimes have done. Just before the long road climb and head winds on 510 I had another issue with an endo in front of me into another mud pit that caused me to lose my group.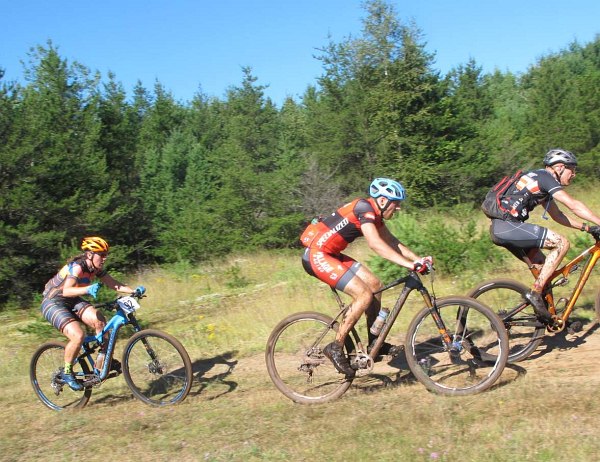 I eased up for the guy that crashed and we worked together into the climb until another group came up and I latched on. I stayed with this group riding clean to the Forestville crossing. At Forestville (8 miles to go) I got a split of 2 minutes to the next woman from the 510 section as our good friend in Marquette mistook a very skinny pony tailed male competitor as a female when they were driving out to go to Forestville (note - maybe pink number plates next year ). Thinking there was someone close behind I kept it conservative in my group through the sandpit and dug deep to not let the accelerations up the wood chip climb (Kirby Hill) drop me off! I finished with the group and by the end had about a 9 minute lead for the win over Lauri Brockmiller in second, and WORS racer Leia Schneeberger (Broken Spoke) in third.
It was pretty crazy to win this one again after 15 years cause it seemed that about every other year I had some silly mechanical. Was also really fun as I've gotten to know a good group of locals up here with all the riding we have done. It's also great to win a cool trophy, custom table made out of bike parts and some great cash! Thanks goes out to Podiumwear for the cool looking kits, Revolution for keeping the bike ready, and Giro/Tifosi for the great looking accessories to go with the kit! I also want to thank all the local hammer heads on Tuesday and Thursday for our group road rides that keep the legs going fast and provide great background for these events! Congrats to B. Matter on winning his 5th time as well!
Leadville 100
Max Ellingson was on of many Midwest riders that trekked west to Colorado for the Leadville 100. Max sent in a first hand recap of a long day in the saddle.
The Leadville 100 MTB has been a dream of mine ever since I got into biking nearly a decade ago. It was one of those mythical races that just enticed me. Sorta like the Tour de France, only a little closer to home. So when I got the chance to do it (via qualifying through the Lutsen 99er) I couldn't turn the opportunity down. We headed up a week before the race so we could just soak it all in (and acclimatize a bit).
The pre-rides got my pretty hyped. I was feeling pretty good, the scenery was just amazing and there were some fun sections of the course.
But one section had me a little worried: Columbine, the 3,000ft beyond categorization beast. Don't get me wrong, I actually enjoy climbing. I've got the skinny legs for it. But you can't get around the fact that this is an animal of a climb. Over 7 miles long, steep, and technical. And it peaks at nearly 12,500ft. Thats some thin air. But I knew that stressing wouldn't do me any good, so I just made a mental note and moved on.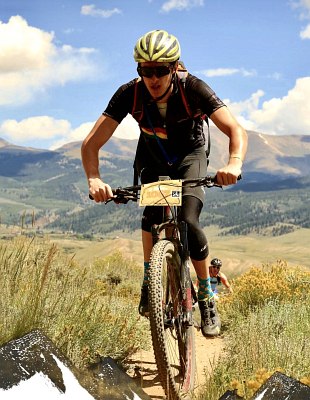 Raceday starts early. 4:15am wake up to be ready for the 6:30am start. My brother and I didn't have to start at the back of the pack thanks to the qualification process. But we still had some passing to do. The gun went off and we began what would be an epic day.
Read Max's full report with photos
Looking Ahead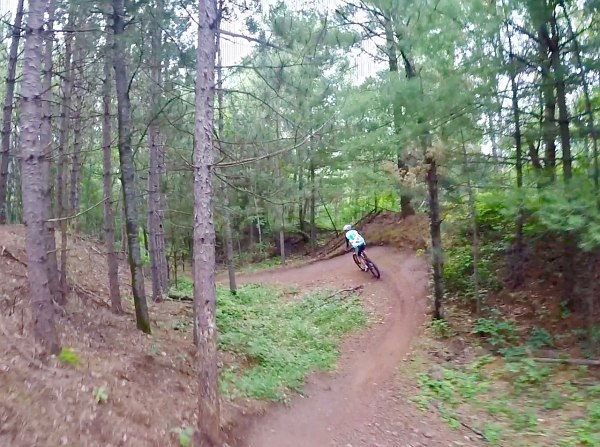 Just two races left in the Minnesota series! "The race at Cuyuna has been one of the series most popular races. "Shred the Red" is a phrase you will hear all over MN and WI as people talk about the fantastic trails and miles of singletrack that are considered one of the nations most successful MTB destination projects. The best part of it is that the community is 100% behind the trails and riders. In addition to racing, there will be food vendors, live music and other events to make for a fun filled weekend.
The PreFat event features four competitive distances; Citizen (10 miles), Sport (15 miles), Expert (25 miles) and a new 15 mile Fat Bike race. There will also be a fun "Cub" untimed event for riders 10 and under. The PreFat provides the perfect warm-up for the Chequamegon Fat Tire races coming up in September. The race courses go north from the Hwy 00 trailhead using forest roads, and single and double track. These courses allow fast speeds and easy passing, and the CAMBA single track will test riding skills.
From race organizers: "Ashwaubenon Nordic Ski Team (ANST) is proud to host this event again. We are planning on a party and feed on Saturday night as well with live music. Also, the trail run races are back on the race loop to start the day for the runner in the family. It is a fund raiser for us but also is held for NE Wisconsin mountain bike community. ANST strives to make Nordic skiing affordable at the regional and national level and is the home of the Wisconsin girls champion and the second place boys and girls team in 2017.
Keep the wheels moving!
About the author...

Jay Richards maintains a very active lifestyle. He somehow finds time between managing a full-time resort (Maplelag) and bringing up a family of four boys with his wife Jonell, to compete in both mountain bike and a few cross-country ski races. Jay rides for Maplelag Resort, manages the Maplelag mountain bike team and enters his 27th year of racing and promoting mountain bike races.

Have an event or mountain bike related information to share from the Midwest? Feel free to contact Jay at