Midwest MTB Report
by Jay Richards
September 6, 2017
Labor day weekend kicked off fall and a full plate of racing across the Midwest. Racing action in the UP of Michigan at Copper Harbor, Giants Ridge back on the holiday weekend calendar with the "Grind" after taking a break from hosting stage race in the earlier years, and many Midwest riders once again making the trek to South Dakota for the Dakota 5-O. Also, the final race in the Minnesota series was held at Maplelag Resort which also included a exciting short track on day 2. Recaps from these events plus a look ahead including the World Championships highlights this weeks report.
Bell's Brewing Copper Harbor Mountain Bike Festival
Minnesota native Griffin Myslivecek made a return trip to Copper Harbor for the two day festival there that included not only cross country but gravity events. Griffin's report:
This was our seventh year at the festival. My wife Becca and I love this place so much; we were married there in 2015. It's a home away from home for many people, especially us.
The race was wet this year, resulting in half as many riders participating in the long XC race - 56 riders this year. It was pouring at 7:00am and the race started at 9:30am. Those willing to ride in the rain despite wooden bridges, and copper harbors roots and rocks, headed east towards the new Phase 2 Point Trail. A lead group of 4 riders separated early on, I stuck with the group of 7 that followed. Due to poor planning on my part I rode my SS rigid Air Nine which shoot me up the top of the first climb fairly quickly before entering the first phase of single-track. It didn't take the 6 riders long to pass me once we got out of that first stretch. From there I flatted and my brother in-law Joshua Blum and two others riders past me while I was doing the repair. I past the two fellas but never caught up to Josh. The deepest pot holes were on the return from Phase 2 on that gravel road. It was not uncommon for the water to be level with your handlebars. I learned pull up before every puddle and just hoped for the best as I trudged through.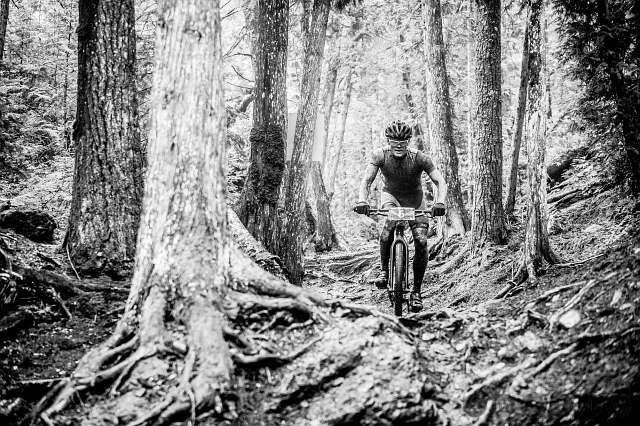 (Photo: Griffin descending "Paul's Plunge")
I was happy to have made it through Paul's Plunge unscathed, the day before we were 'practicing' on that trail, aka 'psyching myself out' as I like to call it. I took a fall that day and put a significant dent in my helmet that took a majority of the impact along with my knee and left leg. In summary, it felt pretty good to make it through that section during the race. Everything is different when you're racing. The adrenaline, pressure, stressors, and support allows you to ride in ways that are not possible outside of a race.
I finished 13th overall and 3rd in SS. I was pleased to have not flatted again or to have had any other major mechanicals.
One of my favorite conversations of the weekend was with Todd McFadden. "I see you choose not to race this year Todd." "Yeah, I didn't want to get my bike all dirty. How did the race go for you Griffin?" "Well… I was really happy to have finished, my geared bike was having issues so I rode the SS." Todd responds, "I wish I would have known that, you could have ridden my bike!" It didn't occur to me until after the conversation but here Todd is telling me he didn't race due to the weather but would have been fine lending his bike to someone else that wanted to ride. We have some amazing people in our cycling community. I'm pretty lucky to be a part of it!
Live to Ride, Griffin
Laddies Loppet at Maplelag Resort
This past weekend marked the 27th running of Laddies Loppet. It's an event I look forward to very much each year. There's nothing like a couple hundred people roll into your back yard for a weekend of riding, and mountain bike fellowship. Labor day weekend always seems to be a weekend of transition weather wise with with some years hot and humid, dry and dusty or wet and greasy. The forecast was looking good a few days out with a slight chance of rain on Friday but being in the outdoor recreation business for 40 years you learn to never bank on a forecast more than a day out, if that. As it turned out, the slight chance of rain turned into 1.2" of rain Friday afternoon. During this time Denny Barry and Ben Olson were attempting to blow out the second half of the course with a leaf blower. The wet conditions didn't hold them back as they blew forest matter off while facilitating the draining of water on the low spots. Thanks Ben and Denny!
As racers rolled into the resort, there didn't seem to be much concern about the weather "just a added challenge" was a common statement among the thinking it would be greasy, naturally. Saturday morning I headed out on the course to tape the intersections for the Kids Comp and Citizen racers, raking off as much grease as I could before the first riders went through. While out, I bumped into some riders who asked how long the course takes to dry out, telling them it all depending on the dew point. When the first racers came through there wasn't really any sign of mud. Someone asked Kids Comp overall winner Owen Hall if it was muddy and he glanced down at his bike which pretty much provided the answer, it was basically clean.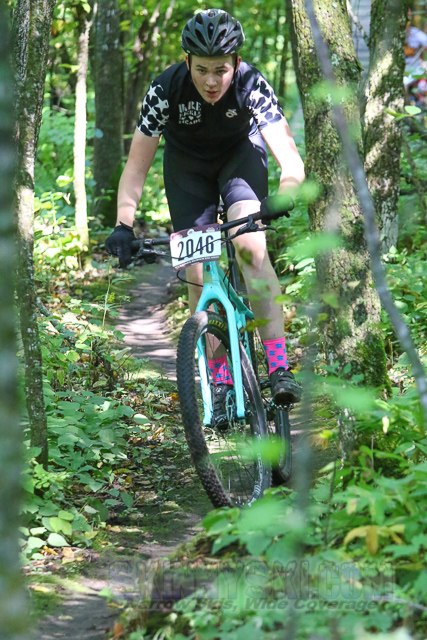 The next class to go off was the marathon group. They would be the first ones to ride the entire loop and hit up areas that were a bit more greasy. Along with the Sport class, they had the "toughest" conditions on the day. By the time the comp and elite courses went off, the course was really drying out and tacking up nicely providing great grip, thanks to the separation of the dew point from the temperature. The marathon class saw the top three male riders all crank out an impressive five laps. The two women, Pam Nielson and Ronnie Lajoise cranked out four laps. The marathon class maybe doesn't get recognized like the other classes but I am truly impressed by the performances of the racers in this division. Once again the Sport races were dominated by Junior riders which was awesome to see. Prior Lake student Chris Beyer hit the track for the first time to take a impressive win in clean fashion.
Note: As of this writing, results were not posted so I apologize for not listing more names in the results and please excuse any error in my "top of my head" reference.
The elite races saw dominating performances by Sara Kylander Johnson and Jeff Hall. The field had a little different look to it in the mens division with Oregon rider Erik Tonkin making an appearance on his way from Oregon to Duluth and three riders from Canada that included second place finisher Jason Wiebe. Fresh cooked waffles greeted riders at the finish line and cold wash clothes handed out by my wonderful wife Jonell. After awards there was time for racers to take a dip in the lake before a family style home cooked meal. Evening activities included fellowship and the beginning of a heated international ping pong!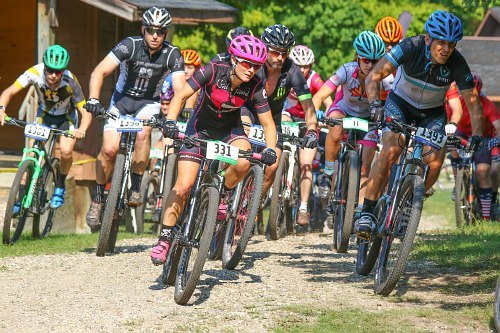 Sunday morning after a breakfast of french toast, pure maple syrup and home made hot cereal, riders prepared for a morning of exciting short track racing. Action heated up in the Sport, Comp and Elite classes with great battles not only at the front but in the chase groups as riders battled for podium spots. Probably the most dramatic finish was in the Comp class with Tucker Hibbert breaking away from his chase group to hunt down leader Bryce Christian who immediately went to the front right off the start. Hibbert not only closed the gap right at the end but went around Christian to only just get nipped at the line by Christian. Elite women riders Anna Christian and Eleanor Bacso battled with the Comp men to take first and second respectively that also included marathon rider Pam Nielson! Junior riders Johnson, Lowenthal-Walsh and Alexander provided exciting racing in the sport class with each rider taking a lead at some point before Cole Johnson, waving the flag for St Paul Highland Park, sprinted at the end to take the win over Minneapolis Washburn riders Per Alexander and Isaac Lowenthal Walsh.
Cole Johnson's first-hand race report:
The race at laddies loppet this year was my favorite of all the races so far in 2017. The twisty rocky/rooty singletrack and fast ski trail makes for my favorite race. This was also probably my best race of 2017 so far. I stayed pretty calm during the start because i knew that a fast time in the twin lakes singletrack would be key to a fast race. I was second wheel as we dropped into the first single track of the race and again after the steep fast climb up suicide hill. Tom Beyer again flew off the front in his usual Jeff Hall style of racing and I knew that going with him would mean a mid race bonk for me and that was something I wanted to avoid, so I tried kept my head on straight in the singletrack although it was greasy from the rain the day before. I made a few mistakes in the woods on slippery corners and roots that allowed Stas Bednarski ( 14,loppet racing) to go around me but I waited to fully chase until the twin lakes singletrack and from there I went hard to catch him which i was able to do as we were towards the end of the 8 mile singletrack. From there I went as hard as I could to the finish and finished third overall in sport which I was very happy about because I haven't had a good race like that since maybe river falls in early july.
On sunday was the short track which i was excited to race in because last year I won the citizen STXC race so this year i wanted to repeat that in sport. I led the rollout out on the first lap and chases down a few small attacks in the first few laps until Per Alexander (washburn high school mtb team) attacked and got a good gap on me maybe 6-8 seconds. I picked up the pace but I didn't full out chase because I felt it was still too early, soon Isaac Lowenthal Walsh (washburn high school mtb team) went around me to chase Per on his own around the 4th lap. then I worked together with Stas Bednarski to bring them back so we were a group four heading into the last two laps. I knew that in order to win i had to race smart and so I didn't take a pull on the penultimate lap but let Per and Isaac set the pace because I knew I would have to spring at the right time. So I waited until the final lap and on the ascent of the horseshoe climb/descent before the bowl I went and put everything I had to pop the three of the others off my wheel. I attacked the very steep climb out of the middle bowl as well, because the key on that climb is to build speed on the bottom and carry it out which I felt I was doing well, so I stayed in front there and then there was only two corners to the finish so I just tried to push as hard as I could to the finish even though Isaac was still all over my wheel. when we turned the final corner I laid it all out even though bruce did catch me looking back before the finish (rookie mistake I know) and I was able to hold both Per and Isaac off which I was glad for because they were strong that day and I was happy to race strong and smart again even only for 12 minutes plus a lap.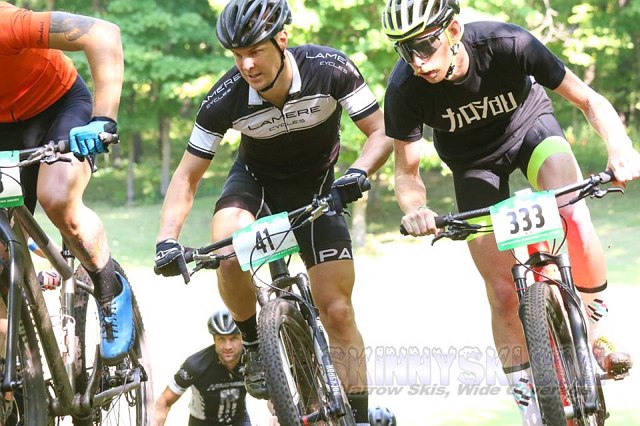 (Photo: Elite men battling for position in the short track)
The Elite men saw previous short track champions Jeff Hall and Doug Swanson break free from the pack after a few laps, distancing them from Manitoba rider Jason Wiebe who was in no mans land in the third spot. Those placings would hold as Hall held off a Swanson who was back racing short track after a few year hiatus. The chase group of Josh Bauer Canadian Carson Thompson and the Bacso brothers battled it out for the last podium spots with Bauer taking the sprint for fourth followed by Kasey Bacso who nailed the last podium spot who benefited from work by brother Mason to overcome Thompson. The afternoon was "free time" as folks enjoyed beautiful summer like warmth enjoying jumps into the lake off the dock, volleyball, dirt jumping that led to live music before dinner time.
Big thanks to all the racers and spectators that came, the sponsors, my friend Matt Johnson who helped out with sponsorship and social, the volunteers, the staff, Bruce for taking photos and his behind the scenes work, my sons who helped including trail work during the summer and my awesome wife Jonell who does so much behind the scenes.
Saturday coverage on Skinnyski
Sunday coverage on Skinnyski
The Grind at Giants Ridge
Aaron Swanson from Ashland, WI. made the trip over to Minnesota to compete in the Giants Ridge event, the Grind. Giants Ridge was host to a mountain bike festival for handful of years over Labor Day weekend that included cross country, time trial and a downhill. Some good memories from attending those events back in the 90's. When the Ridge stopped doing the festival format and the event all together, it gave me the idea to add Short Track and Time Trial to the Laddies Loppet weekend for a festival weekend and also a move to Labor day. Aaron's report:
The Grind? Huh, what can that possibly be?
I recall last year, sometime after the fact, there was some MTB race up in northern MN over labor day weekend.
So this year, the weekend arrives having family plans for the remainder of the weekend... what options did a I have? Well, the forecasted rain of Sat AM kept some would-be partners from doing a Chequamegon 40 hammer down prep ride, the thought of doing it myself wasn't so appealing but late Fri afternoon I got to thinking.... hmmm, what about this Grind thing? Giants Ridge? Heard of it, where the heck is it? Google maps to the rescue. Ok, less than half distance to Copper Harbor MI for their race and still quite abit shorter than Maplelag (Callaway MN) for the Richard's crew much heralded MN MTB series weekend. So I sleep on it overnite, knowing the weather was the unknown.
I slept in til 6:30, the rain is pounding down in Ashland. I check the forecast for Giants Ridge though - huh, little to no rain. Excellent, what the heck let's give it a go! In one my fastest pack jobs ever I got my breakfast made & training bike in the van & hit the road by 6:50. Must have rained steadily for first 45min of my drive, but I'm trusting the Underground Weather App that somehow further west & north, MN has sunshine.
Enjoyable drive. On my way up checking in with different guys, one being Tim Andrew who did race last year gave me the "Yeah you'll like it, it's your style, you'll do well." Solid. Now to see if that's true. I arrive much to the dismay of ALL that know me, with more than 10minutes to spare. A rather leisurely 45minutes in fact. So I registered, found my power meter battery was dead, dangit - no data from this effort. Got tires pumped, chain lubed and then noticed.......oh boy there's alot of standing water around this place! Prudently leaving mud fenders front & rear installed as might come in handy.
Scoping things out as who may have come to play today? In a short spin around I see gravel racing extraordinaire Drew Wilson the Cyclo-carbon wizard, Sam-I-Am Olson of Duluth among others. When you're used to arriving at the last minute, must admit it felt like a lifetime for the race to start. But got a reasonable warm up & it was soon national anthem time & a ready, set, go with 120 other racer ready folks.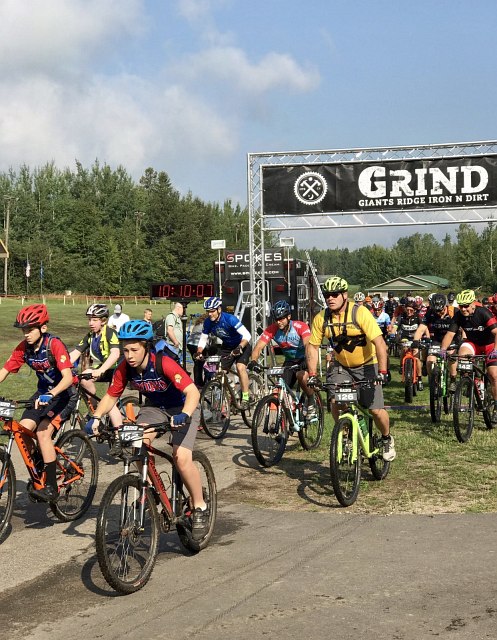 The race started with a 1 mile controlled roll-out with a few guys politely leading the charge. With an short incline approaching & 4 wheeler lead out moving aside. Matt Lee lays down a rocking acceleration waking up the crowd, and Sam Olson stealthily sliding in behind. I figure might want to be getting with this as things start to stretch out. Soon 4 wheelers peel away & it's "go time" over the top of a tight left corner, followed by a downhill right turn off wet pavement onto the promised punchy XC ski trails that start the race. The wet pavement & quick turn... not a great combo. Following Sam & Matt I slide out slightly but stayed up right, however behind one or two others weren't so lucky with sounds of clashing bikes the hitting the deck.
Read Aaron's full report on his blog
Dakota 5-O in Spearfish
Former Minneapolis native Andy Kruse, now living in Boulder, CO. provides a recap from South Dakota and the big loop race out of Spearfish:
Dakota 5-0 was a great time. It was my second year making the drive up from the Boulder area. This year's weather was markedly different from last year's cool drizzle - Sunday's forecasted high temp was up around 90 degrees and there was significant smoke from the western wildfires that was nearly blocking out the sun.
This year's trail direction for the loop was counterclockwise, providing a very technical climb up the Dakota Ridge trail not long after the opening stretch on the Tinton trail. The Spearfish area must have been fairly dry for a good stretch prior to the race, as the trail conditions were definitely "dusty" in spots - save for those nice fresh cow pies (which reminds me, I gotta clean my bike tonight!).

I noticed a few midwest names that I recognized in the results, including 3-peat men's winner Corey Stelljes and Tristan Schouten (3rd). A "blast from the past" name popped up in the women's results - former pro rider Gretchen Reeves - in second place behind winner Christy Olsen.
Great race organization too, with complimentary beer and burrito bar at the finish, a huge prize drawing, and fun postrace party. Big thanks to everyone involved!
Looking Ahead
With both the Minnesota and Wisconsin series done, school cycling has taken precedent. Chequamegon is only two weeks away which is on the mind for a couple thousand riders or so.
One local race on tap is the Kappell's Challenge, a race hosted at Detroit Mountain put on by the Noon Rotary Club in Detroit Lakes. The course will be similar to last year, featuring the flow trail at Detroit Mountain but include the switchback climb on the face of the ski hill in the second lap. The race includes categories for Citizen and Sport but is open to all race abilities.
World Mountain Bike Championships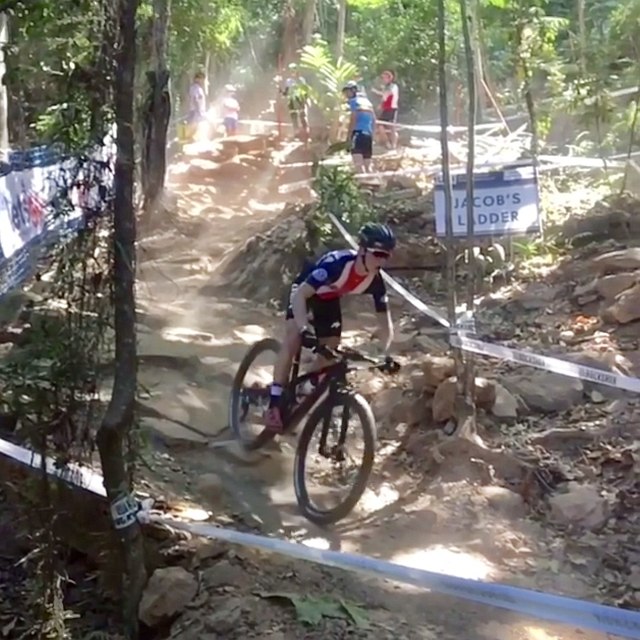 (Photo: Caleb Swartz of Madison, WI. training on the Worlds Course this week)
Cairns, Australia will be host to the World Championships this week leading into the weekend. More than 300 of the world's top mountain bikers from 35 countries are set to converge on the Smithfield Regional Park at James Cook University for Mountain Bike Worlds which will crown world champions in cross-country and downhill. The Midwest will be represented by Madison, WI. rider Caleb Swartz who will be racing in the Junior Mens race. Swartz is one of 44 athletes named to the Worlds team which also includes former Chequamegon 40 champion Chloe Woodruff. Good luck Chloe and Caleb!
Keep the wheels moving!
About the author...

Jay Richards maintains a very active lifestyle. He somehow finds time between managing a full-time resort (Maplelag) and bringing up a family of four boys with his wife Jonell, to compete in both mountain bike and a few cross-country ski races. Jay rides for Maplelag Resort, manages the Maplelag mountain bike team and enters his 27th year of racing and promoting mountain bike races.

Have an event or mountain bike related information to share from the Midwest? Feel free to contact Jay at