Midwest MTB Report
by Jay Richards
September 12, 2017
There was no shortage in action this past weekend as events were occurring across the Midwest as well as the high school leagues in both Minnesota and Wisconsin that saw incredible numbers. This weeks report includes recaps from the Maah Daah Hey Buck 50 in western North Dakota,Kappel's Challenge at Detroit Mountain, MN., the Copper Peak Fest in Ironwood, MI and short update from Caleb Swartz who competed in the World Championships Junior race in Australia and will provide a full report in next weeks report. We also include a preview of the Chequamegon Fat Tire Festival which caps of this report.
World Championships
The Smithfield Mountain Bike Track near Cairns, Australia was host to the UCI Mountain Bike World Championships this past weekend which crowned champions in the cross country and downhill divisions. Midwest rider Caleb Swartz from Madison, WI. represented the USA in the men's junior race and placed 44th in hot and humid conditions. Caleb posted "The result wasn't what I was looking for but it was an incredible experience that I wouldn't trade for anything" Caleb will provide a full recap in next weeks report.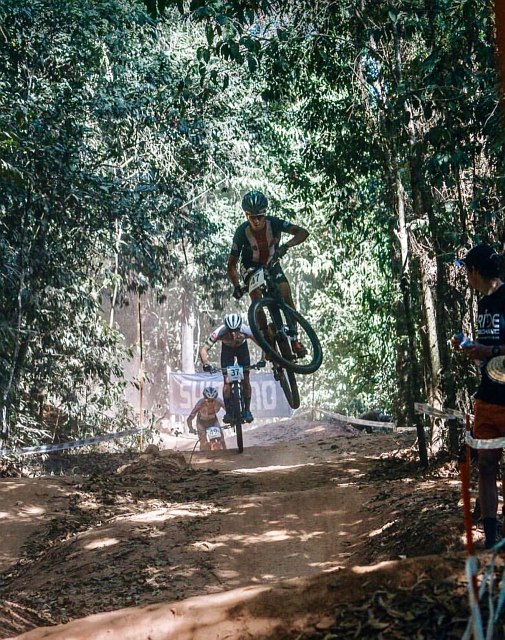 (Photo: Air time for Caleb Swartz, World Mountain Bike Championships Junior Race)
Mah Daah Hey Buck-Fifty
The Maa Daah Hey trail in western North Dakota was host to another weekend of Epic racing, this time 150 miles of "racing". Peder Arneson who was part of the winning relay team provides a recap from the event:
This past weekend, I, along with Joe Borden and Chris Jones, headed out to the badlands of ND for the Maah Daah Hey 150 as a 3 person relay team. Due to the sheer length of the race, we started at 7PM on Saturday night at Burning Coal Vein campground, just as the sun was setting. At the start were 3 individuals attempting the distance on their own, two 3 person teams, and one 2 person team. Since we had three people, we alternated driving, riding, and SAG duties along the course. Nick Ybarra, race director, provided us with directions to checkpoints for monitoring and exchanging riders. Chris started us off on our journey north and rode for the first 22 miles. After exchanging with Joe, who rode the next 27 miles, I was able to get an idea of trail conditions and what it was like riding the MDH at night. We met Joe as he made his way to each checkpoint to provide any needed encouragement and make sure things were working well. With so few riders on the course, things were strung out relatively quick.
Finally, at near mile 50 and around 12AM, I had the chance to get on the trail. From Sully Creek campground I crossed the Little Missouri River and made my way out of the river bottom. It was very sandy to start before turning to a steep climb up to the start of the Buffalo Gap Trail. The trail from there on was in great shape! I was able to keep constant and steady pace for the next 22 miles. Riding the trail alone at night was quite the surreal experience, though. Aside from the constant stress of proper navigation and avoiding getting lost, the trail was certainly alive with other animals one doesn't see during daytime. I did manage to get lost at one point but was able to backtrack quickly and find the sign post that marks the trail to continue on. It was comforting knowing I was between a couple groups of riders in the case of any problems arising! Within the last 1/2 mile of my leg, I was able to bridge the gap with a couple riders. Once at the checkpoint, Chris was off again, while Joe and I recovered. In order to maximize any sleep, we skipped a couple checkpoints and headed to the Elkhorn campground to see him at mile 94. This proved to be a great idea since we each got about an hour of sleep before Chris arrived as the sun was just coming up. With Chris finished with his portions and Joe on the trail, I prepared for finishing the last 38 miles of riding. Despite being over 100 miles along in the race, the top individual rider, other 3 person team, and us were within 10-20 minutes of each other. This made for great encouragement and conversations at each checkpoint which is one of my favorite parts of participating in events such as this.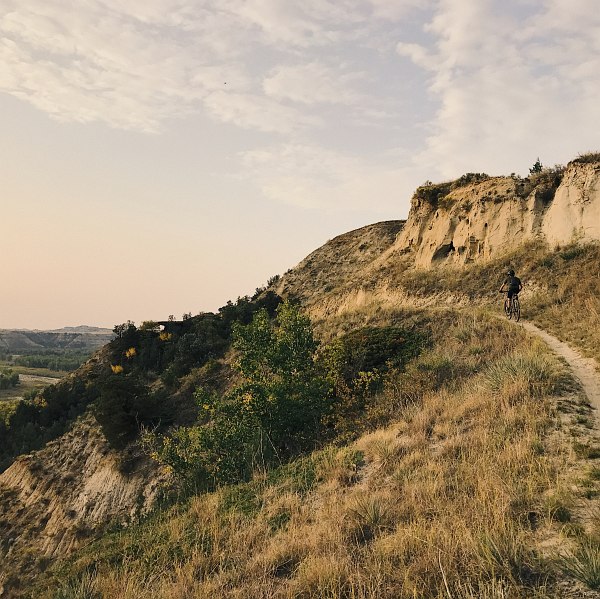 (Credit: Peder Arneson)
As Joe came into mile 113 at the Magpie Trailhead, I was preparing to finish off the race for us. The temps were starting to rise, so I started off at a slightly quicker pace. I was hoping to catch one of the other riders about 10 minutes up and was feeling far better than expected for being as sleep deprived as I was. I did bridge the gap up to Andrew Sconce, the leading solo rider, at about 25 to go. He was very welcome company to have as the riding was starting to get much tougher and temps climbed up to the 90s. At that point I was far enough behind the leading 3 person team that I decided it best to ride and support Andrew the rest of the way in. This ended up being a very good decision as I did start to fatigue much more than expected over the last 15 miles. Having such positive support from a fellow rider and sharing stories about the ride, made it all the better! We were able to continue on together as we crested each climb, each one seeming tougher than the last! The last big descent of the day left me a little dazed as I came into a slight corner too fast and went over my handlebars. I got right back up with a few scratches but feeling fine and caught Andrew for the last few miles. Upon descending the Neverending Switchbacks, we could see the CCC campground and end of the journey on the MDH. It was so nice to see a group of people and have some support coming through the last half mile! After passing through the gate to the trail, teammates, pizza, and beer welcomed us!
I can't say enough good things about this event! It's something truly unique to experience and there is very little like it out there. Meeting new people and supporting them as they pushed themselves helped to make the race even better! I also can't thank Nick and Lindsey Ybarra enough for organizing such events and all the efforts they put forth to keep this trail in the shape that it's in! The MDH and badlands region is a hidden gem and anybody who enjoys outdoors and mountain biking should make a trip! After completing the MDH 150, the most important question is whether I'd do it again. I, along with Chris and Joe, enthusiastically say yes! I'd even consider the whole 150 on my own someday!
Photoset: Maah Daah Hey 150

6 photos (from Peder Arneson)
Related: Former CXC coach Bill Pierce, now living in Colorado at Snow Mountain Ranch was one of eight participants to complete the full 150.
Copper Peak Trails Fest
John Rulseh reports from the First annual Copper Peak Trails Fest in Ironwood, MI:
Copper Peak in Ironwood Michigan hosted the first annual Copper Peak Trails Fest today. We had a good turn out for the inaugural race with perfect weather and course conditions. Aaron Swanson of Ashland took the men's title with Ronnie Lajoie of Iron River coming in first for the women in the long race. In the short race, John MacLeod and Gay Gheller, both of Bessemer came home with wins.
Men's winner race winner Aaron Swanson's recap:
This might come as a surprise & delight for many that travel on thru to the Central U.P. for excellent MT Biking but Marquette Area & Keweenaw Pennisula isn't the only part of Upper Michigan that's got game with MTB trails. On the eastern edge of the U.P. the Ironwood area has an association that's quietly putting in some great trails. Know as the Sisu Dirt Crew, they've utilized terrain around the famous Copper Peak Ski Jump & created some very high quality single track trails that even the most discerning connoisseur of dirt trails would have a hard time not getting some big grins out of.
With enough distance of trails in place it was time to show case the gem they've been working on by hosting an inaugural event this past Saturday Sept 9th.
When I got word of new trails & a MTB race in less an hour drive, living in Northern Wisconsin, it's hard to pass on that opportunity. So to the chagrin of some buddies I passed on the Chequamegon 40 pre ride slug fest & opted to head to the Copper Peak Trails Fest...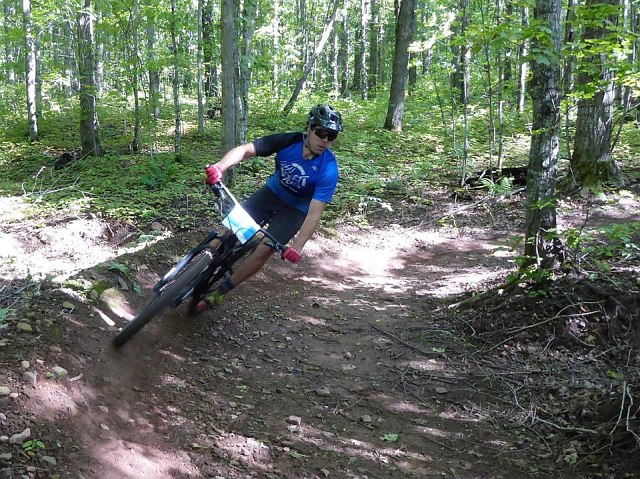 I'd pre road the trails the Weds with my son after a day or two of rain & I must admit some sections had me wondering what it would be like in time for Saturdays race but mother nature came thru with some sunshine & wind & made from some perfect conditions on Saturday.
Arriving for the 10am start I saw a nice crowd of riders, registering & warming up. Even a saw flashback from the past, as all around accomplished endurance athlete Scott Chapin was there on his plus bike back from a 9 year racing hiatus.
Soon it was time to line up & let the rpm's rip. Organizers very wisely constructed a level rollout followed by a long gravel climb to string things out before starting the single track to the top of Copper Peak.
I went to the front near the beginning of the climb followed closely by Casey Lajoie with Scott & others following. All was humming along pretty well up the climb until some robot drone-like killer bee got in behind my glasses & started stinging my lower left eye lid. Wow! That'll wake you up, I swatted my glasses aside, stopped & tried to collect myself. I couldn't open that eye & it just kept watering something fierce. Casey went by, asked what happened. I told him & he acknowledge having a similiar experience a few weeks back. Hoping no anaphylatic shock kicked in I remounted with a one eyed grimace that even a nasty Chequamegon 40 pirate would be proud of.
Eye watering & nearly to the single track entry point I make a push past Casey & hope that sometime soon I'll be able to use 2 eyes & get some depth perception before heading down Copper Peak hill. Casey brought some serious game as he held a respectable distance to me on the uphill where I thought my weight advantage would be most helpful and though I got a gap he came screaming down the front side of the hill through berms & swoopy turns like he didn't know what brakes were for. So whatever gap I managed on the uphill he effectively was closing me down on the descent.
We went thru the start/finish area fairly close to the lower trails that come near the Black River and no gap I could make would stick as Casey was never fair from sight on a switch back.
Once getting to the Black River the trails once again begin the ascend 600 feet up to top of Copper Peak. Here the time of incline played more to my favor & started to get bigger margins on Casey as well as Scott.
We raced on for 3 1/2 laps, scaling the mountain & descending back down. Each round had it's share of painful climbing but pure joy on the descent as you got to be more & more bold with the cornering, berms and jumps. Justly rewarded is how it felt.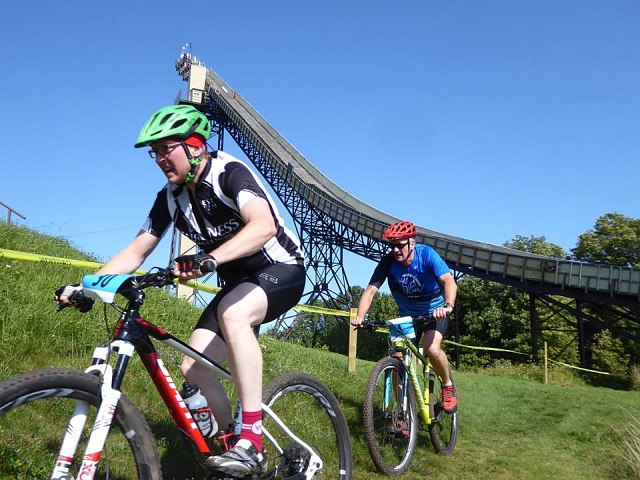 Though only 16 miles in distance, it was harder than that as finishing times were 90minutes plus.
It was nice to come thru with a win but more importantly some super fun riding and hard efforts in preparation for next weeks Chequamegon 40.
The Sisu Dirt Crew had a nice post race awards program & post race party. One note on the podium I can reassure you no one in the entire WORLD will have you stand on a higher one -- huh? Well, they sent us up the chair lift to the ski jump tower. From there we took the elavator, then the stairs to the very top for pictures. Holy moses that's the toughest part about winning the day, that's one crazy high tower and to dudes that ski jump competitively -- whole new found appreciation.
My hats off to Sisu Dirt Crew, you guys did a super job on your trails & a very smooth run first event, hope to see you grow your event and trails.
And for those travelers going thru the U.P. take a stop on the eastern edge and visit Copper Peak Trails -- the sight is amazing and the trails are equally good!
Photos: Facebook, Copper Peak Trails Fest
Kappel's Challenge
Detroit Mountain was host to it's second race of the year, Kappel's Challenge. The event was put on by the Detroit Lakes Noon Rotary and organized by Detroit Lakes Nordic ski coach Dan Josephson. The race featured a Citizen and Sport option, utilizing the flow trails built a few years back after the ski hill was "reborn". Both races had different courses with the Sport race utilizing all the cross country trails including a climb up the face of the ski hill after the first lap. I was able to sneak away on Sunday to participate in the longer race which had a nice turnout of nearly 25 riders. I made it just in time to register, get the bib on, talk to a few folks than basically roll to the line to race. The start had a nice rollout on flat terrain with a sandy section before hitting the singletrack.
Not having any warm up, I wasn't to eager to push the pace until we rolled a few miles. Local rider Greg Ames, who had the pleasure of riding to the race from his house, made the way to the front of the field and pulled us through until the western side of the trail system. When we hit the first singletrack Greg found the limits he was testing to be a bit too far as he slid out, all the while laughing and staying in control. It was amazing none of us hit him or also slid out. Greg was back on the saddle and in the chase group in no time. At that point I found myself with Tom Hellman who is no stranger to the course having put some ripping fast times with a handful of KOM's. Halfway through the first lap, Tom started having shifting problems and was off the bike to try and correct. Tom continued on but had to stop multiple times to try and adjust.
The second lap started with a switchback climb than allowed riders to see where they were among the field. When I made the first couple switchbacks, I could see the chase group of Greg, Ryan Schutte and Lance Strum. I think I had about 45 seconds but when I got to the top I kept riding my pace and trying to keep it clean on the fast rolling deck that had a couple loose corners, made a bit more challenging with early leaves falling to the forest floor. Lance would put a gap on Greg and Ryan and eventually bridge up to me with about 6 miles to go.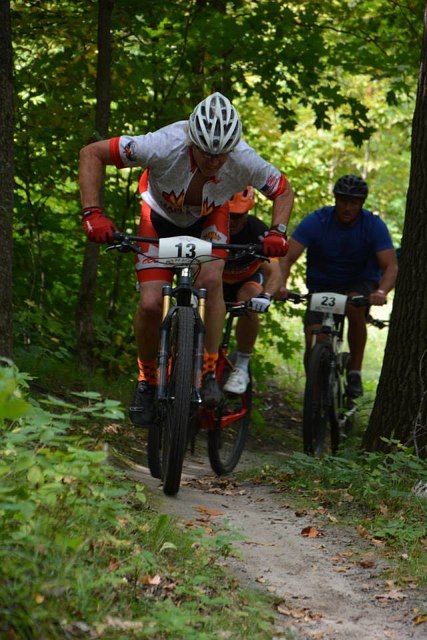 (Photo: Elbows out! 68 years young Denny Barry showing the younger riders how to hold position in the singletrack! Credit: Karen Skoyles)
Lance I rode together the rest of the race. I tried to put a gap but Lance responded to everything. I realized it would be best to continue to ride my pace and settle for a sprint finish. When we came out of the last section of singletrack, I locked out the front and shifted to the biggest gear. The wind was ripping nicely from the south and I took advantage to gain as much speed as possible. I was able to hold off Lance and exhilarated by the most exciting finish of the year. After we crossed the line, we soft pedaled back to the parking lot to cool down where I accepted Lance's offer of a chilled banana that hit the spot. Thanks Lance.
After talking to fellow racers, I rode on the trail opposite towards the start towards the face of the ski hill and reflected back early DL Water Carnival race in 90's that utilized the ski runs, running straight up the back side and straight down the front side that created some spectacular crashers that would probably make the Jerry of the Day Insta feed! Thanks and nice job to the Dan and DL Rotary for putting on the race and providing a local option for area racers. It's been 27 years of riding and racing at Detroit Mountain putting in a lot of hill intervals back in the day and nice to keep the tradition going.
Photos by Karen Skoyles: Sport, Citizen
Looking Ahead - Chequamegon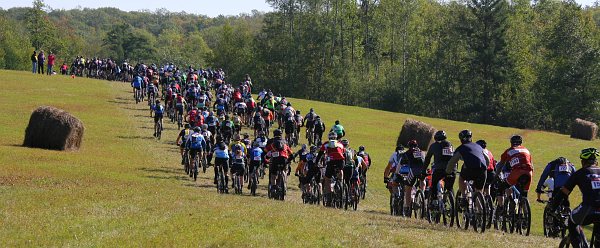 Chequamegon 40, September 13, 2014
The Chequamegon Fat Tire Festival takes front and center this weekend as the high school racing takes a break to accommodate the thousands of riders that head to Chequamegon Forest for fast trails on doubletrack, ski trail and forest roads. A few changes in the 40 course but expect the usual track of with a few puddles mixed in. The historic 35th Chequamegon Fat Tire Festival heads to northwestern Wisconsin for the 35th consecutive year. The main events, the Chequamegon 40 and the Short & Fat, start in Hayward and Cable, Wis. Saturday, Sept. 16 at 10 a.m.
A total of 3,100 riders will participate in the festival, including a sold-out field of 2,100 riders in the Chequamegon 40, which starts on Main Street in Hayward and finishes at Mt. Telemark. Another 1,000 riders will start at the same time in downtown Cable and race 16 miles in the Short & Fat, which also finishes at Mt. Telemark.
The field will be stack including former 40 winners as well as fast guys from out of state that battle against the seasoned grizzled vets. The most notable rider to be absent will be Steve Tilford of course who was always in the mix even well into his 50's. You can expect a special moment to recognize Steve who made the pilgrimage to northwest Wisconsin multiple times during the year for not only racing but riding and local mountain bike community fellowship.
Chequamegon 40 office provided their list of favorites and we've added a few ourselves:
The men's race will be as strong as ever. Six time champ Brian Matter has had a solid season of racing and training. Doug Swanson has come on strong the second half of the year. Jeff Hall will be rolling a 29er rigid to keep in the mix and the out of staters could be a surprise winner such as Cole House.
Mark Frise 1984-1985 Chequamegon 40 champ
Jeff Hall Burnsville, Minn. 2 time Chequamegon 40 champ
Jesse LaLonde Minneapolis, Minn. Twin Six rider that won on a single speed,
Brian Matter Team Wisconsin. Sheboygan, Wis. Six time 40 champion and course record holder.
Jeff Peterson first ever Chequamegon winner in 1983
Corey Stelljes Neff Cycle Service Madison, WI Returning 2016 champion Minnetonka
Doug Swanson 2003 and 2005 Chequamegon 40 champ from Minnetonka, MN.
Samuel Elson- Short and Fat winner
Also to be in the mix will be Travis Brown, Cole House, David Flatten, Pete Karinen, Payson McEleven, Tristan Schouten and TJ Woodruff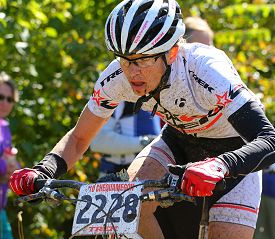 Sara Kylander-Johnson tops Firetower Hill, Chequamegon 40, September 18, 2010

Female riders will feature Kyia Anderson who has a solid year and is the clear favorite, winner in 1999 and three time winner Catherine Wahlberg. Other female riders expected to be at the front include Rebecca Sauber, Rebecca Ireland and Jen Nowlin who will be racing on a single speed. Notable absentee riders will be Corey Coogan Cisek who is recovering from a injury sustained in a crash with a local high school mountain biker and Sara Kylander Johnson who has had a strong second half season after recovering from a back injury and not ready to mix it up at the front and risk crashing amongst the men's field.

Other notable riders on the line will be Dennis Kruse and Jeff Austin who have completed in every race since 1983! Have a great race everyone!

Keep the wheels moving!
About the author...

Jay Richards maintains a very active lifestyle. He somehow finds time between managing a full-time resort (Maplelag) and bringing up a family of four boys with his wife Jonell, to compete in both mountain bike and a few cross-country ski races. Jay rides for Maplelag Resort, manages the Maplelag mountain bike team and enters his 27th year of racing and promoting mountain bike races.

Have an event or mountain bike related information to share from the Midwest? Feel free to contact Jay at