Collegiate Racing: Base Camp Marquette
by Mary Kozloski
November 7, 2017
For three summers, a number of skiers have spent their summer as part of an unofficial Marquette Training Group (MTG), drawing inspiration from several unique sources. Composed primarily of Northern Michigan University (NMU) skiers, past and present, they have set up base camp in Marquette, MI to take advantage of everything the Upper Peninsula has to offer, even after their school year has ended. And this summer, some members took advantage of opportunities beyond their "normal" summer training.
2015 was the inaugural summer of the Marquette Training Group. The self proclaimed 'Founding Fathers' of MTG include: Kyle Bratrud (Eden Prairie, MN), Adam Martin (Wausau, WI), Sam Elfstrom (Shoreview, MN), Krystof Kopal (Jablonec nad Nisou, Czech Republic) and Ian Torchia (Rochester, MN). Although four of the five founders of the group have graduated, the NMU Team is keeping the momentum of this dynamic group alive as MTG completed its third summer this year.
Ian Torchia had to practically race from his college finals to the trails of Bend, Oregon, for a U.S. Ski Team camp in May. Ian has been a part of the U.S. Ski Team's Development Team since the 2016-17 season and has joined the U.S. Ski Team's offseason camps for the past two summers.
"The Bend camp has become one of my favorite parts of the year for the amazing spring skiing," said Ian. Also, being around the U.S. Team always gets me fired up!"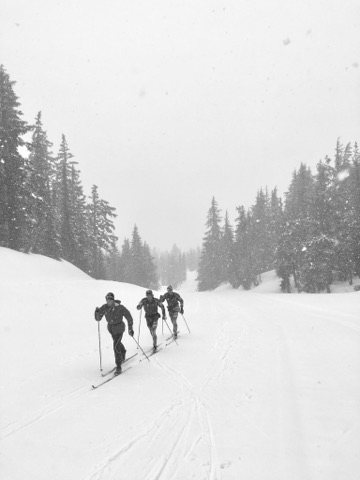 Photo: Ian Torchia skiing in Bend, OR during the May U.S. Ski Team Camp
Ian wasn't the only one lucky enough to travel this summer! Right before getting into the thick of summer training, Zak Ketterson (Bloomington, MN) and Leo Hipp (Forest Lake, MN) headed to Norway in early June, to visit foreign exchange teammates Lars Sonsterud (Oslo, Norway) and Mathias Aas Rolid (Redalen, Norway) and to get a taste of Scandinavian life and how they train.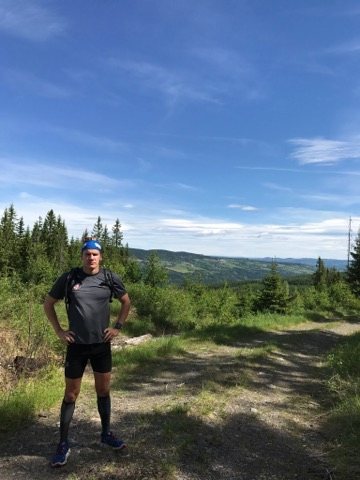 Photo: The famous 3:30hr bog run in Norway that Leo and Zak ran
"We spent the time basically 50/50 in Oslo and in Gjovik," explained Zak. "It was super good training to ski on the rollerski tracks especially."
The NMU guys didn't wait too long to get into the competitive spirit! Just three days after they arrived, they jumped into the Oslo Skishow to race alongside big world cup stars. For most skiers, nothing screams inspiration more than rubbing elbows with some of the best in the world, on the iconic rollerski tracks of Holmenkollen.
"The race itself was really cool," said Zak. "It was structured as a pursuit race where we did a 5k prologue and then a pursuit based on the prologue. (World Cup Champion Johannes Hosflot) Klaebo was coming around for a lap when I started, so there were definitely some good guys there. Holmenkollen rollerski track is super great resource for the Norwegians to have."
Meanwhile in Marquette, the rest of the MTG was settling into their summer training regiments.
"Sten writes a plan for the summer for the team and MTG has followed the same model with individual tweaks for different weeks," explained Ian.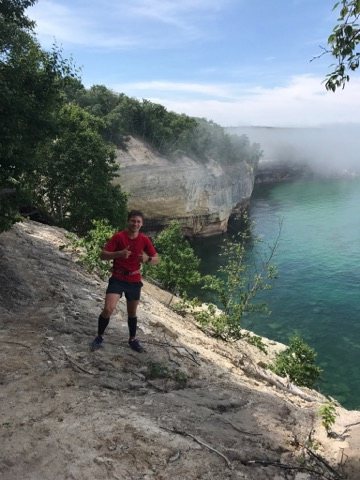 Photo: Leo Hipp at Pictured Rocks, MI during a three hour run.
Their typical summer week included: 20 hours of training with one speed session, one or two continuous or interval L3s, two strength sessions, distance skis or runs and most importantly, catching up on the latest Game of Thrones episode on Sunday nights before their off day on Monday! But really, what better inspiration can a skier find than from a show with a tagline, #WinterIsComing!?
During these workouts, MTG also had the opportunity to train with Kyle Bratrud, NMU Alumni, 2017 National Champion, World Championships Team member, CXC Team athlete and 'MTG Founding Father.' Having all of these athletes training together year after year, brings a special kind of camaraderie to a team. Not only do these athletes have individual experiences that inspire them, they also have each other day after day.
"We all are chasing to be the best we can be and that just keeps us all going together!" Said Leo. "There is an outstanding group of guys up here and being able to train with them really is a pleasure."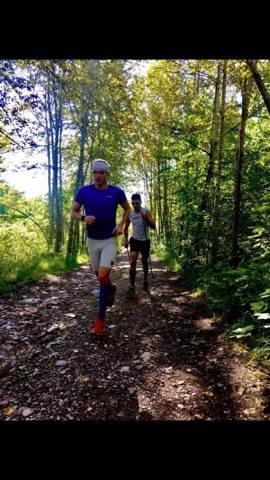 Photo: Kyle Bratrud participating in intervals with MTG
In July, the MTG crew also had an opportunity to ski alongside the future of cross country skiing when the CXC Regional Elite Group Camp and Dream Camp were held in Marquette. These camps bring together some of the best juniors and U12 and U14 athletes together, to train for one week. Collaboration across all levels of cross country skiing, will inspire and continue to maintain the strength of the Midwest cross country ski pipeline.
Later that month, Ian was off to another U.S. Ski Team Camp in Park City, Utah for some mid summer training. The men's team spent eight scorching days pounding out some hard workouts.
"While I have raced at altitude, I had yet to train above 5000 feet before this summer," said Ian. I left the Park City camp with a few extra red blood cells and a healthy appreciation for not going too hard at altitude."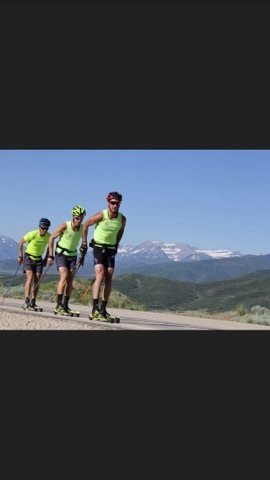 Photo: Ian Torchia training in Park City, UT for the July U.S. Ski Team Camp.
As the summer winds down, reflecting on the work that has been done as well as looking forward to the upcoming season, is also an important exercise for all athletes. For the MTG group, big goals were set for this season!
"My goals for this winter are to stay healthy, keep a positive attitude, and race as fast as I can for my team," said Zak. "Our team is looking very good this year and we are excited to show off all our hard work from this summer and fall."
"I have many goals for the season, but I am focusing on having a strong start in my first time racing at West Yellowstone and Silver Star, as well as bringing the College Cup back to NMU at Nationals in Anchorage," said Ian. "From there, anything could happen!"
The MTG's 2017 Summer Training was nothing short of inspirational. Some traveled to Norway, participated in U.S. Ski Team camps and trained with the future of skiing as well as Olympic hopefuls. But what keeps them inspired year after year, is the brotherhood that has bonded this group together and has made them the competitive force that they are.
"It's an understatement to say MTG has spent quite a bit of time together and over the years we have become very close and learned how to push each other and work together," said Ian. "It's hard not to feel brotherly love towards the guys you train four hours every day with. As we've gotten older it's been a learning curve to know what works for one person is not necessarily going to work for you. However, the core of MTG remains putting the hard work in necessary for success, simple as that. We have come to respect and have fun pushing our bodies to the edge."
About the author...

Mary Kozloski is from Green Bay, WI and is a UW Green Bay Ski Team Alumni, where she skied and studied Communications and Business Administration for four years. Mary continues to love and stay connected to the sport through writing. She is a travel and outdoor enthusiast and enjoys exploring everything Colorado has to offer, which she has called her new home state since fall of 2016.