US Nationals: Classical Distance Recap
by Mary Kozloski
January 7, 2018
ANCHORAGE, Alaska - Caitlin Patterson of Craftsbury Green Racing Project claimed her third U.S. National title in the women's 20k classic mass start at the 2018 U.S. National Championship presented by L.L. Bean. Patterson finished second overall and was the first American, behind Hedda Baangman (Sweden) of the University of Colorado Boulder. Tyler Kornfield of Alaska Pacific University, who is typically a sprinter, stunned the crowd as he lunged toward the finish line to win the men's 30k classic mass start by seven tenths of a second. Patterson has secured a solid Olympic Team nomination after her impressive races this week in Anchorage. Minnesota native Rosie Frankowski (Minneapolis, MN) of Alaska Pacific University had a breakthrough race in the women's 20k classic finishing third overall and second for the American women. This is Frankowski's first U.S. National title, which has also put her in the running for an Olympic Team nomination.
"From the gun, I knew my skis were incredibly fast so right away I realized I would have to make sure to push the pace," said Rosie. "I have raced at Kincaid enough times in mass starts to know that if you don't go as hard as you can on every uphill, the "pack" will eat you up on every downhill. So right away I decided we were going to go hard."
In the women's 20k classic mass start Frankowski charged out of the start to lead the pack early and prove that she was a strong contender in the race.
"I spent a lot of time leading in the first two laps which hit me hard the third lap. Fortunately the longer distance, the better for me, so I had some confidence that if I was hurting, the rest of the field would be hurting too."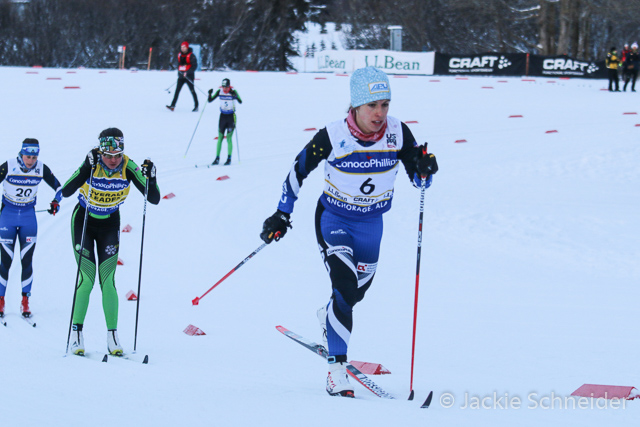 Frankowski remained in the top three throughout the race, playing cat and mouse with the other leaders Patterson and Baangman until the final kilometers. With about two kilometers to go, Baangman began to pull away and lead the race ahead of Patterson and Frankowski.
"I worked with Hedda to push the pace, but she definitely was skiing the uphills much better than me. She obviously is a strong climber, but her skis had a lot more kick than mine, and certainly more than Caitlin Patterson's. When Hedda made a move on the fourth lap, it was in a technique zone, and I just slipped my way out of contention. Caitlin Patterson passed me on the downhill section and skied a great final lap. I actually tripped myself and fell on the final sprint uphill while I was right with Caitlin, thus I then lost her, and as much as I tried to catch her in the last 1.5k, I couldn't close the gap."
By the final stretch, Baangman was able to gain a substantial lead and secure first by nearly 16 seconds ahead of Patterson and Frankowski.
"Overall, I am extremely pleased with my result," said Frankowski. "This is my first US Nationals podium, and I honestly had no expectations to be on the podium before the race this morning. I owe a huge thank you to the APU wax crew and coaches who gave us feeds, as well as the great crowds that turned out to cheer us on!"
Minnesota native Alayna Sonnesyn (Plymouth, MN) also had an outstanding race and remained in the lead pack throughout the race and proved she is a very strong classic skier. Sonnesyn was the top U23 women, finished sixth overall and was the fourth American. Sonnesyn has also qualified for the FIS U23 World Championships in Goms, Switzerland, Jan 29 - Feb 2, 2018.
"The race went so well!" Said Sonneyson. "Despite two falls in the middle of the race, skiing with the lead pack, then right off the back, then getting dropped after a fall, then catching a few leaders again... I felt SO GOOD! Really happy with my result today and excited for my collegiate season to get started!"
The men's 30k classic mass start was not as predictable.. A large pack remained at the front the entire race where leaders switched back and forth, making it anyone's race.
"The race started out hot and never really let up," said Ian Torchia (Rochester, MN) of Northern Michigan University. "The tracks held up pretty well but over time everyone's wax deteriorated and so it became a herringbone/run and double pole race."
APU's Scott Patterson began the race leading the pack and the leaders switched throughout the several laps of the 30k race. Midwest leaders included Ben Saxton (Lakeville, MN) of SMST2, Kevin Bolger (Minocqua, WI) of Sun Valley Ski Education Foundation, Ian Torchia and Adam Martin (Wausau, WI) of Craftsbury GRP.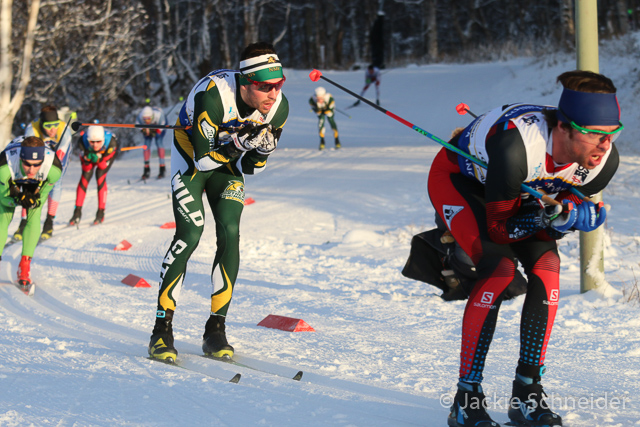 "I positioned myself near the front for the entire race and a number of small breakaways came back together to the big group due to the fast downhills," said Torchia. "Felt great until 27k and then couldn't stay with the moves made by the other guys. Happy with top U23 and for my teammate Zak to be close behind. We're ready for Switzerland!"
By the last lap of the race the front pack still remained close together. In the final stretch, it all came down to a sprint and photo finish. A perfect ending for APU's Tyler Kornfield and teammate Eric Packer, both of whom are more typically seen in a final heat of a sprint race, than duking it out in a distance event. Kornfield was able to edge Packer by seven tenths of a second to claim his first distance U.S. National title, while Eivind Romberg Kvaale (Norway) of University of Denver finished third overall and Kris Freeman was fourth overall and the third American. Adam Martin was ninth, Brian Gregg (Minneapolis,MN) of CXC/Loppet Nordic Racing was 11th, Ian Torchia 12th, Kevin Bolger 14th, Zak Ketterson 15th and Ben Saxton 17th. The top 11 finished within 16 seconds of each other.
"I was hoping for a slightly better result, but there are many aspects of my race that I am very satisfied with," explains Adam Martin. "I felt that I had really great skis from the CGRP. Throughout the race it was great skiing right next to Ian Torchia, my teammate from NMU last year. Overall, I am looking forward to more opportunities later this season."
U23
The Midwest U23 men had impressive results in the 30k classic. Torchia was the top U23 male and Zak Ketterson (Bloomington, MN) was second. Torchia and Ketterson may both have the opportunity to represent the U.S. at the FIS U23 World Championships in Goms, Switzerland, Jan 29 - Feb 2, 2018. Michigan Tech University's Thomas Bye (Eden Prairie, MN) was fifth, Tamer Mische-Richter (Bloomington, MN) of St. Scholastica 9th, Luke Brown (Minneapolis, MN) of Dartmouth 10th, NMU's Leo Hipp (Forest Lake, MN) 12th and Jacob Ajax (Minneapolis, MN) of the University of Wisconsin - Green Bay was 15th for U23 men.
Alayna Sonnesyn led the Midwest women finishing second for the U23 women should be named to FIS U23 World Championships team, NMU's Vivian Hett was seventh, Abigail Drach (Eden Prairie, MN) of Dartmouth Ski Team was eighth, Kristen Bourne of NMU 10th, Nicole Schneider (Wayzata, MN) of NMU 14th, Sarah Goble (Harbor Springs, Mich.) of MTU 15th and Sarah Bezdicek (Osseo, MN) of NMU 16th.
U20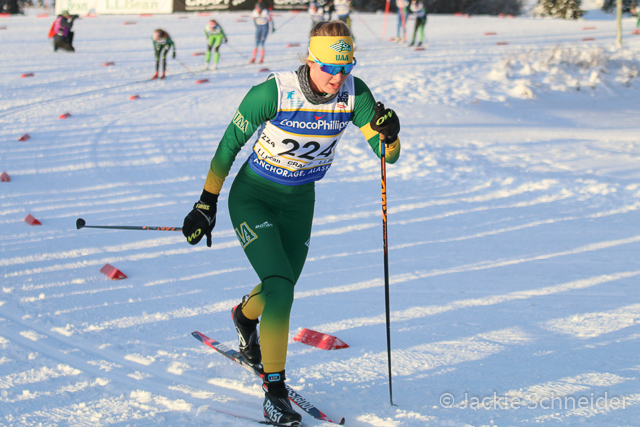 Hannah Rudd (Plymouth, MN) of University of Alaska Anchorage lead the Midwest women in the 10k classic mass start finishing sixth for the U20 women. Rudd has earned a spot on the FIS Junior World Championships squad. Renae Anderson (Golden Valley, MN) of LNR/Bowdoin 13th, Anja Maijala (Cloquet, MN) of University of Alaska Fairbanks 16th.
Michigan Tech University's U20 men have had strong finishes throughout the week. Reid Goble (Petoskey, MI) was 6th, Mitchell Delong (Calumet, MI) seventh and Patrick Acton (Eagan, MN) was 9th and William Kerker (Minneapolis, MN) of Colby College was 15th for the U20 men.
U18
There were four Midwest women in the top 12 for U18 women. Kelly Koch (Burnsville, MN) of LNR led the women in third and was named to the U18 Nordic Junior Competition team, Mara McCollor (Wayzata, MN) of Wayzata Nordic fourth, Abigail Jarzin (Green Bay, WI) of Ashwaubenon Nordic Ski Team seventh and Lucinda Anderson (Plymouth, MN) of LNR was 12th. James Schneider was the top midwest male finishing 16th for the U18 males.
The final day of the 2018 U.S. National Championships concludes Monday with classic sprints. Live stream coverage of the races can be viewed on http://www.facebook.com/usskiandsnowboard/.
RESULTS
About the author...

Mary Kozloski is from Green Bay, WI and is a UW Green Bay Ski Team Alumni, where she skied and studied Communications and Business Administration for four years. Mary continues to love and stay connected to the sport through writing. She is a travel and outdoor enthusiast and enjoys exploring everything Colorado has to offer, which she has called her new home state since fall of 2016.