US Nationals: Classic Sprints Recap
by Mary Kozloski
January 8, 2018
ANCHORAGE, Alaska (January 8, 2017) - Caitlin Patterson of Craftsbury Green Racing Project and Reese Hanneman of Alaska Pacific University, remain undefeated in the sprint races this week at the 2018 U.S. National Championship presented by L.L. Bean. Patterson and Hanneman won both the 1.5k freestyle sprint on Friday and the 1.5k classic sprint on the final day of competition. Patterson made an incredible comeback as she came from behind in the final meters, while Hanneman narrowly edged teammate Tyler Kornfield for the win.
In the women's classic sprint, Caitlin Patterson qualified seventh and continued to improve her results throughout the day. Patterson won her quarterfinal and semifinal heats to move onto the finals. In the final heat, Jasmi Joensuu of the University of Denver began the race leading the pack and continued to break away by the final down hill of the course. Just when it seemed as though Joensuu was skiing to a convincing first place finish, Patterson closed the gap and came out from behind. Patterson dominated the final meters to secure her fourth U.S. National title of the week by 2.36 seconds over Joensuu and teammate Kaitlynn Miller who was third overall and the second American. APU's Becca Rorabaugh was fourth overall and the third American. Midwest native Felicia Gesior (Wausau, WI) of CXC had an impressive sprint day qualifying eighth overall just .55 seconds behind Patterson. Gesior then moved on to finish second in her quarterfinal to move onto the semifinals where she finished fifth in the heat, unable to move on to the finals. Gesior was able to snatch a spot in the top ten finishing ninth overall.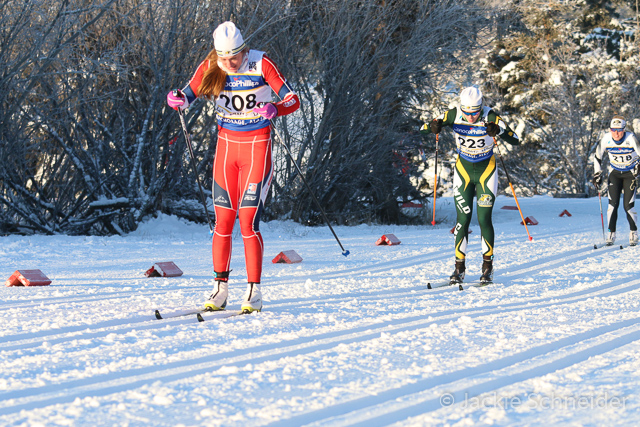 "It was a fun day of racing today and I was happy to qualify ahead of my other places from the week, said Felicia Gesior. "I really enjoyed racing in the heats today because the conditions were solid and it's always good to go face to face with the competition especially at senior nationals when there are lots of skiers I don't always get to ski against. I worked really hard at being aware of where I was in the race to make sure that I didn't get caught up in any tangles. Both of the heats I skied in there were a few times when skiers went down in front of me so it was important to be paying attention. I had fast skis and making it to the semis definitely makes me hungry for more sprint races."
In the men's classic sprint Reese Hanneman started the day on top qualifying first and continued the momentum through to the final heat. Hanneman was undefeated all day, winning his quarterfinal, semifinal and final heat. Teammate Tyler Kornfield who won the 30k classic mass start on Sunday didn't let Hanneman win easily, however. In the final meters of the race Hanneman had a sizeable lead ahead of the pack and Kornfield gave every last ounce of effort to close the gap between him and Hanneman. Kornfield nearly caught Hanneman, but Hanneman was able to edge Kornfield by two tenths of a second to claim his fourth U.S. National sprint title. Midwest natives Ben Saxton (Lakeville, MN) of SMST2, Kevin Bolger (Minocqua, WI) of Sun Valley Ski Education Foundation and NMU's Zak Ketterson (Bloomington, MN) also had impressive sprint races. Saxton qualified ninth and finished third overall, Bolger qualified tenth and finished fifth, while Ketterson qualified sixth and finished sixth overall. Ketterson will have the opportunity to represent the U.S. at the FIS U23 World Championships in Goms, Switzerland, Jan 29 - Feb 2, 2018, because of his outstanding efforts at the U.S. National Championships.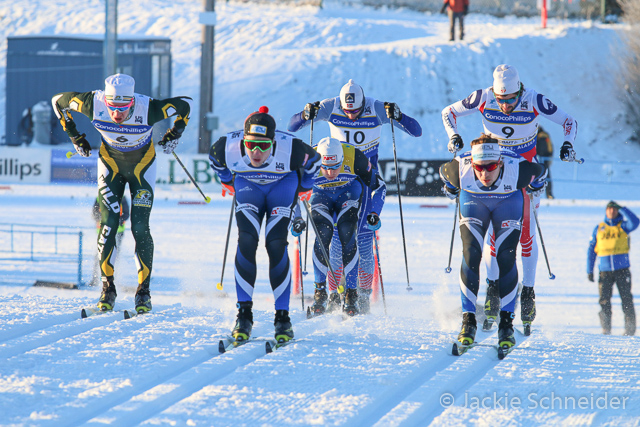 "Today was another pretty good day. The qualifier was better than my skate qualifier, although still not amazing," said Zak Ketterson. "I am usually more confident in myself during the heats, and today I was able to get into the A final. I went for it from the gun with the pace being extremely fast right away. I was feeling good about my chances for a podium but unfortunately lost a lot of energy into the finish. This has been a good week for me overall and I am stoked to be heading to Switzerland with my teammates Ian Torchia and Nicole Schneider, as well as an old teammate Andrew Egger."
Not only were national titles and Olympic team nominations on the line during U.S. Nationals, there were also spots for the coveted U23 World Championships, U20 World Junior Championships and the U18 Nordic Juniors Competition team trips. Several Midwest skiers were named to these teams after their strong results at nationals. Alayna Sonnesyn (Plymouth, MN) of the University of Vermont and Nicole Schneider (Wayzata, MN) of NMU will be representing the U.S. at the FIS U23 Championships along with Zak Ketterson, Andrew Egger (Minneapolis, MN) of Colby College and Ian Torchia (Rochester, MN) in Goms, Switzerland, Jan 29 - Feb 2, 2018. Hannah Rudd (Plymouth, MN) of the University of Alaska Anchorage qualified for the FIS U20 World Junior Championships which is also in Goms Switzerland Jan 28 - Feb 2, 2018. Kelly Koch (Burnsville, MN) qualified and was named to the U18 Nordic Juniors Competition team trip. Koch will be representing the U.S. in Vuokatti, Finland, Jan 26-28, 2018.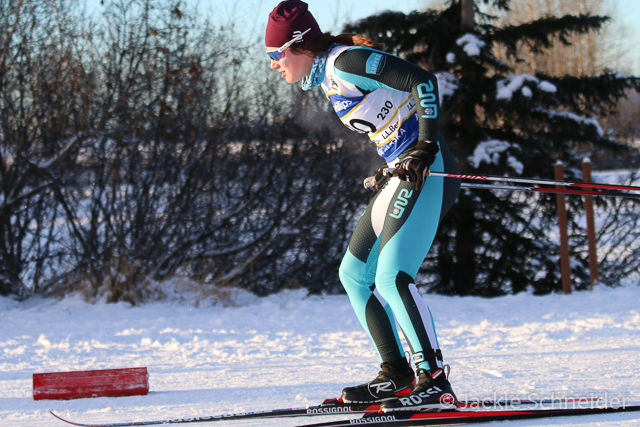 "The first race of the week was pretty rough, so I showed up to the sprints just hoping to qualify for junior heats," said Kelly Koch. "When I made it through to finals I was super stoked! My skis were crazy fast, thanks to the awesome LNR coaches. I've never made an A final before, so that was fun. After the sprint day I realized I had a shot at qualifying for the U18 trip. The mass start was chaotic to say the least. I got tripped up a few times, but the last couple K were SO fun. I️t went by so fast, but it was definitely the most fun race I've ever done. I'm super excited to represent the U.S. in Finland!!"
U23
Ketterson led the U23 men and Egger finished 13th overall and was third for U23 while Michigan Tech University's Tom Bye was ninth for U23 men. Nicole Schneider was fifth for the U23 women followed by teammates Vivian Hett in 6th, Sarah Bezdicek in 9th and Kristen Bourne 11th for U23s.
RESULTS
About the author...

Mary Kozloski is from Green Bay, WI and is a UW Green Bay Ski Team Alumni, where she skied and studied Communications and Business Administration for four years. Mary continues to love and stay connected to the sport through writing. She is a travel and outdoor enthusiast and enjoys exploring everything Colorado has to offer, which she has called her new home state since fall of 2016.