Nordic Junior Ski Competition: U18 Trip Update and Race Preview
by Caroline Brisbois
January 24, 2018
The Nordic Junior Ski Competition is set to begin this Friday, January 26th, in Vuokatti, Finland. Junior skiers from around the country competed at US Nationals in Anchorage, Alaska in early January for the chance to represent Team USA at these developmental championships for athletes under 18 years old. The 6 men and 6 women selected for the team are listed below, with Burnsville's Kelly Koch from Loppet Nordic Racing representing the Midwest. These athletes will be competing against other top juniors from Finland, Sweden, Norway, and Estonia, giving them an exciting opportunity to practice racing at a high level on an international stage.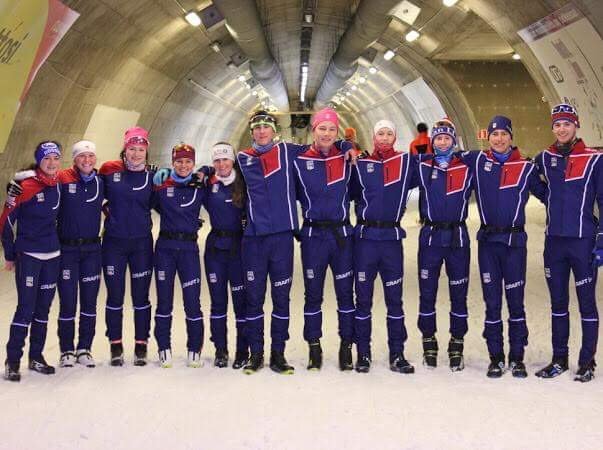 Women
Novie McCabe, Methow Valley Nordic, Winthrop, WA
Sydney Palmer-Leger, Sun Valley SEF, Park City, UT
Kendall Kramer, NSCF-FXC, Fairbanks, AK
Annika Hanestad, Palmer, AK
Callie Young, Craftsbury NSC, Jay, VT
Kelly Koch, Loppet Nordic Racing, Burnsville, MN
Men
Johnny Hagenbuch, Sun Valley SEF, Ketchum, ID
Zanden McMullen, APUNSC, Anchorage, AK
Ti Donaldson, NSCF-FXC, Fairbanks, AK
Haydn Halvorsen, Sugar Bowl Academy, Truckee, CA
Scott Schulz, NYSEF, Lake Placid, NY
James Clinton Schoonmaker, Auburn Ski Club, Tahoe City, CA
Coaches
Christina Mishica, Vuokatti Sports Center, Vuokatti, Finland (Trip leader)
Jason Hettenbaugh, Rochester Nordic Racing, Rochester, NY
Rachelle Kanady, Univ of Anchorage Alaska, Anchorage, AK
Update and Preview
Team USA athletes and coaches arrived in Vuokatti earlier this week to settle in and acclimatize before the races. Accommodations for all competitors are at the Vuokatti Sport Resort at the Olympic Training Center (OTC), with direct access to the competition venue, only 200m away. The Vuokatti Ski Tunnel is also located right at the OTC, with a 1.2k loop for year round skiing. The athletes got a chance to ski in the tunnel on Tuesday, a novel experience for the young Americans. Wednesday they skied outside at the venue through a layer of fresh powder, among snow-covered trees and gray skies. The courses were not marked Wednesday, but appeared to have a good combination of climbs and downhills to make for a fun course, according to Kelly Koch.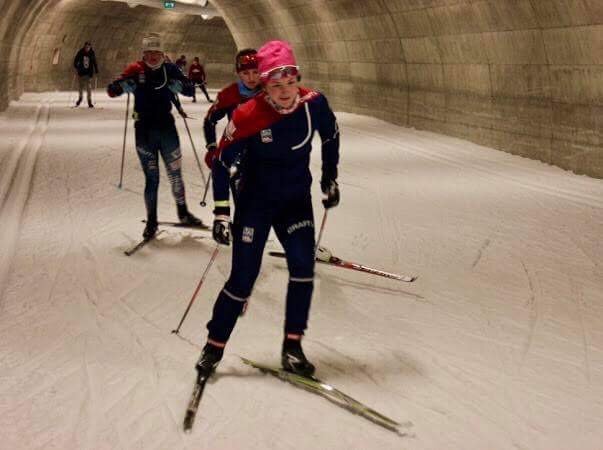 In addition to adjusting to a time change, the athletes are faced once again with the dark, shortened days of high latitude, since Vuokatti has even less daylight than Anchorage, with about 6 hours this time of year. Sunrise for the weekend is around 9:05am with sunset around 3:30pm. Most of the racing will be crammed into the daylight hours with only portions of athlete warm up in the dark with the exception of the relays, which are scheduled (preliminary) to begin at 9:00 and 9:45, just as the sun is rising. Races start Friday with 1.2k freestyle sprints, then a 5/10k individual start distance classic on Saturday, and finish with 3x3/5k relays on Sunday.
Resources
Event Sites

Venue

Schedule
Friday, January 26th
Saturday, January 27th
Sunday, January 28th
Maps
Results
Livestream
Weather
Webcams
NNF
About the author...

Caroline Brisbois is from Falcon Heights, MN and is in her fourth year at Northern Michigan University where she skis and runs cross country while studying Biology-Zoology and Environmental Studies. Caroline loves spending the summers ski training, running, mountain biking, rock climbing, and exploring everything in her reach from the shores of Lake Superior to the mountains of Alaska. She currently resides in Marquette, MI where she is finishing her last few classes to graduate this spring.