World Junior/U23 Championships: Preview and Update
by Caroline Brisbois
January 26, 2018
US Nationals is the event skiers of all ages throughout the country target each year because of qualification opportunities and teams that are picked based on race performance. This year athletes gathered in Anchorage, Alaska to compete and prove themselves after another summer and fall of hard training. A Junior World or U23 Team nomination is highly coveted at US Nationals among skiers between the ages of 16 and 22. Junior World Championships (WJC) is for athletes in the U20 category (under 20 years old) and U23 Championships is for athletes between the ages of 20 and 23. Both championships are held as the same event, this year at the Ulrichen Nordic Center in Goms, Switzerland. The athletes chosen for the WJC and U23 teams to represent America are listed below along with the coaches and staff that make the trip possible. Races begin Sunday January 28th and end February 3rd. Official and live results will be on the FIS cross country website and Swiss-Ski will be live streaming all of the events. These and other useful links can be found at the end of the article.
U20 Men
Luke Jager, 18, Anchorage, AK, APU Nordic Ski Center
Ben Ogden, 17, Landgrove, VT, Stratton Mountain School
Karl Schulz, 19, Lake Placid, NY, University of Vermont
Gus Schumacher, 17, Anchorage, AK, Alaska Winter Stars
Canyon Tobin, 18, Anchorage, AK, APU Nordic Ski Center
Hunter Wonders, 19, Anchorage, AK, APU Nordic Ski Center
U20 Women
Margaret Gellert, 17, Anchorage, AK, Alaska Winter Stars
Hannah Halvorsen, 19, Truckee, CA, APU Nordic Ski Center
Kathleen O'Connell, 19, Steamboat Springs, CO, Montana State University
Hannah Rudd, 19, Plymouth, MN, University of Alaska Anchorage
Sofia Shomento, 18, Bozeman, MT, Dartmouth College
Hailey Swirbul, 19, Carbondale, CO, University of Alaska Anchorage
U23 Men
Andrew Egger, 22, Edina, MM, Colby College
Bill Harmeyer, 20, Burlington, VT, University of Vermont
Zak Ketterson, 20, Bloomington, MN, Northern Michigan University
Thomas O'Harra, 21, Anchorage, AK, APU Nordic Ski Center
Ian Torchia, 21, Rochester, MN, Northern Michigan University
U23 Women
Lydia Blanchet, 20, Anchorage, AK, Dartmouth Ski Team
Lauren Jortberg, 20, Boulder, CO, Dartmouth Ski Team
Julia Kern, 20, Waltham, MA, Stratton Mountain School
Nicole Schneider, 20, Plymouth, MN, Northern Michigan University
Coaches and Staff
Bryan Fish, Head Coach
Matt Boobar, U23 Coach
Adam St. Pierre, U20 Coach
Justin Beckwith, Head Kick
Bernie Nelson, Kick
Jon Filardo, Head Glide
Michael Matteson, Glide
Peter Kling, Assistant
Trip Update and Preview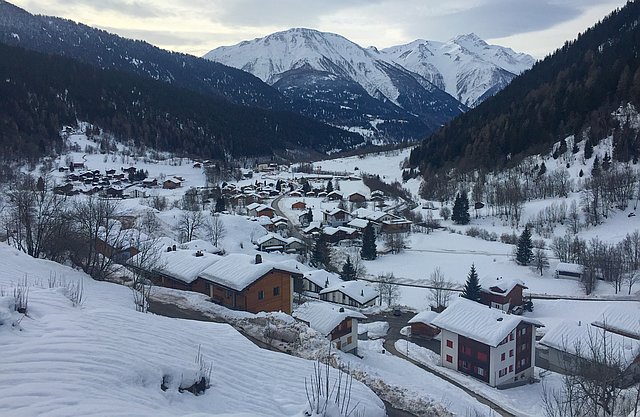 Village of Fieschertal (Credit: Thomas O'Harra)
Most of the U20 and U23 athletes met up in Zurich, Switzerland on January 22nd then drove to Fieschertal, a small village about 11km from the venue, where they are staying at the Hotel Alpenblick until the end of the trip. Athletes arrived early for a pre-camp to become acclimated and adjust to the time change, 7 hours ahead of Central Time. The Ulrichen Nordic Center is located in the valley of Goms at about 4400 feet above sea level. The athletes were pleasantly surprised by tons of snow, so much that the road up to the venue was closed due to avalanche danger and snow cover for the first 2 days of the trip. This gave the athletes a chance to explore the village of Fieschertal on training runs and take in the view of the snow covered mountains rising above them on all sides from the valley while they rested from long travel days. Once the snow was cleared, they were able to drive up the pass with 6 foot walls of snow on either side of the road.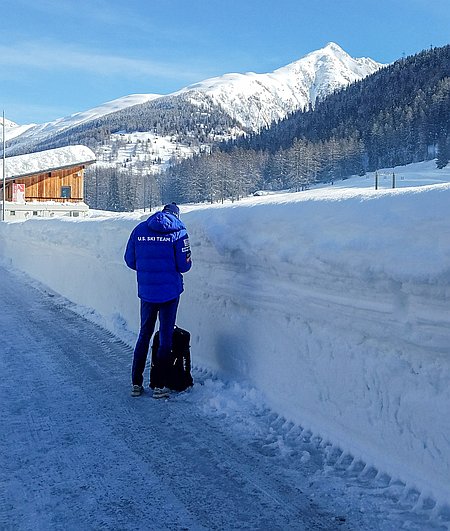 (Photo credit: Hannah Rudd)
Athletes say the courses at Ulrichen are world class, with long challenging climbs, technical downhills, a large open stadium, and extra wide trails. There is at least 3-5 feet of snow providing a base at the venue, and it is just as scenic as the village below, with panoramic mountain views. The first race is a skate sprint on a 1.5k loop for the men, and slightly shorter loop for the women. Zak Ketterson described the course as "very straightforward with two massive uphills and not much else." Then they move onto the classic distance races, which are on a 5k loop. The skiathlon consists of two separate 2.5k loops for classic and skate, and the WJC relays use similar loops. See below for a complete schedule of events.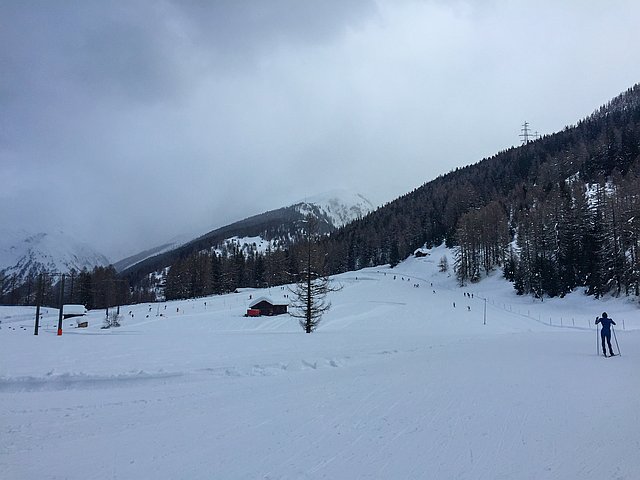 Sprint course - view of first big climb in the distance (Credit: Thomas O'Harra)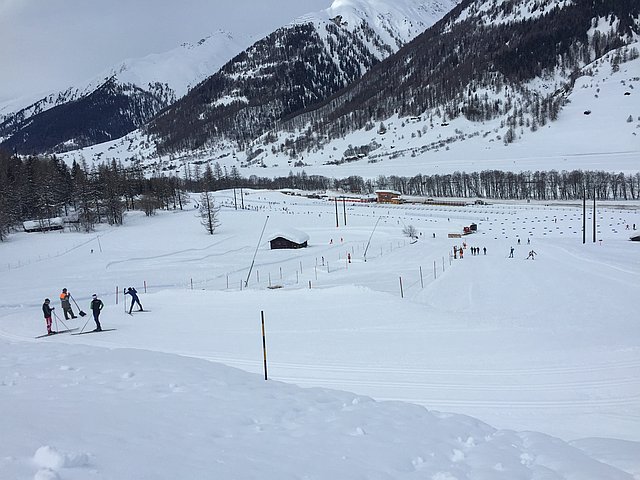 Sprint course - view from the top of course, looking down to stadium (Credit: Thomas O'Harra)
Midwest Skiers
Five skiers Minnesota-grown, now off at their respective colleges, are in Switzerland getting ready to race. Northern Michigan University has a strong showing as usual, with Nicole Schneider, Ian Torchia, and Zak Ketterson racing for the U23 team along with Andrew Egger of Colby College. Hannah Rudd of University of Alaska Anchorage will be racing for the WJC Team. Schneider, Ketterson, Egger, and Rudd train with Loppet Nordic Racing (LNR) in the summers while Torchia trains with the Marquette Training Group (MTG).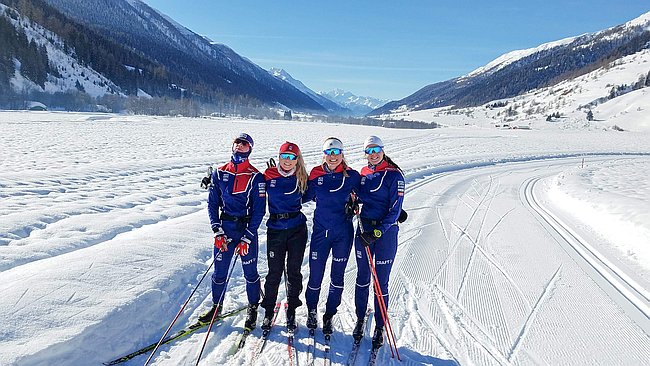 Left to right: Thomas O'Harra, Nicole Schneider, Hannah Rudd, and Kathleen O'Connell (Credit: Nicole Schneider)
Schneider has shown to be a great sprint and distance skier, and had her best results at Nationals in the skate (4th U23) and classic sprints (2nd U23) as well as a notable 12th in the 5k classic at NCAAs last year. She is planning to compete in all three U23 races. She is no stranger to international racing, as she competed at WJC in Romania in 2016 and at the U18 Junior Nations Championships in 2015. Schneider had an insightful take on the course after previewing it for the first time, "It's crazy, I don't think I've ever been on a course with so much climbing and many of the downhills have sharp 90 degree turns that are technically hard," Schneider explained, "but I'm excited for a challenge!"
Ketterson had multiple break-out performances at Nationals, making it to the final in both sprint disciplines and finishing 4th and 6th overall (1st U23) in skate and classic. He shined in the 30k classic as well, finishing 15th overall and 2nd U23. Ketterson will also be competing in all 3 U23 races and like Schneider, competed at WJC in Romania in 2016 and the U18 Junior Nations Championships in 2015. "I am feeling confident going into these races, especially for the sprint," Ketterson reports, "the distance course is super hilly and challenging but I am confident with my fitness and training."
Torchia had his best result in the 30k classic finishing 12th overall, hanging with the lead pack for the whole race. He will be setting his sights on the 30k skiathlon and 15k classic distance races with a number of outstanding previous results. In 2015 Torchia placed 11th in the 20k skiathlon at WJC in Kazakhstan, 15th in the 15k skate individual start at 2016 WJC in Romania, and 2nd and 4th in the 10k skate and 20k classic at NCAAs in 2016. Torchia is excited about the difficulty of the course and will use that to his advantage.
Andrew Egger proved himself to be a strong sprinter with a top 10 finish overall (2nd U23) in the freestyle sprints at Nationals and 13th overall (3rd U23) in the classic sprint. He will be racing the skate sprint and 30k skiathlon. Egger is looking forward to the sprint on Monday. "I'm going to replicate my physical and mental preparation that I used for U.S Nationals. Physically, I'm taking it fairly easy this week to make sure my body is set to go on race day. Mentally, I'm just trying to stay relaxed and enjoy it all," Egger explained, "As for racing, I just want to beat as many people as I can. If I cross the finish line knowing that I did everything I could to go as fast as possible, I'll be satisfied. Furthermore, I am really excited to represent the United States, and wearing the red, white, and blue is increased motivation to go fast!"
For the juniors we have Hannah Rudd. She had a stellar skate sprint (3rd U20) and classic distance race at Nationals, so look for her on Sunday in the sprints and Tuesday in the 5k classic. Hannah gave us some insight on the culture there in Switzerland: "The village of Fieschertal, where we are staying is surrounded by the Swiss Alps and is absolutely stunning. There is also an insane amount of snow here which has been super good for training. There are ski trails that connect from town to town - all the from our village to the race venue - you can really tell that cross country skiing is a big part of their culture here."
Sidenote: The NMU boys have enjoyed creating their own style of Swiss cuisine. "My roommate Ian Torchia and I have developed a habit of putting granola in our salads at lunch and dinner and everyone thinks it's bizarre. It's actually super good," Ketterson shared.
COMPETITION SCHEDULE
Sunday, January 28

Junior men's and women's freestyle sprints



Monday, January 29

U23 men's and women's freestyle sprints



Tuesday, January 30

Junior women's 5k classic
Junior men's 10k classic



Wednesday, January 31

U23 women's 10k classic
U23 men's 15k classic



Thursday, February 1

Junior women's skiathlon (5k CL/5k FS)
Junior men's skiathlon (10k CL/10k FS)



Friday, February 2

U23 women's skiathlon (7.5k CL/7.5k FS)
U23 men's skiathlon (10k CL/10k FS)


Saturday, February 3

Junior women's relay (4×3.3k CL/FS)
Junior men's relay (4x5k CL/FS)
EVENT INFO
Instagram #JWSC2018
MEDIA
RESULTS
MAPS
WEATHER
WEBCAM
NNF
About the author...

Caroline Brisbois is from Falcon Heights, MN and is in her fourth year at Northern Michigan University where she skis and runs cross country while studying Biology-Zoology and Environmental Studies. Caroline loves spending the summers ski training, running, mountain biking, rock climbing, and exploring everything in her reach from the shores of Lake Superior to the mountains of Alaska. She currently resides in Marquette, MI where she is finishing her last few classes to graduate this spring.