Nordic Junior Ski Competition: Racing Recap
by Caroline Brisbois
January 28, 2018
Another weekend of impressive junior racing wrapped up Sunday as twelve American U18 skiers competed at the Nordic Junior Championships in Vuokatti, Finland. The US team had a fantastic first day of racing on Friday in the skate sprints. Four American men qualified for the heats, with Scott Schulz and JC Schoonmaker advancing to the final and finishing 5th and 6th respectively. On the women's side, 3 Americans qualified for the heats with the top US results from Sydney Palmer-Leger in 8th and Novie McCabe in 9th. After a long day of sprinting, the athletes rallied for the next day of classic distance racing. In the men's 10k, Ti Donaldson lead the Americans with a 14th place finish and Novie McCabe had the top American finish of the day, finishing with an outstanding 5th place in the 5k classic. Racing concluded Sunday with 3-person relays and the US had another solid day placing all 4 relay teams in the top 6. Overall, the junior athletes had a strong weekend of racing, proving once again that the US is a force to be reckoned with, and will only keep improving. Complete US results are listed below.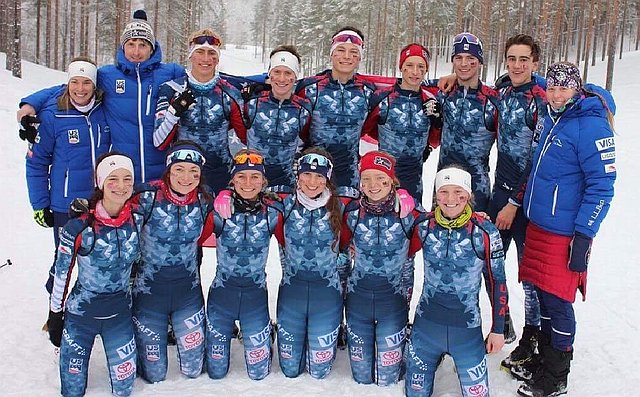 Before heading home, the athletes will be spending a few extra days in Finland for a training camp with the Finnish team. Besides delaying their dreaded return to school, the Americans will have the chance to socialize and learn from other athletes their age. The exposure to different cultures and nationalities of cross country skiing is a valuable experience that enhances the development of young American skiers.
Midwest Update
Our Midwest representee, Kelly Koch, gave us the inside scoop on life in Finland. For her first international competition, Koch had respectable races and an invaluable experience to learn from. We caught up with her after the races: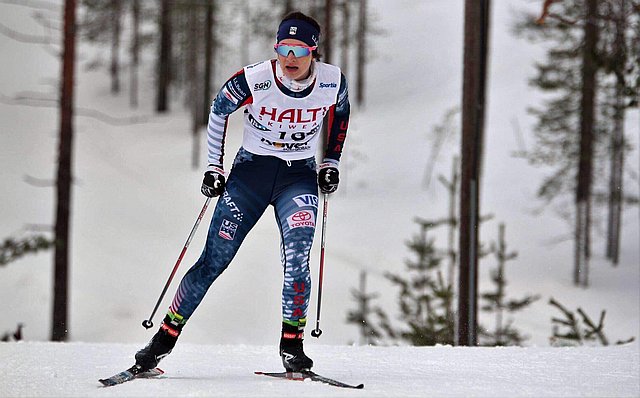 "The sprint course was really short but pretty technical. I️t was very hilly and there was one sketchy 180 degree turn. Personally I didn't have a good day. In the qualifier I went in the deep snow on that turn and lost some time. The US did really well though! The coaches think it's the best sprint day we've ever had as a country! There were two girls and three guys in the top 10 which was super exciting.
"Today [Saturday] was a classic 5k for the girls and I️t was a super hilly course. We did a 2.5k loop twice. Once again I didn't have a great day. I was icing up really bad so that wasn't too fun. But once again the US did really well!"
After Sunday's relays races, Koch said, "I thought the relay was super fun! It wasn't a huge mass start so it wasn't too crazy, but it went to 2 tracks really fast and they were just on each side of the trail so you had to be smart with which track you picked. I think the races were a good experience and super fun."
Part of the experience of overseas trips is sampling the local culture and cuisine. "The food is interesting! I've tried reindeer! I never really know what I'm eating to be completely honest," Koch shared, "It's not too bad though."
And what about school? "It's tough to get a ton of homework done, but everyone here is pretty motivated about school so we work on it every so often. But yeah definitely going to have a lot to do when we get back. Some teachers are more understanding than others," said Koch.
With the races over, Koch explained some of the activities over the remaining days, including the camp with the Finnish team: "The camp is just a couple days and we're doing a long ski tomorrow and some games in the afternoon. I don't know too much about the camp yet, but it should be fun.
"Overall the trip was super fun and a great experience and NNF makes it all possible!"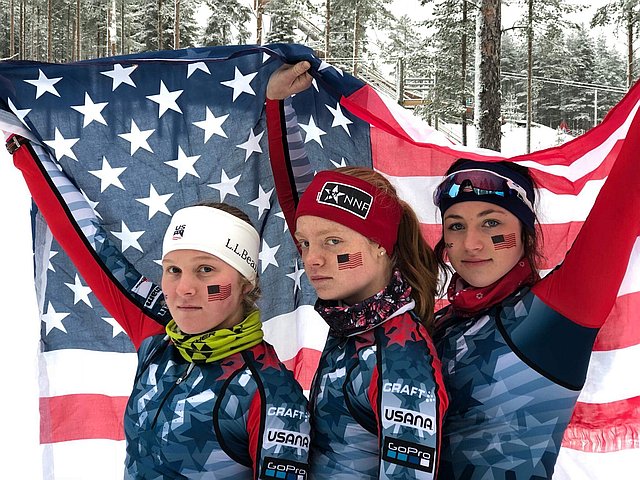 Annika Hanestad, Callie Young and Kelly Koch, Nordic Junior Competition, January 28, 2018 (Photo: Kelly Koch)
[ The US Nordic Junior Competition Trip is made possible by the National Nordic Foundation ]

Results
Freestyle Sprint 1.2k
Men
Scott Schulz 5th

JC Schoonmaker 6th

Haydn Halversen 10th

Ti Donaldson 11th

Johnny Hagenbuch 34th

Zanden McMullen 43rd
Women
Novie McCabe 9th

Callie Young 17th

Kelly Koch 38th

Annika Hanestad 39th

Kendall Kramer 46th
Classic Distance 5/10k
Men
Ti Donaldson 14th

Johnny Hagenbuch 19th

Zanden McMullen 26th

Haydn Halvorsen 29th

JC Schoonmaker 31st

Scott Schulz 46th
Women
Novie McCabe 5th

Sydney Palmer-Leger 14th

Kendall Kramer 17th

Callie Young 29th

Annika Hanestad 33rd

Kelly Koch 38th
Relay 3x3.3/5k
Men
5th: Ti Donaldson, Johnny Hagenbuch, Scott Schulz

6th: Zanden McMullen, JC Schoonmaker, Haydn Halvorsen
Women
4th: Kendall Kramer, Sydney Palmer-Leger, Novie McCabe

6th: Kelly Koch, Annika Hanestad, Callie Young
About the author...

Caroline Brisbois is from Falcon Heights, MN and is in her fourth year at Northern Michigan University where she skis and runs cross country while studying Biology-Zoology and Environmental Studies. Caroline loves spending the summers ski training, running, mountain biking, rock climbing, and exploring everything in her reach from the shores of Lake Superior to the mountains of Alaska. She currently resides in Marquette, MI where she is finishing her last few classes to graduate this spring.