World Junior/U23 Championships: Classical Races Recap
by Caroline Brisbois
January 31, 2018
The classic distance races at World Junior and U23 Championships began with a historic silver medal performance from Hailey Swirbul in the WJC women's 5k individual start. Swirbul finished just 14 seconds back from Russia's Polina Nekrasova, the overall champion of Tuesday's race. This builds on Katherine Ogden's (Stratton Mountain School, Dartmouth) history making results of last year's World Junior Championships in Soldier Hollow, Utah where she scored a 3rd and 5th place in the 10k skiathlon and 5k freestyle. Hannah Halvorsen was the next top US junior of the day showing her consistency in all disciplines, finishing 22nd. Kat O'Connell and Hannah Rudd competed hard as well for 38th and 59th place finishes. Inspired by their teammates awesome races, the U20 men added to Team USA's success of the day. In the 10k classic, Ben Ogden finished 7th for one of the best US junior men's results in recent memory, Gus Schumacher 17th, Hunter Wonders 22nd, and Canyon Tobin 37th. Norway's Jon Rolf Skamo Hope came out on top to win the men's 10k.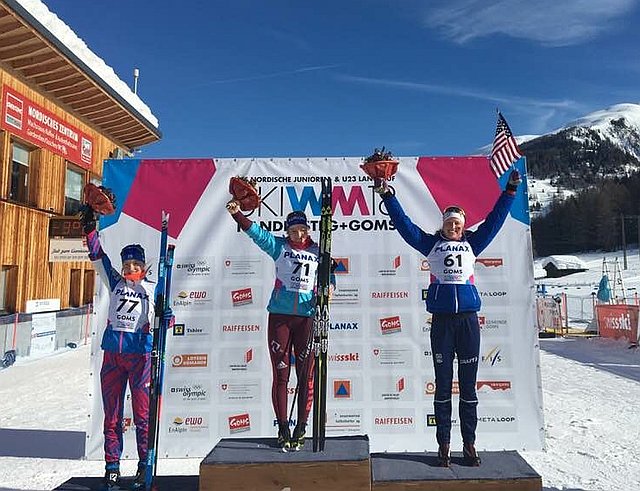 Hailey Swirbul on the podium (Credit: Bryan Fish)
The U23 American skiers put their heads down and fought for every second in their races on Wednesday. In the women's 10k classic, Lydia Blanchet was the top US finisher in 30th followed by Lauren Jortberg in 34th, and Nicole Schneider in 49th. Julia Kern had to sit this race out due to sickness, which she has struggled with all week. Russia claimed another gold medal with Yana Kirpichenko as the first U23 woman. In the men's 15k classic, Ian Torchia battled all 3 laps of the challenging 5k course to finish 32nd. Torchia gave us a recap on his race:
"Today was brutal! I didn't really have good feelings from the gun so it was a fight the whole way. I'm guess I'm happy with staying staying strong despite that. Lapped around with the eventual second place Russian [Denis Spitsov] so I got to see and feel what a podium place looks like."
Torchia is now looking ahead to the 30k skiathlon on Friday: "The skiathlon promises to be even harder so I'm hoping to have a little better response from the body and I'm excited for the skate leg!"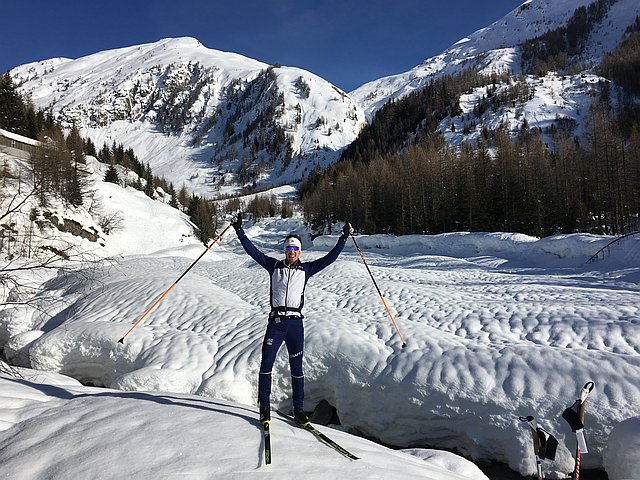 Ian Torchia exploring off trail (Credit: Thomas O'Harra)
Bill Harmeyer was the next US finisher skiing to a solid 39th, with Thomas O'Harra shortly behind him in 43rd and Zak Ketterson in 57th. In another battle between Russia and Norway, Mattis Stenshagen came in first in the U23 men's race over Denis Spitsov. On a course unlike anything they have seen in the US and against some of the fastest young skiers in the World, the American U23 men and women held their own.
The athletes reported that the conditions Tuesday and Wednesday were firm and fast. Wednesday was clear and sunny, and warmed up to around freezing for the men's race. They also explained that what makes the courses at Ulrichen Nordic Center difficult is the amount of working sections, from medium long uphills, short downhills, and to flats and graduals, so there isn't much rest. Even though the longest climb is only 31 meters (an "A" climb can often be up to 50m long), the course has 200 meters of total climbing making it overall a very challenging course. With the last few days of break out performances, the American skiers are showing the world that US cross country skiing is indeed on the rise.
Up Next
The exciting mass start races begin Thursday with the junior women's 5k classic/5k freestyle skiathlon and junior men's 10k classic/10k freestyle skiathlon. Friday the U23 women do a 7.5k classic/7.5k freestyle skiathlon and the men do a 15k classic/15k freestyle skiathlon. Both women's races start at 3:30am CST and men start at 5:30am CST. Live streaming is available by Swiss Ski.
Results
WJC 5/10k Classic
Women
Hailey Swirbul 2nd

Hannah Halvorsen 22nd

Kat O'Connell 38th

Hannah Rudd 59th
Men
Ben Ogden 7th

Gus Schumacher 17th

Hunter Wonders 22nd

Canyon Tobin 37th
U23 10/15k Classic
Women
Lydia Blanchet 30th

Lauren Jortberg 34th

Nicole Schneider 49th
Men
Ian Torchia 32nd

Bill Harmeyer 39th

Thomas O'Harra 43rd

Zak Ketterson 57th
About the author...

Caroline Brisbois is from Falcon Heights, MN and is in her fourth year at Northern Michigan University where she skis and runs cross country while studying Biology-Zoology and Environmental Studies. Caroline loves spending the summers ski training, running, mountain biking, rock climbing, and exploring everything in her reach from the shores of Lake Superior to the mountains of Alaska. She currently resides in Marquette, MI where she is finishing her last few classes to graduate this spring.