World Junior/U23 Championships: Skiathlon/Relays Recap
by Caroline Brisbois
February 3, 2018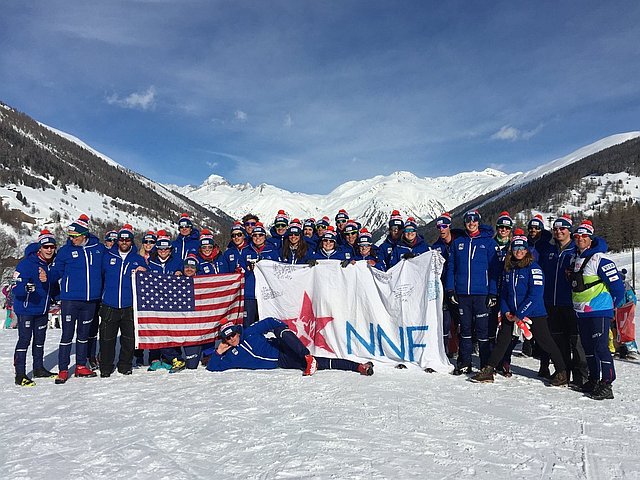 (Credit: Kim Rudd)
It was a historic week for the US at this years World Junior and U23 Championships in Goms, Switzerland. Races concluded with the junior and U23 skiathlon races Thursday and Friday, and the junior relays Saturday. Team USA is going home with 6 medals from 3 podiums, 2 from Hailey Swirbul, and 1 in the junior men's relay. This, along with many other outstanding results, made it the most successful WJC/U23 Championships to date for the US.
Skiathlon
In the junior women's skiathlon, Hailey Swirbul showed her silver medal on Tuesday was no fluke, racing to a bronze medal after 5k of classic and 5k of skate skiing. Swirbul had a strong race, pushing the pace and staying with the top women the whole way. In a tight finishing sprint, she was only 1 second out of silver to Lone Johansen of Norway. Sweden's Frida Karlsson had a dominating performance to earn the victory. Also racing for the US was Kat O'Connell, finishing in 20th for her best race of the championships, Molly Gellert in 40th, and Sofia Shomento in 58th. The junior men had great races in the 10k/10k skiathlon as well with Gus Schumacher in 15th, Ben Ogden 18th, Hunter Wonders 26th, and Karl Schulz 60th. Leading a Norwegian sweep, Harald Oestberg Amundsen took the win. Overall it was a successful day for the US juniors.
The U23 field has a large range of levels, from skiers at their first international competition to those racing to top 20 in the World Cup, and even some going onto the Olympics. This generates some very tough competition, and among such an experienced field, the American U23 athletes gave it their all and did a great job. In their challenging 7.5/7.5k and 15k/15k skiathlons, the top US results came from Lauren Jortberg in 29th for the women, and Ian Torchia in 27th for the men. Also racing for the US women were Lydia Blanchet in 38th and Nicole Schneider in 40th.
Athletes raced the classic and skate skiathlon segments on separate 2.5k loops. For the U23 races, as is done on the World Cup and Olympic levels, athletes are required to pull out of the race if they are lapped by the leaders. Unfortunately, on such a short course with world class athletes, a few of the US men were lapped and not allowed to finish their races. Thomas O'Harra and Zak Ketterson were moving strong in 44th and 47th position when they were forced to stop. O'Harra explained that this was very frustrating because he felt good and felt he would have kept moving up. Throughout our development, we are taught to never give up, so no skier wants to be told to stop even if they aren't feeling their best. It has been ingrained that it is important mentally to always finish a race. Despite the lap frustration, O'Harra and Ketterson were able to experience the pace of world class skiing and were happy to take away lessons from all the races.
Torchia described his skiathlon experience and take-aways from the week of racing:

Ian Torchia (Credit: Amy Schumacher)
"The race was hard and fast from the gun, a big difference from the US races as it was the pain cave from minute one. 3700 feet of climbing at 4500 feet altitude made for the hardest race of my life." Torchia went on to share a harrowing moment, rather humorously, "I crashed on the 3rd lap of the classic which took a bit of momentum away but luckily avoided my privates as the hole in my suit was a centimeter away from the important stuff!
"U23's has been an eye-opening experience with lots of lessons learned and I'm ready to take the lessons to the rest of the year and training!" said Torchia.
Anastasia Sedova won the U23 women's skiathlon in a Russian sweep, and teammate Denis Spitsov won the men's U23 skiathlon.
Relays
The final day of the championships brings every team together with the junior relays. Like the 4x400m race at the end of a track meet, everyone lines the course to cheer on their countries with pride and enthusiasm, sprinting back and forth between locations. Kat O'Connell, Hailey Swirbul, Molly Gellert, and Hannah Halvorsen made up the women's team, each skiing 3.3k. They pulled together 4 solid races to snag 8th place overall, only 20 seconds back from the podium and 5 seconds behind team Norway (7th). The team from Germany came in 1st place for the junior women.
Saturday was also time for the boys to make some history as Luke Jager, Ben Ogden, Hunter Wonders, and Gus Schumacher combined for a silver medal winning relay, claiming the first ever WJC medal for US men. Jager started out strong in his classic leg, hanging with the lead pack to tag off to Ogden. Still in contact, Ogden skied hard and tagged off to Wonders just 2 seconds behind France in 3rd. Wonders then skated well to maintain the team's position and tagged off to Schumacher. During the first 2.5k lap of the 2 lap, 5k course, Schumacher took advantage of the games the three lead skiers from France, Norway, and Russia were playing and caught up to the group from 30 seconds back. Schumacher held on as the pace picked up on the 2nd lap, while the skier from France dropped back so team USA had already secured a podium spot. In the final sprint, Schumacher took the corner well, setting himself up in position to pass the Russian skier and finish in second place, just 2 seconds back from the winning Norwegian team. He was instantly surrounded by his relay teammates, coaches, and the rest of the US athletes, who sprinted down to the stadium with excitement.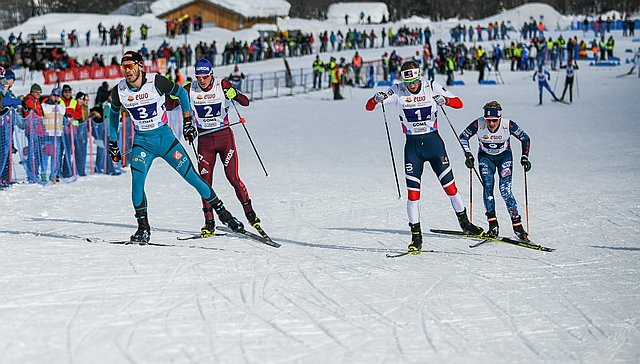 (Credit: WJSC/Staffel)
We caught up with Schumacher after the race:
"As I was catching the lead group I was just thinking that they were messing around and I could really get up there. Once I got with them I realized they were going really slow and I was really happy to get some rest. When I came in and the squad was there I was unbelievably stoked. Easily the best feeling I've ever had from a race. Everyone had amazing legs and we pulled it together and I couldn't be happier."
The athletes of Team USA are now travelling home and parting ways as they return to their home clubs and college teams. These skiers from around the country came together to represent America, forming bonds, friendships, and sharing experiences they will never forget, and will look back on with pride. They look forward to some rest and recovery, before they carry on with the rest of the season.


Midwest gang: Hannah Rudd, Ian Torchia, Nicole Schneider, Andrew Egger, Zak Ketterson (Credit: Hannah Rudd)
Results
Junior Women Skiathlon 5/5k
Hailey Swirbul 3rd

Kat O'Connell 20th

Molly Gellert 40th

Sofia Shomento 58th
Junior Men Skiathlon 10/10k
Gus Schumacher 15th

Ben Ogden 18th

Hunter Wonders 26th

Karl Schulz 60th
U23 Women Skiathlon 7.5/7.5k
Lauren Jortberg 29th

Lydia Blanchet 38th

Nicole Schneider 40th

Nichole Bathe (GBR) 43rd
U23 Men Skiathlon 15k/15k
Ian Torchia 27th

Thomas O'Harra 44th

Zak Ketterson 47th
Junior Women Relay 4x3.3k
8th Kat O'Connell, Hailey Swirbul, Molly Gellert, Hannah Halvorsen
Junior Men Relay 4x5k
2nd Luke Jager, Ben Ogden, Hunter Wonders, Gus Schumacher
All WJC/U23 Coverage
Video Replays of the Races
About the author...

Caroline Brisbois is from Falcon Heights, MN and is in her fourth year at Northern Michigan University where she skis and runs cross country while studying Biology-Zoology and Environmental Studies. Caroline loves spending the summers ski training, running, mountain biking, rock climbing, and exploring everything in her reach from the shores of Lake Superior to the mountains of Alaska. She currently resides in Marquette, MI where she is finishing her last few classes to graduate this spring.