Minnesota State Meet Preview
February 13, 2018
The 2018 Minnesota State High School Nordic Ski Championships, aka, the State Meet, is set for this Thursday, February 15th. In what has become a rarity, the weather looks to be almost average -- temps in the teens, which should provide some excellent racing, as well as good spectating conditions. They are no major changes in play this year as they will use the same freestyle and classic courses as previous seasons and the format and timing is unchanged. There are two important things to note though: a) waxing restrictions are in place, b) classic pole length restrictions will be enforced.

In addition to the usual maps, start lists and weather info at the bottom of this article, a couple of new features this year:
Individuals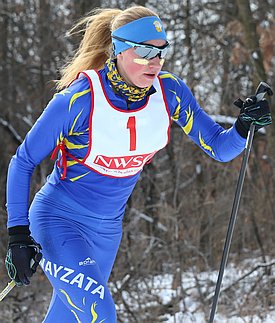 Mara McCollor, Section 6, February 5, 2018

Again this season there will be a very competitive field for the State Meet. Perhaps the one clear favorite appears to be Mara McCollor of Wayzata. McCollor has been consistently strong all season, including some incredible performances in JNQ/collegiate races (one in which she finished second only to Olympian and World Championship medalist Caitlin Gregg!). As long as she's healthy and has no equipment issues, McCollor will be the one everyone will be chasing on Thursday afternoon. After that, things tighten up significantly. Hannah Bettendorf, Proctor/Hermantown, looks to be one of the strongest contenders, but the lack of significant head-to-head data against most of the field makes it difficult to judge. However, Giants Ridge is a tough course and it's basically homefield for most of the northern kids. Regan Duffy, Forest Lake, Sarah Olson, Blaine, Triana Willmert, Edina, Luci Anderson, Robbinsdale-Armstrong, represent the core of skiers in the running for a podium spot, and you'll be hard pressed to sort them out. Anderson is an incredible skater but Duffy might be better rounded, Willmert might just turn some heads in her final high school race.
Girls Prediction: Mara McCollor, Wayzata, Hannan Betterdorf, Proctor/Hermanton, Regan Duffy, Forest Lake.

The boys field as a number of strong candidates this season, and leading the pack at this time is Anders Sonnesyn, Wayzata. Sonnesyn seems to have it dialed in the second half of the season and confirmed that at sections last week. But teammate Luc Golin hasn't quite hit on all cylinders in the last few weeks -- if he does on Thursday, he could move right back to the top of the field. In the hunt for a top three finish as well are Peter Moore, SPA, Garrett Beckrich, Grand Rapids, Alex Nemeth, St. Cloud Cathedral-Sartell, and James Schneider, Wayzata. Biathlete Beckrich has had some great racing experience overseas this season and could come out of the freestyle race with the lead. Moore has a huge engine and power to go with it, and has performed well under pressure in his elite junior cycling career. But don't be surprised if any of the skiers in our final ranking from sixth to tenth place also pop off a top three finish. It should be one whale of a finish Thursday afternoon!
Boys Prediction: Anders Sonnesyn, Wayzata, Garrett Beckrich, Grand Rapids, Peter Moore, SPA.

There are also a number of young skiers that are already making their mark. St. Paul Highland Park's Molly Moening, 8th grade, won her section and will be looking to improve significantly on her 41st place last season (besides being a younger sister to Erin Moening, last year's runner up). Margo Nightingale, MPA, is one powerhouse 7th grader qualifying as an individual and Forest Lake brings a 7th grader on their girls team in Jordan Parent.
Teams
There is no clear favorite in the girls field; it will truly take a team effort on Thursday to take the victory. Stillwater, Minneapolis Southwest, Forest Lake, Robbinsdale-Armstrong, Duluth East, Ely, and perhaps even the St. Paul Highland Park team could all be battling it out for the title (and Highland Park bears watching as they have one of the youngest squads -- they'll be back again and even better next season, bet on it). Stillwater gets the slight nod based on sections, but Duluth East and Ely haven't been matched up against the metro squads, and if anything, last season victory by Ely showed us the northern kids can compete, especially on the Ridge course. Expect the top three teams to be separated by perhaps as little as 10 points.
Girls Prediction: Stillwater, Duluth East, Forest Lake.
We've had the Wayzata boys top ranked all season, and at this point, they still appear to be the best team out there. After that, things get a lot tighter. Grand Rapids and Minneapolis Southwest both bring strong trios, but may lean on the fourth skier to decide that final podium spot. Forest Lake is just gritty tough at the State Meet, and the Ely boys will be looking for some respect. St. Paul Highland Park and Robbinsdale-Armstrong are underdogs that could break into that top five.
Boys Prediction: Wayzata, Minneapolis Southwest, Grand Rapids.
Another Take
St. Paul Highland Park's Eli Sage-Martinson has been working on his own "supercomputer" to crunch results and analyze performances in order to rank all the skiers at the State Meet.
Wrap
We'll close out our preview with some words from one our greatest State champions, and now one of the best in the world, Jessie Diggins, who wrote in a recent blog entry about how she will define her success at the Winter Olympics: "So for me, success at the Games will be decided in those moments after I cross the finish line; lungs burning, legs on fire, lactic acid making me want to throw up. When I'm lying in the snow, that's when I take my 10 seconds to think back on the race and decide if I had "success" or not – meaning, if I dug deeper than I thought possible, raced with courage, and held nothing back. If I can finish my races and know that I did that, I will have found success."
Coverage
As usual, we plan to provide same day coverage with photos (posting late Thursday night).
---
Related:
Biwabik Hourly Weather Graph
MSHSL State Meet Website
Minnesota State Meet Course Maps
MSHSL: State Meet Preview
Girls Start List
Boys Start List