Collegiate/Elite Racing: EISA, RMISA Regionals
by Caroline Brisbois
February 26, 2018
EISA Series
RIPTON, VT (February 23 - 24, 2018) - The EISA athletes competed in their final NCAA qualifying races at the Middlebury Carnival/NCAA Regionals at the Rikert Nordic Center. After a weekend of warm and minimal snow at the Williams Carnival, race organizers at Rikert worked hard to provide a full 5k course of raceable snow conditions despite the warm weather plaguing the east coast. Dartmouth College came out on top in the overall EISA team standings for the Middlebury Carnival, combining Nordic and alpine results.
Racing kicked off Friday with the individual start classic races. Katharine Ogden of Dartmouth College continued to show her end of season dominance winning the women's 5k by 14 seconds over Alayna Sonnesyn (Plymouth, MN) of University of Vermont in second. Margie Freed (Apple Valley, MN) also of University of Vermont finished 12th, while Renae Anderson (Golden Valley, MN) of Bowdoin College and Mattie Watts (New Brighton, MN) of University of Vermont finished 17th and 22nd respectively to round out the top 25 midwestern skiers.
On the men's side, Zane Fields of Colby College returned to the top of the podium winning the men's 10k classic with a 7 second margin over second. Luke Brown (St. Paul, MN) of Dartmouth College maintained his consistency finishing 5th place.
Brown reported on his race and the snow conditions, "I love racing at Middlebury. The course has lots of climbing with good recovery in between the hills so it is a fun course to think about strategy wise. They put together a course with solid conditions (they must have worked really hard on it Thursday night). It was still a bit sloppy and icy in spots given the warm weather. I felt smooth and strong for the classic race so was happy with that. My time back was about where I've been or a little better than past races." Brown is a senior competing in his last year of collegiate racing.
Also finishing in the top 25 from the Midwest was Scott Harrison (Minnetrista, MN) of Colby College in 21st and Jan Ketterson (Bloomington, MN) of Dartmouth College in 25th.
Another day of sloppy conditions made for tough distance racing in Saturday's skate mass start races. Katharine Ogden and Zane Fields swept the weekend, taking the wins in the women's 15k and men's 20k. This time Ogden skied into a commanding lead, finishing 35 seconds ahead of Alayna Sonnesyn, who finished another 22 seconds ahead of Lydia Blanchet of Dartmouth College in third, rounding out the same podium as the 5k classic. Margie Freed also raced to a top 10 finish, with 8th place. The EISA Midwest women had a strong showing in the mass start with Ingrid Thyr (Minneapolis, MN) of Williams College in 15th, Renae Anderson in 17th, Skylar Tupper (Minneapolis, MN) of Colby College in 18th and Ellie Hands (Stillwater, MN) of Bowdoin College in 24th.
In the men's 20k, Luke Brown fought for another top 10 spot and finished respectably in 7th. "The skate race was brutal!" Brown said, "Zane [Fields] took it out hard and gaps were made and then closed. I was happy with how I fought considering my energy and was able to take a couple places back on the last climb and descent which was thrilling."
Brown is one of 13 nordic skiers on the men's side to have qualified for the NCAA Championships, taking place in Steamboat Springs March 7-10th. "I'm super excited for Steamboat," said Brown, "I've never been there before so I'm just looking forward to the opportunity to race a new course and see how I can peak for the end of the season. One of my main excitements is seeing how we can do as a team. Should be fun." This will be Brown's second year competing at NCAAs, posting two top 15 finishes in last years championships.
Also finishing in the top 25 from the Midwest was Nick Gardner (Stillwater, MN) of Williams College in 14th, Christian Gostout (Rochester, MN) of Bowdoin College in 15th, and Jan Ketterson in 24th.
Gostout, who didn't qualify this year for NCAAs, has been on the up-and-up ever since he started skiing competitively on an impulse after getting inspired by the 2014 Sochi Olympics. He explained that he didn't start racing until his junior year of high school, where he gave his best shot at Junior Nationals for two years. Gostout credits his early improvement to Rochester coach Henry Walker, and his continued improvement to the racing scene and overall higher levels of competition to the EISA. While he is still learning the finer points of classic, he has become competitive in skating, finishing his season with a 15th in the 20k skate on Saturday at the Rikert Nordic Center.
EISA Midwest athletes who qualified to compete in the NCAA Championships next week include Luke Brown, Alayna Sonnesyn, Margie Freed, and Renae Anderson. After two podiums in last year's NCAAs and a stellar carnival season, look for Sonnesyn to be very competitive in Steamboat Springs.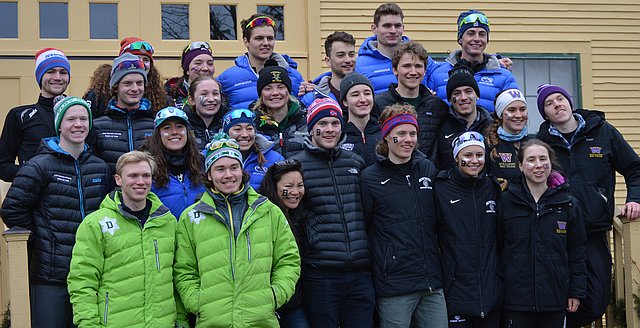 Midwest racers from the EISA division, February 24, 2018 (Photo: Linda Kerker)
Results:
Photos:
---
RMISA Series
STEAMBOAT SPRINGS, CO (February 24 - 25, 2018) - The RMISA race season also concluded this weekend with NCAA Regionals at the Howelsen Hill Nordic Center. With the NCAA Championships taking place at the same venue, the skiers of the western region got the advantage of racing the championship course before the final test against top athletes from all regions. The venue is at a high elevation (over 6,600 feet) creating an additional challenge, especially for those athletes coming from sea level. In a close team competition, University of Utah was first overall in the Nordic rankings and Denver claimed the overall Nordic and alpine combined team championship.
Guro Jordheim (Norway) of University of Utah was the queen of the weekend, finishing first in both the 5k classic and 15k skate. Completing the podium of the women's 5k was Leah Lange (Park City, UT) of University of Utah with a break-out performance for second and Anne Siri Lervik (Norway) of University of Colorado Boulder in third.
The RMISA Midwest women competed well in the 5k as well, with Hannah Rudd (Plymouth, MN) of University of Alaska Anchorage finishing 26th, Anja Maijala (Wrenshall, MN) of University of Alaska Fairbanks 28th, and Carolyn Lucca (Duluth, MN) of University of New Mexico 30th.
Maijala is in her first year of collegiate racing and has had a great experience so far. "I kind of came into this racing season with low expectation because I had heard how extremely competitive it was, and I'm thankful I did that," Maijala reflects, "It's just been really eye opening to even have the opportunity to race against such incredible skiers, and I definitely feel it has helped me improve. College skiing is totally different than anything I experienced in high school so it's definitely been a learning experience. My teammates and coaches at [University of Alaska Fairbanks] having been amazing in helping my transition to college skiing go smoothly and have made me love skiing even more! I'm really looking forward to next season to see how a full year of Nordic training and racing in the RMISA will benefit me."
In the men's 10k classic, Dag Frode Trolleboe (Norway) and Eivind Kvaale (Norway) from University of Denver went one-two, with Martin Bergstrom (Sweden) of University of Utah finishing third. Logan Diekmann (Bozeman, MT) of University of Utah was the first American in 8th.
In a sprint finish in the 15k skate mass start, Jordheim outlasted Linn Eriksen (Norway) of University of Denver, Anne Siri Lervik, and Hailey Swirbul (Aspen, CO) of University of Alaska Anchorage who finished second, third, and fourth, respectively. Carolyn Lucca had a great result, finishing 17th in the competitive western region. Anja Maijala and Hannah Rudd finished 25th and 26th to complete their regionals weekend.
We caught up with Lucca to get a rundown of her race: "The skate race was awesome. It was a sunny blue-bird day and there was fresh powder from the night before. Our team had wicked fast skis and the course was a perfect mixture of climbing and fast downhills," Lucca explained, "I was in a pack of four skiers for most of the race and I was pretty pumped about winning the sprint to the finish (which doesn't happen very often)."
Lucca recently moved from Michigan Tech University, in Houghton, MI, to University of New Mexico, in Albuquerque, NM to ski her final year of eligibility while pursuing a Master's program there. So far, she is loving it: "Overall, I'm really happy with my decision to try something new in graduate school… I quickly learned that the competition in RMISA is so tough that a slightly-off day will result in last place. I used to be scared of all the teams from the West, but at the end of the day, we are all just trying to balance school and skiing. I've met some super cool people from all over the world, and couldn't have asked for a better collegiate skiing experience."
Lucca qualified for this years NCAA Championships as the lone RMISA Midwest skier. She competed for Michigan Tech at last year's NCAA championships in Jackson, NH and looks to improve her results this year with more experience.
There was another foreign sweep in the men's 20k skate mass start, with Eivind Kvaale, Hakon Hjelstuen (Norway) of University of Utah, and Alvar Alev (Estonia) of University of Colorado Boulder making up the podium in a tight sprint finish. Lars Hannah (Steamboat Springs, CO) of University of Denver finished 5th as the first american.
Results:
About the author...

Caroline Brisbois is from Falcon Heights, MN and is in her fourth year at Northern Michigan University where she skis and runs cross country while studying Biology-Zoology and Environmental Studies. Caroline loves spending the summers ski training, running, mountain biking, rock climbing, and exploring everything in her reach from the shores of Lake Superior to the mountains of Alaska. She currently resides in Marquette, MI where she is finishing her last few classes to graduate this spring.