Junior Nationals Preview
March 3, 2018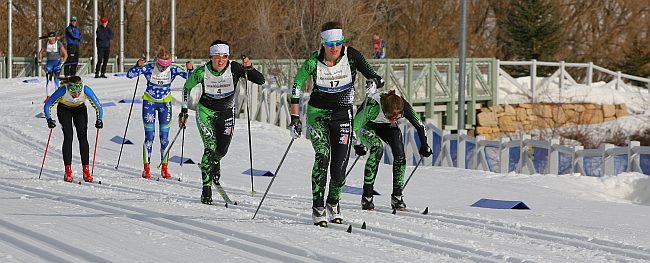 Strong OJ girls field for Midwest, Junior Nationals, March 5, 2012
Junior Nationals returns to Soldier Hollow this year, home to the 2002 Winter Olympics, as well as the 2012 Junior Nationals. The snow season has been a little rough for the region, but organizers have been able to manufacture enough snow to create some courses for the races. Racing action starts on Tuesday with racing four of the next five days, wrapping up on Saturday with the relay events.
There are a few major non-race changes this year with Junior Nationals: In order to save some expenses for the athletes/teams, it was decided by coaches and divisional representatives at the Spring Congress last May to eliminate some of the traditional Junior Nationals activities. In particular, the opening ceremonies, mid-week awards, and closing awards dance will not be held this year. Part of the reasoning behind this decision is to allow teams to arrive a day later (no opening ceremony), and avoid some reported inappropriate behavior (closing awards dance). [ If you'd like to supply some feedback on these changes, contact Chris Harvey at: harvey@loppet.org ]
Schedule
Tuesday, Mar 6th: 5K, 10K Classic (interval start)
Wednesday, Mar 7th: Freestyle Sprints
Friday, Mar 9th: 5K, 10K, 15K Freestyle (mass start)
Saturday, Mar 10th: 3 x 3K Classic Relay, Banquet/Award Ceremony
Team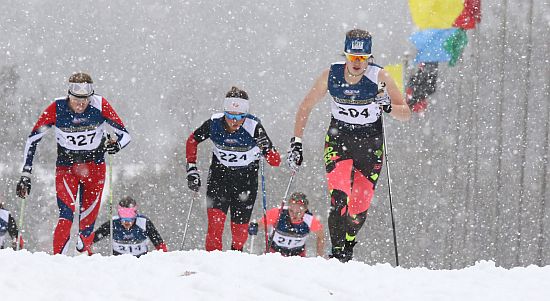 Abby Jarzin leading out one of the sprint heats, in a brief snowsquall, Junior Nationals, March 8, 2017
The Midwest brings another strong squad to Junior Nationals, with some real potential for podium placements. In the U16 division, Cooper Lennox, Libby Tuttle, and rising star Amela Hauer could lead the Midwest field. The U18 field is very deep with Anders Sonnesyn, Peter Moore, James Schneider, Alex Nemeth and Jackson Alder some of the best of the boys (and perhaps a great relay squad), and for the girls with Mara McCollor (MN State Champ), Abby Jarzin, Kelly Koch, and Luci Anderson are just some of the top performers. The U20 field typically has a number of collegiate athletes that just missed making NCAAs in their first or second year. Foss Kerker, Xavier Mansfield, Patrick Acton, and Luc Golin for the men and Anja Maijala, Erin Moening for the women, are some of the U20 favorites.
In addition, there are a couple of Midwest kids who will be competing for other teams this year: Dottie Anderson qualified for Mid-Atlantic and Gabe Pfeiffer will be competing for Great Lakes.
View the full Junior National field
Resources
Daily Coverage
With support from a number of parents, and underwriting from CXC, we plan to be on-site the full week providing hopefully same day coverage on the events. (If you'd like to lend your support to this type of event coverage, please take a look at our fundraising page)