NCAA Championships Classic Recap
by Mary Kozloski
March 8, 2018
STEAMBOAT SPRINGS, Colorado - Competing at the coveted NCAA Championships is where all of the training, dedication and hard work throughout the season pays off. The athletes will compete in two races, a 5/10k individual classic on Thursday and a 15/20k freestyle on Saturday. Races will take place on the Howelsen Hill trails which sit at 6,732 feet above sea level and can be an added challenge to the already intense competition. In addition, racers were greeted with a warm, sunny and beautiful Colorado day on Thursday, which was not necessarily ideal for classic racing. In the women's 5k, Katharine Ogden (Landgrove, VT) of Dartmouth ruled the women's competition winning by 47 seconds. Ogden, who is a freshman, has had an awesome season dominating the EISA region. In the men's 10k classic, Martin Bergstroem (Piteå, Sweden) of University of Utah skied to a convincing first place finish 14.5 seconds ahead. Bergstroem has had an impressive eight podium finishes this season in the RMISA region. There are several Midwest natives competing at the 2018 NCAA Championships including: Vivian Hett (Burnsville, MN) of Northern Michigan University, Alayna Sonnesyn (Plymouth, MN) of University of Vermont, Nicole Schneider (Plymouth, MN) of NMU, Kristen Bourne (Lake Elmo, MN) of NMU, Sarah Goble (Harbor Springs, MI) of Michigan Tech University, Margie Freed (Apple Valley, MN) of University of Vermont, Renae Anderson (Golden Valley, MN) of Bowdoin College, Carolyn Lucca (Duluth, MN), Amanda Kautzer (Plymouth, MN) of MTU, Ian Torchia (Rochester, MN) of Northern Michigan University, Zak Ketterson (Bloomington, MN) of NMU, Luke Brown (Minneapolis, MN) of Dartmouth, Tom Bye (Eden Prairie, MN) and Reid Goble (Harbor Springs, MI) of MTU.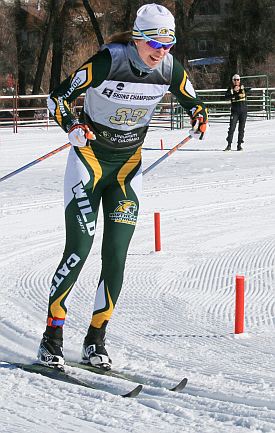 Vivian Hett, NCAA Championships, March 8, 2018 (Photo: Jackie Schneider)

Competition kicked off Thursday with the women's 5k individual classic race. Katharine Ogden was 32nd out of the start gate, with many athletes to chase throughout the course. Ogden did not let off the gas pedal until the finish line. Ogden finished with a commanding lead, 47 seconds ahead of Anne Siri Lervik (Asker, Norway) of University of Colorado and Hailey Swirbul (El Jebel, CO) of University of Alaska Anchorage who was third. Vivian Hett of NMU led the Midwest native women grabbing an impressive 10th place finish, which also landed her with an All-American title. Hett was also the sixth American overall. Hett has been nearly undefeated in the 5k classic races for the CCSA region and showed her speed once again in the NCAA race.

"The classic race today was awesome," said Hett. "Due to the almost 7000ft of altitude, I attempted to maintain a steady pace throughout the first 2km. After the 2km mark, I began pushing the pace and was just trying to ski big, long strides. After the high point at 3.5km, the course descends down into the finish. By this point I was giving it everything I had because I knew I was on the bubble of All-American. Fortunately, the rising temperatures held off for the women's race in the morning so we were actually able to ski on hardwax - which was sweet!

Alayna Sonnesyn of UVM was the second Midwest native who finished in 15th, Nicole Schneider of NMU was 20th, Kelsey Dickinson (Winthrop, WA) of College of St. Scholastica 27th, Kristen Bourne of NMU 30th, Sarah Goble of MTU 31st, Margie Freed of UVM 33rd, Renae Anderson of Bowdoin College 34th, Carolyn Lucca of UNM 38th and Amanda Kautzer of MTU 39th.

"Overall, I'm very happy with my race today and looking forward to Saturday's race -- my last NCAA race as a wildcat! Also stoked for my fellow wildcat teammates as well today!", said Hett.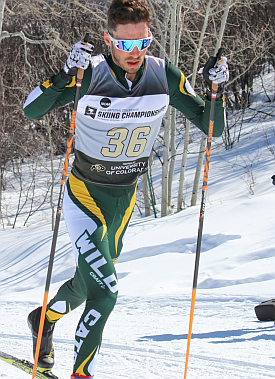 Ian Torchia, NCAA Championships, March 8, 2018 (Photo: Jackie Schneider)

The men's 10k classic wrapped up the first day of races at the 2018 NCAA Championships. Martin Bergstroem of UU started 38th and finished number one. Bergstroem finished with a time of 27:37.1, 14.5 seconds ahead of Petter Reistad (Baerum, Norway) of CU and Dag Frode Trolleboe (Oslo, Norway) of University of Denver who finished third. Berstroem and Reistad amazingly managed to double poled the entire race and while there appears to have been some hints at technique issues, the results are official. Torchia of NMU snagged a spot in the top five finishing fifth overall and an All-American title. Torchia was also the first American overall. Luke Brown of Dartmouth finished 9th, Kjetil Baanerud (Oslo, Norway) of NMU rounded out the top ten finishing 10th, Gaspard Cuenot (Le Cerneux-Pequignot, Switzerland) of MTU was 21st, Lars Soensterud (Oslo, Norway) of NMU was 28th Tom Bye of MTU was 37th and Reid Goble of MTU was 40th. Ketterson was slated to compete for NMU but was struck with an unfortunate case of food poisoning, forcing him to sit out of the races (allowing teammate Lars Soensterud to compete).

"I felt I executed the first lap well but going into the second lap I lost a decent amount of kick with the warming temperatures and jumped on the struggle-bus for the ride in," explained Torchia. There was a long appeal after the race about some skating shenanigans with the top two guys double poling, but the results stayed the same. I am focused on Saturday's skate 20k and starting in Bib 1!"

Racers get one day of rest before the final day of competition for the 2018 NCAA Championships takes place on Saturday with a 15/20k freestyle mass start.
About the author...

Mary Kozloski is from Green Bay, WI and is a UW Green Bay Ski Team Alumni, where she skied and studied Communications and Business Administration for four years. Mary continues to love and stay connected to the sport through writing. She is a travel and outdoor enthusiast and enjoys exploring everything Colorado has to offer, which she has called her new home state since fall of 2016.