Junior Nationals Coverage
March 12, 2018
A summary of the Skinnyski coverage from the 2018 Junior Nationals at Soldier Hollow in Midway, Utah.
Junior Nationals Trip
March 4, 2018
We'll be posting non-racing photos from Junior Nationals throughout the week.
Related:
Photoset:

Trip Photos
Junior Nationals Classic Coverage
March 6, 2018
Junior Nationals racing at Soldier Hollow in Utah fired up Tuesday morning with individual start classic races. Crisp temperatures overnight followed by a bright, sunny day provided a fast, firm course for the opening races, slowing down a little by the time the boys U18/20 field rolled out in the afternoon. Libby Tuttle scored the first Midwest podium, taking third in the U16 division. Other top 20 results on the day: Lauren McCollor, 20th, FU16; Mara McCollor, 15th, FU18, Kelly Koch, 18th, FU18, Luci Anderson, 19th, FU18; Erin Moening, 5th, FU20, Anja Maijala, 6th, FU20, Samantha Benzing, 19th, FU20; Victor Sparks, 13th, MU16, Cooper Lennox, 18th, MU16; Peter Moore, 20th, MU18; Xavier Mansfield, 7th, MU20, Patrick Acton, 11th , MU20, Mark Ousdigian, 19th. Results linked in, plus Midwest and Great Lakes photosets.
Junior Nationals Freestyle Sprints Coverage
March 7, 2018
A stronger showing for the Midwest team on Wednesday in the freestyle sprint races. Luci Anderson had the top result, narrowly missing the podium in the girls U18 final to finish 4th. Torsten Brikema, U20, and Anders Sonnesyn, U18, made their respective finals, both finishing 5th. Anja Maijala, U20, also made the finals, finishing 6th. Other Midwest skiers making the B finals: Libby Tuttle, FU16; Foss Kerker, MU20; Peter Moore, MU18; Erin Moening, Samantha Benzing, FU20; Kelly Koch, Leah Rudd, Sarah Olson, FU18. Results linked in, along with photosets from qualifiers and heats.
Junior Nationals Date Ski Day Coverage
March 8, 2018
Part of the Midwest Junior Nationals tradition is a fun "date ski" event where juniors dress up crazy and ski with someone they might not know that well. This year, with the terrain park like features on the Soldier Hollow course, a lot of skiers also took a few shots to catch some air.
Related:
Photoset:

Date Ski - 102 photos,

Big Air - 128 photos
Photoset:

Top Picks (high res) - Date Ski,

Top Picks (high res) - Big Air
Photoset from Kim Rudd:

Date Ski
Junior Nationals Freestyle Coverage
March 9, 2018
A fantastic day for the Midwest squad on Friday as they overcame some brutal conditions to place skiers on four of the six podiums and scored numerous of top 20 finishes in the freestyle mass start races at Junior Nationals. The top performance on the day was Anja Maijala breaking away with teammate Erin Moening by the midpoint of the race and going on to be crowned the National 10K U20 champion, with Moening taking third! Every bit exciting, the U18 girls race saw Mara McCollor take the race by the horns from the opening gun, eventually joined by Luci Anderson, they finished third and second respectively. Xavier Mansfield podium action going in the opening race, the boys U20 15K, where Mansfield and Patrick Acton skied with the lead pack, finishing third and fourth. As the temperatures skyrocketed into the 50s, Cooper Lennox survived the U16 slog through two 2.5K laps to take second. In the two races the Midwest did not podium, they came very close: Libby Tuttle was 4th in the girls U16, and Anders Sonnesyn notched 9th in the boys U18. Results linked in, big photosets (split into individual races) posted.
Junior Nationals Relays Coverage
March 10, 2018
Junior Nationals competition wrapped up on Saturday with 3x3K classic relay races at Soldier Hollow in Midway, Utah. The Midwest had top ten results in the boys U20 (7th, 10th) and girls U20 (7th) races with the best result coming in the girls U18 race as the trio of Kelly Koch, Mara McCollor and Luci Anderson finished 5th. Results linked in, photosets from all six relays posted.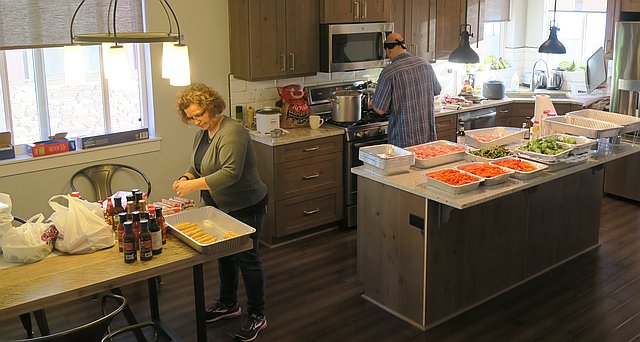 The cooks, Pete and Dollie Zweig, prepared some incredible meals for the team. They've been kind enough to share a couple recipes of team favorite foods, and a few fun numbers from the week.

Cranberry Almond Wild Rice Porridge
(Based on this original recipe)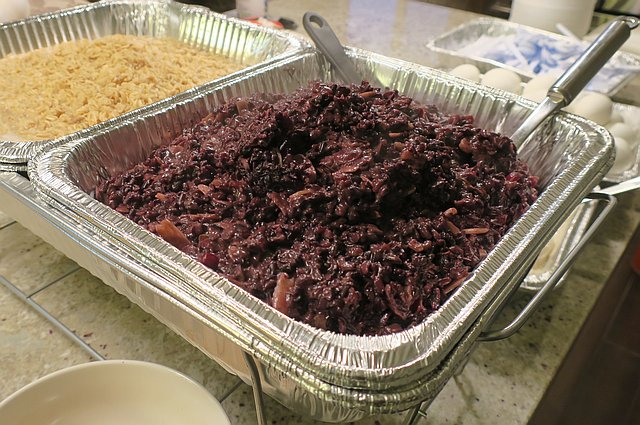 Ingredients
3.5 cups unsweetened vanilla almond milk (or any non-dairy milk)
1/4 cup maple syrup
1/2 teaspoon almond extract
1/2 teaspoon vanilla extract
2 1/2 tablespoons corn starch
4 cups cooked wild rice
1/2 cup dried cranberries (plus more for topping)
1/2 cup sliced almonds
Instructions
In a large saucepan over medium heat, whisk together the almond milk, maple syrup, almond and vanilla extracts.
Once the mixture is heated, whisk in the corn starch. Bring the mixture to a boil and then to a simmer while continuously whisking for 4-5 minutes until the mixture thickens a bit.
Add in the wild rice, dried cranberries, and sliced almonds. Stir until combined and heated through.
Also:
Recipe: Mexican Quinoa
Stats
Amounts of food consumed during the week:
450 hard boiled eggs

50 lbs of oatmeal

35.5 lbs of salmon

14 gallons of milk

20 lbs of rice
And for those who made it out to the hot springs just outside of town, Pete reports "Using a meat thermometer, temperatures at the hot springs were: Upper spring 119F, lower at walk-in 115F and past rocks 110F."


Finally, thanks for all the individuals that helped support the trip with their financial contribution, as well as major support from CXC, and the Midwest Junior National team.
---
Related:
Junior Nationals Preview