Borah Epic, two-months until race day, registration filling fast!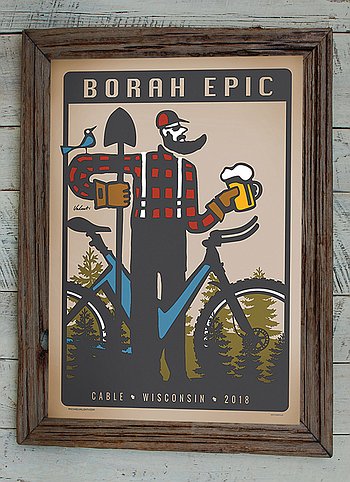 Coon Valley, WI. While the recent snowstorm blanketed the Midwest, race organizers at the Borah Epic are crossing the two-month to-go mark for the annual single track challenge through the Wisconsin northwoods.
In addition to fast climbing registrations for the Saturday, June 9th event that runs from Cable to Hayward, Wisconsin, a new apparel collection has just debuted as a support arm for the CAMBA trails fundraising effort.
For 2018, in a collaboration with renowned artist, Michael Valenti, the race theme strikes quintessential northwoods style. Elements from the theme include bikes, beer, flannel and of course, trail stewardship. Poster prints are also available for purchase and will make a great story for your cabin or home decor. Pre-order now through Sunday, May 13th.
See more and register today at www.borahepic.com.
About the Epic
The Borah Epic, founded in 2013, has raised over $72,000 to benefit CAMBA, otherwise known as the Chequamegon Area Mountain Bike Association. The point-to-point, single track challenge runs from Cable to Hayward, Wisconsin annually, with a registration cap of 750 riders.
CAMBA has built and continues to maintain over 100 miles of pristine singletrack trail, throughout northwest Wisconsin, a place where outdoor endurance athletes flock year-round for premium recreation, exercise and events.