Midwest MTB Report: Season Kickoff
by Jay Richards
May 8, 2018
Mountain bike season is here! After what felt like an endless winter (no complaints here as it extended an incredible ski and fat bike season a few more weeks), the snow has melted off, frost has quickly exited the soil and trails are drying up. Gravel events have taken center stage but now folks are hitting the dirt of the twisty kind, whether on a new bike, the reliable favorite with some upgrades, and chatter on events and bucket list rides all kicking off what looks to be another great season. Wintry weather not only delayed the trail riding but postponed a few races including the opening races in the Minnesota Mountain Bike Series, the Woolly which has been rescheduled to later this month and the Iola Bump and Jump in the Wisconsin Off Road Series which will now kick off this coming weekend. The opening report for this season takes a look at a few happenings in the mountain bike world, a few key events and a special report from mountain bike ambassador Kyia Anderson who has already started leading skills clinics which looks to be a busier than ever summer for skill development options.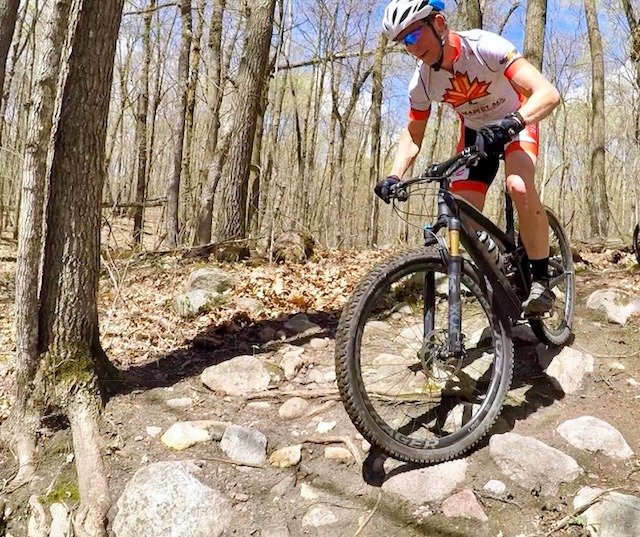 (Photo: Ben Olson on a early season ride at Maplelag)
CAMBA Promo
Chequamegon Area Mountain Bike Association is gearing up for another big season of events, rides, trail building and mountain biking advocacy. One new way they are promoting from their platform is through a video series. Ron Bergin reports, "CAMBA has been working on a video series to better promote our area and trails. Not a BC bike porn kind of thing, but nice imagery and cinematically produced."
The first big event to kick off in CAMBA land is the Mt Borah Epic on June 9th.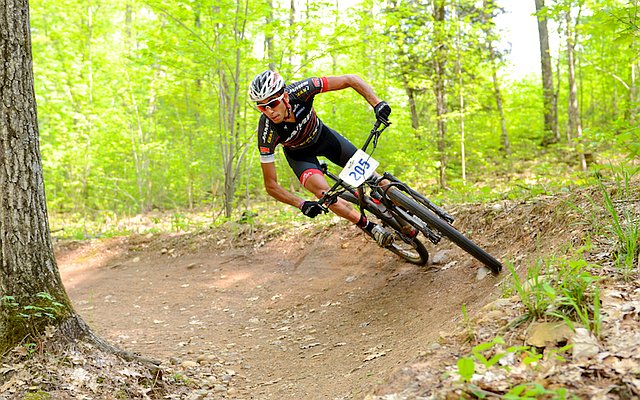 (Photo: Rotem Ishay railing a berm, Mt Borah Epic 2014, Credit: Mt Borah)
Trail Expansion on the Range
The Iron Range Resources and Rehabilitation Board voted earlier this spring to spend nearly $5 million to kick-start development of 92 miles of mountain bike trails across three mining communities in northern Minnesota. It's always great to see new trail development, and the comments at the end of this article do raise interesting questions on the economics with both sides making case.
Building Skills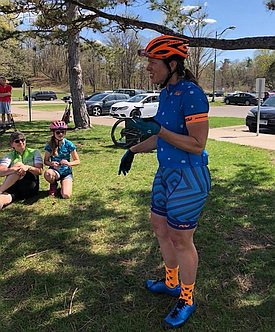 A busy summer of skills clinics already kicked off this past weekend as Kyia Anderson led a skills clinic in conjunction of the Loppet programming. Kyia reports:
I had the opportunity to help out with the LNR's Girls Mountain Bike Clinic this past Sunday at Theo Wirth. I had so much fun helping the younger girls and their mom's gain confidence while riding in the "Skills" section! It was fun to connect with the younger girls and help them get to feel a little more confident on their bikes. Everyone was willing to give the various obstacles a try after we built up their confidence through various drills and obstacles. It's always a pleasure to participate in these clinics and it's very rewarding to see the girls attempt the small challenges and even better when they have success and want to do the skills over and over! Thank you Kim Rudd with LNR for the invite to speak in front of the girls and share my love of mountain biking with them!
(Photo: Kyia Anderson sharing dirt knowledge, Credit: Kim Rudd)
Related:
Loppet: Trail Kids MTB Program Expands
Buck Hill Mountain Bike Camp
Spirit Mountain Bike Camps
Hard Enduro
Max Fierek, who has promoted an enduro/downhill event on his personal trails (the Hidden Gem), is now stepping it up a big notch, putting on what looks like one sweet event in the Duluth area -- the Duluth Hard Enduro. Personally Enduro has been a super fun avenue the past few years, mostly gravity but a little bit of climbing. Although the hard core downhillers balk at any climbing, personally true Enduro has a good blend of climbing and downhilling of course to keep riders honest. Max explains the details on the Hard Enduro, "This is a big mountain style all day epic Enduro race across the city of Duluth hitting all of the raddest trails from fast and flowing to rocky techy gnar! We want to both crown the best riders around and show off all the incredible mountain biking Duluth has to offer.

(Photo: Enduro action in Duluth, June 22nd, 2017, Credit: Pete Stone)
"MFE is investing in a professional timing system this year. For your race registration you will receive a day of the most bad ass racing you have ever done in the midwest, access to aid stations, access to professional media after the event, 2 uplifts for the final two stages at Spirit and accurate timing with our NEW SPORTIdent timing system!
"There will be around 10 times stages across the city on our favorite trails. Racers must stick together in a group throughout the day. There will be a stocked Aid station about half way with snacks, water, Etc. As well as another hydration station at the top of Keene's Creek and water fill opportunities at Spirit Mountain. The Aid stations are to AID you, not supply you so pack sufficient food and water for the day!
"In an effort to make this a true enduro the stages are not being released until the night before (Friday Jun 8) so you can practice what you think the stages may be but no one will really know what they are. HINT: Think rad descents"
Related:
Duluth Enduro Series Facebook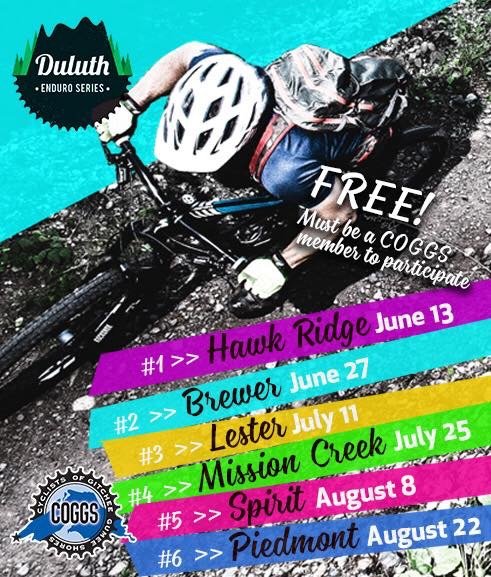 Thursday Night at Buck
The Buck Hill Thursday night races resume for it's 27th season kicking off this week, May 10th. MN Bike Trail Navigator did a nice post highlighting the unique and special features of the popular mid week race and mountain bike community gathering. True to form, the Sandbergs were sandboxing on the Hill fine tuning for the season.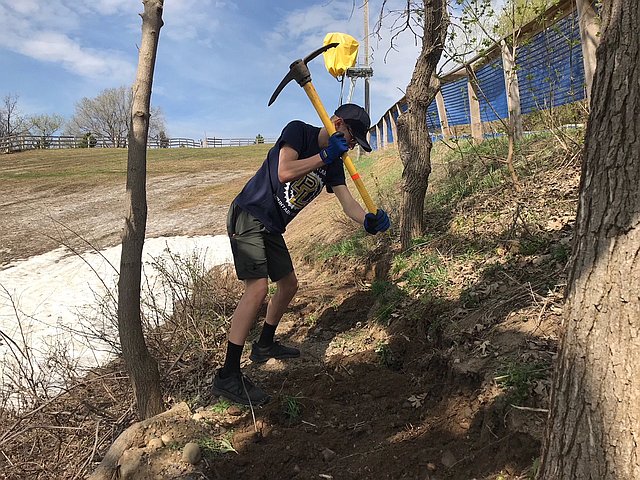 (Photo: Sandbox Jr. tweaking trail at Buck Hill)
Minnesota Mountain Bike Series (MNMBS)
The MNMBS will kick off this year in Wisconsin once again, hitting up the popular Woolly Mountain Bike trail system promoted by the energetic Woolly Bike Club. A big change for the 2018 MNMBS is that all racers will be part of the overall points tracking/standings for the entire season. In years past, racers had the option of paying to be part of the "Series," or just racing in individual races (no tracking of points / overall standings/overall awards). For 2018, the MNMBS has become more inclusive; all racers at all events are part of the Series. More info on the website. Most of the races have remained the same, a bit of change in the sequence but one new race added for this year where racers will hit the trails of Theodore Wirth for a urban mountain bike experience. The final race in the series will be held at Maplelag, with the cross country on Saturday and exciting short track racing on Sunday. Stay tuned for possible 2 stage Enduro event on Sunday morning!

(Photos: Elbows out! Short track racing at Maplelag 2017)
Wisconsin Off Road Series (WORS)
WORS enters its 24th year of series racing and remains the largest cross country series in the country. Don Edberg has been at the helm for all those years and the series is focused on entertaining not only the seasoned hard core racer type but first time riders, families and everyone and anyone looking to improve their well being.
The Iola Bump and Jump kicks off the WORS with fast racing at this popular Nordic venue. Like the MNMBS, the WORS delayed the start of their series after nearly 30" of snow fell at Iola, site of the Bump and Jump. The snow has melted and the course has dried out and was riding well last weekend. The WORS will feature 10 races this season, ending up in August at Lake Geneva, unlike other years when the final race would be held in October. High school racing definitely having an impact on the citizen mountain bike series in both Minnesota and Wisconsin.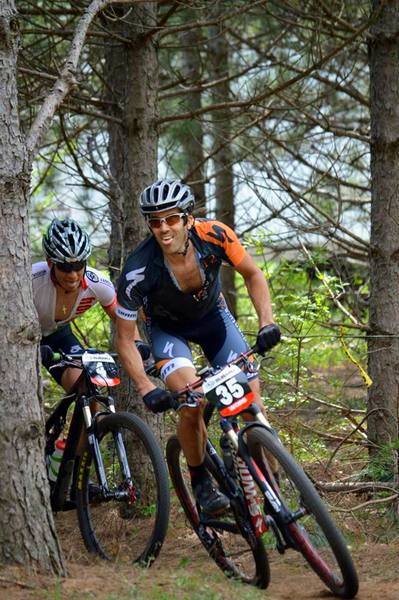 (Photo: Tongues out! Fast course, fast racing at Iola)
Here is to a great season of racing, riding, new trails and mountain bike fun!
Keep the Wheels Moving!
About the author...

Jay Richards maintains a very active lifestyle. He somehow finds time between managing a full-time resort (Maplelag) and bringing up a family of four boys with his wife Jonell, to compete in both mountain bike and a few cross-country ski races. Jay rides for Maplelag Resort, manages the Maplelag mountain bike team and enters his 28th year of racing and promoting mountain bike races.

Have an event or mountain bike related information to share from the Midwest? Feel free to contact Jay at