Midwest MTB Report
May 15, 2018
The Midwest mountain bike race season kicked off this past week and weekend with the opening race in the Thursday night at Buck Hill race series and also the Wisconsin Off Road Series (WORS) This weeks report includes recaps from both of these events, a report from riding in the Paul Bunyan State Forest land and the look ahead to the racing this weekend.
Iola Bump and Jump WORS Opener
The Iola Winter Sports Complex was host to the opening race in WORS, the Iola Bump and Jump, after just a few weeks before race day, folks were skiing. With the late winter the decision was made to reschedule. The decision was well received as it allowed folks to get in a few more weeks of training. Come race day, conditions were about as good as they could be and the race season kicked off.
Minnesota elite riders and father sun duo John and Calvin Sandberg, made the trek east to Wisconsin and John files a report:
My son Calvin and I hit the road to Iola, Wis., for the opening round of the 2018 WORS race series. Cal is looking to change up his schedule just a bit this year by trying a few different events. Iola/WORS proved to be a perfect choice.
To be very honest, I wasn't too pumped for the event prior to race morning. I'd heard the course was a combination of fast XC ski trail mixed with easy singletrack, the former of which isn't much fun for me. I actually tried to get Cal to reconsider attending, but no luck.
I'm SO pumped we went! The course turned out to be fantastic and fun. Yes, there's some XC ski trail, but not much (I'm guessing about 1 mile total per lap). Yes the singletrack is technically easy, but it was fun/fast that flowed really well and included several interesting sections.
We both competed in the Elite race. According to Cal, he was floated between 10th-15th for the first lap or so and then settled back a bit before finishing 16th. I started towards the back and had some fun battles with a handful of guys and plopped down in 27th. Two other Minnesota racers were smoking-fast in our class. Ethan Depman nailed 12th place and our Penn Cycle teammate Brendan Bellew wound it up to 5th Plus Minnesota's Anna Christian absolutely crushed it to win the Women's Elite class!
It's been close to 20 years since I last competed in a WORS race and the Iola experience brought back some familiar memories: the WORS racers are fast; the courses are fast; there are a lot of racers; and our entry fee got us a ticket for a post-race meal! Just like I remember from the late 1990s. With temps in the low 70s and blue skies, it was a perfect way to start our season of weekend races.
Big thanks to the WORS people for providing a great experience for us. We'll be back there soon. Cole House took the win, followed by Peter Karinen, Caleb Swartz, Ben Senkerik and fellow Minnesota rider Brendan Bellew rounding out the podium.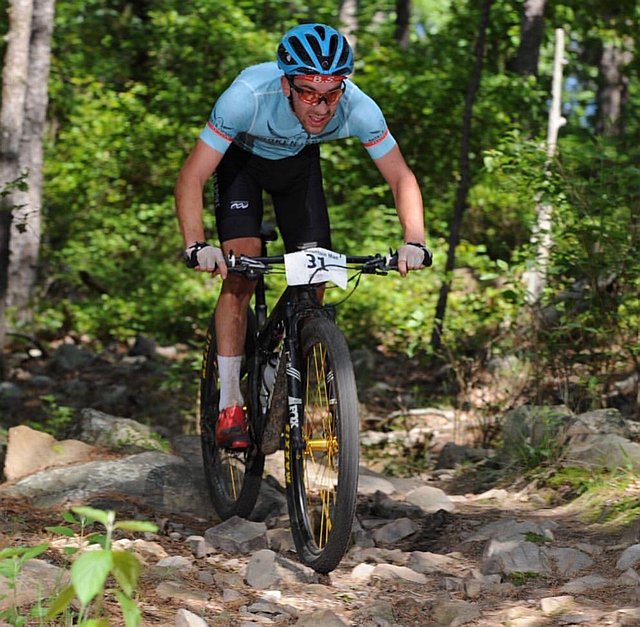 (Photo: Peter Karinen cruising to a second place finish, Credit: WORS)
The women's elite field also saw Minnesota riders entering the field as Minneapolis rider Anna Christian took a convincing win, riding form from early season road racing in Europe and PRO XCT mountain bike races in California. Christian topped Madison riders Caitlin Neuman and Katrina Hurst. Lauren Lackman and Leia Schneeberger rounded off the podium.
Thursday Night at Buck
The popular Thursday night mountain bike race series at Buck Hill in Burnsville, MN. kicked off last week under beautiful spring conditions that brought out a huge turnout. Coming off a fantastic Snocross season where he won the overall ISOC National Snocross championship, Tucker Hibbert got back to racing, this time on a mountain bike and shared his experience racing in this fun event for all ages, abilities and categories:
Mountain bike season is here! Even though I'm a snow guy, it always feels good when spring shows up and I get a chance to switch gears.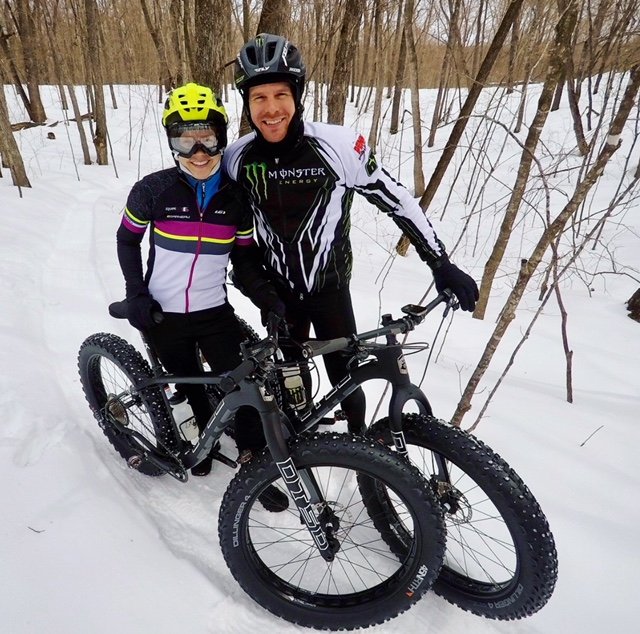 (Photo: Tucker and wife Mandi fat biking at Maplelag, April 8th, 2018)
It's been a long-running joke between myself and my mountain bike buddies that I'm going to race every Thursday night Buck Hill race of the summer. I always have good intentions but have never come close to doing all the races. I made it to the first one this summer so I'd say I'm off to a solid start for 2018!
The Penn Cycle team puts a lot of effort into making mountain bike races happen at Buck Hill. From planning with the ski hill crew to maintenance sessions on the trails (which got pushed late this year because of the lingering now) to setting the course each week, there's some serious manpower that goes into the Thursday night races. Anyone who's worked on trails knows they don't maintain themselves and need attention to stay race ready. The late snow did give us a gift in the form of perfect moisture on the trails. It was a little soft in a couple spots but mostly perfectly tacky. Add cool temps and it really was the perfect night for racing.
I've always been a fan of the single track at Buck and although I hate it when I'm doing it, the climbing is good for me. It never ceases to amaze me how hard you can push yourself at this race. It feels like a full-blown sprint but for one hour! That's brutal!
Like almost every mountain bike race, I was not as prepared as I'd like to be. I paid for it on the fourth and final lap with full-on jello legs and what felt like a tow strap tied to my bike with my snowmobile dragging behind it. It's always fun to get out for the first race of the season but also a reminder that there is a lot of work to be done if I want to do better. I finished a mediocre 31st place but had a blast racing with my summer friends! I can't wait for the next race and hope to improve my results every week.
One of the coolest parts about the Thursday night races at Buck is the laid-back, family vibe. Although it's a race, it just feels different. It's pretty impressive what gets packed into a couple hours — races for all ages and skill levels, a dedicated kids race complete with candy toss (who doesn't like candy!?) plus a pretty legit swag / prize party after awards. It's such a relaxed environment and everyone just seems genuinely excited to be riding their bikes. I am not sure if I will make it to every Buck race this summer but I will do my best. One thing I know for sure… at the last Buck race of this season I will be ready to tell everyone that I will be racing every Buck race next summer!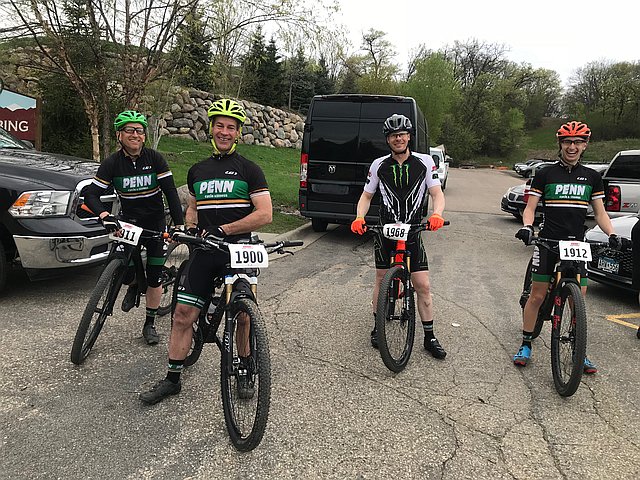 (Photo: Hibbert with the Sandbergs at Buck, Credit: Tucker Hibbert)
Side note about Thursday Night Race Series from Sandberg: The Penn Cycle Thursday Night Race Series is in full swing from now through early August. These fun weeknight mountain bike races offer something for every rider, with Beginner, Recreational, Advanced, and Fat Bike racing categories. And new this year is a second Rec category aimed at High School and other racers who want 2 laps but don't want to be on the course with the Advanced class. As always, these events offer a pile of prizes, free kids races, goofball entertainment and a chill vibe throughout the evening.
Riding in the Paul Bunyan State Forest
Last week I was in the Akely area and stopped by the Paul Bunyan State Forest (PBSF) for a mountain bike ride. I first made a visit with a group of riding buddies 27 years ago including Steve Wenzel who has probably traversed the area more than anyone I know. I try to get there a couple of times in the spring when the sight lines are good and the bugs are not active and before the motorized traffic becomes active. The PBSF area has been mentioned in previous reports but always worth a mention for the incredible network of trails for riding. It is possible to ride up to a 100 spaghetti like loop without riding any trail in particular length multiple times.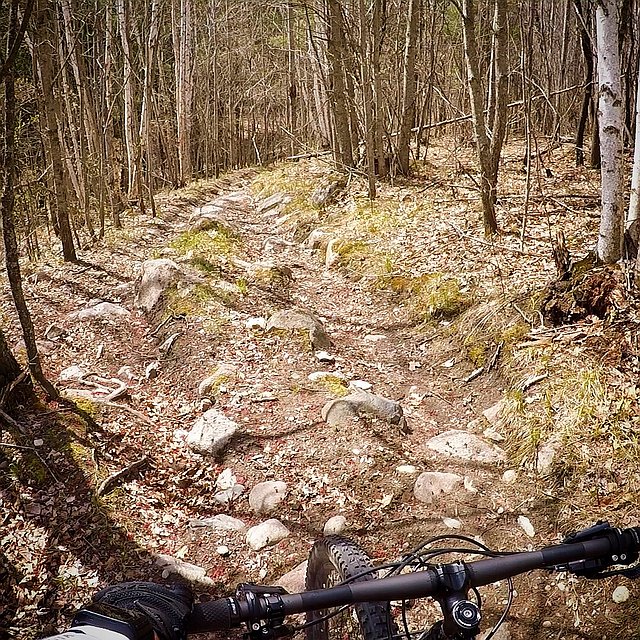 The area was developed for OHV traffic but many mountain bikers from the area take enjoyment of the dirt bike specific trails, especially the more technical ones that see less traffic, for what I feel is the best kept secret for mountain biking in the Midwest. If you are looking for purpose built like riding, you won't find it here but instead rocks, roots and deeps wood old school riding. Recommended to ride early in the morning on the weekends or during the week to avoid ohv traffic which in 27 years of riding here, I have yet to encounter a dirt bike. There are also great forest/gravel roads for gravel specific bikes or "easier" riding.
Trail Map
Minnesota Bike Trail Navigator
Upcoming Events
MNMBS #1 Woolly Race Preview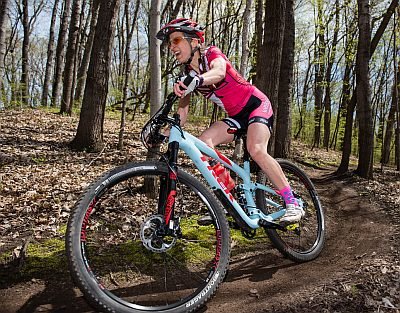 (Photo: Racing at Woolly 2016, Credit: TMB Images)
The Woolly trails in St Croix Falls, WI will be host once again to the opening race in the Minnesota series -- the Woolly Race. Outside of racing on the fast and fun flowing course, there will be the Woolly Wander on Saturday, a scavenger hunt type event with prizes including cash! Sunday will be the cross country racing on the meticulously groomed course that promoters were predict to be in ideal condition based on the forecast earlier in the week. Whatever the weather, expect good mountain bike fellowship in a welcoming environment and tote bags for the first 400 registrants!
WORS #2 Englewood Opener
From WORS: The Englewood Open is sure to be a fun-filled event WORS racers will never forget. Its been a busy year of trail building on the farm, we have added some more trails loaded with more berms and technical features to keep the racing exciting for all skill levels. Also, for this year we will be moving the staging and expo area to a more central location on the farm. It will be near the camping area, and allow for great spectator access for the entire course. There will be live music for the after party, and we will be serving our delicious grass-fed beef on Saturday. Please do not disturb the cows or open the gates!
Keep the wheels moving!
About the author...

Jay Richards maintains a very active lifestyle. He somehow finds time between managing a full-time resort (Maplelag) and bringing up a family of four boys with his wife Jonell, to compete in both mountain bike and a few cross-country ski races. Jay rides for Maplelag Resort, manages the Maplelag mountain bike team and enters his 28th year of racing and promoting mountain bike races.

Have an event or mountain bike related information to share from the Midwest? Feel free to contact Jay at