Midwest MTB Report
by Jay Richards
May 29, 2018
Although series racing in Wisconsin and Minnesota was on break for Memorial day weekend, riders looking for racing opportunities partook in the Wisconsin Endurance Mountain Series, and the Keweenaw Mountain Bike Festival in Copper Harbor, MI., to name a few. This weeks week report looks at a few mountain bike related stories and a look ahead as both series in Minnesota and Wisconsin resume.
Ride The Keweenaw
Copper Harbor was host to the Ride the Keweenaw festival and race #1 in the Lake Superior Gravity series. Many cross country riders toed the line for some fast flowy racing on the popular IMBA trails. WORS standouts Tyler Gauthier and Abby Striegel won the expert division of the enduro race. The weekend also included guided mountain bike tours and runs in cool temps as most of the Midwest baked in some of the hottest Memorial day temps ever recorded.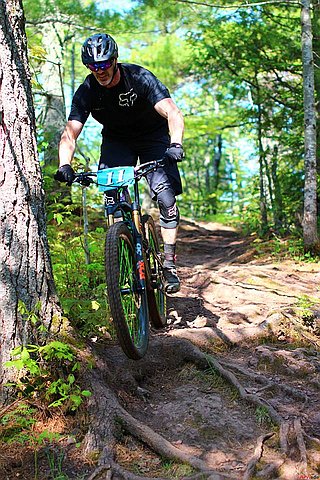 (Photo: Enduro racing action in Copper Harbor, Credit: RP Media)
Tick Season
With the recent outbreak of hot weather, the mosquitoes and ticks have exploded in the woods. My least favorite part of summer is constantly checking for ticks at the end of the day after already dealing with Lyme disease a few years back. Not fun. The New York Times recently published an article highlighting the rapid spread of infections.
High School Mountain Bike Testimonial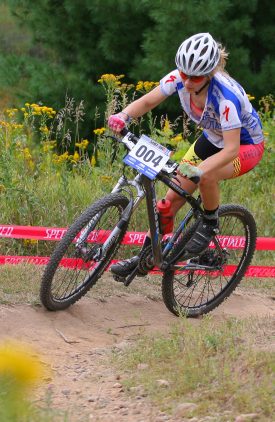 MN High School MTB, Salem Hills, September 8, 2013
Although the High School mountain bike season is still a few months away, team practices will be starting soon and the excitement is brewing with the series bringing the junior riders together. The Minnesota MTB website recently featured a nice article of a testimonial of Chihiro Gustafson and how he got into the sport of mountain biking.
Five years ago I never thought I would be racing bikes, nor did I think I would be playing a sport. I didn't really fit into a category of people. I just kind of floated around. I had recently moved to a new school and house over Christmas break. Like many other kids my age, I was struggling with my identity. In 6th grade I got a computer, probably the worst thing you could give me at the time. I spent hours on it each day, stopping only to eat and take bathroom breaks
Chequamegon Openings
Limited races spots are still available for the Chequamegon 40 and Short & Fat 16 mile events for this year's 36th annual Chequamegon Fat Tire Festival, presented by Trek and produced by Life Time, the nation's only Healthy Way of Life brand, set for the weekend of Sept. 15, 2018. Both events are part of one of the longest running and largest off road events in the nation.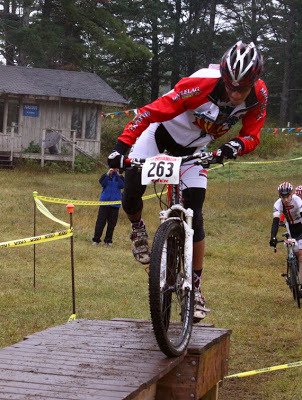 (Photo: Cable Crit, Chequamegon 2012)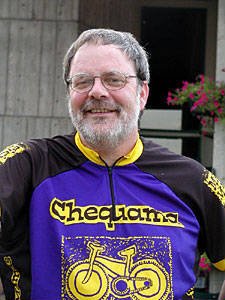 Race spots for the weekend's main cross-country events are limited to a total of 3,100 riders—2,100 participants in the Chequamegon 40 and 1,000 in the Short & Fat 16-mile event—and the race reaches sell-out each year. Race day hopefuls can still register now at http://www.cheqfattire.com for the limited spaces still available in either distance on a first-come, first-served basis.
To support local trail advocacy efforts, five dollars from each 2018 entry fee collected will be donated directly to the Chequamegon Area Mountain Bike Association, the American Birkebeiner Ski Foundation and IMBA.
This will be a special year as it will be long time race director Gary Crandall's final year as race director! Crandall recently reflected on his years as race director, a post he has held since 1984, in the latest edition of Fat Tracks (Photo: Gary Crandall)
Next weekend will be significant in Chequamegonland with the Borah Epic and new chalet opening along the Birkie trail.
Looking Ahead
Kyia Anderson reports: The 13th Annual Revolution Cycle and Ski Single Track Escape is set to go on June 3rd ! Trail conditions are excellent and course loops have been designed for both wet or dry conditions depending upon how this weeks weather pans out. This years race will feature the return of a modified Granny Hill as well as a few course changes from the previous year. As always racers will have fun twisty single track with passing lanes thrown in.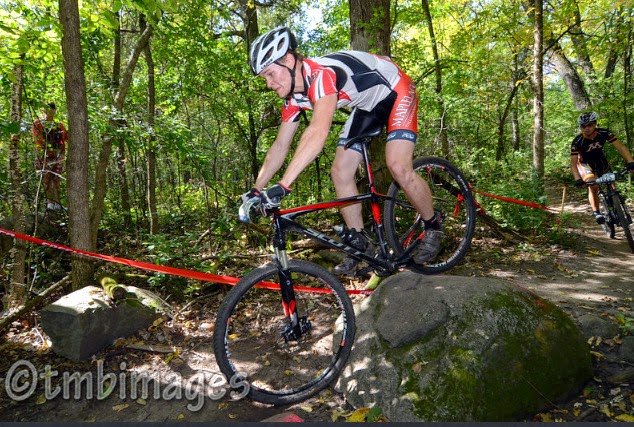 (Photo: Rolling over a rock feature on the Jail Trail, Credit: TMB Images)
Thanks to generous sponsor Revolution Cycle and Ski of St. Cloud MN, we will be giving away two complete bikes in this years raffle. A Salsa Timberjack kids 24" and Timberjack NX1 adult bike will be raffled off in our fundraiser this year. Also all Kids Comp racers will get a free Jail Trail hat (until they are gone!) at the race. With the addition of our Kids Mud Puppies fun ride this year (Monday's at 5:30) it is our way of showing the support of the Mid MN Cycling Club to youth cycling.
Full press release for St Cloud Singletrack Escape
The trail system at CamRock is a blend of wide and fast flowing single-track that runs through open fields of prairie grass, wooded single-track with bermed turns and more technical singletrack with a touch of roots and rocks. The Battle of CamRock will be fun and challenging for all levels, Citizen to Elite, with fun single-track, great downhill, feed zones and, of course, the sprint to the finish. The start times are a bit different than usual to take note of. A festive atmosphere on tap with not only racing but live music, blow up playground for the kids and many family activities.
Keep the wheels moving!
About the author...

Jay Richards maintains a very active lifestyle. He somehow finds time between managing a full-time resort (Maplelag) and bringing up a family of four boys with his wife Jonell, to compete in both mountain bike and a few cross-country ski races. Jay rides for Maplelag Resort, manages the Maplelag mountain bike team and enters his 28th year of racing and promoting mountain bike races.

Have an event or mountain bike related information to share from the Midwest? Feel free to contact Jay at