Midwest MTB Report
by Jay Richards
June 12, 2018
What a weekend of mountain biking! Keeping the wheels moving at the resort prevented me from ripping it up, all good, was fun to see the results and stories from all the great events over the weekend from not only within the Midwest but out west in Missoula, MT where a handful riders posted strong results in the PRO XCT UCI National race. This weeks report includes first hand reports from the Duluth Hard Enduro, the Borah Epic, and junior rider Anna Christian checks in with a recap from the Missoula PRO XCT National race. Also highlights from the MNMBS "Shakedown", new NICA news, and a look ahead.
Borah Epic
The Borah Epic held its sixth annual event this past weekend and welcomed a sold-out field for the combined half and full race distances with a new design that made me think of the Bemidji area! Minneapolis seasoned veteran cyclist, who rides and is a great ambassador for the Amy D Foundation, sent in a recap not only of the race but reflecting on "why we race" - Great stuff.
Corey's Recap:
Results-wise, the Borah EPIC has been a tough nut for me to crack; I've been fourth two years in a row. I come back annually not only because it's crazy rare to race 30+ miles of single track, but also because the course schools me. If your handling is not up to snuff, and you don't rip rocks and roots with abandon; well, you won't win the EPIC! There's really no hiding a lack of mtb skills at the EPIC (ask me how I know).
I employed my usual strategy to do what it takes to be in a good position entering the single track. That, at least, was a success. I entered the woods "right where I needed to be" with eventual winner Leia Schneeberger, as well as talented roadie Carly Jackson. Leia wasted no time dropping Carly and me the minute we hit the single track. Very soon after, Sonia Pond came by, and I had ten minutes or to witness her impressive handling skills. Sonia's motorcycle skills were evident, as she repeatedly rode me off her wheel. While I'd bridge back up on the climbs, these catch-up efforts eventually cracked me. My podium hopes ended soon after, when I had a silly, minor crash. Megan Barr, a very talented "bike driver," and deserved third place finisher, rode by me as I untangled body and bike.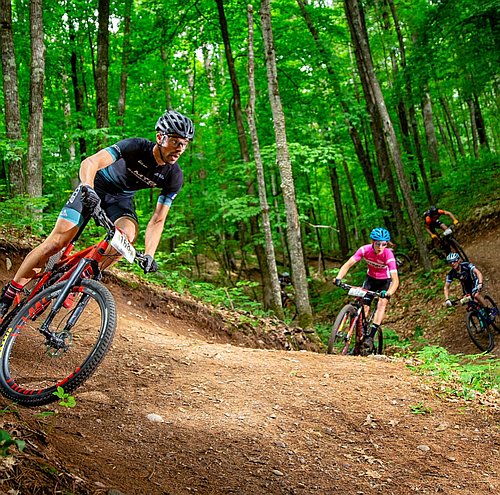 (Photo: Gravity Cavity fun at the Borah Epic, Credit: Brent Prenzlow Photography)
Yet, results aside, why do we race? Part of what keeps the EPIC on my calendar is that I've yet to "put it all together" there. The challenge of figuring out how to execute my own "best day" keeps me interested. Likewise, every year, I am pretty sure I exit the woods in Hayward a better rider than I entered in Cable. There's all sorts of "great wheels" to chase, and it's a rush to get on a train of riders and rip each corner faster than I would on my own. After the race, I enjoy reconnecting with old friends, enjoying first a brat at the finish and then pizza at The Rivers Eatery
Duluth Hard Enduro
Son Jake, now living and working in Duluth and enjoying the massive trail system within the city, used his local knowledge to take the win in the Duluth Hard Enduro and provides a breakdown of each stage with a little local insight:
The original Duluth Hard Enduro was scheduled last year in late October, but the race was canceled after Duluth received a foot of snow the day before. Therefore, the inaugural Max Fierek's Duluth Hard Enduro took place on Saturday, June 9th with cloudy skies and temps in the lower 50's. Max purchased the SPORTident timing system http://www.sportident.co.uk/ for this event and also others he puts on. The chip on racers' wrists allowed riders to start each stage whenever they showed up to the stage with no countdown and little to any congestion on the trail. The slick timing system also made the results available as soon as racers handed in their chip. Fun post race atmosphere with sweet awards which included custom swords and plaques as well as gift cards to Custom Wheel Outlet. Very cool event and will definitely be out there sending it again next year.
Stage 1- Hawks Ridge/ Lester Amity West- A little rain overnight made the first stage very slick. The top of the course includes tight berms and rocky rollers. Amity West is a fast pedally section swerving in and out of trees. Heard lots of riders took minor diggers on the slick bridges and greasy corners.
Stage 2- Lester Lower Amity East- Similar to Amity West this stage was fast with slicing and dicing between trees. Once this stage was complete we had a long transfer up to Marshall School.
Stage 3- Marshall DH- Part of the Duluth Traverse (DT) and is a Short fast DH that includes a couple berms and fun hip jumps.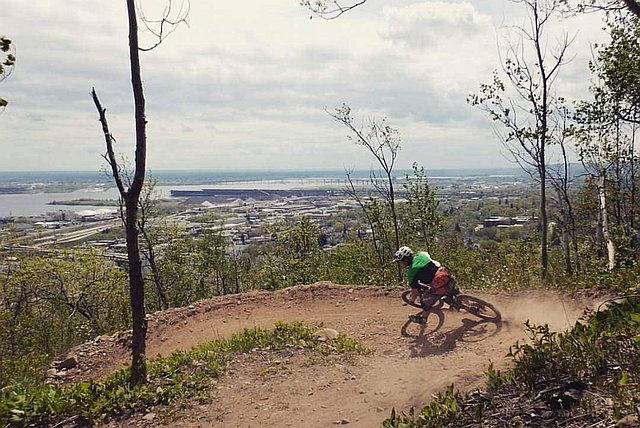 (Photo: Railing one of the many berms in the Hard Enduro. Credit: Max Fierek photo)
Stage 4- Observation Hill- Fast straight sections into tight berms. This stage ended up being tossed from the results because the start chip was too far off the trail and a couple riders missed their chip going off for this one. Awesome food station at the finish of this stage!
Stage 5- Enger DT- This section of DT had gotten really weathered over the winter. Fast, straight, pedally sections with big berms. Fun stage to hit with speed with big rollers you can pump and air.
Stage 6- Piedmont Dirty Mistress- Rocks Rocks Rocks! This stage is one of the gnarlist in Duluth. Big rock rolls and rock drops throughout.
Stage 7- Piedmont Bones of the Beast- Biggest rock face in Duluth. Fast Fall line along rock face into sketchy rocky turns and drops.
Stage 8- Piedmont Admiral Rock bar- More Rocks! This is a fun twisty stage that tests riders' ability to maneuver through rock gardens and then into a steep fall line rocky decent at the end.
Stage 9- Brewer Kissing Booth- Some recent trail work made this trail ride really smooth. This section includes fast switchback descending with a couple really steep rock sections where you get bucked around.
Stage 10- Keene Creek DT- Beast of a million berms. This stage was all about carrying speed out of the millions of berms. Fun doubles throughout and mud bogs near the bottom made this stage a leg burner.
Stage 11- Spirit Mt Greenman- After the start we got shot right into a tricky tight rock garden that had riders threading the needle between rocks. Opened up into the ski run with a fast and rowdy section into another rock garden through the woods. [ Editor's note: The Greenman name comes from the Greenman music and camping festival that used to be held at Spirit Mountain and featured a cross country mountain bike race ]
Stage 12- Spirit drift track/ All-weather trail- Wild off camber drift track down the face of a ski run into Spirit mountain's new all-weather trail that included a lot of loose gravel corners and washed out sections. Ended the stage with the infamous Knowlton Rock garden.
Overall ended up being a very rad day that included all of the sweetest downhills in Duluth. The race included 12 timed DH stages starting at Lester and ending at Spirit Mountain. The race took 7.5hrs with 5hrs of riding time over 37+ miles and 4,000ft+ total elevation (includes 2 lift rides up spirit). After almost 29min of racing the overall came down to Sam Kemp and myself with only 3.9 sec between the both of us.
Results and other Max Fierek events
Related:
WDIO: Duluth Hard Enduro Returns to Duluth
Missoula Pro XCT
Minneapolis Junior rider sensation, Anna Christian, was one of a handful of Midwest riders to head west to Missoula, MT for the Missoula PRO XCT race. This venue has always been popular with the Midwest crew. The course might not be as intimidating as the Colorado high elevation courses or the typically hot and dry Californian ones that seem to give us "flatlanders" fits.
Anna pulled off impressive results in both the short track and cross country (3rd place, 9 seconds off 1st place) and sent an exclusive recap:
On Friday in Missoula, I raced the short track for 15-18 Cat 1 women. The course was fun because it contained both a bit of climbing and single track as well. I felt good and rode aggressively at the front for the entire 10-lap (25 minute) race. There was a lead group of six riders for the majority of the race. In last lap the speed picked up and the group fractured. It was a sprint to the finish. Gabrielle Richardson won, I ended up with second place (by less than a second - close but not close enough).
Saturday was the big show. The UCI Junior Women's XC race went in the late afternoon two minutes after the Pro Women's start. The 5 K course featured over one thousand feet of climbing and a steep winding descent. I was able to position myself well at the beginning of the race. During the first lap, I bounced between the second and third position with Stella Sisneros. During the second lap, I stayed with Stella for as long as I could but the pace was very fast. At the top of the climb, I found myself in fourth and sitting on the wheel of Eva Poidevin. At this point, Ezra Smith was leading and Stella was in second.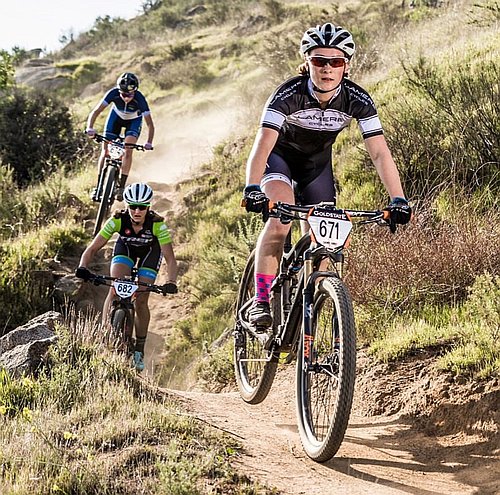 (Photo: Anna Christian in Pro XCT racing action)
In the third (and final) lap, things got interesting. Stella passed Ezra to assume the lead and then Eva and I chased down and passed Ezra to move into 2nd and 3rd positions respectively. As we all raced towards the finish line, we got jammed up behind a lapped rider. At the line Eva beat me by a half a bike length for 2nd and I got 3rd - dang another close one.
Happy to report the good news - this was my podium appearance in a UCI Junior race and I got to meet a group of awesome racers along the way. This is a great race for anyone who likes to climb.
Highlights on the men sides of thing was impressive top five finishes by Midwesterners Samuel Elson (Breezy Point, MN.) and Caleb Schwartz (Milwaukee, WI) in the cross country.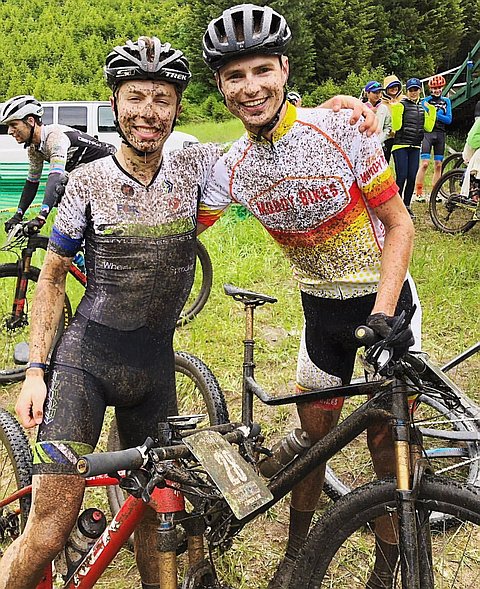 (Photo: Sam Elson and Caleb Schwartz post race from a mud splashed short track)
MNMBS race #3 "Shakedown"
Detroit Mountain avoided the rain the night before and on race day and benefited from rain earlier in the week to make for sweet riding conditions and made the already fast track even faster for the Detroit Mountain Shakedown.
Marathon rider Thad Schulz exclaimed: "The next time someone tells me the Detroit Mountain trails are easy, I am going to tell them to go out and do six laps" I have utmost respect for the marathon riders whatever course they are racing on. Thad was one of nine riders to complete six laps that was won by Bruce Martens. Newcomer to the series, Jaci Woinarowicz won the female division.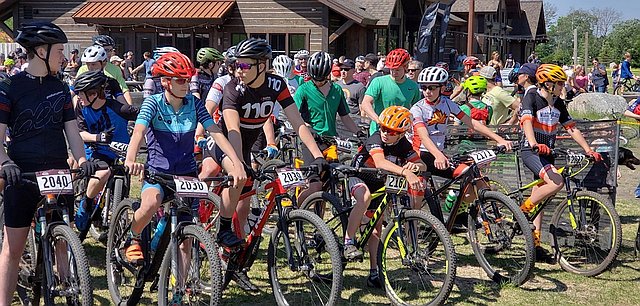 (Photo: Start of the Sport Junior race, Credit: Ben Olson)
The elite class was a bit lighter but included some new faces including riders from Canada. In the men's race Jeff Hall chalked up another win over Manitoba rider Carson Thompson whom racers might remember from Laddies Loppet last fall. Adam Altman, Ben Olson and Jesse Sich rounded out the top five.
The Elite women's race featured four racers with Ashley Busack taking the win over Katie Staver, Gabrielle Mazion and Mindee Lavelle.
NICA Partnership with GU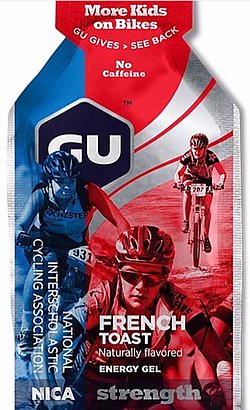 GU Energy recently released a new gel flavor (French Toast!) that features images from local photographer Todd Bauer. Part of the proceeds will go back to NICA for the development of youth cycling and the platform of More Kids on Bikes.
(Image; Minneapolis professional photographer Todd Bauer Images featured on new gel packet)
"Founded in 2009, NICA develops and supports mountain biking programs for middle school and high school students across the United States that help participants build strong minds, strong bodies, and strong character through cycling. In addition to being a proud sponsor of NICA through our GU Gives program, we invited their student-athletes to help us create our next great tasting Energy Gel. The result of that collaboration is this delicious, limited-edition flavor, French Toast."
Related:
YouTube Video highlighting the process of choosing a new flavor (no mac and cheese)
Looking Ahead
The much anticipated midweek Duluth Enduro Series kicks off this week, hitting up Lester Park for two stages of racing. The Duluth Enduro series is a fun event to not only challenge one's self on timed stages but the opportunity to ride sweet trail in between the stages.
Featuring rolling hills, flowing singletrack and ripping downhills WORS and the Waushara Area Mountain Bike Association (WAMBA) present the Mount Morris Challenge at the Nordic Mountain ski area. The trail work at Nordic began in spring, 2006 with shovels and rakes. WORS Director, Don Edberg and Dave Reich along numerous other volunteers logged approximately 1000 man hours over two summers to construct the original 5-mile loop and the first WORS race on the trail was held in August of 2007. As the trails developed, the site hosted regional championships and multiple national Pro XCT events
Related: Battle of Camrock Recap
About the author...

Jay Richards maintains a very active lifestyle. He somehow finds time between managing a full-time resort (Maplelag) and bringing up a family of four boys with his wife Jonell, to compete in both mountain bike and a few cross-country ski races. Jay rides for Maplelag Resort, manages the Maplelag mountain bike team and enters his 28th year of racing and promoting mountain bike races.

Have an event or mountain bike related information to share from the Midwest? Feel free to contact Jay at