Midwest MTB Report
by Jay Richards
June 19, 2018
Rain and heat defined last weekends racing action in the Midwest as trails continue to dry out in most areas. Incredible rain amounts up to 15" in Northwest Wisconsin has unfortunately transformed the landscape for the time being and put riding on hold for quite a while, according to locals. Even though rain kept people off the trails, people were still thinking about mountain biking such as my friends in Canada who made a "sweet" mountain bike birthday cake to celebrate a daughters birthday.

(Photo: If you can't shred the dirt, at least you can eat about it! Credit: Mike Hood)
This weeks report includes a full report from race #4 in WORS, a report from the Chequamegon 100, the Duluth Enduro Series and a look ahead.
MT Morris WORS #4
Last Sunday the Wisconsin Off-Road Series made its fourth stop of the season at Mt. Morris for the Mt. Morris Challenge. The course snakes up and down the ski hill traversing across ski runs while climbing and descending technical and tricky switchbacks. Mother Nature added another layer of difficulty with the scorching heat reaching far into the 90s. With the help of Team WORS and WAMBA (Waushara Area Mountain Bike Association), racers were fueled with plenty of ice cold water and bananas to make it a fun and safe day for all! WORS recaps the elite races.
Fifth placefinisher Swartz provides an exclusive recap on his version of the elite race: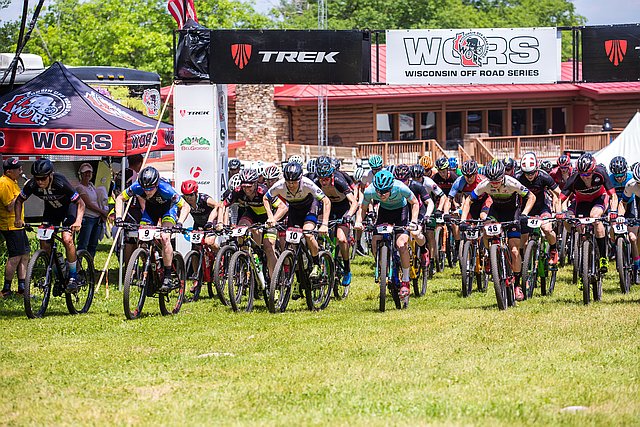 (Photo: Another fast start for the Elite race, MT Morris Challenge, Credit: Danny Marchewka)
After a solid weekend of racing in Missoula and rest week I was hoping for another good result this past weekend at WORS #4 (MT. Morris). I know the course pretty well and was excited to race, but from past experience I know my body just doesn't cope well with racing in extreme heat. As I "warmed up" in the 95 degree heat I could tell I was in trouble.
The start confirmed that. Cole House, Pete Karinen and Ben Senkerik charged ahead for the hole-shot leaving me in fourth like I was standing still. I headed into the lower sandy section in the woods chasing hard but not making up much ground on the front two. I managed to catch up to Ben right before we headed back up the ski hill but when we hit the climb I just didn't have the legs. Payson Partridge passed me at the top of the climb along with Trysten Schouten. I hopped on Trysten's wheel and finished out the lap with him.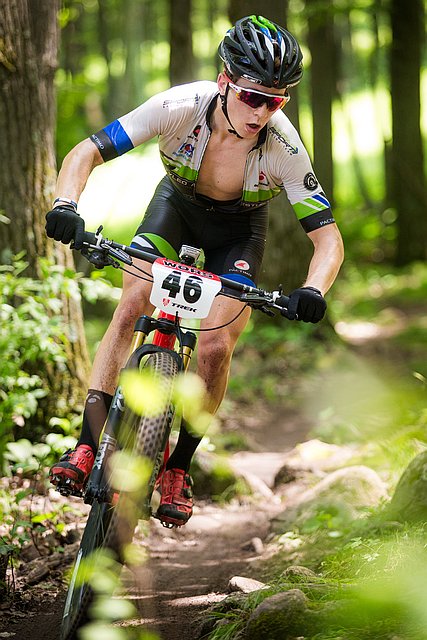 (Photo: Swartz dialed in en route to Fifth place WORS Elite race Mt Morris, Credit: Danny Marchewka)
Going into the climb on the second lap I passed him back struck out on my own. I knew I just didn't have the gas, so I set a steady pace hoping to catch up to Ben or Payson. I ended up just riding laps 2, 3, and 4 completely solo, chugging water and melting ice socks on my neck like nobody's business. It wasn't the result I was looking for but I'm happy to have landed another podium and not have to pull the plug.
The Wisconsin Off-Road Series and its racers will make a quick turnaround as the schedule goes back-to-back weekends. CORBA will be hosting the Red Flint Firecracker in Eau Claire, WI
Chequamegon 100
Riding for a hundred miles is always a good challenge, riding on tight and twisty is another thing. Mix in heavy rain and mud. Yes, you could say Epic. Once again riders converged to CAMBA trails for endurance racing in the Chequamegon forest. The Chequamegon 100 offers other distances for those nut up to a nearly full day of pushing the body to the maximum physical and mental limits for 100 miles. I always try to reach out to positive folk for recaps and the ones I asked to were honest and said it was a rough day on the bike. Nothing against the trails of course as we all know the CAMBA trails are some of the best in the Midwest. It was the rain that made things miserable despite organizers confident the rain would not happen. Dan Deroma was kind enough to offer his take, despite not finishing the 70 mile version. Like I said in last weeks report about marathon racers, I have the utmost respect for anyone racing their bike for over 2 hours. Dan's report:
This year marks the 10 year anniversary for the Chequamegon 100 race, 10 years of suffering on the beautiful CAMBA trails! Back in January when the registration opened I figured I'm not getting any younger so what the heck, lets sign up for the 70 miler, its not the 100 right, must be a little easier! Checking the forecast all week, it didn't look ideal, lots of rain in the forecast for Friday and Saturday. We got up north to Hayward around 6pm, just in time for the Moccasin bar's 40th anniversary party with free HOT BEEFS all night! But we could not stay long as I had to pick up number plates at New Moon. I prepared as much as I could for a race like this, lots of hours in the saddle and since I know the trails so well I knew what I was getting into. The rain that was in the forecast Friday night held off and we woke up to perfect conditions, cooler temps and high humidity. 8am roll out for the 70 miler. I packed 3 liters of water and two extra bottles along with lots of food to eat, I knew it would be a long day. The roll out started faster than I thought it would for such a long race, but I just sat off the back and took it easy. 5 miles in we dump into ESKER trail and the single track started! I put my head down and rode smooth for the next few hours doing my best not to red-line and keep the pedaling soft to conserve my legs. Then a few hours in it started to POUR rain. The trails turned from Tacky goodness to a sloppy rutted mess in about 45 min… I kept the pace up and just kept grinding away taking in as much fuel as I could on the move.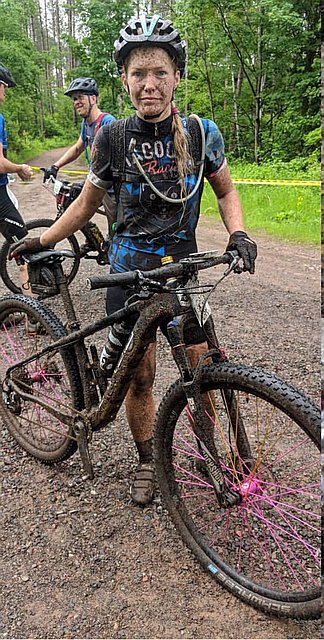 (Photo: Chequamegon 100. Mad, happy, sad or glad. 100 miles of mountain bike in the rain does strange things, Credit: OTSO Cycles)
We made our way to Danky Dank then eventually the infamous Rock Lake Trail. From there I finally got to the Namekagon trails which I know the best. (not always a good thing when you just want to be done) About 31 miles in I came to Namekagon Town Hall Trail head. It was just about half way. At this point I was 100% drenched, covered in Mud, and my brand-new drive train was full of mud and grit. I arrived at Town Hall with around 20 others, we all used the hose to rinse off and about 80% of the people around me at that point dropped from the race. With it still raining and having over 40 miles left, I decided to call it at the town hall. With the rest of Namekagon Trail and Rock lake trail left, along with a huge Gravel Section then to "00", then Seeley pass back to Cable… I think it was a good decision for me personally to pull out… I still put in a huge 3.5 hour effort so that was good, just didn't get to cross the finish line in Cable. My take away is this race would not be on my bucket list if it was easy, I'm sure when registration opens in January it will be far enough removed to think it's a good idea to try again, this time with a little better trail condition. After we got cleaned up we made our way back to Rivers Eatery and met up with the brave souls that finished! Huge congrats to those who finished and someday I will check this race off the ole' Bucket List!
Duluth Enduro
Last week I headed east to compete in the first Enduro race at Hawks Ridge and Lester Park which is part of the large mountain bike trails system in Duluth managed by COGGS, Cyclists of Gitche Gummi Shores. The Enduro event is a timed event that features racing on mostly downhill terrain, generally a bit more technical than what is found in today's cross country courses. The Duluth Enduro series features two time stages on each race day. There is no race fee but a COGGSS membership is required. The week before I purchased a $100 membership so I could race and to give a bit more to the development of trails that always provide super fun riding outside of racing. Each race is has a theme and the first week was Hawaiain. Many riders were dressed in beach ware tops and even one person rode with a pineapple attached to the bike!!

(Photo: Aloha! Have you ever seen someone ride with a pineapple on their bike? Happened at Duluth Enduro #1)
The first stage was on the Hawk Ridge traverse which has weathered since first built providing a rocky and bumpy surface. Going at race speed or all out makes it even a bit harder and almost felt like there was more climbing than there was.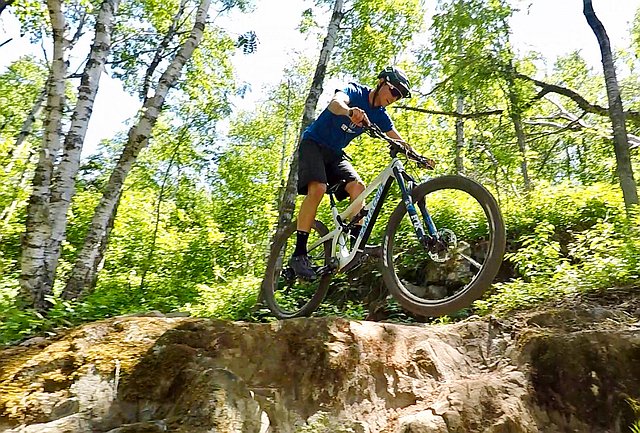 (Photo: Rocky Hawks Ridge, stage 1 Enduro)
Running full suspension with wide tires and the improvements in the Enduro/trail bikes and equipment has only made it easier, personally,providing more confidence. The second stage was a bit faster, smoother trail but technical in the sense that the trees were closer to the trail and spot on handling skills were key. Unfortunately not all riders were timed as the end timer was not in place when the first half dozen of us crossed the line. Despite the timing glitch, it was still a blast and the post race riding that evening and next day was super fun like always, following son Jake's wheel.
Welch Village Opener
Welch Village is set for another season of lift service mountain biking after being delayed due to the recent wet conditions. One of only three such areas in the state, the area has now focused a bit more on the gravity scene after hosting many Minnesota series in the past as well as National races. Personally it was one of my favorite courses in the Midwest with the fall line climbing and descending featuring the infamous "Rock Shox" drop.
(Photo: Infamous drop at Welch Village in the years of cross country racing at the Alpine area)
Welch Village states: "Previous experience in mountain biking is highly recommended in order to ride our green downhill trails. Downhill MTB Trails are different and at times much more challenging that cross-country MTB trails. A fair amount of off-road/cross-country mountain biking experience is highly recommended before trying our downhill trails."
More details on Welch Village MTB
Downhill Mountain Bike Boardwalk
Flowy singletrack takes practice. But swap that narrow dirt trail with exposed planks on a cliffside, and even seasoned mountain bikers will favor a little extra brake. California native Brian Kennedy gives us a front-row saddle to this wild, terrifying course.
Looking Ahead
Race #4 in the Minnesota Mountain Bike Series stops at a new location, hitting up the new trails at Wirth Park near the heart of Minneapolis. The trails have been open for a few weeks and the feedback has been very good. Local resident Wallace Alexander provides insight:


(Photo: Big berms on the Wirth Mountain bike trails, Credit: MTBSkills.net)
I think the new Loppet trails at Wirth are fantastic. I've only ridden them on one day but got in a lot of laps. I think they are kind of like a mini-Afton with lots of switchback climbs. I also think they will make a great race course, maybe kind of short loop for series race but fantastic for weekly series or NICA. But they might still be adding some additional trails that will stretch out the course for MNMBS.
Sidenote: Last week from our house near Lake Harriet I did a 5 hour ride and almost most of that was on the MORC/Loppet trail network around Wirth. Unbelievable that one can ride that long on sweet trails right in the city. Yes, of course I had to do 3-4 laps on each section but it was totally worth it. And it's cool that each section has a very different feel; from very techy at Brownie Lake to an XC race course at Wirth. Fun, fun, fun.
Keep the wheels moving!
About the author...

Jay Richards maintains a very active lifestyle. He somehow finds time between managing a full-time resort (Maplelag) and bringing up a family of four boys with his wife Jonell, to compete in both mountain bike and a few cross-country ski races. Jay rides for Maplelag Resort, manages the Maplelag mountain bike team and enters his 28th year of racing and promoting mountain bike races.

Have an event or mountain bike related information to share from the Midwest? Feel free to contact Jay at