Midwest MTB Report
by Jay Richards
June 26, 2018
Summer riding and racing in full swing with not only series racing in Minnesota and Wisconsin this past weekend but the big Lutsen 99er taking place up above the north shore in Minnesota as well. The midweek series throughout the Midwest continue to roll along and the trail riding is primo. This weeks report includes first hand recaps for the first mountain bike race at Theodore Wirth Park in Minneapolis, the Lutsen 99er and a couple of mountain bike relate items to note. A relatively quiet weekend with the Fourth of July approaching.
MNMBS #4 Mount Wirth Loppet
The Minnesota series delighted Twin Cities racers with backyard racing on a XCO type course. The reports were good from the racers and climbing and fast rolling track, albeit a bit bumpy on the fresh build, made for hard tough racing. John Wessling rolled back into town and toed the line in the elite men race, and posted a solid fourth place. John's recap:
I am stoked to do the race recap for the inaugural Theodore Wirth Mountain Bike race! As some of you know, I moved to southern California from Minneapolis a few years ago and race mountain bikes out west when I can. When I heard there was a race in Minneapolis, I knew I was flying in for it.
The race was located just a few miles from downtown Minneapolis, so you can't get much climbing and single track at this race... WRONG. The course was hilly, fast, and the switchbacks made it technical while manuvering the tight and twisty single track turns. The dirt in "karate monkey" was about as good as it gets, and once the race line was worked in, I felt like I was turning on velcro. The Loppet Foundation and Minnesota Mountain Bike series knocked this out of the park. I think I can speak for everyone when I say this was one of the better series races I have done.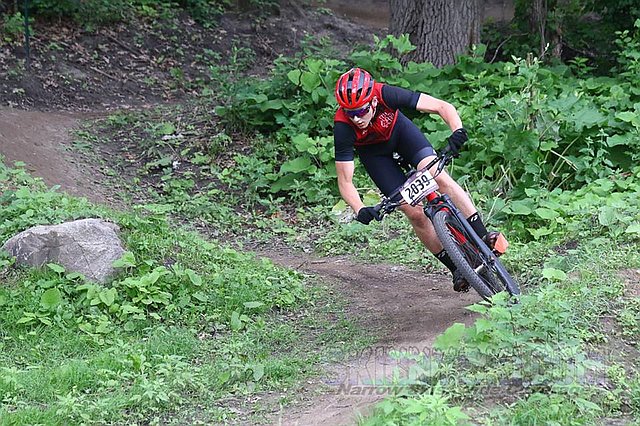 (Photo: Sport racer Cole Johnson railing the berms at the inaugural Mount Wirth Loppet)
I lined up for the Elite race at 1:10pm with humid and cloudy conditions. The gun went off and it was a scramble up the first climb to get in position for the single track. I came out in third, quickly getting shuffled back to fifth or sixth place after a few sections. From there Jeff Hall, Dominic Talerico, Braeden Anderson, Sam Berkland, Calvin Sandberg and I stayed in a tight pack for three out of the six laps. Sam, Calvin and I couldn't keep on the top three's wheel after lap three. With about five and a half laps completed, I was able to make a move on Sam and work my way into 4th place.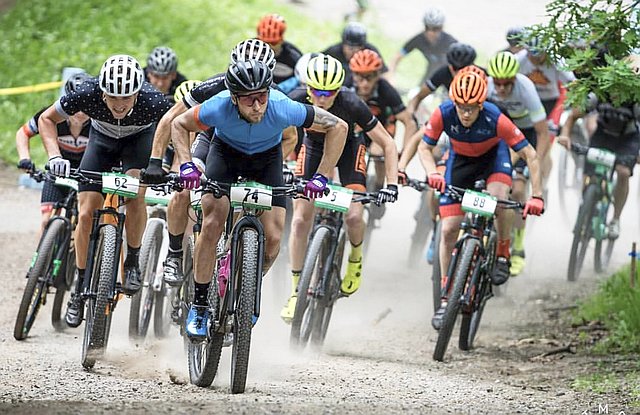 (Photo: Elbows out! John Wessling battling at the front in the Elite male start. Credit: TMB Images)
Again, hats off to the Loppet Foundation and everyone involved in getting this course set up and race ready. I can't wait for next years Theodore Wirth mountain bike race!
The women's elite field was a bit lighter considering the proximity to the cities but still some great racing action. Megan Barr took the win in convincing fashion, just over 3 minutes ahead of second place finisher Tiffany Edholm. Danielle Larson, Kristi Henderson and Janna Krawcyzk rounded out the top five.
Related:
Results
Coverage on Skinnyski
Note: The MNMBS is on break until after July 4th and resumes with the Border Crossing, heading into Wisconsin, hitting up the popular trails at White Tail Ridge, just south of Hudson.
WORS #5 Red Flint Firecracker
Cole House continues to maintain his dominance in the Elite male division, taking another win but Peter Karinen is hot on his wheel in the overall as those two continue to battle for every single point. Caleb Swartz isn't too far behind in third. At the Red Flint, House took the win as mentioned and Swartz grabbed big points nailing down the second spot. Ben Senkerik, Kyle Trudeau and Karninen rounded out the top five.
Leia Schneeberger took a convincing win in the Elite female division and padding to her overall lead in the series. Holly Lavesser, Lauren Lackman, Hanna Mork and Katrina Hurst rounded out the top five.
Related:
Results
Keeping Racing Fun (WORS Elite rider Caleb Swartz article)

Note: Up next in the WORS series will be the big WORS Cup at Alpine Valley Resort and feature not only cross country racing but exciting short track and Enduro. The event will serve as the USA Cycling Midwest Mountain Bike Championships
Lutsen 99er
Sebeka star mountain biker Thad Schulz provides a first hand report from the Lutsen 99er:
The Lutsen 99er is one of those races that I tend to structure my racing season around so when registration opened this January; I quick signed up for the full 99er. There are four different race lengths the 19er, 39er, 69er, and 99er. All four races start and finish from the same locations with the 69er and 99er rolling out at 7:30 am and the 19er and 39er rolling out at 7:35 am. There is only one gate, so it's pretty much first come first serve at the start line. Every race starts with a controlled rollout down the hill from Lutsen Mountains to Hwy 61. The controlled rollout continues until the turn onto County Road 4 that is mostly a climb that takes the race from 700ft to 1400ft of elevation. The climb isn't all that steep, but it does a good job of breaking up of the race, so everyone is pretty spread out when the first off-road section starts.
The rest of the course is a mix of gravel, double track, snowmobile trail, ski trail, and singletrack. The weather was about as good as could be expected with mostly sunny with temps from high 60s to low 70s. Most of the course was dry to dusty since the area had not gotten much rain for around a week. There was a course change due to land use issues that created some two-way traffic on the gravel sections from mile 30-53. This course change included a roundabout style intersection that was a little busy, but it was well marked and had plenty of people directing racers for 99er and 69er. One of the features of the 99er that continues to impress me is how great the race volunteers are. I stopped at aid stations at mile 53, 63, 80, and 90 and I was able to refill two water bottles with water or Gu/Gatorade in 20-40 seconds.
Starting at mile marker 85 the course begins losing elevation pretty consistently for around 10 miles. Even though this is entirely on gravel, this is probably my favorite part of the race. Speed frequently exceeds 30mph which makes some of the loose gravel corners a little sketchy. Right before the final singletrack, the course takes everyone through a muddy snowmobile trail that makes is guaranteed to get everyone dirty even on dry years like this year. After I came out of the singletrack I started the climb up to the finish line it's not an overly technical or steep climb with a max slope of around 12%, but after six hours of racing, it really hurts.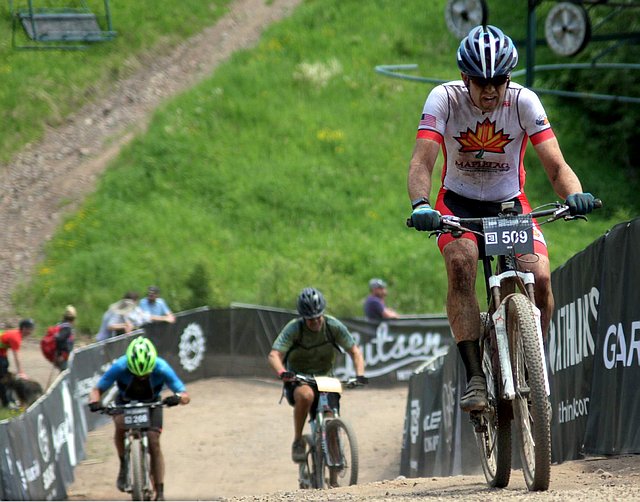 (Photo: Thad Schulz pushing through the pain at the finish in Lutsen 99er, Credit: Athlinks)
The finishing times were around 30mins faster than the last time I did the 99er in 2016 and although I didn't place as well this year I was happy to take 12min off my finishing time.
Related:
Results
News and Notes
Hayward Hospital Trail 2.0

(Photo: Enjoying the new Hayward Hospital "sustainable" mountain bike trail, Credit: New Moon Bike and Ski)
Fitting a niche for entry level riders but also thrills for the experts, trail builders in the Hayward area recently completed a new trail near the hospital, part of the CAMBA network. A full breakdown of the trail with lots of photos on the New Moon Bike and Ski website
Dirt School
Dirt School 2018 is a Minnesota High School Cycling League program for mountain biking to teach student-athletes necessary skills to be a capable and well-informed mountain bike rider, The league partners with school districts or communities to provide this outreach program. This new program is geared for students who:
-have never been on a mountain bike
-are new to mountain biking or
-want biking instruction to build their skills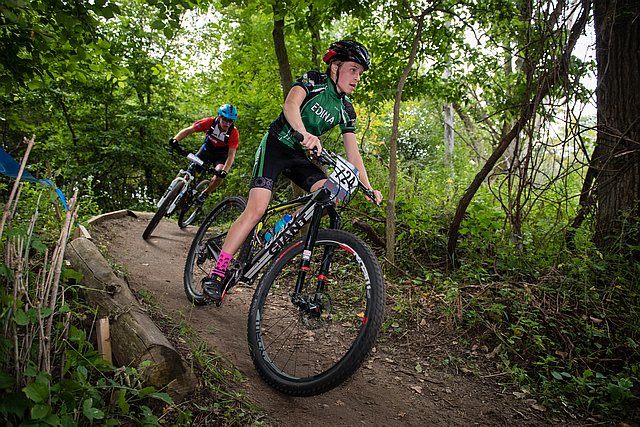 (Photo: Youngans shredding', Credit: Minnesota Mountain Bike)
The goal of this program is to empower youth through the sport of cycling to be proficient cyclists, whether they are interested in cycling as a life-long sport or racing in the high school league.
More information on Dirt School
CAMBA Trails Update
It has been a busy spring and summer so far on the CAMBA trail network and activity will continue on through the summer. Ron Bergin reports on the CAMBA page: The CAMBA trail network, which now spans more than 120 miles of purpose-built singletrack, has become a mountain bike destination because of the hard work, sweat, and vision of hundreds of people over the past 25 years.
The summer trail building and maintenance season is filled with projects, both recurring annual tasks, as well as new and exciting building opportunities. A considerable amount of effort and passion is put into the CAMBA trail system. Each season brings a new list of projects, both new trail development and an extensive list of maintenance tasks. Here are some of the highlights to look forward to this summer.
Nepal Ripper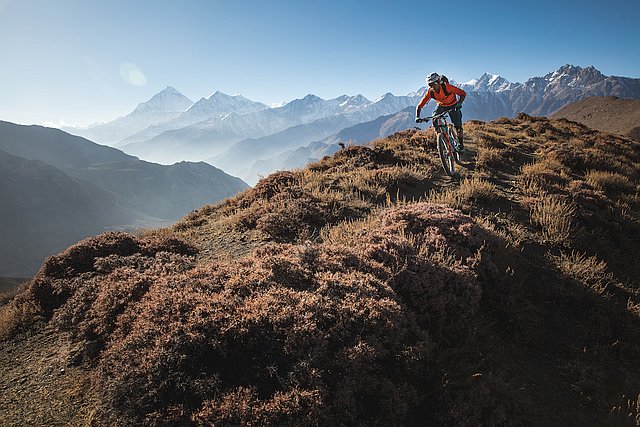 (Photo: Sweet riding scene of RJ Ripper Magar, Credit: Joey Schusler/Ben Page)
Kids and bikes; wherever you are in the world, they go together. The chaotic streets of Kathmandu may not seem like a typical breeding ground for world-class mountain bikers, but then again nothing is typical about Rajesh (RJ) Magar. Since learning to ride on a beat-up clunker, to becoming the four-time National Champion at age 21, RJ's story is one of boundless childhood dreaming and unstoppable determination, forged from junkyard scraps and tested on the rugged trails of the mighty Himalaya.
Video and full story on PinkBike
No report next week with the Fourth of July. Have a safe and happy Holiday, hope everyone gets some sweet riding in!
Keep the wheels moving!
About the author...

Jay Richards maintains a very active lifestyle. He somehow finds time between managing a full-time resort (Maplelag) and bringing up a family of four boys with his wife Jonell, to compete in both mountain bike and a few cross-country ski races. Jay rides for Maplelag Resort, manages the Maplelag mountain bike team and enters his 28th year of racing and promoting mountain bike races.

Have an event or mountain bike related information to share from the Midwest? Feel free to contact Jay at