Midwest MTB Report
by Jay Richards
July 24, 2018
We've reached the midway point of the summer which indicates the National Championships for mountain biking throughout the world. This weeks report includes first hand recaps from a few of the Midwest riders competing at the USA Cycling Mountain Bike National Championships at Snowshoe Mountain in the state of Virginia, report on new trail opening at Pine Valley Nordic center in Cloquet, MN a Ode to the 26" mountain bike and a look ahead as the month of July winds down.
USA Cycling Mountain Bike National Championships
A nice group of Midwest riders headed east to Snowshoe Mountain in Virginia to take on the rocky, rooty course with muddy conditions for some. The rain didn't materialize as forecasted for the weekend keeping the course mostly dry. National titles were awarded in cross country, short track, Enduro dual slalom, and downhill, for a total of 93 titles.
Two Midwest riders capturing cross country National titles include Greg Pautsch from Hayward, WI in the Men Master 65-69 and Robert Ogren in the Masters Men 70-74. Other top finishes included former Sheboygan, WI rider and five time Chequamegon 40 winner, Brian Matter posting top ten finishes in both the Pro Mens cross country and short track. Leia Schneeberger, De Pere, WI.placed 2nd in Women's Master cross country 35-39 age division.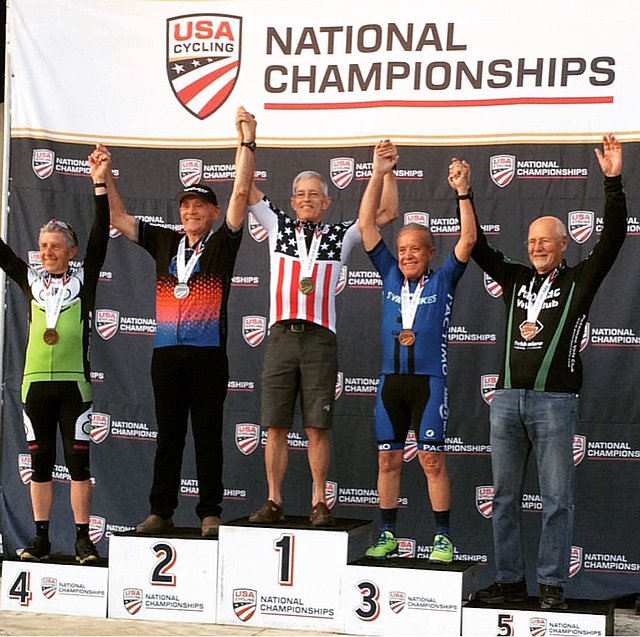 (Photo: Twin Cities local Rob Ogren on the top step, Credit: Fix Studio)
Another result to note is the ride by Frederic Schmid in the 80-84 category in the Men's cross country, pretty inspiring stuff!
First Hand recaps
Breezy Point, MN rider, Samuel Elson, raced in the U23 cross country race than mixed it up with the Pro's in the short track. Elson recorded a solid top 10 finish in the cross country and provides a recap of both days he raced: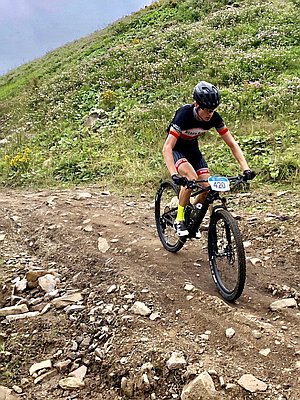 The cross-country course at Snowshoe mountain has a great mix of everything you need. For the U23 race(age 19-22) we did 5 laps of rocky, rooty single track, flowy descents, and plenty of climbs that make it really hurt. Out of the 52 man field, I got a second row callup. I had a clean start, and I went into the first descent sitting in 10th place. During that first lap, I was able to pick my way through the rooty single track a little better than the other riders (that's because of all the times I've raced at Maplelag) and I found myself sitting in 7th place with a couple of other riders. I was only able to ride with them for the first two laps. I had made a critical mistake in one of the rock gardens, and once the gap had opened, it was impossible for me to close it. For the last 3 laps, I was in 8th place riding all by myself.
(Photo: Samuel Elson in control in the U23 Nationals cross country race)
It became very hard to push myself while riding all alone, but I knew I had to keep going. By the last lap, the legs were starting to cramp and I could see a big group of riders catching me rapidly. In the end, I managed to hold onto 8th. My total race time was 1:25:41, and I was 4 minutes behind the winner. I was so relieved to put in a good result at the National Championship after putting in so much work and effort for just this one race.
The second day of racing consisted of the pro short track race. I had another good start in this race, but I was feeling some fatigue in the legs after the long race the day before. I slipped down to 26th place by the end of the race, but was still happy with this result.
Overall, this past week has been one of the best experiences I've had in my life. The racing and riding was incredible, but I also got to meet some new people and catch up with friends from around the country. It was truly an unforgettable experience.
Wisconsin rider Ben Senkerik raced in the Pro Cross country race with ambitious goals and came home pleased with an excellent result. Ben's report:
This years national champs course was almost identical to last year: but there were 2 pretty drastic changes, both were man made rock gardens. Last year, there was an uphill rock garden (on the double track) that was unrideable due to being super chunky and wet. The other was a burly downhill rock garden. This year,the uphill rock garden was buffed out and the downhill section was changed so you had to take the small drop (see the picture. Words don't do it justice). Outside of these 2 sections you had 1 gnarly root section, followed by 3 big rollers on Jeep roads, then you hit a screaming fast single track downhill. After the downhill, you hit the longest and steepest climb on course. The climb was only 2 minutes long, but took everything just to keep moving forward. After you crested the top, you turned into a long, burly rock section. This was by far the harder of the 2 tech sections because you were blown from the preceding hill climb. The total lap time was only 15 minutes, but there was close to 700 feet of climbing.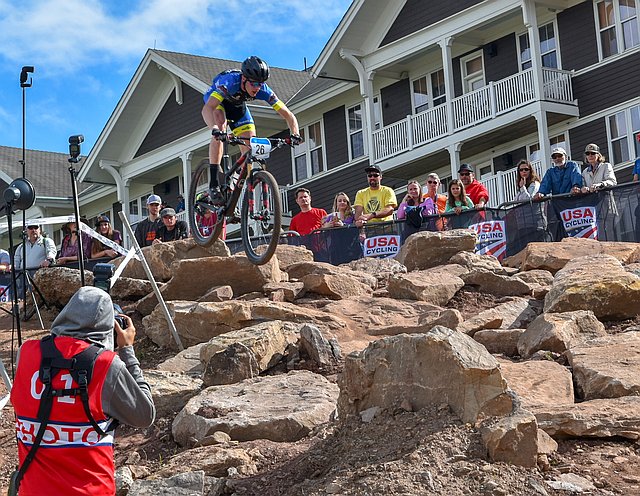 (Photo: Senky getting sendy -- Ben Senkerik flying over the person made rock garden en route to a 22nd place in the Pro Cross Country, Credit: Janice Jedlicka)
On race day, there was 100% chance of rain, but as each hour went by, the forecast kept changing until the rain was no longer. So instead, we had 80 and sunny! The race itself shook out right away. Blevins, Keegan and Howie blew up the field from the gun. I followed Matters wheel for the first lap but got dropped on the steepest climb on course. Then about 3 laps in, Carl Decker caught me, so I grabbed his wheel for a lap but got gapped on the finish line climb. After Carl road away I was solo until the last lap when I caught Alex Wild. It was a tight battle but he had just a little more left in the tank and gapped me on the final climb. In the end, Howie ended up snagging the W over Blevins, due to a late race front flat. The Midwest held it down with Matter in 10th, Cole House in 20th and myself in 22nd.
Minnesota state high school champion Anna Christian had an impressive race considering she flatted and was still able to place a solid 8th place in one of the larger female fields in the cross country division.
My XC race was the Category 1, 17-18 girls and we went off at 8am on Saturday. The start was dark, rainy and super foggy. We rode the Pro XC course which meant that we were sent up a hefty start hill with a 35% grade kicker at the end. Like in most of the races not everyone made it up and with the wet conditions, only the first 2 riders made it in my race.

(Photo: Steep start for the Cat 1 17-18 female race)
After getting caught up in a pile up on the start hill, I was able to work my way onto the wheel of the 2nd place girl. At the beginning of the 2nd lap I had slid back to 4th, when I flatted. I ran with my bike for over a mile to the pit zone. By the time I was back out and riding I had lost a few minutes and had dropped back to about 14th place. Over the last lap and a half of the race I picked my way back up to 8th.
It was an emotionaly challenging race, but I gave it my all. I'm excited to come back and try it all again next year.
Another rider making the trip east was Enduro specialist Max Fierek who was dialed into the Enduro event at Snowshoe. Max provides a great recap and insight on the format of Enduro.
Back for a second year the USA Cycling Mountain Bike National Championships returns to Snowshoe, WV a small ski resort nestled deep in the heart of the Appalachian Mountains. Snowshoe is home to some of the most physically and technically challenging trails in the US, the ideal place to host the Nationals.
If there is one thing I've learned about Snowshoe is the only thing you can't count on is not being able to count on the weather. We arrived early Monday morning just in time to catch the last day of a heavy rainstorm. Luckily for me this meant by my race on Thursday the trails would be in perfect shape! For practice however the trails were soaked! Stage 2 literally had a 6 inch deep stream running straight down the middle of it. Two muddy, slippy sketchy days of practice later enduro race day was upon us!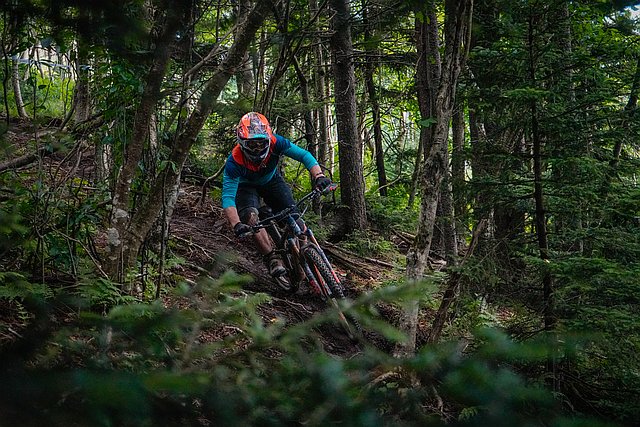 (Photo: Max Fierek keeping smooth on the gnar, Credit: Morgan Done)
This year USA Cycling decided to up the difficulty of the enduro by making it a single day event down from two days like last year. How does that make it more difficult? Well that meant instead of breaking up the stages over two days we had to cram 7 stages into a short 6 hour period in one day. This short of a time frame meant no room for mistakes, mechanicals, lunch or errors. Dropping into stage 1 felt incredible! I was on a burner of a run until I flew under the tape, not once but twice! As it turns out I had mixed up stages 1 and 7, they crisscrossed all the way down and I had been riding from 1 to 7 to 1 and vice versa. Despite the mishap I only came in about 20 seconds back from the stage winner. Stages 2, 3 and 4 go almost great with only minor issues like braking to much and not quite getting in every pedal stroke I could have. Stage 5 however is where the race went south for me. I dropped in riding as smooth as I could thinking to myself "smooth is fast and fast is smooth". All I had to do was not break myself or my bike and I could pull off a podium finish! As I hit the sprint I stand up and start putting the hammer down, only to snap my derailleur. My bike jumps to the hardest gear and I do my best to get it to the bottom. I start huffing it to stage 6, with the cut off time approaching fast I had to keep going. Pedalling when I could and speed hiking the rest of the way until I realize a quick fix... I barrow a zip tie from another rider and Macgyver it back together, at least I could get an easier gear! I ride stage 6 a tired mess but make it to the bottom, hop on the chair lift and sprint to the top of the final stage for the day stage 7 just in time before the cut off. I rode the stage clean and fast but with relief knowing that at least I had finished the race unlike many riders still behind me.
All in all Nationals was an amazing experience, I got to try a few tweaks to both my bike and suspension set up to be EWS ready in a couple weeks. The best part though was being able to see old friends from around the country and see how Minnesotan riders are making a name for ourselves. From myself snagging a 9th place finish to Sean O'Donnell from Rochester taking a 17th in Pro DH and Sam Elson pulling off an 8th in U23 Crosscounty as well as 26th in Pro Short track!!
Related:
USA Cycling Coverage
Minnesota coach/rider Bruce Martens capture of Nationals on Instagram
USA Cycling Photos on Facebook
Full Results
Riding the ol' 26er: An Ode to the Mountain Bike that Started it All
Last week a fellow team member was asking me about 26" mountain bikes and how they are a thing of the past. He was given a old frame and is the process of building it up. I had a extra wheel set laying around so I gladly gave it to him to help with the cause. In conversation about 26" mountain bikes and looking for an article about die hard 26 hardtail riders (which I didn't find) I stumbled across an article about a rider that reflects on his first mountain bike that was fun to read. Stay tuned for Dave's final build!
Pine Valley MTB Trails
The new singletrack trail at Pine Valley officially opened for bicycle traffic on Wednesday, July 18, 2018! Check out a set of images from the trail sections and features...and how much fun riders of all ages are having, check out all of the great smiles! Members and coaches of the CEC Mountain Bike Team for volunteered to be in these first photos of riders on the trail.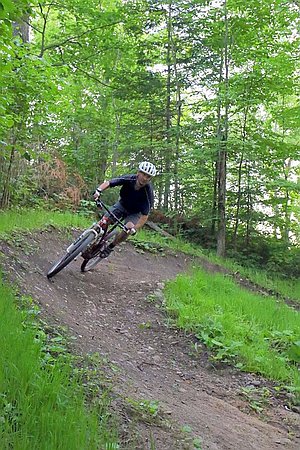 (Photo: Riding high on new trail at Pine Valley)
The club reminds people to use standard trail etiquette, don't ride when it's wet, ride to your ability, and wear a helmet. The trail is purpose-built and optimized for mountain biking, but it's also open to hikers and runners, plus snowshoes and fat bikes in the winter. The project was possible thanks to the City of Cloquet, the Cloquet Park Commission, trail designer Jake Carsten of Dirt Dojo, trail contractors Trail Logic and Trail Source, and all of the volunteers who worked hard to make the trail a reality!


Looking Ahead
Of of the series newest races, Gamehaven Lakeside Grind is another venue following the schedule of the Minnesota Cycling League, held at the Gamehaven Scout Reservation – a "beautiful 265 acre camp and the Gamehaven Sports and Activities Park – Rochester's newest 460 acre regional park with a 42 acre lake. Gamehaven has been a popular site for Minnesota High School races the past 4 years. Trails are built and maintained by volunteer members of the Rochester Active Sports Club. New trails are being added each year."
Keep the wheels moving!
About the author...

Jay Richards maintains a very active lifestyle. He somehow finds time between managing a full-time resort (Maplelag) and bringing up a family of four boys with his wife Jonell, to compete in both mountain bike and a few cross-country ski races. Jay rides for Maplelag Resort, manages the Maplelag mountain bike team and enters his 28th year of racing and promoting mountain bike races.

Have an event or mountain bike related information to share from the Midwest? Feel free to contact Jay at