Midwest MTB Report
by Jay Richards
July 31, 2018
Series racing in Minnesota at the new venue Gamehaven in the Rochester, MN. area and one of the more popular standing 24 hour events, Wausau 24 highlighted this past weekend mountain bike racing. A look ahead beyond this more quiet weekend on tap of racing as big events to close out the summer loom on the horizon.
Gamehaven Grind MNMBS #7
A popular stop on the high school cycling league series, the new course at Gamehaven located in Rochester, MN. was host to race #7 in the Minnesota Mountain Bike Series this past weekend. Dry conditions made for fast racing on the flowy singletrack that saw a boost in participants from the last two races.
The marathon class featured 20 riders with Bruce Martens taking yet another win, cranking out 9 laps in a time of 4 hours, 13 minutes and 5 seconds. Chris Stewart and Charlie Serill, 2nd and 3rd place riders respectively were also two riders to pound out nine laps as Nikolai Aninkin and Steve Pippin rounded out the top five.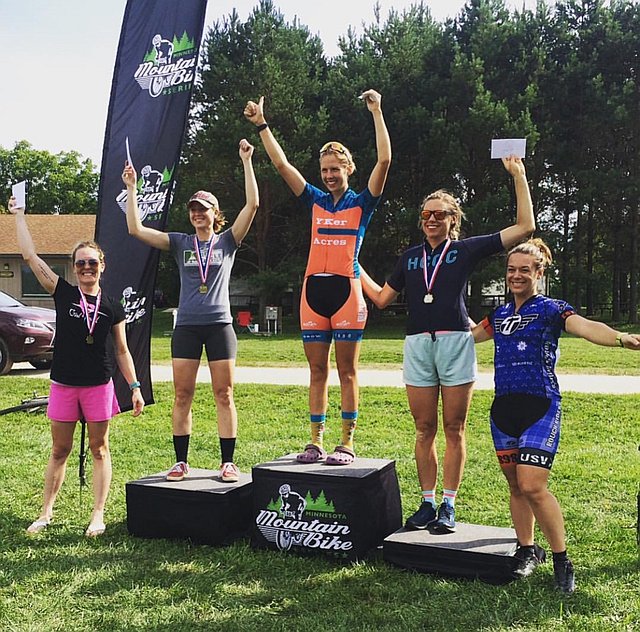 (Elite women podium at Gamehaven, Credit: Kristi Henderson)
The elite women's class was hotly contested as the top five riders were all within six minutes of each other. Tiffany Edholm took the top spot, with a sizable gap over Wendy Boehm by three minutes but she was followed closely by Danielle Larson and Kristy Henderson. Ashley Busack rounded out the top five. Henderson posted:
Woke up with a sore throat and no voice but loaded up on emergen-c, cough drops and water to fight one of the greatest battles in Mtn biking I've ever had for a solid 4th place finish in the Women's Expert race! So freakin stoked with today's race - huge thanks to the awesomely strong women in my field"
Overall male elite winner, Jeff Hall provides a first hand recap from the Elite male race:
The course and weather was perfect for a great day of racing.The elite race started out fast up the first climb with Sam Berkland leading most of the first lap.While sitting in second I attacked up one of the few short climbs about a mile from the end of the lap and held the lead for the rest of the race. With not a lot of climbing and lots of single track it was a day to the let the bike handling skills take over.

(Photo: Jeff Hall out in front and in control, Gamehaven Grind, Credit: Mark Man Outdoor Photography)
With this being my last race until Ore to Shore I wanted to push the pace and knowing I had some fast young guns hot on my wheel I couldn't let up. The 17 year old super star Calvin Sandberg finished a strong 2nd and Brendan Bellew rounded out the top 3 and Ethan Depman and Matt Christansen rounding out the podium. Next up is Spirit Mt. in Duluth with only 3 races left in the series. Wow the summer flies by.
Looking Ahead
Hixon Forest Epic Race #8 WORS
Hixon Forest is over 800 acres of bluffland overlooking the Mississippi River Valley in the heart of the Driftless Region–La Crosse, Wisconsin. In the early 1900s, a group of citizens including members of the Hixon family raised funds to purchase area blufflands to save them from additional quarrying and logging. Soon after deeds were exchanged, the lands were donated to the City for preservation and recreation. In modern times, the City of La Crosse Parks and Recreation Department works with local organizations to build and maintain world class trails and facilities for hiking, snowshoeing, skiing, and mountain biking and provide a challenging course for race #8 in WORS and a opportunity for Minnesota riders to make a short trip across the border.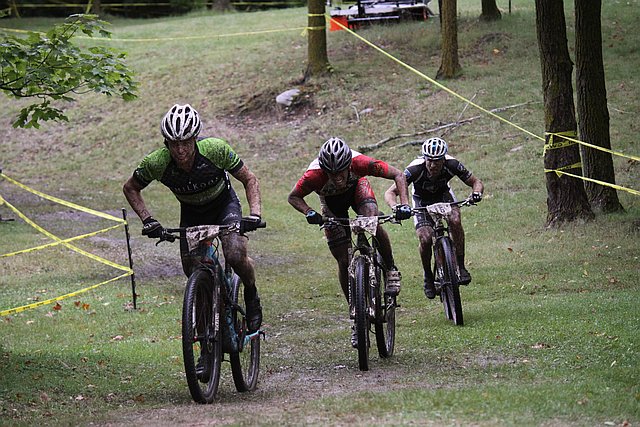 Short track racing to be featured at the Duluth Bike festival this year. Photo from sprint finish, Laddies Loppet 2015.
Duluth is gearing up for the fifth annual Duluth Bike Festival that will feature just about every discipline of mountain bike racing. In addition to the MNMBS cross country race, a new event for the festival, short track, has been added and it being promoted and run by elite male rider Mason Bacso. Mountain bikers will also be partaking in gravity events Saturday with downhill and both long and short enduro added.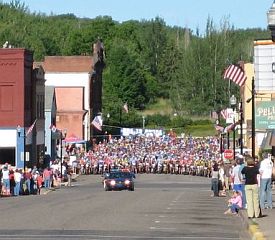 One of the big point to point races in the Midwest, the mighty Ore to Shore, is ready to greet riders for long distance racing on a variety of trails including double track, bed rock, forest roads finishing up at the Superior dome in Marquette. With ton of new trail in the area to check out, the event makes for a nice weekend of racing and riding.
Keep the wheels moving!
About the author...

Jay Richards maintains a very active lifestyle. He somehow finds time between managing a full-time resort (Maplelag) and bringing up a family of four boys with his wife Jonell, to compete in both mountain bike and a few cross-country ski races. Jay rides for Maplelag Resort, manages the Maplelag mountain bike team and enters his 28th year of racing and promoting mountain bike races.

Have an event or mountain bike related information to share from the Midwest? Feel free to contact Jay at