Midwest MTB Report
by Jay Richards
August 7, 2018
The month of August has shifted to the big ring. Tons of riding, racing and fun events including series races but also local events like Enduro, XC Eliminator, and the big marathon and epic events such as the Maah Daah Hey 100. This weeks report includes first hand recaps from the Wausau 24 two weeks ago, the truly epic Maah Daah Hey 100 this past weekend in the Badlands of North Dakota, insight on the XC Eliminator, a couple of mountain bike related items to note including yet more new trail openings and a look ahead to a big weekend of racing including the Leadville 100 which always sees a handful of Midwest riders and the big Duluth Bike Festival.
Maah Daah Hey 100
Last weekend marked possibly one of the "toughest" mountain bike endurance events in the country, the Maah Daah Hey 100 in the Badlands of North Dakota. Even thought I haven't competed in the event, I say that because of all the people I have talked to that have competed in and not only crossed the finish line but failed to do so because of the extreme conditions, mainly heat in the open country in the heat of summer. A new course record was set this year by the legend Tinker Juarez.
First time participant in the 100, Jaci Woinarowicz of Fargo, ND. toed the line to take on 12,000ft of climbing on the rolling terrain of the Maah Daah Hey trail and contributes a detail report of the day after a solid fourth place finish:
This past weekend I competed in the Maah Daah Hey 100, which was actually closer to 107 miles and featured 11,500 feet of elevation gain. The race started at the CCC Campground (South of Watford City) and finished in Medora. The course was nearly entirely singletrack on a mixture of dirt, clay, gravel, & grasslands in the badlands. Lots of climbs & lots of descents. Minimal coverage from the elements.
The race started at 6am. We had 18 hours to finish. There were Aid Stations (3) & checkpoints(12) that racers had to make it to within a certain time to not be disqualified. (Based on a 5.8mph average speed). The weather was 85 degrees with 95 degrees reading on Garmin in parts of the Badlands. West wind that picked up throughout day.
My training for the event included a couple of MNMTB Race Series 4 hour Marathon courses (the extent of my trail riding training), which I believed help me a lot. Also, I tried doing most my training in the warmer parts of the day. Honestly, I was apprehensive about spending 3-4 times that amount of time on my mountain bike on the trails, when I never had before. I think just spending a bunch of time riding in general, weighed in my favor. Lots of hydration was key, along with tailwind and lots of food (bars, bonk breakers, pb&jelly's)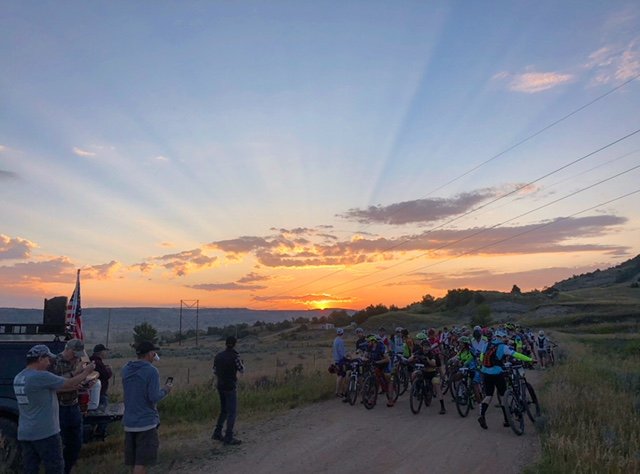 (Photo: Beautiful morning for the Start of the Maah Daah Hey 100, Credit: Barry Buhr)
In the first 5 miles, I saw 2 cyclists go down when climbing the switchbacks up the first climb of the day. Wow, that concerned me a bit. And a flat tire & another mechanical. Seeing these things, made me realize my ride was going pretty darn well. I met up with Peder Arneson at the first aid station, where he reminded me to save my energy for miles 50-80.
I enjoyed Devils Pass & crossing the Little Missouri River. There was a drone flying above me when I carried my bike through the river. Aid station 3 (at Mile 78) was so awesome. They had a huge party full of cowbells, megaphones (cheering you on as you came down the switchbacks into the valley at Aid Station #3), Coke, etc. I told Phil Helfrich as I rolled in that it was "The best day of my life." He told me I was the first rider to say anything close to that at Aid Station 3. Ha. I stopped at 1/2 the aid stations or checkpoints for only a few minutes each. I honestly just wanted to keep pedaling forward, as I was concerned my time was coming to bonk.
At mile 101, I passed a couple of guys doing the 75 miler, they asked me "How the hell can you still be so happy?" I said "I'm on my bike. How can I be anything but happy?" Ha. To be honest, I never bonked & had the time of my life. I do wish I would have pushed myself a bit harder, but I played the safe card wanting to at least "complete" the race. In the last 5 miles, I saw two Garter snakes.
Finish Time: 13:36:37. I was happy to finish. Next year, I'd shoot for under 13 ... & not stop to take photos.
Overall evaluation of the event: Nick Ybarra & the crew do an amazing job at the MDH. Most encouraging & helpful volunteers I have ever witnessed. They fill up your camelbaks, make you pb & jelly sandwiches, & sincerely ask how you are doing. Course was clearly marked.
Barry Buhr who was competing in his fourth MDH100 opted for maximum fun option, using his "Enduro" bike. Buhr posted on social:
Since the first time I did the Maah Daah Hey 100, I've thought how fun all the savage downhills would be on a rippin bike, rather than the SS. This year I found out.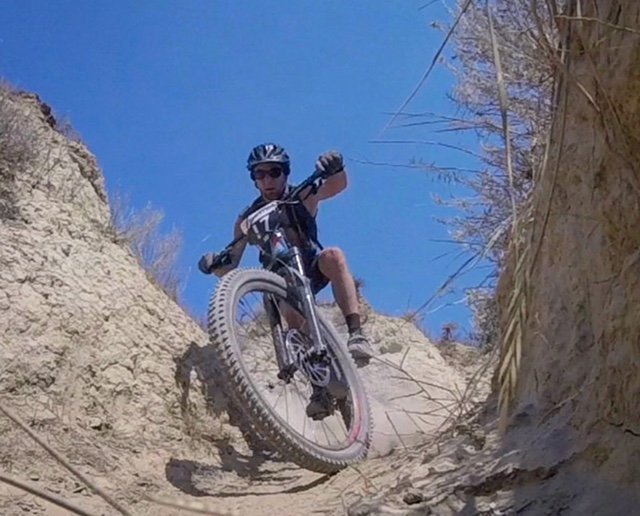 (Photo: Barry "Buhrito" Buhr going full enduro at the Maah Daay Hey 100, Credit: Barry Buhr)
My calibrated computer had 110 miles, my GPS had 106. Either way, a big day of going full enduro My 4th time doing this but I took a different approach this year and went full enduro. Traded the singlespeed for a squishy ripping machine. Way more fun. Prairie dogs and petrified trees. Punchy climbs and white knuckle descents all damn day.
Wausau 24
Former standout Bemidji Nordic Skier Matt Lee, now residing in Eksjo, MN, made the trek east to compete in the Wausau 24 endurance race, lining up for the 12 hour solo race. Matt provides a great recap of the day including some solid advice for these epic endurance events.
Last weekend I had the opportunity to race the Wausau24 event which is located at the nine mile trail system just outside of Wausau, WI. A few friends of mine who were doing the 24 hour solo singlespeed!!!(who we will call "Tim "in this story), 6 hour team (who we will call "Jacey" and "Dani" in this story) and myself doing the 12 hour solo. We made the trek over on Friday afternoon to pick up our bibs and grab "the last supper" before the big day.
Saturday morning came early as we all shoveled bacon and eggs into our stomachs, placed our bikes in the designated area and mentally prepared for the long day ahead. This race is a "Le Mans" style start which includes first racing on foot to our bikes and taking off down the trail. Like all races, nerves take over and I blasted off like it was much shorter xc race which I am typically used to. I kept repeating the advice that I had gathered from a few successful bikers who have done these sorts of events in the past. Advice such as: "slow is smooth and smooth is fast", "you're not gonna win a 12 hr event by winning the first lap" and "it's all about efficiency in those looong events".
The first few laps went by fairly uneventfully. I tried my best to settle into an all-day pace but I could still tell that I was still going a bit faster than I should be which was also reflected in my lap times which were roughly an hour per lap. I ended up washing out in a corner on lap 3 which has now left me with some nice big gashes on my elbow, thigh and knee, Oops! From lap 3-7 kind of all blended together Every time I came through to finish up a lap I was greeted by either Jacey or Dani who was waiting at our camp that was set up along the trail. Chips, pickles, rice bar, brownies, ice cold coke and Culvers butter burgers were our choice of foods to grab as we passed by. I am pretty sure there was magic in those Culvers burgers because everytime I ate one I felt amazing and all fatigue went away.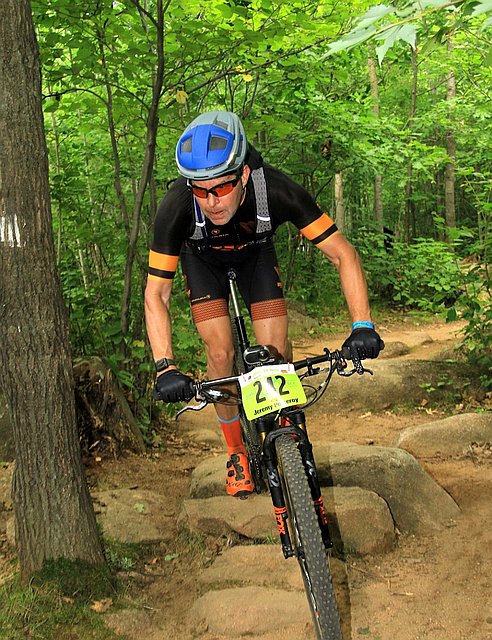 (Photo: Rolling over the rock garden, Wausau 24, Credit: Jeremy Pomeroy)
I decided to take a longer break after lap 7 as the fatigue was really starting to set in. I seemed sink right into the camp chair as I sat down and the comforts of not moving were enticing. I shoved whatever I could into my mouth as bikers from the the remaining events passed by our campsite. About that time, Dani, who had finished their event turned to me, cell phone in hand with the live results. " wanna know what place you're sitting in?" she said. "Sure" I replied in between chews of yet another culvers burger. "You are currently in 2nd place! The 1st place person is a fair bit ahead of you and there is one person behind you by 3 minutes with many more racers only minutes behind him." my first thought was "great!" then I looked out on course and saw racers passing by and I wondered if the person who is on my tail has passed by yet. With so many participants I had no clue who this guy was! I finished my burger and off I went. With a full stomach and some new found motivation I blasted off?! (in relative terms for being 8+hrs into a race) for the next 3+ hours I felt like I was just starting a race. My legs felt amazing and I was pulling guys who were doing the team events! Darkness came for the last 2 laps and I had so much fun riding in the dark! I felt really strong and it seemed as though other racers were slowing down in the dark and I kept barreling down the trails as fast as I could. I ended up keeping my place of 2nd overall in the 12 solo category only a few minutes behind the winner.
After a hot shower and some more food. I layed down for a few hours to get some rest. I woke up and had the chance to see Tim come through on his single speed at 3:30am. He was still smiling which is pretty awesome since he had been biking for over 17 hrs! I decided that I wanted to share in his journey so I made a point of being ready to bike another lap when he came around again. Just like clock work, at 5:00 he was coming around for another lap and I was ready to join him. We only needed lights for another 40 minutes as the sun was beginning to rise. Sooo. Cool. I like to think he appreciated the company but he is so nice that he would never tell me if I was annoying him. Haha. getting close to the end of our dawn patrol lap we rounded a corner to be welcomed by a black bear. Luckily the bear was not so excited to see us and took off pretty quick.
Tim went on to place 2nd in the 24 hour solo single speed category. Jacey and Dani placed 2nd in the 6 hour duo female category, not bad for their first race, eh?! I am seriously impressed at how well run this event is and I would highly recommend it to anyone crazy enough to ride their bike that long.
NICA Awards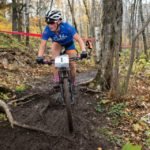 NICA recently presented awards in eleven categories to twenty individuals and organizations considered to be the most outstanding student-athletes, dedicated coaches, and the most supportive volunteers and sponsors to have helped advance the interscholastic mountain biking movement over the past year. Minneapolis's own Anna Christian was the recipient of the Trek All Star Student Athlete award.Anna plans to compete in Nationals for both mountain and road cycling in the future and also plans to race both mountain and road in college where she will pursue a degree in Environmental Design or a related area. (Photo: Anna Christian, Credit: TMB Images)
"Being apart of the NICA Minnesota League has given me the chance to meet far more people my age (especially girls!) that share my love of biking than I could have imagined. When I did the first ever Middle School race 5 years ago, it was so exciting to think that I could actually compete on a school bike team and it has been a such great experience. The NICA Minnesota League also given me the chance to find so many new friends, mentors, and young riders just starting out. It is a great community and really wonderful to part of a team. The NICA Minnesota League has has grown so much that I feel like we have all grown up together. In my opinion the Minnesota NICA League (and really all of the NICA leagues) are unique from other sports because everyone gets to participate and decide what the league means to them. I think its really important to give kids the freedom to make their experience into what they want and what works best for them, rather than letting someone else do it." – Anna Christian
Giants Ridge MTB New Trail Opening

(Photo: New gravity trail at Giants Ridge)
Back in the 90's Giants Ridge was host to the Giants Ridge Mountain Bike Festival over Labor day weekend that featured some of the gnarliest classic singletrack in the Midwest. Combined with the hill climb, old school downhill race and fun events in between made for some great memories and one of my favorite events on the year. When the festival ceased, the Laddies Loppet weekend at Maplelag was moved to Labor day weekend.
Fast forward to this year, approximately 2.5 miles of purpose-built gravity mountain bike trails opened this past weekend at Giants Ridge. Currently there are two different trails and optional "B" lines. Served by the NEW Sarajevo Express chairlift, trails will be intermediate to advanced and will be built to enhance rider enjoyment and fun!
The trails that will be opening this year are located south of the Garmisch ski run. The trails are being built by Rock Solid Trail Contracting of Copper Harbor, Michigan. Plans for the future include additional gravity trails plus cross country trails to bring a total of 25 purpose built trails. Mountain bike racing has returned to Giants Ridge over Labor day weekend with the "Grind" race.
Pembina Gorge MTB Trail Opening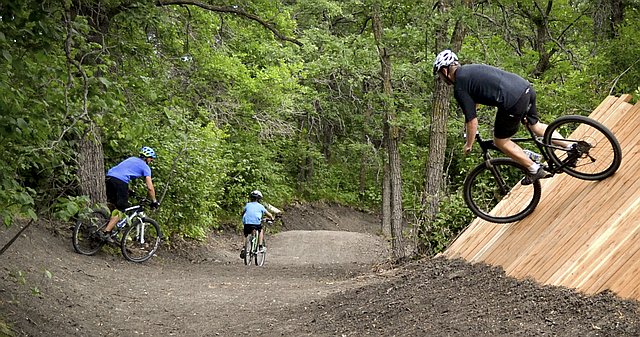 (Credit: Trail features on the new Pembina Gorge MTB Trails)
The Pembina Gorge State Recreation Area has become a top destination for adventure seekers throughout North Dakota and the surrounding states. Visitors can go horseback riding, hiking, kayaking or ride OHV's at the Gorge. The latest recreation addition has been mountain biking featuring some purpose built gravity trails. This new trail system incorporates phase one of a two-phase project.
XC Eliminator
The XC Eliminator is a fun mountain bike event held at the Cottage Grove Bike Park and is open to all types of cyclists. Chris Fisher of OTSO/Wolf Tooth Components, provides some insight:
XC Eliminator is a sprint track style of mountain bike racing that involves elements of XC mtb and BMX to form an awesome event for racers and spectators alike. Racers will be held in a heat style with 4 racers racing at a time. Depending on number of racers 1-2 racers will advance from each heat. Heat races will consist of two laps taking approximately 2-5 minutes in length with the championship race having 3 laps (3-6 minutes). This is an untimed event with the winner being the first to cross the finish line. Prizes will be awarded for the top three finishers.
Other information: Helmets required. There are no water fountains so bring fluids. Race any bike you like, no wheel or drive restrictions,(XC, hardtail, full squish, single speed, cyclocross…etc)
Leadville Throwback
The Leadville 100 is a race that starts above 10,000 feet and climbs to 12,424 feet, and cyclists complete the out-and-back route in a day. For his part, Spencer Powlison plans to ride the race this Saturday on a 1983 Stumpjumper. The 34-year-old, mustachioed Boulder cyclist plans to conquer the Leadville 100 on a bike a few months older than himself. His silver Stumpjumper lacks any of the trappings of a modern-day mountain bike: suspension, disc brakes or improved gear shifting. Its steel frame makes it significantly heavier than today's carbon fiber frames, too. Read the full article
The Leadville 100 is always well attended by Midwest riders and we hope to have a recap in next weeks report.
Related:
Minneapolis rider Jason Scherman is competing in the Breck Epic this week and look for a report from him next week!
Looking Ahead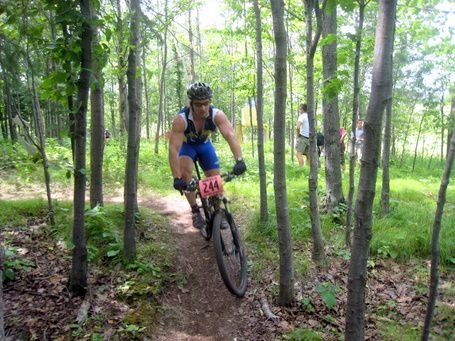 (Photo: Larry Sauber weaving through the old school at Spirit Mountain, Powder Monkey 2018)
Duluth is gearing up for the fifth annual Duluth Bike Festival that will feature just about every discipline of mountain bike racing. In addition to the MNMBS cross country race "Powder Monkey" at Spirit Mountain, a new event for the festival, short track, has been added and it being promoted and run by elite male rider Mason Bacso. Mountain bikers will also be partaking in gravity events Saturday with downhill and both long and short enduro added.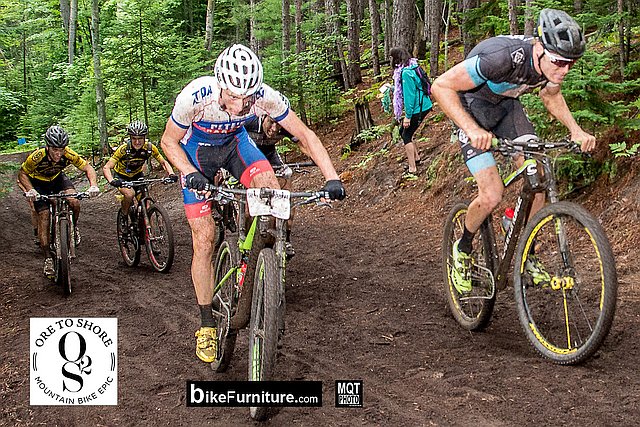 (Photo: Leaders in the Hard Rock Ore to Shore, 2016, Credit: BikeFurniture.com)
One of the big point to point races in the Midwest, the mighty Ore to Shore, is ready to greet riders for long distance racing on a variety of trails including double track, bed rock, forest roads finishing up at the Superior dome in Marquette. With ton of new trail in the area to check out, the event makes for a nice weekend of racing and riding.
About the author...

Jay Richards maintains a very active lifestyle. He somehow finds time between managing a full-time resort (Maplelag) and bringing up a family of four boys with his wife Jonell, to compete in both mountain bike and a few cross-country ski races. Jay rides for Maplelag Resort, manages the Maplelag mountain bike team and enters his 28th year of racing and promoting mountain bike races.

Have an event or mountain bike related information to share from the Midwest? Feel free to contact Jay at