Midwest MTB Report
August 21, 2018
Another busy weekend of racing and riding in the Midwest with both series in Minnesota and Wisconsin, and a couple fun grass roots races. This weeks dirt packed report includes recaps from the Cuyuna Crusher, Flugly, the Seeley Lions Pre-Fat and first hand detailed recaps from Minnesota riders competing in the Leadville 100 and Breck Epic. A couple fun links to check out and the look ahead as the summer is coming to an end and the high school season begins!
Cuyuna Crusher MNMBS #9
Probably the states most popular mountain bike trail system, Cuyuna Lakes, was host to Cuyuna Crusher, race #9 in the Minnesota Mountain Bike Series. The course was slightly different this year offering both a mix of older flow trail and newer flow trail along with a better start and finish area.
In the Elite Male race, 16 year old Junior rider Braedon Anderson took his first ever Elite win over Jeff Hall in a sprint finish. Hall had raced the day before in Seeley Pre-Fat taking the win there. Third place belonged to another junior rider in Calvin Sandberg. Samuel Berkland and Brian Bellew rounded out the top five.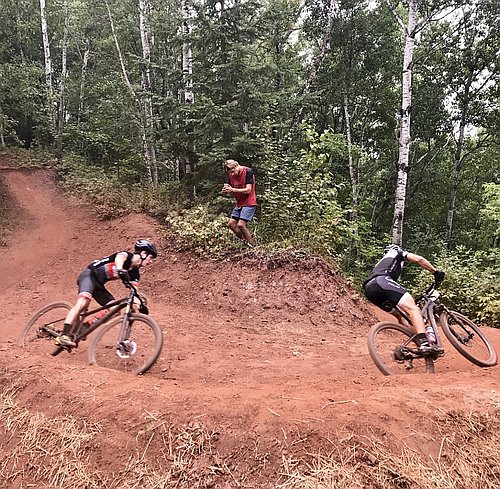 (Photo: Braedon Anderson giving chase to Jeff Hall, Cuyuna Crusher, Credit: Anderson)
Champion Anderson stated on Insta: "Was able to snag my first pro/elite win at the Cuyuna Crusher yesterday, words can't describe how happy I am to finally get that elusive win I've been hunting for all season. Definitely the hardest battle I've ever had on the bike as I was barely able to edge out Jeff Hall in the end."
The Elite women had a nice battle at the front as well with Eleanor Bacso taking the win over Tiffany Edholm. Bacso posted: "Had a BLAST shreddin' the red at Cuyuna on Sunday! The race took off really fast per usual and Tiffany and I ended up riding and leading all 3 laps together which was awesome to fly through the single track together and really push each other."
Danielle Larson, Ashley Busack and Kristi Henderson rounded out the top five.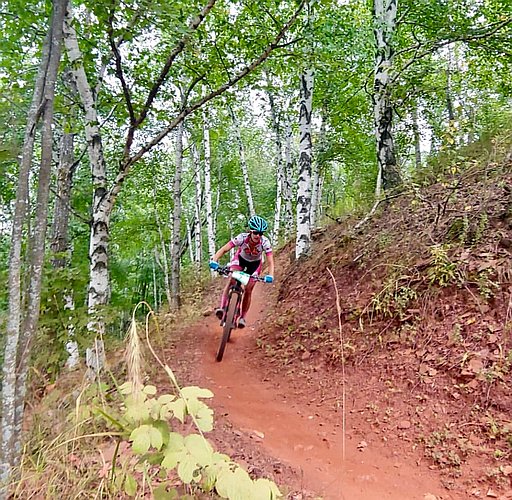 (Photo: Eleanor Bacso cruising to win at the Cuyuna Crusher, Credit: Mason Bacso)
The Sport race saw another battle in the male division, dominated by junior riders, one of those riders, Cole Johnson provides a first hand recap:
The trails at Cuyuna are some of the best in minnesota and this race was no different. The course had a great mix of old and new trails as well as double track and an open gravel climb. The sport race started on the road before turning right onto a bike path and then ducking in and out of single track for about a mile or two. The pace was high as we had lots of flat pavement to sort out who would get into the woods first. I ended up dropping in second but by the time we got to the end of the pavement/singletrack transition area I was fourth. A few other riders and I tried to reel in the front three but they were out of sight by the first half lap. I continued to hover around the top 5 racing with Sam Pikula, Otto Weber, and a few locals who I didn't recognize. As we kept racing, I hit the front and tried my best to thin out our group, but by the time the lap was over I had moved back to around 8th or 9th place racing with Chris Boucher and Zach Bollom. We were pretty close to some other guys for the rest of the race, catching Pikula, only to have him pass us again. It was a tough race that felt a lot longer than its 14 miles, the course was a lot of fun but it was a grinder for sure. That combined with all the fast locals who showed up, made it one of the toughest races of the year. Didn't have the winning legs today, but never a bad day to ride the trails at Cuyuna.
The Sport female race was dominated by junior riders as well as the those riders fine tune for the upcoming NICA season. Fourteen year old Gabrielle Gujer took the overall win over fellow junior rider Zoe Penno. Courtney Johnson, Anna Greg Escalante took the third and fourth spots and seasoned vet Kris Brazil rounded out the top five.
Bruce Martens continued his winning streak in male marathon, just 18 seconds over the four hour mark en route to spinning out seven laps and a loaner bike from the local shop, Red Raven after his deemed unusable after a pre-ride mechanical the day before. A relatively tight battle among the top five made for faster marathon racing as Chris Stewart, Chris Rourke, Dusting Marsh and Mark Sams completed the podium. Female overall champ was Chelsea Strate who was the only female rider to crank out seven laps took the win over Holly Windschittl. Constance Sjoquist, Mari Kivisto, and Isabella Mazion completed the female podium.
Up next: Maplelag's Mountain Bike Race Weekend
Flugly
MB Johnson Park in Moorhead, MN. was host the the "Flugly" this past weekend on the fast flowing track meandering near the north flowing Red River on trails maintained by the FM Trailbuilders. The Flugly (Flat and Ugly!) is part of two race series in the Fargo Moorhead area with race #2, the Wild Goose Chase to be held in mid September at the Gooseberry Park in Moorhead. A nice size turnout with most of the locals toed the line to do battle with area riders for the Flugly. Tom Heilman took the win in a tight battle with Ryan Schuette and Ben Olson. Heilman would pull way using local knowledge to win by a minute and a half. Rounding out the top five were Dave Jensen and Greg Ames.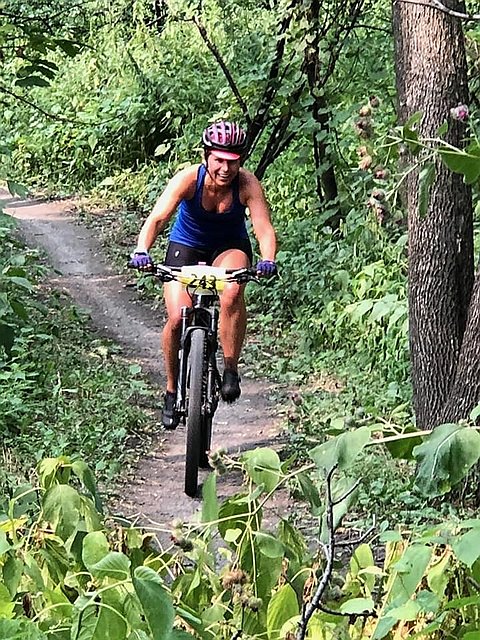 (Photo: Jaci Woinarowicz rolling to the Elite female win the the Flugly)
Marathon specialist Jaci Woinarowicz took the win in the female Elite division over Alexis Pearson.
Seeley Lions Pre-Fat
The fun grass roots Seeley Lions Pre-Fat took place under ideal conditions on the best of both worlds in CAMBA land, fast flowing singletrack with a bit of forest/gravel road.The Seeley Lions Club takes pride in what they do you can see that and they make this event a lot of fun plus the proceeds go towards great community projects including continued improvements to Silverthorn Park just north from Seeley. Adventure couple Jack and Anne Ellefson both recap their races:
Jacks report:
This was a first time race for Anne and I, We picked up our race plate at the Sawmill and rolled into OO with plenty of time to prepare for the day. Nice warm up, scanned the start finish area and did a preride.
As soon as the 1/2 mile or more tar roll out was over we took a sharp left hit the gravel and the pack ramped up with lots of jockeying for position. Speeds were high, dust was flyin and we were all looking for a draft.
After a couple of miles of gravel a pack of 10 broke away and I was hanging on to them hoping to hit the single track soon! After about 3.5 miles of the gravel I couldn't hold the pace entering the single track I had fallen back 50 yards.
I caught a second wind,reeled in one competitor and started moving nicely. To my amazement I spent the next 40 minutes riding solo! I finally spotted another rider ahead and he spotted me, I sensed he was ramping it up and kept my pace steady. The single track was flowy and fun! I just could not quite catch him. We entered the last section of single track and turned out into the grassy final stretch where I could not bridge the gap. Turned out he was in my AG and took the 50-59 win. Ended up 9th overall and I was happy with my effort. Our course was a little over half gravel and the rest nice singletrack. I had post race lunch and beer while I waited for Anne to finish. The sport course was about 5 mile gravel 10 mile singletrack.
Anne's report:
Jack has been a bit more motivated than myself for racing and asked if I wanted to join him at the Pre Fat. First race of the year for me...I have had a lot of time in the saddle this summer yet the intensity is lacking and I knew this would be an adventure in the pain cave. I decided on the 25 miler so I could explore the CAMBA trails and start pushing my fitness... I knew the body would dictate how long I could hit that edge and was ready to give it a go.
Arriving early we were able to check out the start area, roll out to the gravel and warm up. Chatted with Race Director Ned Z. who we were lucky to get to know over the winter working at Snow Mountain Ranch- we knew he would have a great race and well marked course for the event and happy to support!
I watched Jack take off and had another half hour to warm up. We filled the start area with both men and women lining up together. Loved this! Said hello fellow Maplelag Teammates Jessica and Ronnie and we wished each other well and enjoy the day.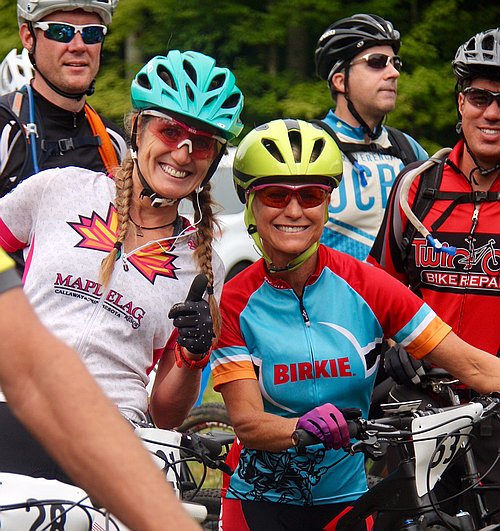 (Photo: Anne Ellefson ready to roll in the Seeley Pre-Fat, Credit: Jack Ellefson)
The roll out was tame riding on tar for 1/2 mile or so, speeds started picking up as we approached the gravel road and I wanted to keep clean on the left hand turn as riders were jockeying for position. When we hit the gravel the speed surged and the group moved fast! After about 1.5 miles I was peaked and a group of 5 of us split from the main group. I was fine with the pace and we held together as the gap got bigger from the main group. We were on gravel for 4 miles or so and turned onto 4 wheeler trails that were loose with some rubble and gutters now and then and you had to watch where your wheel went. The dust was high and speed was quick. After a few more miles we came out to a forest road which reminded me of some of the narrows we ride and hunt in NW Minnesota called the Buckboards. We road by a small lake and just when I thought I had enough of the roads we hit the first aid station and dropped into the woods with the same group pretty much sticking together.
Not having a course pre ride on any of the single track yet knowing the trails are similar to what I have been riding up at Ashwabay and built by CAMBA I assumed they would not be much different- and correct I was.
We had a group of 6 of us that changed position a few times and finally settled with a one passing me and a gap growing and a group of 3-4. Been working with the motto I read on another race report about slow is smooth,smooth is fast and focused on all the technique I have been working on all summer and enjoyed the trails. Nice variety and flow with roots,rocks and roll! I was happy with my effort and the fact that the group I was leading never had to ask to pass and were sooo encouraging that I was not in their way and doing a good job pulling. I was ok with leading as I thought if I let them by I may lose my momentum and settle back. As we climbed High Point I was not sure I could keep this pace and one of the guys knew where we were and said we were almost there after that we'll have some fun. This helped! With trail names like 'Flo Mama' and 'Gravity Cavity' we were hooting and hollering through the rollers and commenting on the fun factor. Nice to be comfortable and confident when I am at higher speeds!
My heart rate was in places it has not been for this sustained amount of time and I knew I needed to take in water at the 2nd water station. After an hour and 25 minutes much of it pulling this group we came out to the stop- I grabbed water and 2 of the three guys did not. A small gap was made and I was having trouble bridging it and losing focus. I felt the other guy behind me and told myself to keep pushing to get back up with the guys.
It was a struggle yet I kept at it and stayed positive enjoying the sweet trails and effort I was putting in. On on uphill switchback I went to shift and the chain dropped. I struggled with that a few seconds and actually had to hop off to fix, I was passed by a lady in my age group and thought get this chain back on and keep on her wheel. Harder said then done and now I had a gap with someone to chase. Worked so hard the last 20 minutes yet the body was not responding as I wanted. My new motto became 'fast is fast so friggin go fast' dig deep and it was all I could do.
I was in no mans land and the mental factor was fading and I was thinking I am ready to be done! We crossed 'OO' and hit a small section of single track before coming out onto ski trails. This was much harder than expected with grass and hills that were taking it out of me. I knew I had a couple racers ahead of me I would like to get closer too yet it wasn't going to happen. Rolled into the finish solid and ready to be done. Worked hard, happy with what the body gave and enjoyed the pain cave visit! Good to feel that race motivation and drive is alive and well, it has been awhile!
Caught up with all our mountain biking peeps congratulations all around and watched Jack stand on the podium and won a door prize. Great Event! Small town feel, well run and a definite one to do again. The awards ceremony, food and volunteers at this event were great. The Seeley Lions Club takes pride in what they do you can see that and they make this event a lot of fun plus the proceeds go towards great community projects!
Leadville 100 MTB Race
Corey Tabbert from Grand Rapids, MN. headed west to take on what has become a bucket list event for many riders, the Leadville 100. Corey focuses his season on a couple key big events and set his sights on finishing, like many other participants tackling the high elevation course and unpredictable weather. Corey's report:
Just over 1500 riders, representing all 50 states and 35 countries, braved the crisp cool mountain air to start the 25th Annual Leadville 100 MTB race. I found myself near the back of a tightly packed group of mountain bikers, both chilled and nervous to partake in the challenge of my first Leadville 100. Every rider I talked with at the pre-race meeting the day before was more than happy to share with me the craziness that altitude brings to this race, also known as, "The Race Across the Sky".
The Course: An out and back, crossing 3 mountains, starting at a little 10,000' and peaking at 12,424', for a total of 103.5 miles, and just over 12,000' of elevation gain. The trail conditions were combination of paved roads, forest roads, gravel roads, and a little single-track. It was very dry and dusty when on dirt.
The Why: Two B's, the Buckle and the Bucket List. Luck via a lottery pick from the Lutsen 99er in 2016.
The How: Heller hard-tail with 2.8 plus front and rear Nobby Nic tires, 30T front with 50X10 Eagle rear.
The Goal: Finish in 12 hours.
The Race: Like most corralled races for me, I crossed the start line 2 minutes after the race start. Even though it was a race "neutral" the beginning was slightly downhill and on pavement. Our huge peloton was flying along with the cool 34 degree air feeling like classic Minnesotan wind-chill. Only seeing one minor accident along the way to the first serious climb, Mt. Kevins, my numb fingers were finally getting some feeling back in them as I joined the conga line walking the first section due to the significant congestion on the trail. Once the riders started thinning out, a nice slow steady climb was possible. At the top, pavement greeted us to a superfast downhill, my plus bike reaching speeds I did not think possible, 49 MPH (I was too scared to look down at my Garmin for fear of taking my eyes off the road but that's what the data said, so who knows). The second climb up Sugarloaf Mt. was much better being a nice steady grade to spin up with less congestion. At the peak, the most technical section of the trail lay ahead, known as the Powerline section because of the huge, buzzing powerlines directly overhead. The descent consists of steep sections of loose gravel and rocks on de-mineralized granite stone. Thank goodness for plus tires and awesome traction as this section was a blast, fast and furious without incident. I was also glad I had pre-ridden this section a few days earlier to find the best lines to descend.
Having the first ¼ of the race completed, the next 20 miles being relatively flat (compared to the rest of the course) flew by in short time to bring me to Twin Lakes Aid Station. The race has a 12 hour time cut-off, with aid station being 4:00 hours on the in-bound, so when I looked at my Garmin and read 3:32, I knew I couldn't get to comfortable.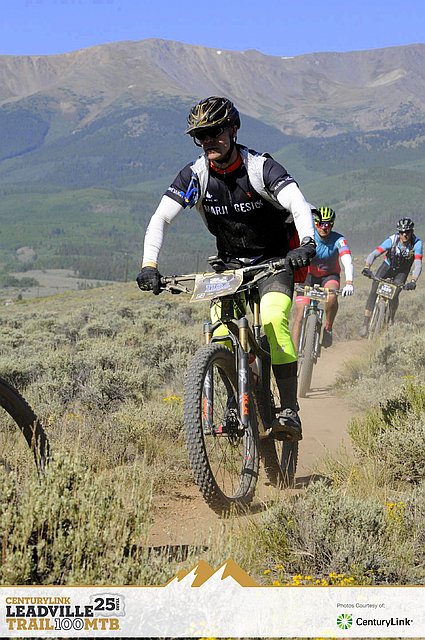 (Photo: Corey Tabbert taking on Mt Columbine, Leadville 100)
Next, Mt Columbine is the longest climb of the race, approximately 3,000', and with the weather warming up I was glad it was still morning and not too hot yet. About ½ ways up the mountain, I remembered very abruptly that this was an out and back, with 2-way traffic race, as the front 3 leaders wizzed by me on the left, descending at high speed. Finally clearing the tree line at 11,000'+ feet, the fire-road gets more rugged and things slow down as altitude and steepness kick in. I entered the "death march" line of hike-a-bikers (HAB) for the next 2 miles or so until the turnaround at the top. Eight miles of nearly all downhill ahead put a smile on my face. These miles are a blur to me, Twin Lakes Aid Station flew by, and I settled once again into my ride all day pace knowing I was over half ways complete.
Nearing mile 80 reality set back in as the Powerline section stared me in the face, figuratively. I was feeling pretty good mentally and physically up until now, but the heat and altitude were finally getting to me. The first and steepest section was pure HAB with on and off HAB until the summit. At the top ready to throw up, the 2 B's kept me going with other riders encouragement along with Leadville resident found me to the finish line with a time of 11:16.40. Buckle in hand! Cross this race off the list! For those that have this race on their "bucket list", I recommend getting to Leadville as early as your budget allows to acclimate as much as possible and adjusting your race time expectations accordingly.
Overall winners: Repeat winners from 2017, Men, Howard Grotts, 6:18. Women, Larissa Connors 7:40.
Breck Epic
After volunteering for the Breck Epic, Jason Scherman was inspired to compete in the event himself. Venturing west with his family, the Minneapolis rider enjoyed incredible views and equally awesome trails. The Breck Epic made a big decision this year to remain independent of a parent company like many big time events are doing now, which delighted the locals. Jason's report:
This year's race would be the tenth anniversary of the Breck Epic. The Breck Epic is a six-day mountain bike stage race staged in the high alpine around Breckenridge, Colorado. Each day, the race starts and ends within the town of Breckenridge. The overall approach of the race is to achieve somewhere around 220-240 miles featuring approximately 40,000 feet of vertical gain and loss over those six days. Our drive out to Breckenridge would go relatively smooth until we had vehicle issues outside of Keystone. At this point, we only had a single gear in our vehicle, and we were incredibly grateful to get it to Breckenridge, a short 20 mile drive, albeit at like 20mph! Regardless, we had the vehicle towed to Denver for major transmission repairs, but at the end of the day, we had made our destination and it was time to focus on the race. As a six-day volunteer the year before, I understood how important, detailed and technical it was for this race to run. The directors put racer safety and fun as priorities. Striking this balance is difficult, and I commend the directors for doing so. From extremely well course markings, providing top-notch medical and mechanical support, to the amazing volunteers. Personally knowing a lot of these folks from last year really made the experience even more personal for me.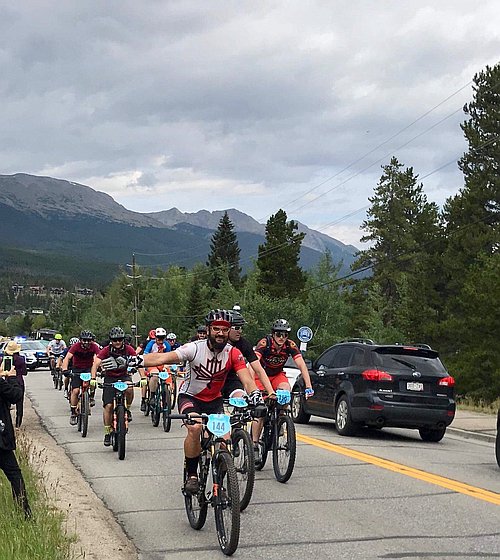 (Photo: Jason Scherman rolling and high fiving his support crew, stage 2 Breck Epic)
Each day was fairly intense in nature; starting at wakeup, fueling, hitting a session in the compression recovery, racing, recovery, fueling, mandatory racer meeting, prepping for next day - meaning aid bag setup, fuel, bike clean/checkup, etc. More time in the compression recovery, more food and bed! I got myself setup with John from "Elevated Legs" to utilize compression recovery for the legs. This was a valuable move I made during race week as it allowed a more rapid recovery, which is key to succeeding in this race.
Read Jason's full detailed report
Minnesota NICA Season Set to Start


(Photo: Start of Minnesota High School Cycling race, 2017, Credit: Todd Bauer Images)
After many practices, the Minnesota MTB high school cycling season is ready to kick off this weekend with the first race in Minnesota at the Hormel trail in Austin, MN.
Possibly one of the fastest growing outstate teams in Minnesota, the Echo Press highlighted the Alexandria Mountaineers mountain bike team recently.
Related: Increased athletic offerings open up opportunities for kids. But they may come at a price
Duluth
The growing in popularity YouTube channel "Seth's Hacks" made a stop in Duluth this summer highlighting the gnarly hand built trails at Spirit Mountain despite the plethora of machine built ones in the areas.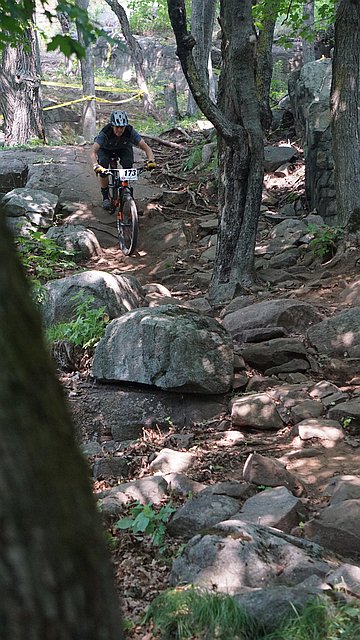 (Photo: Spirit Mountain gnar, Credit: Cove Fylpaa)
Singletracks Top 10 Peaks to Summit in the World
When people talk about summiting a mountain peak, the reference is usually to hiking. Singletracks.com latest top 10 list includes peaks you can summit with your mountain bike. Kilimanjaro anyone?
Looking Ahead
With the school cycling race season kicking off, the schedule is relatively light. To accommodate the cross and Wisconsin high school season which begins September 9th in Minooka, WORS wraps up their series this weekend with the Treadfest.
TREADFEST offers one of the tougher courses on the WORS circuit. The course has plenty of climbing and lots of single track broken up by sections for passing. The course is laid out with three different loops depending on the ability of the race so that everyone can have fun no matter what their ability is. TREADFEST has activities for riders and families including: a consumer expo, WORS Learn to Race Clinic, TREADFEST Kids Race, tasty food and drink on site, TREADFEST T-shirts and all the weekend fun in beautiful Lake Geneva!
Keep the wheels moving!
About the author...

Jay Richards maintains a very active lifestyle. He somehow finds time between managing a full-time resort (Maplelag) and bringing up a family of four boys with his wife Jonell, to compete in both mountain bike and a few cross-country ski races. Jay rides for Maplelag Resort, manages the Maplelag mountain bike team and enters his 28th year of racing and promoting mountain bike races.

Have an event or mountain bike related information to share from the Midwest? Feel free to contact Jay at