Midwest MTB Report
by Jay Richards
September 18, 2018
What a weekend of racing and riding! While some areas stayed dry other areas got hammered with rain including the mighty Chequamegon making for epic conditions for 3100 riders in the Cable/Telemark Wisconsin area. This week report includes first hand recaps from the big race, a quick highlight from the Wild Goose Chase in Moorhead and a look ahead.
Chequamegon Fat Tire Festival
After ultra dry conditions for a few weeks and most of the later part of the summer, the skies opened up big time the early morning part of race day making for wet, muddy and greasy race conditions after most riders expected uber fast conditions the day before. The conditions were welcomed by some and dreaded by others. The event marked the final year race director Gary Crandall was at the helm after 35 years doing so.
Overall female winner in the 40 Jenna Rinehart shares her remarkable story coming back from injury as she took her sixth 40 win:
I was really excited to be able to race Chequamegon again for 2018! In early 2017 I slipped on ice while riding my fat bike and ended up breaking my femur. This forced me to have to take all of 2017 off from racing and just focus on recovery and hoping I would be able to race my bike again. I had surgery to put a titanium rod all the way up my femur and 2 screws at my knee and 2 near my hip. I spent several months off the bike using a walker, crutches and a cane. It took some time for that big of a bone to heal. I had quite a bit of muscle damage and it took 8 months of physical therapy to get my muscles firing correctly and my strength back close to normal. After a solid year of hard work I was finally feeling pretty good with just occasional knee pain. I spent the first part of 2018 working on getting some fitness and confidence back. I had the idea of racing Chequamegon in the back of my mind all season but when I heard this was going to be Gary Crandall's last year as director I knew I had to give it a shot. He has been such a huge part of Chequamegon history and always so positive and encouraging to me.
Going into the race I knew I was lacking a little bit of top end intensity from not racing much but my endurance was good and this course suits my strengths pretty well. Nicollet Bike Shop got my Specialized Era all race ready. I decided to go with dry tires as the forecast looked mostly dry with a small chance of thunderstorms. Saturday morning I was awoken to the sound of thunderstorms. I wasn't too worried though as I was staying just East of Hayward and it didn't rain too much there. At the start I placed myself in the 3rd row and then began to scan the field for other women. Chequamegon is unique in that the women's race is combined with the men's and so it's sometimes hard to know what place you're in or where the other women are in the race. I spotted Sara Kylander-Johnson and knew she was going to be one to watch out for. She has won this race before and is such a strong rider.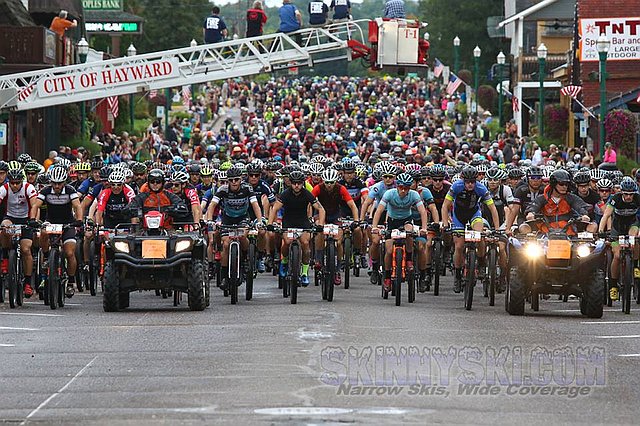 The start of Chequamegon is pretty scary and I always breathe a sigh of relief when I make it to Rosies Field safely. Through Rosies Field I found myself in a good fast group of 15+ men. During the first part of the race you don't have much time to look around for the other women. It's too congested and you have to focus on staying on a fast group.After we got on to the Birkie trail I quickly realized we had gotten way more rain then I had thought. There were huge deep puddles out there! Sometimes you could avoid them but most of the time you had to just go straight through as fast as possible and hope for the best. I stayed with a big group for the first 15 miles but started to dangle off the back a bit. I could tell the pace was a little much for me and it was going to be a longer race with the wet conditions. I fell off the group and rode by myself for quite awhile. I was worried about getting caught by another big group but I think the conditions made drafting less important and spread everyone out a bit more. I got a bottle from my husband at Janet road and he told me I was in first place. I had no idea though how close the next women back was so I had to just keep pushing as hard as I could. I caught a few riders after Fire Tower Hill and we worked together for the last 10 miles of the course. I looked over my shoulder a few times in those last few miles to double check I didn't see any women behind me. It felt so incredible to roll down that last descent into Telemark!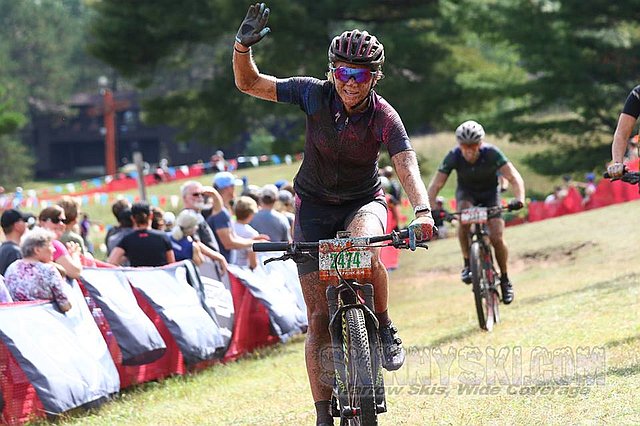 I first won this race in 2007 as an underdog in a close race against Sue Haywood and Lea Davison. Since then I had put expectations and pressure on myself to keep wining this race. But after my injury I wasn't sure I would be able to do it again. I am so thankful and happy to comeback and take my 6th win! Thanks to everyone for the support and encouragement along the way!
Jeff Hall was one of the riders who welcomed the rain and muddy conditions which slowed down the race and ultimately broke up the lead group. Jeff just missed the podium rolling in fourth and provides a recap from his perspective:
The course went from dusty and dry to wet in a blink of an eye. Saturday morning we were blessed with some storms and lots of rain. I was excited because I knew it would slow some guys down and your bike handling skills would be a factor. With that being said the pack at 00 was much smaller than last year. That's where the race really starts as the group got smaller and smaller and with about 15 miles left there were 5 of us. The pace was fast but I was still feeling pretty good until Cole House attacked about a mile from the fire tower climb and split the group up, which I fell off the back but caught Cole and Brian Matter as we crested the top of the climb but by that time Payson McElveen made his race winning move.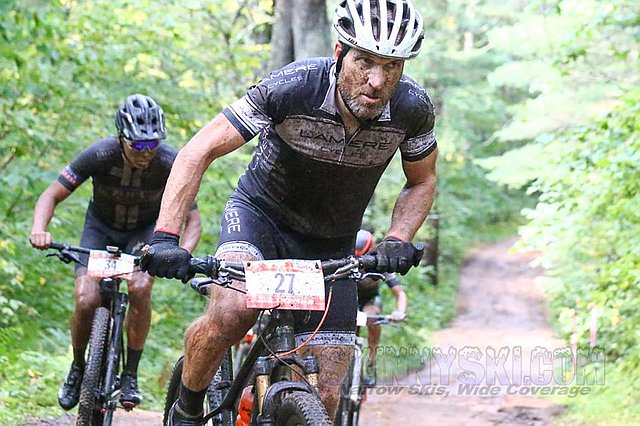 Corey Stelljes unfortunately flatted but still finished 5th. I rode the last 10 miles with Brian and Cole but they dropped me with about 2 miles left as I came in to Telemark in 4th place. Overall it was a blast with all the water. I rode the LaMere 29er hardtail but had a front shock this year which was really nice to have. The bike was super fast but the legs are getting older every year but I am sure I will be back next year. A big thanks to the Fat Man for making the middle of Sept. for the last 30 years so special to me. Happy retirement.
First time rider Bryan Schoenberger recaps his experience:
First Chequamegon FT 40 mile mountain bike race! The race started with a 3 mile roll out on tar with apx 1,900 racers, was an amazing experience! Buzzing the city streets of Hayward, Wisconsin, elbow to elbow, at speeds up to 25mph, sounded like a giants hornet nest! Once we hit the dirt it became probably the most challenging endurance event I've participated in.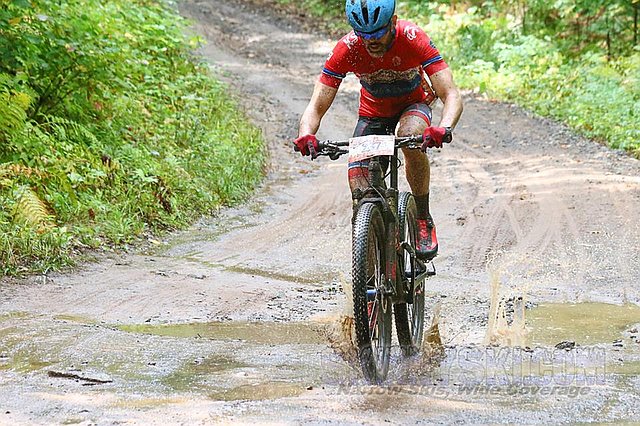 An inch or so of rain hours before the start of the race changed the course to a challenge that could not be created by anything other than mother nature. Greasy slimy mud pits at the bottom of every hill! Both sides up & down were tore up by the roughly 1,000 riders before me, making downhills extremely sketchy and up hills almost impossible to pedal. All with other riders close by and on all sides. It was very hot and humid. About 15 miles in I decided to play it safe and slow down; forget about racing, stay hydrated & minimal hard breathing. Apparently there were 2 riders who had heart attacks, one died. Very unfortunate, there must be some sad people out there somewhere today. I've done the tough mudder, the Viking challenge & other events; none even close to what I went through yesterday! Not by design nor was it what I thought I was signing up for. The best part was the friendships and camaraderie. Watching everyone complete their missions, accomplish goals and the tales of our miseries & victories. Next year? We'll see...
Sometimes the race doesn't go as planned and keeping positive and trying to enjoy the day becomes the goal. Eleanor Bacso does a nice job echoing this sentiment in a Insta post.
Chequamegon was a really tough race for me mentally and physically.
My husband Mason was crashed into in the beginning of the race. Luckily he ended up okay, just very shaken up. I never felt like I had the legs for the day, the vats of mud were endless and I was constantly chugging water.
However, not all days go as planned so I tried to be aware and began to identify positive things throughout the race and after: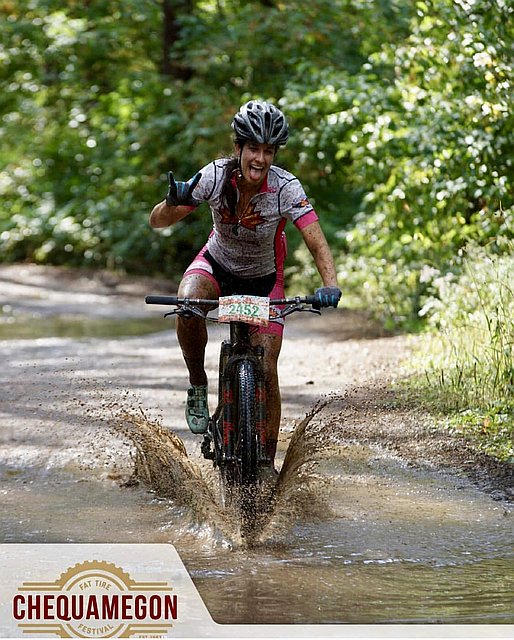 1. Mason was okay and Kasey stuck with him for the race.
2. I saw a son and his 74 year old father racing together (74 year old was absolutely crushing it).
3. Older woman in her Wisconsin accent yelling "Git on goin'!" to me.
4. Friends on the course.
5. My physical ability to be moving and exercising.
6. Being outside in the Northwoods.
7. Seeing my racing buddies at the end.
Gratitude is a process and so is keeping the wheels a movin'.
Results
Skinnyski Coverage
Related: New Moon Blog Post of Chequamegon 2018 -One to Remember
Wild Goose Chase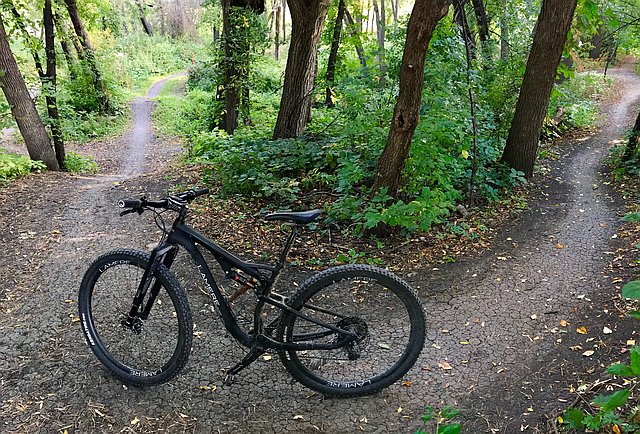 The mountain bike trails along the Red River on the Moorhead side, specifically at Gooseberry Park, were host to the second race in the two race series Flugly/Wild Goose Chase series. Conditions were primo as I experienced the day before on a trip up to Fargo and stopped by to check out the trails. The expert race had a nice field including the local fast guys that have been battling each other all summer long for Strava KOMS. David Jensen and Ryan Schutte had a nice back and forth battle after local riders Tom Heilman and Pat Crary went down on the first lap giving a small gap to David and Ryan. David would go on to take the win by 2 seconds over Ryan. Tom and Pat battled for the third spot with Pat edging out Tom by a couple minutes. Jaci Woinarowicz took the expert female win over Alexis Pearson.
Looking Ahead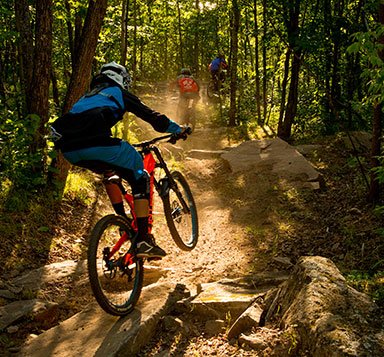 The Spirit Mountain Hootenany is a multi-event weekend will include something for everyone to participate in. Everything kicks off on Friday night with a downhill race on Anvil at 5:30pm. There will also be a Jump Session, Dual pump track races, and a Last Rider Standing competition. Registration starts Friday at 3:30pm in the Grand Ave Chalet with practice laps starting at 4pm. There will be lots of great prizes and swag.
The mountain bike action continues Saturday with a Collegiate series that everyone is welcome to enter. There will be something for everyone with a downhill, enduro, and cross-country race. More info.
Keep the wheels moving!
About the author...

Jay Richards maintains a very active lifestyle. He somehow finds time between managing a full-time resort (Maplelag) and bringing up a family of four boys with his wife Jonell, to compete in both mountain bike and a few cross-country ski races. Jay rides for Maplelag Resort, manages the Maplelag mountain bike team and enters his 28th year of racing and promoting mountain bike races.

Have an event or mountain bike related information to share from the Midwest? Feel free to contact Jay at