Midwest MTB Report
by Jay Richards
September 25, 2018
Fall is definitely in the air with cooler temps and frost most likely this weekend in northern locales. The leaves are changing quickly, no bugs, great time of the year to be riding. Definitely feels like October is right around the corner as we enter our last weekend of September. This past weekend featured probably two of the most challenging mountain bike events in the Midwest, the Marji Gesick 100 and the Maah Daah Hey 150. First-hand recap from Marji and highlights from the MDH 150 along with the upcoming events highlights this weeks report.
Marji Gesick 100
Agreed by many to be one of the toughest mountain bike endurance events in the Midwest, the Marji Gesick offers 100 miles of a full bag of mountain bike trails and surface conditions with a truly unique start. Weather late September can add to the challenge as well as riders shoot to be under 12 hours for the coveted belt buckle. After competing in the Leadville 100, Grand Rapids, MN. rider Corey Tabbert was back in the saddle for a full day of riding and provides a detailed report:
For those in search of testing their endurance limits in a 1 day Midwest MTB race, the Marji Gesick 100 does not disappoint. Sporting statistics from last years race, the 100+ mile race with 90% single-track and 12K of elevation makes it sound tough but what really gets your attention is the 70% DNF rate and an average finish time of 16 hours and 37 minutes. The marketing geniuses behind the race are Danny Hill and Todd Poquette, who very much enjoy taking the blame for designing the difficult course connecting 3 different towns in Marquette County, MI show-casing some of the UPs most challenging single-track. This year marked the 4th annual race, which picked up Salsa as its main sponsor last year. The event was capped at this year at 666 racers thereby really giving it a "big" race feel without the congestion of most big races. The MG100 race is self-supported with no guarantees of aid stations, although the local community has really filled in this void, as there were plenty of makeshift aid stations along the route.
The overall course can be divided up into basically 3 sections: Marquette North and South Trails, Negaunee Loop, and Ishpeming Loop. The single-track trails consist of everything from machine built flow-style, to what upper Michigan is known for, some of the toughest, rugged hand-built trails anywhere. Those trails are full of rocks, roots, and in many sections extremely tight forcing a rider to always be concentrating on what is right in front of them. From the profile map of the course, the entire ride appears to be uphill with the finish in downtown Ishpeming. Race tokens are distributed along the course to help keep racers honest, especially given the purse of $1.00. A much-coveted Buckle is also thrown in for any racer who finishes within 12 hours.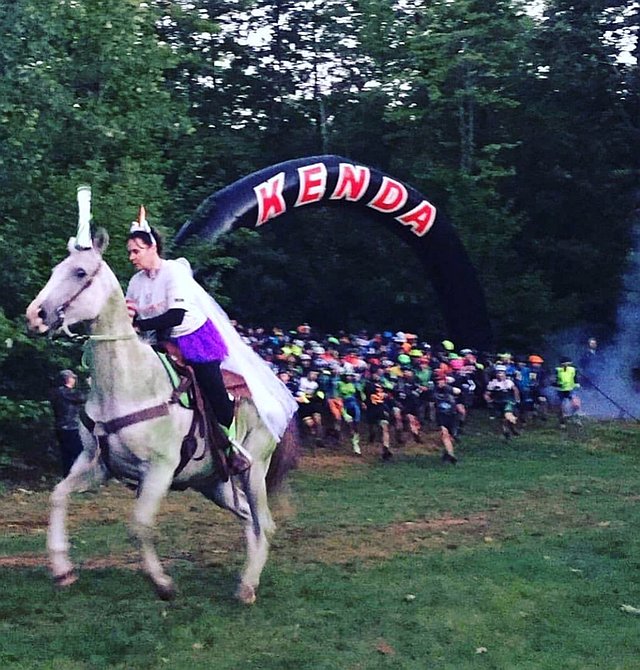 From the Forestville Trailhead just North of Marquette, 331 racers lined up at 7:30 to start the MG 100. The race begins with a LeMans style ½mile run, and this year a Unicorn lead the charge (yes there really was a white horse dressed up as a Unicorn). My ride this year was a 2017 Gaint Trance Advanced full-suspension ride, 2.6" Nobby Nic's on the front and 2.35" in back, a 30T front chain-ring with a 46x11 rear Shimano drivetrain. The transition from run to bike went smoothly and I was off on my second MG100.
The initial few miles are innocent with mostly undulating double track until you hear bagpipe music coming from what locals refer to as "The Top of the World". This is the first taste of some of the very technical rocky single-track, and I joined a small line of riders choosing to descend a steep section Hike-a-Bike (HAB) style, and occasionally getting out of the way for someone attempting to ride it. Shortly after this section, a relatively flat stretch of old railroad lies ahead in which railroad ties had not been removed, although worn down, making for a bumpy ride.
The next section I remember with any detail was a section called "Pipe Dream" and rightfully named, as one is basically riding over a huge old pipe, left in the ground from the mining days. The pipe is mostly covered with dirt until it ends and you realize that you have to ride over a short section of the exposed 6' diameter pipe only. Don't look down!
Next we raced though a ride center of gravity flow trails which was a blast until I took a quick left and found myself flying off a 4' jump. Luckily my full-suspension handled it much better than my brain did and I continued down the large bermed corners to be spit out at one of the few "aid stations". My crew greeted me with Domino's pepperoni pizza, just when I needed it. I think I was about 6 hours into the race at this point, and was then headed off towards Negaunee. A short section of paved trail, a bunch of sandy ATV trails, and I can't remember what else got me to Jackson Park, another community thrown together "aid station", that racers see twice, once at about mile 58and mile 86.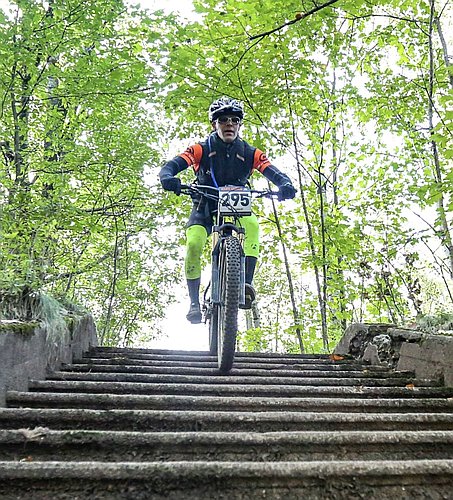 The next miles slowly drifted by, at one point I remember descending a few flights of concrete stairs in the middle of nowhere, kind of like a ghost town without the buildings, weird but cool at the same time. Racers were really separated by this time and I think I rode most of these trails solo. I met my crew again at Jackson Park, refueled, and mentally prepared myself for the last 15 miles of work.
I left in the dark, around 9:00PM with a goal of averaging 5MPH for the next 15 miles so I'd finish by Midnight. It seemed like a good goal, fairly reasonable, but I was unable to maintain even that pace due to the difficulty of the trail and lots of HABing. I ended up finishing around 12:15AM, with a finish time of 16:47.36, shaving 13 minutes off of my last year's finishing time.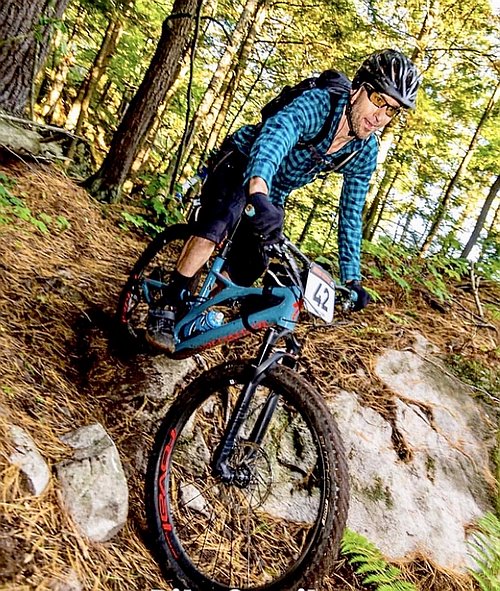 There is a no question this race is long and tough, but finishable. I was rewarded by a hand-shake from the race directors and an overall good feeling of accomplishment. If you plan on doing this race, pack a lunch and probably a supper. This year's winner was pro rider Jereimiah Bishop with a final time of 9:57:04 (course record) followed by Matt Acker coming in at 10:06:53 and in third place Tinker Juarez at 10:07:09. Top female was Carla Williams finishing in 12:25:50 followed by Chelsae Strate with 15:07:29.
Check out MarjiGesick100.com, watch the Blame Danny video and go Facebook to read more. The race directors are hilarious and make this race awesome. In addition, the trails were in pristine condition making this a single-track lovers dream race.
Maah Daah Hey 150
Riding 150 miles on the Maah Daah Hey trail is insane. Add the elements of the open country of western North Dakota, a truly epic event for a handful of riders that saw only one finisher this year. That honor went to Brad Hersch with a finishing time of 21 hrs 24 mins on a hardtail singlespeed.
The weather made for extreme conditions as riders saw a 40 degree temp drop that forced nearly the entire field to drop out. Fargo, ND. rider Jaci Woinarowicz posted:
Attempt at MDH 150. We couldn't have asked for a more perfect evening to start off the 24 hour bike race & more encouraging people willing to sag for us (Beyond grateful for Jason Durick & Tim Chrest). The first 10 miles on the trail were breathtaking as we watched the sunset & the moon come out.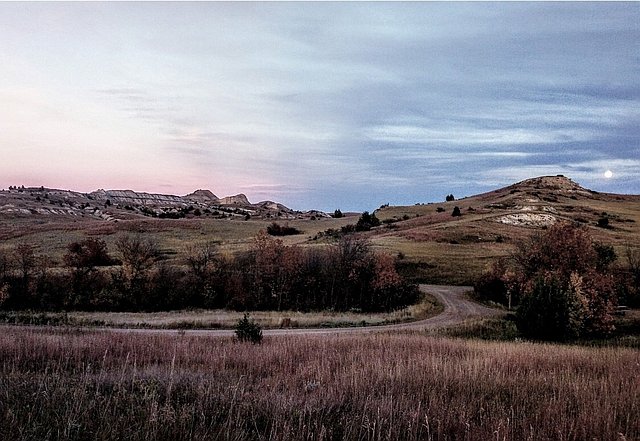 However the conditions changed quickly and drastically. We started at 78degrees & sunny skies...but within a few hours the temps dropped in half to 39 degrees (feels like 32), wintry rain mix, dense fog, & high winds from the east with gusts over 20+mph. After riding 62 miles & walking barefoot through 3 creek river crossings, we decided our bikes, our feet, & our frozen bodies had enough. It was a good experience overall & a reminder that sometimes life just doesn't always go your way. Onto the next adventure!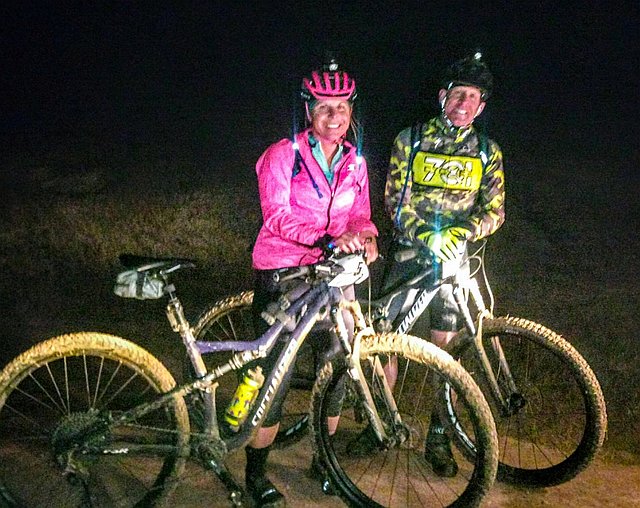 Looking Ahead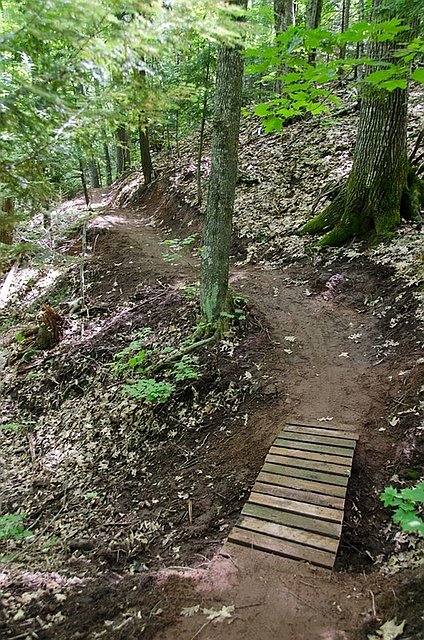 Mount Ashawabay has a sweet network of trails and now they will be hosting a race this weekend. A 10 mile and 20 mile race offering with spectacular views towards Lake Superior.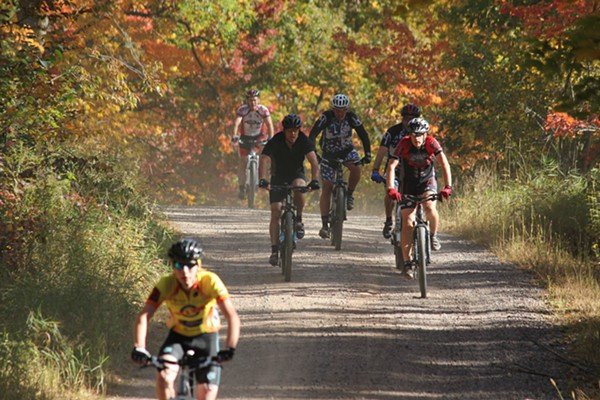 Race director Noah Michaelson reports:
We have an amazing race for all. Mountain bikers are going to see brand new singletrack on the 'Cabin' trail - you don't want to miss out on the debut, it is stunning! Runners are going to be blown away by the Ice Age Trail scenery along the Harwood Lakes section, complete with new wooden crossings, thanks to the Ice Age Trail Alliance team. Complimentary food and Fat Tire beer to all finishers (ages 21+), prizes and awards to top finishers.
Keep the wheels moving!
About the author...

Jay Richards maintains a very active lifestyle. He somehow finds time between managing a full-time resort (Maplelag) and bringing up a family of four boys with his wife Jonell, to compete in both mountain bike and a few cross-country ski races. Jay rides for Maplelag Resort, manages the Maplelag mountain bike team and enters his 28th year of racing and promoting mountain bike races.

Have an event or mountain bike related information to share from the Midwest? Feel free to contact Jay at