Midwest MTB Report
by Jay Richards
October 10, 2018
With wet weather to start the month of October, it's been a bit of a challenge to keep the wheels moving in the dirt. With the first snowfalls gracing the landscape up north, winter will soon be here and out will come the skis or fat bikes. The high school season is winding down with the last few races coming up to determine the state champs. The mountain bike season is definitely at the tail end of the season but still a few events taking place such as the Oremageddon in Cuyuna and a few events outside of the Midwest that a handful of locals are attending. This weeks report includes an in-depth recap from the Oz Trails Festival that saw Duluthonian couple Eleanor and Mason Bacso attend, highlights from the Wisconsin Cycling Season, a couple of mountain bike related items to note and a look ahead to a few events at the end of the month.
Oz Trail Fest
The wife and husband racing couple Eleanor and Mason Bacso headed south to compete in the inaugural Oz-Trails Off Road on the trails outside Bentonville, AR that are quickly captivating the mountain bike community. Eleanor provides a full recap:
This past weekend at the inaugural Oz-Trails Off-Road was absolutely incredible. When we arrived on Thursday night the Oz trails team had free beer, pizza and raffles open to anyone who was interested in attending the event. We met a couple of Texan transplants who were very nice and who were volunteering for the weekend. On Friday we did a little bit of riding and I was still not feeling well from my cold I had gotten earlier in the week. The trails were amazing, however. The afternoon came quickly that day and we had the mandatory pre-racers meeting in the Walmart Museum. It was surreal getting to see these famous Olympians/World Cup racers up close and personal! I was star-struck as we got to ride the elevator up with Olympian Chole Woodruff.
After the meeting we went to get our swag bags and they gave us free samples of V8 energy & El Yucateco hot sauce who were major sponsors of the event. The most fun part of the day was when they asked all of the "pros" to sign posters to give away. We were absolutely giddy!
Finally, the time came for the fat tire crit. We warmed up with our newly acquainted friend, super star Jenn Jackson of Canada. The women's race started off quickly and as this was my first criterium I made some silly moves. I was with the main pack for a little bit and then was quickly knocked off the back. I spent too much energy for two laps trying to chase back on. Little did I know I had a train of people drafting off of me. As my energy burnt out, about 10 people flew past me. I spent the next few laps trying to catch up to the person in front of me and I was eventually pulled at 11/20 minutes. Mason had a similar result getting pulled at about 12 minutes. We were pretty happy that we did not get last place however, so that was a win in our books!
Saturday, we spent the day in Eureka Springs and explored the town. It was a bit rainy there as it was in Bentonville for the amateur's race. We headed back to Bentonville to enjoy some free music and a bite to eat. Sunday morning came quickly with our races beginning at 8:30am/8:40am. As soon as men lined up to race it started to rain. Mason went off with a smile and then it was my turn to line up.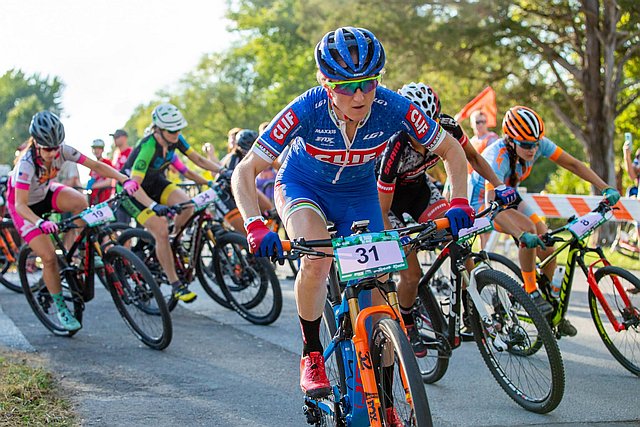 I placed myself in the back and as we rolled off the start line, I noticed it was very different. We were riding at such a leisurely pace. As the road roll out continued for a few more miles it was crazy to find myself riding right behind the wheel of Catherine Pendrel of Canada (Olympian and World Cup champion). As soon as we got close to the single track the group started to drop the hammer down. I was about 3rd to last into the single track as I think we had dropped a few people on the road.
I ended up passing one person at the very first road crossing and then rode by myself for the entirety of the 55 miles. It was raining pretty good still and was varying in intensity. Suddenly there was a huge crack of thunder and it started downpouring on the race. It was absolutely epic riding in the rain but a little scary and slick! Not knowing the course, I had slammed on my brakes and almost skidded off a ledge. These trails reminded me of the Duluth Traverse, which were fast and flowy. There were big climbs (6,000ft of total climbing in the race) and long descents. The whole race I tried to keep my legs moving as much as possible, not giving myself much of a break. The weather started clearing up mid-race and I was trying to drink as much water as possible (drinking 7 total bottles during the race). I was pretty good at eating food but started bonking around mile 30 after I stopped continuing to eat.
Around mile 35 a group of men who had flats had chased back up to me. I wasn't sure who they were but quickly learned that it was Jeremiah Bishop and a few other fast guys from Vermont who had suffered from flats. I asked them if they wanted to pass me and they said they didn't want to ruin/disturb my race. They repeatedly told me that they would wait for a road crossing and were very encouraging. I eventually pulled over because I was gassing myself. They were so apologetic for making me move over it was incredibly heartening to have that kind of support and kindness on the trail. These people race for their living and there was big money on the line that day. It was just overall shocking to Mason and myself how kind, sweet and relaxed these pro riders were compared to many of the other races we have done over the years.
As I was getting closer to the end, I was getting a little more bonky and my arms and legs were shot. I saw Mason in the last mile and he was cheering me on telling me I was top 20! I couldn't believe it as I was mistakenly told at the mile 30 aid-station that I was in 25th place. I hammered it on home for an 18th place finish. I was so elated as a top 20 was a stretch goal for me. Mason ended up 28th and did incredibly well too just coming off of a broken collarbone. I came to learn that he had gotten a flat and that many other people in the races did as well due to the sharp rocks. I was happy to be one of the few that got a way with no flats. It was so cool to see the payout in this race as it was the most paid out race in mountain bike history ($60k total).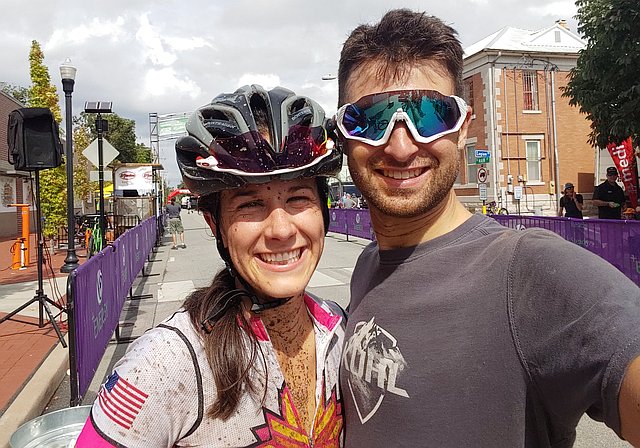 After the race we dragged our exhausted selves to the Peddler's pub for some pizza and beer. We enjoyed the Bentonville sunshine and were already planning to come back in 2019. I would highly suggest doing any of the Epic Rides events, it was an incredibly well-done weekend of racing and fun!
Related: One Minute of Oz Fest Velonews
Wisconsin High School Cycling Season
Joseph Fitzgibbon checked in from the Wisconsin High School Cycling league to report with photos on race #4 that was held at Nine Mile in Wausau, WI:
With a backdrop of fall colors and overcast skies, athletes came from all corners of the state and the U.P. to race the 2018 season's 4th race in the Nine Mile Forest. The cool temperatures made it a good day to go hard.

Nine Mile is the name of the forest, but the course was 5.92 miles of roots, super flowy single track and open sections of towering pines. The final single-track section, 'root canal', gave racers their biggest technical challenge. The ski trail sections were long and finish times were fast. The student athletes with the most endurance and raw speed had the competitive advantage on this course. (attached)
The spectators had plenty of energy of their own. Fueled with fresh coffee and breakfast tacos, spectators took to the woods to show their enthusiasm. Horns, bells, triangles (front and rear), and even the bugling of a conch shell were heard throughout the day's races.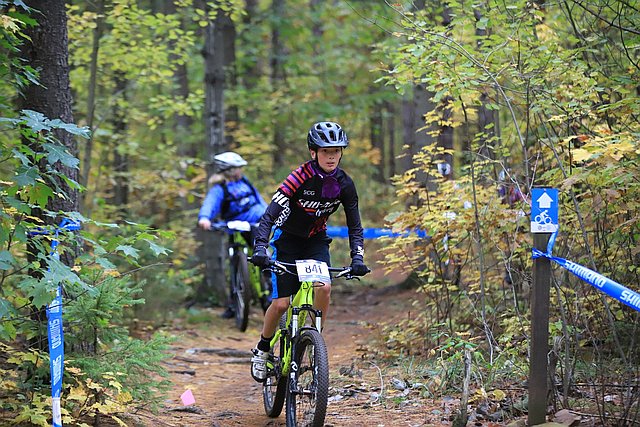 Student athletes have been sharpening their skills and building endurance all season long. With the first 4 races over, the state championship looms on the horizon. The final race of the season will take place in 2 weeks at the Trek Trails in Waterloo Wisconsin.
Deerfly Chase 2018
Ashland native Aaron Swanson, who has been a regular for the grass roots Deerfly Chase, provides a report from the Deer Fly Chase:
Yet another season of mountain bike racing is in the books for many racers. Like so many I make the effort to get out there from spring to fall, training & racing for enjoyment, the personal challenge & getting to have many shared memorable experiences with family and the friends you make over the years.
I wrestled at going full throttle this year after a decade plus of racing & having a such a great year in 2017. But the competitive & curious nature got the better of me and it was all in again for another year. Though I pick up some races early on, it's August & September is prime time for much of what I enjoy doing. From the U.P.'s Ore to Shore, to Seeley's Pre-Fat, the relatively new The GRIND(Biwabik MN), and Copper Peak Fest, & rounded out with the Chequamegon 40 & finally the Deerfly Chase.
With limited exception the end of September draws to a close MTB events and racing opportunities. One of those September 29th marked the 8th Annual Deerfly Chase Mountain Bike & Trail run at Hickory Ridge Trails near New Auburn Wisconsin. Event Director Noah Michaelson has near god like control of the weather conditions in years past that has made it a fantastic event to look forward to. Well, he ran a bit into a thermostat control issue this year with temps hovering in the low 40's to start, but otherwise mild conditions met racers at the start.
Coming off a slew of race performances in Sept, including a awesome slugfest at the GRIND outdueling a super strong riding Steve Marshall in the final miles, and a top 25 finish in the rough & tough conditions at this years Chequamegon 40, I was spoiling for a good time of tugging at the legs of this years Deerfly challengers.... that all until 2 days prior when the tell-tales signs of the body's check engine light flickering on. Body aches & slight fever wasn't somehow part of the plan.
What? Sick, can't be? The stages of denial any red blooded die hard racer can tell you... begin. So of course I went forth entering the race when I had no business doing so. Arrived uncharacteristically earlier than most years, began my warm up shivering heavily despite adequate apparel, it wasn't looking good. At the start line it was good to see some new faces to the race it'd be interesting to see how the dynamics played out this year.
The couple mile rollout plays nicely into the race and allows everyone to find a comfort level before the lead vehicles cut us loose on the gravel rattlesnake climb. Adam Altman & Phoenix Leary lead up the climb with myself, Matt O'meara & Tom Olek (on a fat tire bike no less) hauling up along side. Later Dave Christiansen would come zooming by for a pull along with Ryan Krayer & Dustin Marsh.
Did my best to remain patience -- that something would "bust loose" inside & my legs & body would start feeling better once we started racing. Also knowing that a course reversal from previous years races, made burning any matches early on a poor fire starter when a guy needed it most late in the game.
When we hit the first single track, I went in early, choosing to go in second behind Adam. Hoping for a hard pace like last year that would string things out and lead to a smaller group instead it felt like a controlled effort by Adam. And henceforth a merry band of 7 MTB-ing Dwarves began a race of attrition -- was there any Sleeping Beauty to be found? That I'm not sure of but Adam, follow by myself, Tom Olek, Matt O'meara, Dave Christiansen, Dustin Marsh & Phoenix Leary made a go of it.
Race typically is takes about 2hrs has long sections of unique single track that encompasses a different trail building styles you don't see everywhere and it breaks up periodically with ski trail sections and sometimes the occasional gravel road.
The first 40-45 minutes were pretty straightforward, I'd felt surprisingly fine on the average efforts but I could tell the hardest efforts and stuff uphill was sending my engines lights off big time and no matter how bad I wanted my body to work that day. I had something super wrong and either I was gonna need to check out or something not too good was gonna happen.
Shortly after I pulled off & allowed Tom & the rest to pass and continue after Adam. My day for racing was over & hard to swallow at first for the great fitness I had coming into this last race, it put in perspective that sometimes a race is just a race. Though I took my leisurely time finishing out the short course the racing stayed hot & heavy at the front.
Adam continued to apply a slow vice like tightening that for one reason or another would gain him time slowly creeping away from the group lead by Tom Olek, 10 bikes lengths became 20, become 30. Once out on the ski trails again the group was able to reorganize with Matt O'meara taking the chase's lead. A dropped chain mishap for Matt shortly before the next long single track section began more of the undoing of the chase & larger escape gap for Adam. Matt was able to work himself back up thru the other 5 racers but was running out of real estate to get back up to Adam.
With some super singletrack skills and a steady effort Matt separated out the remaining racers but the gap to Adam wasn't to be closed as Adam pushed strong to the end for the win. Matt came in 2nd, then similiar gaps to each of the next 5 racers, Ryan Krayer, Dave Christiansen, Dustin Marsh, Tom Olek and Drew Wilson on single speed.
Good time had by many in the post race event, warm fire, food, refreshments, awards & swag. Noah & company do a super job on the event year in year out, can't say thanks enough for their efforts.
More Duluth Praise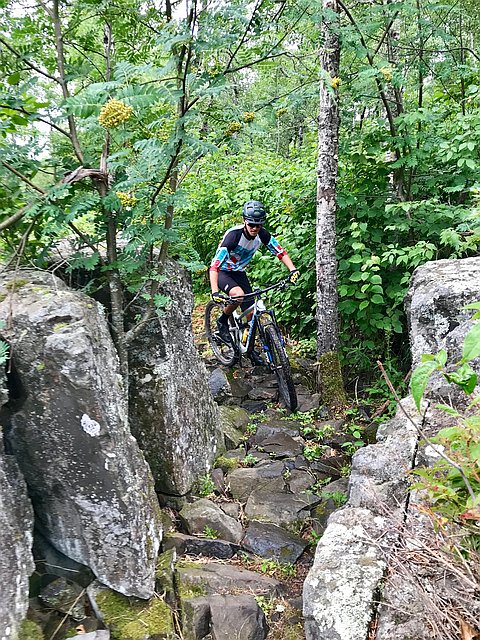 Bruce Shirbach writing for PinkBike recently posted a lengthy story on mountain biking in Duluth and how it has changed certain aspects of the city. "Duluth has resurrected itself through a number of means, and yes mountain biking has been a part of that equation. There are a lot of new businesses, food, and various social causes that the town has really embraced".
Rebecca Rusch Blood Road
Rebecca Rusch—adventure athlete, world-champion mountain biker, author, race promoter, and part-time firefighter—added another title to her long list of achievements: Emmy Award winner. Rusch took home the prize (in Outstanding Graphic Design and Art Direction) for her 2017 documentary Blood Road, produced by Red Bull Media House.
Don't Ride Wet Trails!!
With all the recent rain resulting in wet trails, Singletracks.com posted videos highlighting the importance of not riding wet trails with a humorous twist.
Looking Ahead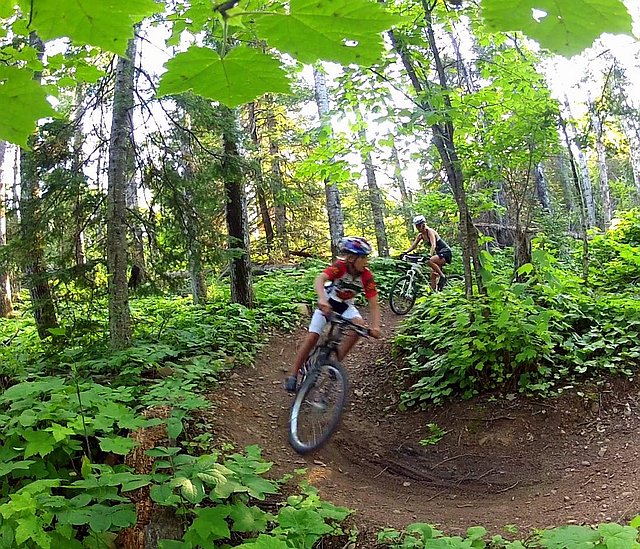 Hosted every fall, the Sawtooth Mountain Challenge is the North Shore's first mountain bike race. It has been run for over 25 years and has taken different shapes, but it now functions as the main fundraiser for SCA's trail maintenance fund. This year's race will be on Saturday, October 20, 2018 at Pincushion Mountain in Grand Marais. Choose between 3 adult singletrack races - 8, 15, or 22 miles - and/or sign your kids up for the .25 mile or 1 mile race.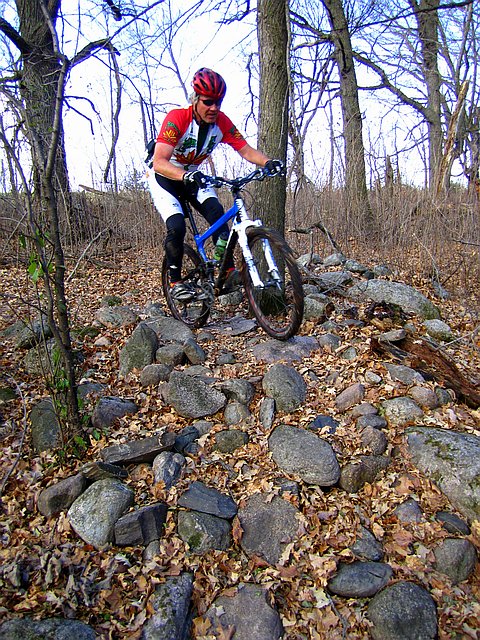 Fun low key grass roots race held at Blacks Grove put on a dedicated group that has one of the largest Midweek rides outstate. Old school tight and twisty singletrack that follows a river that passes through giant Black Spruce trees. Great shelter and with a big fire going and the lingering smell of pine. Post race grilling, don't miss them gem just off Hwy 10 west of Wadena.
Keep the Wheels Moving!
About the author...

Jay Richards maintains a very active lifestyle. He somehow finds time between managing a full-time resort (Maplelag) and bringing up a family of four boys with his wife Jonell, to compete in both mountain bike and a few cross-country ski races. Jay rides for Maplelag Resort, manages the Maplelag mountain bike team and enters his 28th year of racing and promoting mountain bike races.

Have an event or mountain bike related information to share from the Midwest? Feel free to contact Jay at