CCSA Season Preview
by Mary Kozloski
December 2, 2018
The Midwest is home to one of the most competitive collegiate regions around. The Central Collegiate Ski Association (CCSA) consists of five men's teams and six women's teams in Minnesota, Michigan and Wisconsin. Each of these teams are tucked in unique, tight knit communities including: Houghton, MI - Michigan Tech University (MTU), Marquette, MI - Northern Michigan University, Duluth, MN - College of St. Scholastica, St. Cloud, MN - St. Cloud State University (Women's only team), Northfield, MN - St. Olaf College and Green Bay, WI - University of Wisconsin - Green Bay. Nearly all of the CCSA Teams have received new head or assistant coaches within the past two years. While these coaches may be new to the CCSA coaching line up, they each have a plethora of other unique coaching experiences to bring to each of their teams.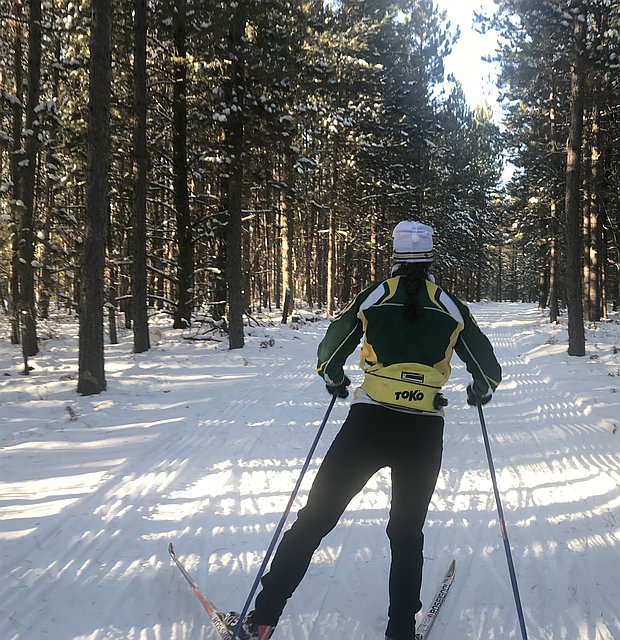 The new head coaches on the 'CCSA block' are Jeremy Hecker, Head Coach for the University of Wisconsin - Green Bay (UWGB) Ski Team and Mike Sharp and Mike Shroden, Coaches for the St. Cloud University Ski Team.
University of Wisconsin - Green Bay (UWGB)
Jeremy Hecker (Andover, MN) jumped into his role as Head Coach for UWGB in September and has hit the ground running into fall training. Although Hecker is now one of the youngest CCSA coaches, at just 27 years old, his experience and expertise is extensive. After graduating and competing for the College of St. Scholastica in 2013 with a degree in exercise physiology, Hecker spent the last five years traveling the world and gaining experience along the way as a ski coach. Hecker has spent time in Finland getting a masters degree in the Biology of Physical Activity while also gaining experience waxing on the World Cup. The past couple of seasons Hecker has been coaching out east at Stratton Mountain School and Williams College in the fall/winter and spent summers as head coach for a junior program (New South Wales XC) based in Australia. Although Jeremy's unique adventures around the world have been opportunities of a lifetime, he is excited to return close to home and begin new adventures coaching for the UWGB Ski Team.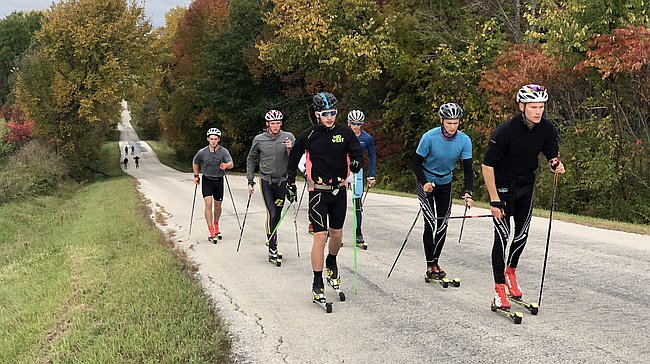 "The one thing I am most looking forward to this season is being back in the Midwest for winter," said Hecker. "It will be great to see some familiar faces on the CCSA circuit. I am also excited about the future for the UWGB ski team. There have been some big changes including bringing me in as a full time coach. This season will be the beginning of a new era for Phoenix Skiing!"
The UWGB Ski Team has two strong returning athletes this year in Jacob Ajax on the men's team and Sadie Peterson on the women's team. Ajax had a great early season in 2018, finishing second at the 10 km classic race at the Gitchi Gammi Games in January.
"The goal this season for Ajax is to come into the season and to continue gaining speed until the championship races in February/March," explained Hecker.
"Sadie is coming off of her redshirt year where she was consistently finishing in the top 10 of the CCSA," said Hecker. "With another year of training under her belt, I can see some big improvements and a potential bid to make it to the NCAA Championships in Stowe, VT in March."
UWGB is adding to the growing depth of their team with the addition of Ryan Mead (Forest Lake, MN), who is the only freshman on the team this year. Hecker stated that Mead has been a great addition to the team so far and always brings his "can-do" attitude to practice and has shown some great potential in some of the early season team time trials.
2018 - 2019 UWGB Ski Team Roster
St. Cloud State University (SCSU)
The St. Cloud State University Ski Team is also gaining two new coaches for the 2018-2019 season, Mike Shroden (St. Cloud, MN) and Mike Sharp (Clearwater, MN). Shroden has over 10 years of experience as a Nordic ski coach with the high school teams at nearby St. Cloud Cathedral High School and Sartell High School, has worked in the Nordic ski industry for over 23 years and has been the owner of the Revolution Cycle and Ski Shop in St. Cloud, Minn. for the past 12 years.
Sharp is an avid recreational backcountry skier and serves as a professor of human relations and multicultural education at St. Cloud State University. He has more than 30 years of professional experience in higher education and has served as the director of the Advising Center at St. Cloud State University for 15 years.
St. Cloud's returning [a][b][c][d]star is Jamie Herridge (Mendota Heights, MN). Herridge's biggest accomplishment from the 2017-2018 season was qualifying for Junior Nationals at Soldier Hollow, Utah, where she competed for the Midwest Team.
2018 -2019 St. Cloud Ski Team Roster
Michigan Technological University (MTU)
Tom Smith (Bend, Oregon), is heading into his second season as the head coach of the Michigan Tech University Ski Team. In Smith's first year, he was awarded the CCSA Men's Team Coach of the Year for the 2017-2018 season. He moved to Houghton, MI from Ketchum, Idaho where he served as the Head Postgraduate Program Coach of the Sun Valley Ski Education Foundation (SVSEF). Smith was a collegiate skier himself, at the University of Utah, where he helped guide the Utes to a pair of second-place NCAA Championship finishes in both 2011 and 2012. Smith is also thrilled to be coaching the MTU Team alongside his fiance Kristen Monahan, an alumna of MTU. Monahan also coached for SVSEF before coaching for MTU.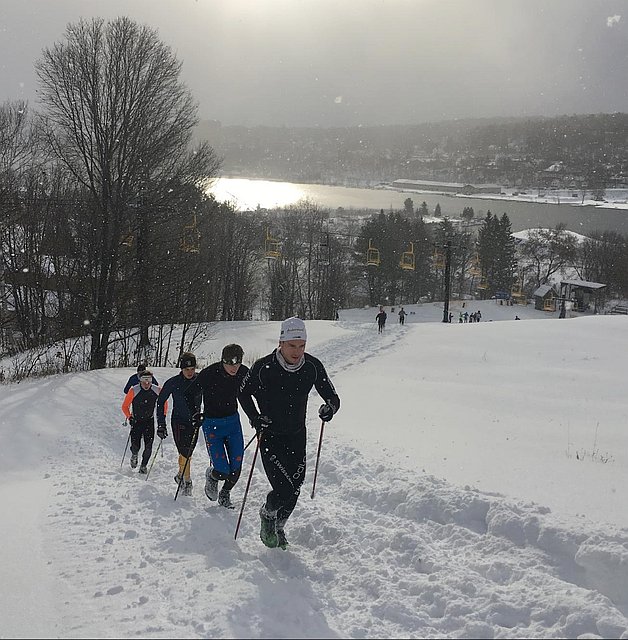 As Smith jumps into his second season, he mentioned what he is looking forward to most. "Building upon our team's successes in 2017-18 and carrying a true travel team into the race season with our depth of this year's women's team. With all of our NCAA Championship student-athletes returning from 2017-18 we will look to build on our top end team success through the regular and championship season."
The Michigan Tech Ski Team has several top returning skiers including five athletes who competed at the 2017 - 2018 NCAA Championships: Two senior men, Gaspard Cuenot (Le Cerneux-Pequignot, Switzerland) and Tom Bye (Eden Prairie, MN), two junior women Sarah Goble (Harbor Springs, MI) and Amanda Kautzer (Plymouth, MN) and one sophomore, Reid Goble (Harbor Springs, MI).
"With only three women on the active roster last year and now seven this year, we are excited to continue to build both the depth and performance successes of our Women's Team," Smith said.
MTU's incoming women include Oda Hatlestad Hovland (Nesoeya, Norway) Mary Lyon (Traverse City, Michigan) and Samantha Kurkowski (Roseville, Minnesota). Kristoffer Bye Vollset (Trondheim, Norway) is the only addition to the men's roster but will continue to add depth to the team.
"We are also keen to bring a big returning class overall into the spotlight this year with some very strong returning men and women looking to secure spots to represent our team and region at NCAA Championships." Said Smith.
2018 - 2019 Michigan Tech Ski Team Roster
Northern Michigan University (NMU)
One of the veteran coaches of the CCSA is Sten Fjeldheim, head coach of the Northern Michigan University Ski Team.
Fjeldheim, who is a native of Haugesund, Norway, came to the United States in 1961 and received his U.S. citizenship in 1975. After graduating from NMU in 1985 with a bachelor's degree in physical education, Fjeldheim made his coaching debut with the NMU ski team just one year later in 1986. Once Sten began his coaching career, the NMU Ski Team success ignited.
Both of the NMU men's and women's teams have competed at the NCAA Skiing Championships every season since 1986, claiming seven national champions — Peter Vordenberg (1993), Chris Cook (2003), Lindsey Weier (2007), Lindsay Williams (2007), Erik Soderman (2012), Fredrik Schwencke (2015), and Ian Torchia (2018). The Northern Michigan ski teams have also produced 97 NCAA All-Americans, 11 Olympians and five U.S. National Champions. Alumni Cook (1999-03), Weier (2003-07), Williams (2003-07) and Abigail Larson (1997- 2000) made the 2006 United States Olympic Team. Numerous Wildcats have also represented the U.S. at the World Junior and U23 Championships, most recently Ian Torchia, Zak Ketterson, and Nicole Schneider in 2018.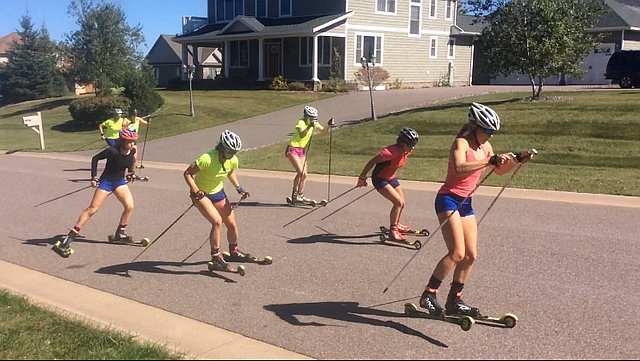 Sten is joined by Andy Keller (Chanhassen, MN), who is entering for his second year as assistant coach for NMU. Before Keller began coaching for NMU, he was an assistant coach for MTU and spent five years as a coach for the CXC Team, coaching junior and senior athletes on a regional and national level. Andy is also an alumni of Michigan Tech University where he received a degree in Exercise Science and a minor in Coaching Fundamentals.
With the entire 2018 men's NCAA team returning this season, and several new top notch incoming skiers, the 2018 - 2019 NMU Ski Team is sure to continue carrying on the legacy as one of the great CCSA teams.
The top returning skiers on the women's team include: Nicole Schneider (Plymouth, MN), 2018 NCAA qualifier, Sophie McDonald (Park City, UT), Julie Ensrud (Saltnes, Norway) and Sarah Bezdicek (Osseo, Minn) who both finished fourth and fifth on the CCSA qualification points last year.
"We are looking forward to seeing who on the team can step up and fill the spots of our graduates Kristen and Vivian," explained NMU Assistant Coach Andy Keller. "Our returning skiers and new freshmen have been working hard and it should be a good competition between the team and in the region for spots to NCAA."
The top men's skiers include: NCAA Champion Ian Torchia (Rochester, MN), NCAA All American Kjetil Baanerud (Oslo, Norway), Lars Sonsterud (Oslo, Norway) and Zak Ketterson (Bloomington, MN) who snatched a top 10 finish at the 2017 US Nationals sprint in Anchorage, AK.
"The rest of our eight men are also right on everyone's heals and can win races," Sten mentioned. "Our gun is loaded and the men are ready to roll."
"We are looking forward to our men's team to build upon their success from last year's NCAA Championships," Keller added. "We finished third as a men's Nordic team during last season's championships and the goal that the team has set for themselves is to be the number one Nordic team in the nation. With bringing back almost everybody on the team that we had from last year, the team has been working really well together and regularly pushing each other in workouts."
The NMU Ski Team also has three new freshman women joining this year. Be on the lookout for Abby Jarzin a Midwest star from Green Bay, WI who skied on the Ashwaubenon Ski Team, Nadine Matter (Switzerland) and Katerina Hyncicova (Czech Republic).
"It will be very interesting to see how our new freshman compete," said Sten. "So far they are handling the training well and I'm thinking that they can make the jump up to challenge for the win!"
As Sten jumps into his 33rd year of coaching, we asked him what he is looking forward to most: "The races! All of the races for sure!"
For Keller, it is all about seeing how everyone's summer and fall training will payoff in the winter which hopefully sets the sage to be a fun season of racing.
2018 - 2019 NMU Ski Team Roster
College of Saint Scholastica (CSS)
Maria Stuber (Waukesha, WI) will be starting her third season as the head coach for the College of St. Scholastica (CSS) Ski Team. In just a short amount of time, Stuber has had a big impact on the team's success. She helped bring Reitler Hodgert (Bend, OR) and Kelsey Dickinson (Winthrop, WA) to NCAA Championship appearances and also coached Mia Zutter (Sun Prairie, MN), who competed at the 2018 PyeongChang Paralympic Games. Stuber began her coaching career in 2010 as a cross country running coach and then eventually began coaching skiing in 2013 after she retired from racing full time. Previously, Stuber was the Nordic Program Director of Aspen Valley Ski & Snowboard Club from 2013 - 2016.
As a new season quickly approaches, Stuber she said she is most excited for her student-athletes to give everything they have this winter, exceed their current expectations and get a glimpse of what's possible for this team in the near future.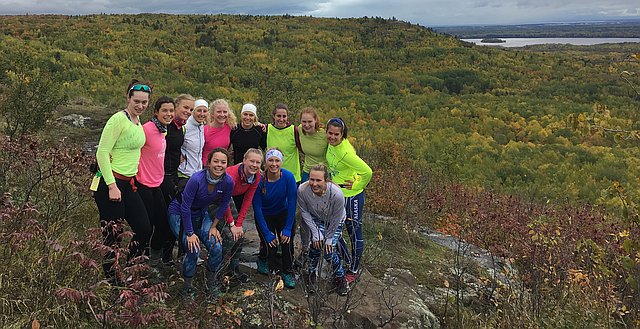 The 2018-2019 CSS Ski Team have several top returning skiers on both the men's and women's teams. "Many of our returning skiers have made huge technical improvements from last year to this year," said Stuber. "Most are fitter than ever and we have first year athletes naturally jumping into our top group."
The top returning CSS athletes include: Greta Jenkins (Palmer, AK), Hanna Dahlberg (Ulricehamn, Sweden), Sam Benzing (Boise, ID), Cece Boyle (Oakdale, MN), Nikki Gilman (Manitowish Waters, WI), Tamer Mische-Richter (Bloomington, MN) , Jack Christianson (Arden Hills, MN), Ryan Steger (Eagan, MN), and Isaac Wieber (St. Cloud, MN).
Stuber mentioned that her team is a really young team with lots of promising talent and strong leadership. She went on to say they have a lot of work to do but it's a group that's excited to do that work over the next several years.
In addition to the several returning skiing, the CSS Team also has 12 new athletes joining the team - six women and six men including: Claire Anderson (South St. Paul, MN), Kyra Jackson (Hayward, WI), Kensington Myers, Hannah Bettendorf (Duluth, MN), Rana Kraftson (Bayport, MN), Marit May (Durango, CO), Nick Matelich (Bozeman, MT), Sam Olson (Duluth, MN), Emil Robert Book Bratbak (Lillehammer, Norway), Bjorn Larson (Duluth, MN), Gus Schatzlein (Savage, MN), Hannes Stenstrom (Are, Sweden).
"Our ski program is growing quickly and the energy and support of our athletics department is strong," Stuber explained.
Stuber went on to say that it is a really exciting time for Saints Skiing as they will be evolving over the next two years.
2018 - 2019 College of St. Scholastica Ski Team

Saint Olaf College
Kevin Brochman of St. Olaf College is heading into his seventh year as the head coach for the Oles, a team that has been around since the 80's. Before he began coaching, he was a very competitive skier himself. Brochman skied at Stillwater High School in the 70's and then went on to compete in the 1984 and 1988 Winter Olympics. Now, Brochman is using his experiences to coach the 20 skiers of the St. Olaf Ski Team.
"This year we have about 12 to 15 men and 8 women on the team," said Brochman. "There are six freshmen on the team with the Wisconsin State Champion, Kieran Mullen (Hazelhurst, WI) leading the men and Laura Pasmick (Ely, MN) leading the women. We did not lose any of our top skiers to graduation last year and expect to be a stronger team with the women and the men."
Coach Brochman mentioned St. Olaf's top returning skiers are Tyler Radtke (Lakeland, MN), Spencer WareJoncas (St. Paul, MN), Matt Lynch (Minneapolis, MN), Daisy Richmond (Minneapolis, MN), Erica Meyer (St. Paul, MN) and Stephanie Balas (Manitowish Waters, Wis). Kevin looks forward to having a great year as many of the skiers have looked strong in the time trials this fall.
2018 - 2019 St. Olaf Ski Team Roster
Racing Calendar
In just a few weeks the CCSA will kick off the highly anticipated 2018 - 2019 season.
2018 - 2019 CCSA Racing Schedule:
Mar. 6 - Mar. 9:

NCAA Championships | Stowe, VT | Trapp Family Lodge
About the author...

Mary Kozloski is from Green Bay, WI and is a UW Green Bay Ski Team Alumni, where she skied and studied Communications and Business Administration for four years. Mary continues to love and stay connected to the sport through writing. She is a travel and outdoor enthusiast and enjoys exploring everything Colorado has to offer, which she has called her new home state since fall of 2016.