Collegiate Racing Recap: CCSA, Alaska
by Mary Kozloski
December 17, 2018
CCSA
HOUGHTON, Michigan (December 15 - 16, 2018) - The CCSA competed in their final races on Saturday and Sunday, before winter break and the highly anticipated 2019 U.S Cross Country Ski Championships presented by L.L. Bean in Craftsbury, Vermont January 3 - 8. Michigan Tech University hosted the CXC Cup, where athletes raced in a 10/5k interval classic and a 10k freestyle mass start. Northern Michigan University's (NMU) Kjetil Stuge Baanerud (Oslo, Norway) and Mara McCollor (Plymouth, MN), who skis for Wayzata High School and the Minneapolis Ski Club, grabbed the 10/5k classic wins while NMU's Zak Ketterson (Bloomington, MN) and Michigan Tech University's Sarah Goble (Harbor Springs, MI) jumped back on top of the podium in the men's and women's 10k freestyle. Both Ketterson and Goble ruled the CCSA races December 8 - 9.
The weekend kicked off with a 10/5k individual classic race. In the women's 5k, U20 skier Mara McCollor had a commanding 17.9 second lead over the women's field. MTU's Sarah Goble and NMU's Nicole Schneider were battling against each other for the second weekend in the women's collegiate classic race. Goble edged Schneider by 1.4 seconds to claim first in the collegiate women's field and second overall behind McCollor, while Schneider was second and third overall.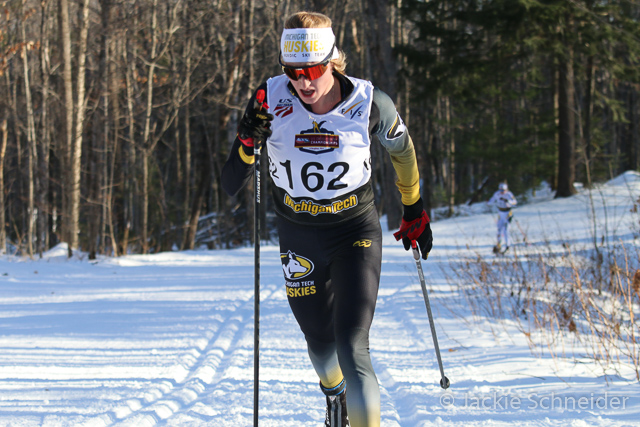 "It is awesome to be racing well!" Goble said. "However, it is only the beginning of the season so it is important to use these races to carry motivation and excitement into US Nationals and the start of the CSSA season."
NMU's Nadine Matter (Engelberg, Switzerland) and Abigail Drach (Eden Prairie, MN), who skis for Dartmouth College, finished fourth and fifth overall and third and fourth in the collegiate field, while MTU's Amanda Kautzer (Plymouth, MN) finished sixth overall but grabbed a spot in the top five for collegiate women.
In the men's 10k classic, NMU dominated the top five. Kjetil Stuge Baanerud climbed his way to the top of the podium after finishing third in last weekend's NMU Open classic race. Baanerud denied teammate Zak Ketterson first place by just 4.8 seconds, while Ian Torchia (Rochester, MN) grabbed third to secure NMU a men's podium sweep. Mathias Aas Rolid (Redalen, Norway) and Leo Hipp (Forest Lake, MN) rounded out the top five finishing fourth and fifth, respectively. Spectators reported that Ketterson had crashed and broke a pole during the race, worked hard up the next climb before receiving a replacement pole, and then continued to fight like crazy to make up for lost time.
The MTU CXC Cup concluded with a 10k freestyle mass start. The women's top five fought until the end as they all finished within nine seconds of one another. For the second day Goble and Schneider were neck and neck, and once again it was Goble who had the final surge of energy to grab first by a toe. Goble won by just .4 seconds over Scheider while NMU's Julie Ensrud (Saltnes, Norway) and Abby Jarzin (Green Bay, WI) finished fourth and fifth.
The men also raced in a 10k freestyle mass start - "I haven't done a 10k mass start since I was a junior so it was good to race again in such a hard short effort," explained, NMU's Ian Torchia. "The course held up well with the warm weather, all thanks to the Tech groomers, they consistently produce great race conditions over and over again."
The men's race was also an all out sprint to the finish between NMU's Ketterson and Torchia.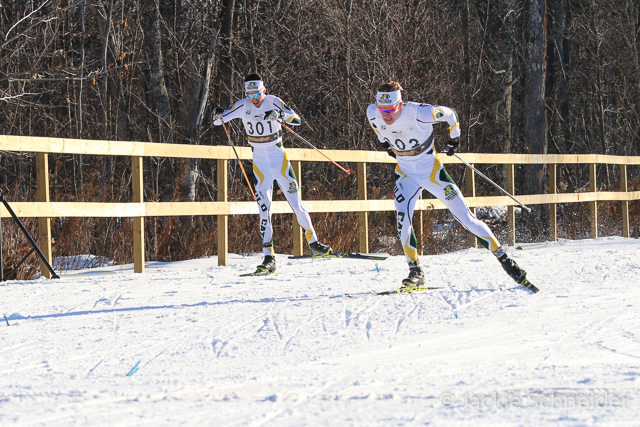 "I tried to break up the race on three separate occasions until it was Zak and I on the final straight and we had a battle with Zak coming out on top," said Torchia.
Ketterson was back on top of the podium as he snatched the win from Torchia by 1.2 seconds, while Mathias Aas Rolid was third, confirming a second podium sweep by NMU.
"Mass start racing is a lot of fun because you get to race head to head with your teammates against the other skiers," explained Ketterson. "I was really happy that the NMU boys took the top 3 positions and that I could come up with the win. I just hung onto Ian for dear life up the hills and had enough energy into the finish to make a move."
MTU's Gaspard Cuenot (Le Cerneux-Pequignot, Switzerland) finished fourth while NMU's Kjetil Stuge Baanerud was fifth.
"It's been awesome to train with such a strong team this year," Torchia said. "Really looking forward to coming into a peak for Nationals and more hard racing."
The CCSA will be back in action January 19 - 20 in Cable, WI competing in a 5/10K individual freestyle and a 10/15K mass start classic.
Results
Alaska
PALMER, Alaska (December 15 - 16, 2018) - Southcentral Alaska received snow just in time for the start of the Besh Cups, Alaska's National qualifying races. The race was originally planned to be hosted in Anchorage, but due to the lack of snow so far this season, the race committee decided to have the races in Palmer at the Government Peak Recreation Area. The Besh Cup season began with a 15/10k individual classic and a 10/5k freestyle race. Several Midwest natives competed in the race including Rosie Frankowski (Minneapolis, MN) who skis for Alaska Pacific University (APU) Nordic Ski Team as well as Michaela Keller-Miller and Hannah Rudd who are both from Plymouth, MN and ski for the University of Alaska Anchorage (UAA).
In the women's 10k individual classic, Frankowski ruled the field. Frankowski returned to Alaska from a very successful start to the U.S. SuperTour season, where she competed in several races in West Yellowstone, MT and Vernon, BC. Rosie won the women's race by a commanding 22.39 seconds over APU teammate Hailey Swirbul and Kendall Kramer, a 16 year old from West Valley High School in Fairbanks, AK, finished third. Michaela Keller-Miller finished sixth, missing out on the top five by seconds, while Hannah Rudd finished 12th.
The weekend of racing concluded with a 5k freestyle for the women. APU's Jessica Yeaton won the race by a large margin over Kendall Kramer, finishing with a 33.85 second lead, while Emma Tarbath who skis for Montana State University Ski Team finished third. Once again Michaela Keller-Miller had a solid race, finishing sixth, while Hannah Rudd grabbed a spot in the top 15 finishing 13th.
In the men's 15k classic and 10k freestyle, Gus Schumacher of Alaska Winter Stars, Luke Jager of APU and teammate Hunter Wonders dominated the podium. Schumacher won both of the men's races by over twelve seconds ahead of Jager and Wonders. Schumacher, Jager and Wonders are no strangers to competing with one another as they were team members on the 2018 World Junior Championship relay team who won the silver medal! (The fourth member of the relay team was Ben Ogden who skis for Stratton Mountain School (Stratton, VT). Both Schumacher and Ogden were named to the U.S. Ski Team Development Team in 2018.)
Results
About the author...

Mary Kozloski is from Green Bay, WI and is a UW Green Bay Ski Team Alumni, where she skied and studied Communications and Business Administration for four years. Mary continues to love and stay connected to the sport through writing. She is a travel and outdoor enthusiast and enjoys exploring everything Colorado has to offer, which she has called her new home state since fall of 2016.