US Nationals: Classic Distance Recap
by Mary Kozloski
January 3, 2019
CRAFTSBURY, Vermont - On the opening day of the 2019 U.S. Cross Country Ski Championships presented by L.L. Bean, the nearly 550 competitors were greeted with snowy conditions for the 15/10k classic races. There was a strong Midwest presence in the top 15 for both the men's and women's results. Minnesota native Kyle Bratrud (Eden Prairie, MN), who skis for the SMS T2 Team, commanded the men's race with a time of 41:41.8, winning by nearly 30 seconds, to claim the first national title of 2019 and his third title since 2015. This was Bratrud's first classic national title, the two previous titles were in freestyle distance events. Caitlin Patterson (Anchorage, AK) of Craftsbury Green Racing Project became a seven-time national champion after winning the women's 10k classic by 21.2 seconds, with a time of 30:44.7. Patterson is returning from competing in the Period 1 World Cup races. Not only are national titles at stake throughout the competition, the U.S. National races are also qualifying races for the upcoming World Championships in Seefeld, Austria, as well as several junior championships including the U23 and Junior World Championships in Lahti, Finland as well as the U18 Team Nordic Nation's Championships in Otepaa, Estonia.
Bratrud was the 42nd athlete to start the 15k individual classic race and never backed down until he crossed the finish line.
"Today was awesome!" Bratrud said. "We woke up to a few inches of fresh snow. I executed my race plan exactly how I wanted and with the help of some great skis, was able to capture my first National Championship in the classical technique!"
Midwest native Adam Martin (Wausau, WI) who skis for Craftsbury Green Racing Project, used his 'home field advantage' during the 15k classic to ski to an impressive second place finish with a time of 42:12.8. Martin was 14.8 seconds ahead of the 38 year old veteran Kris Freeman who skis for Caldwell Sports. Martin also had an opportunity to ski in his first World Cup race in November in Ruka, Finland.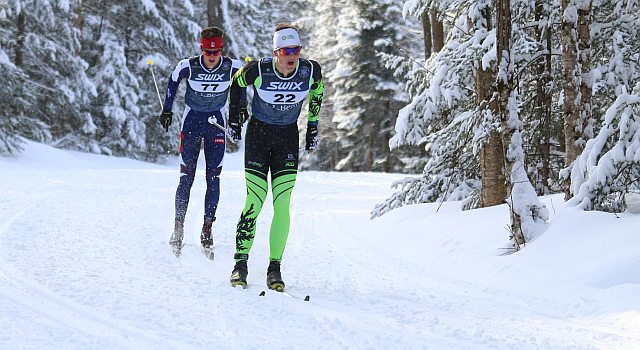 "I was really happy with my race today, and commend Kyle on a very impressive performance." said Martin. "I'm always very excited to be racing in Craftsbury. There's something about racing the best domestic skiers on our training grounds that is really special. Thanks to everyone involved for putting the event on so well."
Zak Ketterson (Bloomington, MN) of Northern Michigan University, who has been dominating the CCSA collegiate races so far this season, grabbed a spot in the top ten finishing eighth. Teammate Ian Torchia (Rochester, MN) finished 12th overall but was only five seconds out of the top ten.
"I was really looking forward to this race as it is usually one of my stronger events," explained Ketterson. "I ended up eighth which is a good start to the week. I am excited to see what the rest of the week holds and was also very happy to see the NMU alumni duo of Adam and Kyle perform so well." "The six inches of snow did not hold up which made for a challenging day with very sloppy conditions," said Torchia. "Felt good body-wise but was again struggling with my skis. One of these days a classic race will click! Very excited for the 30k skate."
In the women's 10k classic Patterson proved that she can continue to dominate at nationals year after year. Not too far behind Patterson was Jessica Yeaton of APU Nordic who finished second while Kaitlynn Miller of Craftsbury Green Racing Project finished third. Minnesota natives Rosie Frankowski (Minneapolis, MN) of APU Nordic snatched fifth place by three seconds, while Alayna Sonnesyn (Plymouth, MN), who skis for the SMS T2 Team, grabbed a spot in the top 15 finishing 12th overall.
"With a fresh few inches of snow out on course and the men's race having gone first, conditions were pretty gnarly out there for the 10k," explained Sonneyson. "It was a gritty race and you had to be willing to dig deep but the spectators were incredible and cheered athletes on every step of the way. I love racing at Craftsbury and feel like home on these trails so I know that this is just the start to a really fun week!"
In addition to several Midwest skiers in the top 15 overall, there were also athletes in the top 15 of their age groups as well.
U23
In the final results, Ketterson was the top U23 male and Torchia was third. Sonnesyn was fifth and Margie Freed (Apple Valley, MN) who skis for the University of Vermont finished 15th for the U23 women.
U20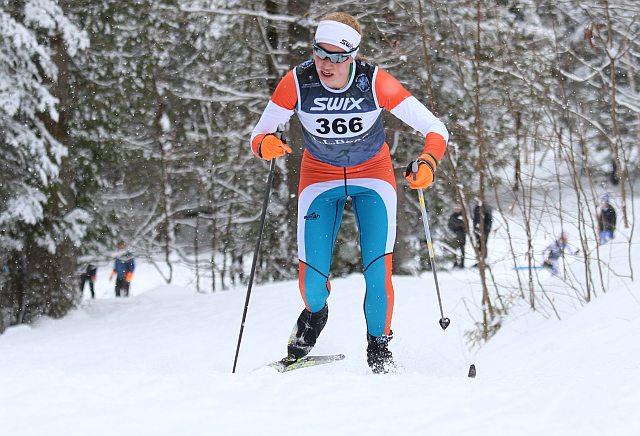 Michigan Tech University teammates Reid Goble (Petoskey, MI) and Patrick Acton (Eagan, MN) were 11th and 12th for the U20 men, while Mara McCollor (Plymouth, MN) who skis for Wayzata High School and the Minneapolis Ski Club and Abigail Jarzin (Green Bay, WI) who skis for Northern Michigan University were third and fifth, respectively for U20 women. Luci Anderson, Loppet Nordic Racing (Plymouth, MN), and Anja Maijala, Univ of Alaska-Fairbanks (Cloquet, MN) also finished in the top 10, placing 8th and 9th.
U18
Loppet Nordic Racing athlete Libby Tuttle (Minneapolis, MN) grabbed a spot in the top 15 of the U18 women, finishing 14th. Alex Nemeth (Alexandria, MN) scored an awesome 7th place while Endurance United's Peter Moore tied for 13th in the U18 men's division.
Competition continues on Friday January 4th with classic sprints. U.S. Ski and Snowboard and CXC are providing live streaming coverage of the races.
About the author...

Mary Kozloski is from Green Bay, WI and is a UW Green Bay Ski Team Alumni, where she skied and studied Communications and Business Administration for four years. Mary continues to love and stay connected to the sport through writing. She is a travel and outdoor enthusiast and enjoys exploring everything Colorado has to offer, which she has called her new home state since fall of 2016.