US Nationals: Classic Sprints Recap
by Mary Kozloski
January 4, 2019
CRAFTSBURY, Vermont - The athletes cranked up the speed on the second day of competition for the 1.5k classic sprint race. Ida Sargent of the U.S. Ski Team and Craftsbury Green Racing Project (CGRP) and Julien Locke of Black Jack Ski Team / Canadian National Ski Team snatched the women's and men's sprint victory by a toe - this was Sargent's first U.S. National title. Sargent, who also skis for the U.S. Ski Team, is no stranger to sprint racing. With several years on the World Cup circuit, Sargent has mastered the tactics of sprinting which was evident during the women's 1.5k classic sprint today. In the men's race, Locke edged Minnesota native Ben Saxton (Lakeville, MN) who finished second overall but was the top American and claimed his first U.S. National Champion title. Zak Ketterson (Bloomington, MN) who skis for the Northern Michigan University had another impressive race, finishing sixth overall and was the fourth American. Alayna Sonnesyn (Plymouth, MN) who skis for SMS T2 was the top Midwest women.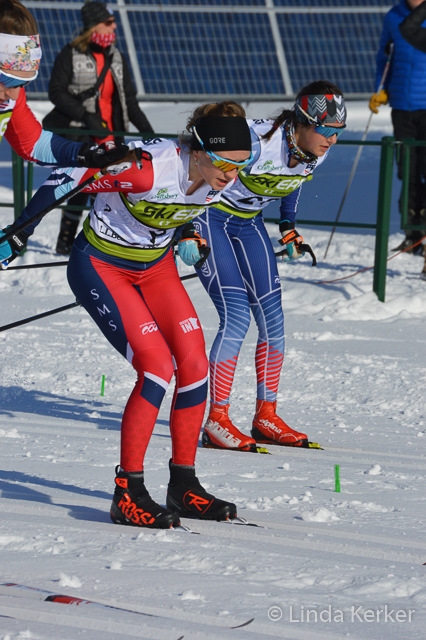 "Today was fun!" Said Sonnesyn. "I've always considered myself as more of a distance skier but have had goals the past few years to improve my sprinting and it's starting to come along. I was really happy with my qualifier and was feeling good. "
The speedy qualifiers set the tone for the day, as the top three qualifiers for both the men's and women's were close. Ida Sargent proved in the qualifiers that she is a forced to be reckoned with in sprint races. Sargent qualified first with a time of 3:51.30, three seconds ahead of Kelsey Phinney of the SMS T2 Team. Sargent continued the momentum into the heats, where she won won her quarterfinal and semifinal heats to move onto the finals. The final heat was stacked with all star sprinters including Sargent, Julia Kern of SMS T2, Kaitlynn Miller of CGRP, Hailey Swirbul of APU nordic and Hannah Halvorson of APU nordic and Caitlin Patterson of CGRP, both of who snuck their way into the finals as the lucky losers. Sargent snatched first by 1.25 seconds but the battle for second place was fierce. Kern and Halvorsen were neck and neck until the finish line, but it was Kern who had the farther lunge to claim second by .02 seconds ahead of Halversen who finished third. Caitlin Patterson, who grabbed the 10k classic national title on Thursday, finished fourth, while CGRP teammate Kaitlynn Miller was fifth and Hailey Swirbul was sixth. Sonnesyn who finished as the eight American, qualified in the top ten finishing ninth, grabbed second in the quarterfinals and then finished fifth in her semifinal heat and was unable to move on to the finals.
"The heats were interesting... in my quarterfinal I was in dead last from the start- just couldn't quite get it going as fast as everyone else," explained Sonneysen. "But I knew it was a long course and a lot could happen so I kept going for it. There was a large downhill halfway through that carried you into a large uphill and I was able to draft behind everyone, sling shot past them, take the outside lane and charge up the hill. I was really happy to get second in my quarterfinal and move on to the next round! I was definitely tired by the time the semi's came around but had a much better start. Unfortunately, going up the big hill another racer jumped into my tracks on top of my skis and slowed the momentum a bit. The rest of the field was able to crest over the top of the hill really well while I was stuck behind again. But that's just how sprinting goes sometimes! Overall, really proud of myself for sticking it out through the heats and finishing as the 8th American!"
In the men's sprint, Ben Saxton started the day strong qualifying first and proving his consistent sprinting strength. Saxton secured first in his quarterfinal heat but then had some competition from another sprinting legend, Logan Hanneman of APU Nordic. Hanneman edged Saxton in the semifinals by just 0.6 seconds, which would lead to an epic duel in the final heat. Julien Locke qualified ninth and then soared through the heats which landed him in the final heat as well. Locke continued to build on his speed in the final heat snatching first overall from Saxton with a time of 3:15.46, his fastest time of the day, finishing just 1.16 seconds ahead. The fight for second place was intense between Saxton and Hanneman once again but it was Saxton who had the final push to secure second overall and first for the American men. Peter Holmes, who jumped into the finals as one of the lucky losers finished fourth, Dominique Moncion-Groulx of Team R.A.D was fifth and Zak Ketterson of NMU, who also qualified for the final heat as a lucky loser, finished sixth overall and was the fourth American. Andy Newell, U.S. Ski Team veteran who now skis for SMS T2/Salomon, who was highly favored to win the men's classic sprint. Newell qualified third earning himself a spot in the quarterfinal heats. In the quarterfinal heats Newell finished second but according to sources, Newell made a lane change during the race that obstructed another competitors path which ultimately led to a disqualification for Newell.
Saxton shared his experience: "The morning qualifier brought a whole bundle of nerves, but I knew my Coach, Patrick O'Brien, had made some excellent skis and I knew if I relaxed and skied powerfully I could take advantage of them. The afternoon was a tough effort because the domestic field is becoming deeper and deeper every year. I made an effort to try and control most of my heats from the front in order to avoid shenanigans, and for most of the day I was able to find space when I needed it. I was just happy to execute a good race plan from the qualifier all the way to the final, and do justice to the hard work my teammates and coach did in preparing our team for the sprint."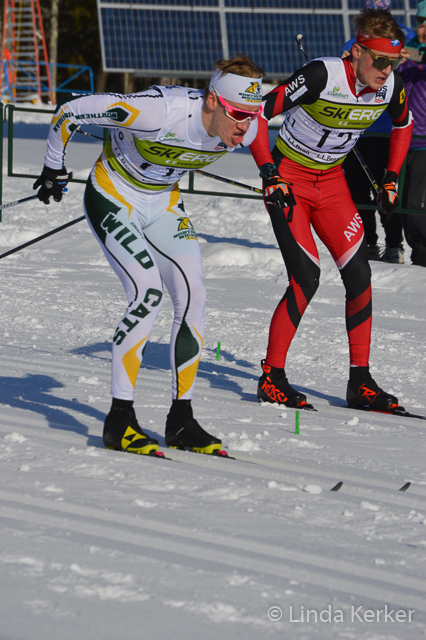 "Sprinting has not been a very big focus for me this season, as we don't get to do many sprints as college skiers," explained Ketterson. "Still, it's a lot of fun the few times a year we get to do them. I felt strong and controlled in the qualifier and quarterfinal, but started to feel very tired in the semifinal and final. I was honestly just happy to be in the final and mix it up with some fast guys."
The athletes have a rest day on Saturday and then will be back in action on Sunday, January 6th with a 30/20k freestyle mass start.
U23
Zak Ketterson and Alayna Sonnesyn continue to lead the Midwest U23s, in third and fifth respectively. Sarah Bezdicek (Osseo, MN) of NMU who qualified 22nd ended up 10th for U23 women, while teammate Leo Hip (Forest Lake, MN) was 13th.
U20
Mara McCollor (Plymouth, MN) who skis for Minneapolis Ski Club leads the Midwest women's U20 field once again. Not only did Mara qualify first for U20 women, she opted to 'race up' to compete with the U23 and older age group. Anja Maijala (Wrenshall, MN) who skis for the University of Alaska Fairbanks, Luci Anderson (Plymouth, MN) of Loppet Nordic Racing, Abigail Jarzin (Green Bay, WI) of NMU and Siri Bohacek (Afton, MN) who skis for Williams College all qualified for the junior quarter final heats but did not advance further. Maijala qualified 10th for the U20 women, Anderson 12th, Jarzin 14th and Bohacek was 17th.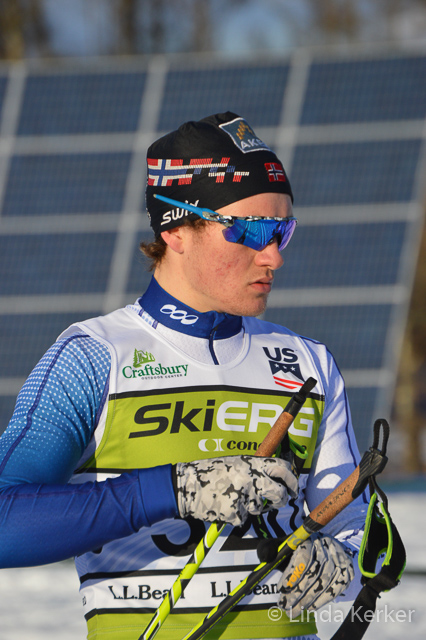 Anders Sonnesyn (Plymouth, MN) who skis for the University of New Hampshire led the U20 men qualifying 17th and then finishing fourth in the finals, missing a podium spot by 3.63 seconds, however Sonnesyn was the third American. Reid Goble (Harbor Springs, MI) who skis for Michigan Tech University qualified 19th and advanced through the quarterfinals into the semis but could not hold on from there.
U18
Peter Moore who skis for Endurance United qualified 10th in the U18 men's field but did not advance past the quarterfinal heats.
About the author...

Mary Kozloski is from Green Bay, WI and is a UW Green Bay Ski Team Alumni, where she skied and studied Communications and Business Administration for four years. Mary continues to love and stay connected to the sport through writing. She is a travel and outdoor enthusiast and enjoys exploring everything Colorado has to offer, which she has called her new home state since fall of 2016.