US Nationals: Freestyle Distance Recap
by Mary Kozloski
January 6, 2019
CRAFTSBURY, Vermont - Caitlin Patterson of Craftsbury Green Racing Project and David Norris of APU Nordic were victorious in the 20/30k freestyle mass start on day three of the 2019 U.S. Cross Country Ski Championships presented by L.L. Bean. Patterson added an eighth national title to her long list of accomplishments, as she glided her way to a convincing first place finish 20.1 seconds ahead of Minnesota native Rosie Frankowski (Minneapolis, MN) who skis for APU Nordic. This was Frankowski's second U.S. Nationals podium of her career. Her first podium was at the 2018 U.S. Nationals in Anchorage, AK where she finished second for the U.S. women in the 20k classic, her efforts stamped her ticket to the 2018 Olympics in Pyeongchang, South Korea. Another Minnesota native, Kyle Bratrud (Eden Prairie, MN; SMS T2 team) grabbed his second podium of the week, earning second place in the men's 30k freestyle just 6.4 seconds behind Norris.
The women kicked off the day of competition with a 20k freestyle mass start. The course had firmed up overnight, but snow began to fall at the start of the race making for tough conditions as the race went on.
"The conditions were a bit funky because it was snowing all morning, but was warm, slow snow, so a track glazed in the middle and that was the fastest so you had to ski on the glaze," explained Frankowski. "They also switched the course from the flatter course to the hillier one (which I was quite happy about), my goal before the race was to take the legs out from everyone on the climbs--play my strengths," explained Frankowski.
Caitlin Patterson charged from the start with Frankowski following close behind throughout the race. Frankowski hung on to Patterson and held the second place spot throughout the race.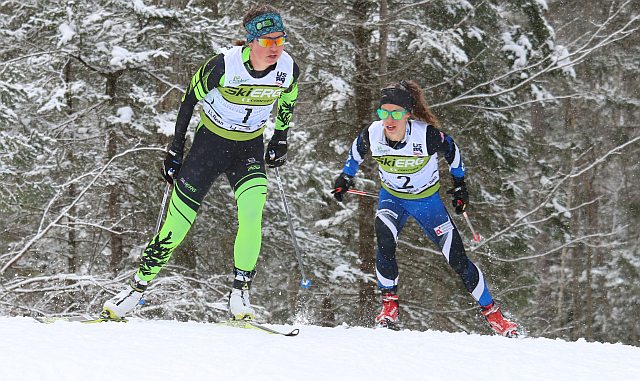 "I set out and for the first 5k I was able to do that, although Caitlin could get a gap on the downhills, and I was struggling to stay with her on flats," said Frankowski. "Then after about eight kilometers, I couldn't catch back up on the uphills."
Patterson broke away from Frankowski halfway through the race and skied to secure first place by 20.1 seconds with a time of 59:23.1.
"It was a slow, solo 10 kilometer suffer-fest until the end, where I managed to hold off my teammates who broke apart the chase pack," said Frankowski.
Frankowski finished second just 6.7 seconds ahead of teammates Jessica Yeaton who was third overall and Hailey Swirbul finished fourth overall and was the third American. Minnesota native Alayna Sonnesyn (Plymouth, MN; SMS T2) had another impressive race, grabbing a spot in the top ten, finishing seventh overall and was the sixth American.
"Overall, my strategy proved to make it into a fighting day, just more fighting my own head than any competitors," Frankowski said.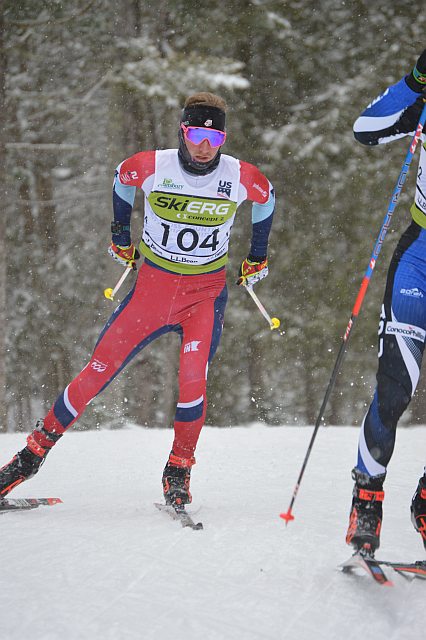 In the men's 30k a close pack of men formed early in the race until 10k where APU's David Norris and Scott Patterson and Kyle Bratrud (SMS T2) started cranking up the intensity to start breaking away from the larger lead group.
"Today was a lot of fun!" Said Bratrud. "It snowed before the race and continued during which made for some interesting conditions. David Norris and Scott Patterson blew the race open at around 11k and I was able to slowly work my way up to them and then from then on we skied together until one of the final climbs where David made a move and I tried my best to follow."
In the final kilometers Norris and Bratrud broke away, but Norris continued to gain speed and distance from Bratrud. Norris skied to his first U.S. Nationals victory with a time of 1:18:02.4, 6.4 seconds ahead of Bratrud and teammate Scott Patterson who was third. Norris has proved to be a strong freestyle distance racer, as he has also won the 2016 American Birkebeiner. Norris also began his race season skiing in a few World Cup races. Gus Schumacher (APU) skied to an outstanding fourth place finish and was only one of two U20 male in the race who opted to ski up.
"Norris was too strong for me today though so I ended up second, my best 30k finish," explained Bratrud. "I'm really happy with how Nationals went and I'm looking forward to some more training before I head to Europe!"
Midwest natives Adam Martin (Wausau, WI) of Craftsbury Green Racing Project and Brian Gregg (Minneapolis, MN) of Team Gregg skied impressive races finishing fifth and sixth, respectively. The race for the top five was intense and ended in a photo finish between Martin, Gregg and Paddy Caldwell (SMS T2).
"The conditions were good with fresh snow before and during the race," said Martin. "David, Kyle, and Scott broke away on the third lap, and I skied with a small chase group the rest of the race."
Gregg commented, "I had a great time racing at Nationals this week. My wax team did an amazing job with my skis today which allowed me to recover well on the downhills. The sharp new snow was a contrast to the glazed packed middle of the course and I was happy my skis ran well in both. The course has 3 long climbs on it and I could tell I haven't been training v1 as much as in the past. Scott and David pushed the pace up the climb at 12km and I was able to regain contact over the top but when they went again in the A climb and my legs weren't ready to match them. I was happy to be in a position to sense and see the attack, although it is more fun to be making the attacks or going with them. Our chase pack of 4-8 stayed together the remainder of the race until the final climb. The long uphill finish is good for me and I was able to close well for a tight sprint for 5th pace. I am happy with 6th for the day and the opportunity to race a competitive race. Craftsbury does an amazing job hosting Championships and it was fun to race on their challenging trails."
Competitors get one final day of rest before returning to the final day of competition for U.S. Nationals. The final day of competition is a freestyle sprint race on Tuesday, January 8.
U23
NMU's Zak Ketterson (Bloomington, MN) and SMS T2's Alayna Sonnesyn led the U23 Midwest men and women once again in the 20/30k freestyle race. Sonnesyn finished seventh overall, the sixth American overall and third for U23 women. NMU's Nicole Schneider grabbed a spot in the top 20 finishing 18th overall and was 11th for her age class. Ketterson finished 20th overall and was sixth in his age group. Ian Torchia (Rochester, MN) of NMU finished close behind Ketterson in 21st and was seventh for U23 men. Nick Gardner (Stillwater, MN) who skis for Williams College finished 15th for U23 men and was 32nd overall.
U20
In the junior women's 7.5k freestyle mass start, Mara McColler (Plymouth, MN) who skis for the Minneapolis Ski Club continued her lead for the Midwest U20 women finishing fourth overall and first in her age group, ahead of Abigail Jarzin (Green Bay, WI) of NMU who was fifth overall and second in her age group. Luci Anderson (Plymouth, MN) of Loppet Nordic Racing (LNR) was ninth overall and fifth in her age group while Anja Maijala (Cloquet, MN) of University of Alaska Fairbanks was 17th overall and 10th in her age group.
In the junior men's 10k freestyle mass start, Michigan Tech University's Patrick Acton (Eagan, MN) and Reid Goble (Petoskey, MI) grabbed spots in the top ten overall finishing seventh and tenth, respectively and were sixth and eighth in their age group.
U18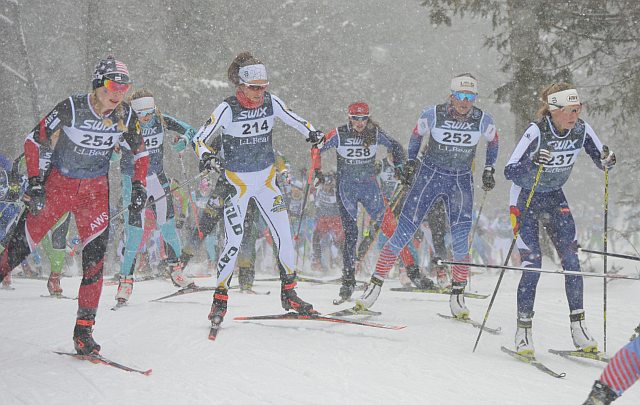 Libby Tuttle (Minneapolis, MN) and James Schneider (Plymouth, MN) of LNR led the Midwest U18 men and women in the 7.5k/10k freestyle mass start. Schneider finished sixth in his age group and 16th overall, while Peter Moore of Endurance United finished 17th in his age group and 42nd overall. Tuttle finished eighth in her age group and 28th overall, while teammate Emma Albrecht (Stillwater, MN) was 13th in her age group and 38th overall.
About the author...

Mary Kozloski is from Green Bay, WI and is a UW Green Bay Ski Team Alumni, where she skied and studied Communications and Business Administration for four years. Mary continues to love and stay connected to the sport through writing. She is a travel and outdoor enthusiast and enjoys exploring everything Colorado has to offer, which she has called her new home state since fall of 2016.