US Nationals: Freestyle Sprints Recap
by Mary Kozloski
January 8, 2019
CRAFTSBURY, Vermont - On the final day of the 2019 U.S. Cross Country Ski Championships, two SMS T2 teammates, Julia Kern and Minnesota native Ben Saxton (Lakeville,MN) were hungry for the top of the podium in the 1.5k freestyle sprint race, after they both finished second in the 1.5k classic sprints on Friday. Saxton and Kern both had epic photo finishes in the men's and women's sprints but were both able to push themselves until the final moments to claim their first U.S. National titles. NMU's Zak Ketterson (Bloomington, MN) had another outstanding race finishing sixth overall. Ketterson has had a very successful U.S. Nationals, with three top ten finishes and was 20th in the men's 30k freestyle. Alayna Sonnesyn (Plymouth, MN) who competes for SMS T2 has also had an impressive U.S. Nationals with three top ten finishes and was 12th in the 10k classic.
In the men's race, Saxton qualified fourth and continued his climb to the top of the podium throughout the heats. Saxton won his quarterfinal heat and then the battle between him and sprinting rival Logan Hanneman of APU Nordic began in the semifinals. Hanneman stole first from Saxton in the semis by just 1.14 seconds which would set up the final heat to be an all out fight for first. In the finals, the men stuck close together throughout the course making for a close finish. In the final meters, Hanneman and Saxton began to gain a slight lead on the rest of the group but Saxton was able to push a little harder to secure first by a toe. Saxton won the race with a time 02:58.51, just 0.32 seconds ahead of Hanneman. Noel Keeffe (University of Utah) finished close behind in third, Daniel Streinz (NMU) was fourth, Gus Schumacher (APU Nordic) fifth and Zak Ketterson who snuck into the final heat as the lucky loser from the semifinals, finished sixth.
Saxton shared, "I was disappointed with the qualifier in the morning because I felt like there were some things I could have executed better, but I took it as fuel for the fire in the heats. In the afternoon it became clear rather quickly that the most important part of the course would be the last 500 meters. So I spent most of my heats in the back conserving energy until it was time to launch for the finish. I was lucky to find a lane to the front in the final and when I went for the line I tried to block everything out because I knew Logan would be coming like a freight train. I wasn't entirely sure where anyone was in the lanes, but when I crossed the line I was really ecstatic to see I had held everyone off. My teammates and coaches did a ton to help keep me calm and relaxed throughout the day and with Julia, Alayna, and Kelsey has a tremendous day racing, I was just so happy to share a successful day with the whole team."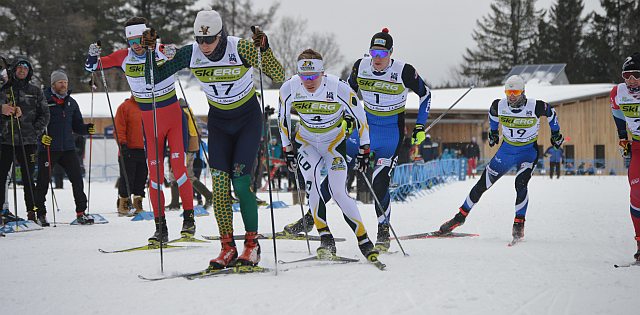 "This was the last race in a long week of racing so my goal was to just give it everything I had left and see what could happen," said Ketterson. "The qualifier ended up exceeding my expectations and the heats went well enough to get me into the final. I had some bad luck in the final with a broken pole but that can happen in sprint racing. I was very happy to share the final with my teammate Daniel Streinz!"
The women's 1.5k classic sprint also had an intense photo finish. Julia Kern qualified second, was second in the quarterfinal, third in the semifinals which earned her a spot in the final heat as the lucky loser. In the final heat, the leaders changed throughout the race from Kern, Caitlin Patterson (Craftsbury Green Racing Project) and Hannah Halvorsen (APU Nordic). In the last meters, Halverson began to pull away from the group until Kern came from behind in third place until she was neck-and-neck with Halverson. This battle between Halverson and Kern felt like deja-vu from Friday's classic sprint finish for second place. Once again, Kern was able to edge Halvorsen, but this time for the U.S. National title. Kern won with a time of 03:16.73, just 0.21 seconds ahead of Halvorsen. Kelsey Phinney (SMS T2) was third, Caitlin Patterson fourth, Maya MacIsaac-Jones fifth and Jessica Yeaton (APU Nordic) finished sixth.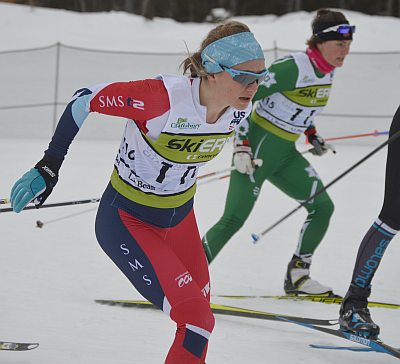 "I have always enjoyed sprinting.", said Bezdicek. "This was my last time sprinting at a National event so I really wanted to make it count. For the qualifier, I focused on taking the best line on the course and on pushing over the tops of the uphills. I felt good and was stoked to be top 30! The conditions were average speed-wise but my skis were little rockets. Made a couple tactical errors during the quarter which prevented me from continuing but I'm happy with my effort and overall performance during the sprint day."
Sonnesyn commented, "The sprints were another exciting day and I am finding myself having more and more fun as I continue to practice my sprinting. It was unbelievable to watch so many of my teammates crush the heats, for Kyle Bratrud and I that meant placing well in our semi-final, and for the rest of our SMS T2 teammates that meant getting on the podium and walking away with two more national titles! Unbelievable to see and so inspiring!"
The Midwest athletes who have qualified and will be representing the U.S. at the international championships because of their efforts at the 2019 U.S. National Championships are: Ian Torchia and Alayna Sonnesyn who will be competing at the U23 Championships in Lahti, Finland Jan 21 - 25, 2019. Zak Ketterson earned a spot on the U23 Championship team but has declined the offer to focus on NCAAs in March. Mara McColler (Plymouth, MN) will race at the Junior World Championships Jan 20 - 26, 2019 which are also held in Lahti, Finland.
U23
On the final day of competition, Zak Ketterson led the Midwest men qualifying fourth and was first in his age group. Sarah Bezdicek (Osseo, MN; NMU) led the Midwest women in qualification finishing 14th and was sixth in her age group. Alayna Sonnesyn was 16th and eighth in her age group, Nicole Schneider (Plymouth, MN; NMU) was 17th and ninth in her age group. Tamer Mische-Richter (Bloomington, MN; College of St. Scholastica) qualified 27th and was 12th in his age group. Leo Hipp (Forest Lake, MN; NMU) finished 33rd and was 14th in his age group.
U20
Reid Goble (Petoskey, MI, Michigan Tech University) led the Midwest U20 men in the 1.5k freestyle sprint followed closely behind by teammate Patrick Acton (Eagan, MN). Goble qualified ninth and finished second overall while, Acton qualified eighth and then finished third overall. Abby Jarzin (Green Bay, WI, NMU) led the U20 women in the 1.5k sprint qualifying second and finishing third in the final heats. Mary Lyon (Traverse City, MI; MTU) qualified seventh, Cecelia Boyle (Oakdale, MN, CSS) was 11th and Rana Kraftson (Bayport, MN, CSS) was 12th.
U18
Typically with the final event, because the race does not contribute to the international trips for WJC and U18 and is held midweek, there were no Midwest U18 juniors who competed in the freestyle sprints.


About the author...

Mary Kozloski is from Green Bay, WI and is a UW Green Bay Ski Team Alumni, where she skied and studied Communications and Business Administration for four years. Mary continues to love and stay connected to the sport through writing. She is a travel and outdoor enthusiast and enjoys exploring everything Colorado has to offer, which she has called her new home state since fall of 2016.