Collegiate Racing Recap: Midwest, EISA, RMISA
by Mary Kozloski
January 21, 2019
Midwest
CABLE, Wisconsin (January 19 - 20, 2019) - The American Birkebeiner Foundation hosted the 2019 Gitchi Gami Games at the iconic American Birkebeiner race stadium. Both collegiate and junior athletes competed in a classic sprint and a 10k classic mass start. Although a few collegiate teams competed, the races were not a part of the Central Collegiate Ski Association schedule. However, the Gitchi Gami Games were a Junior National qualifying race. Loppet Nordic Racing's Lucinda Anderson (Plymouth, MN) swept the women's competition. Not only was Anderson the top junior women, she also was first overall in both of the women's races. The College of St. Scholastica's (CSS), Samantha Benzing (Boise, ID), was first in the sprint for the collegiate women, while Jacob Ajax (Blaine, MM) who competes for the University of Wisconsin - Green Bay (UWGB) grabbed his first win in the men's classic sprint. Emil Book Bratbak (Lillehammer, Norway, CSS) and Sadie Peterson (Mora, MN, UWGB) won the men's and women's collegiate classic distance races.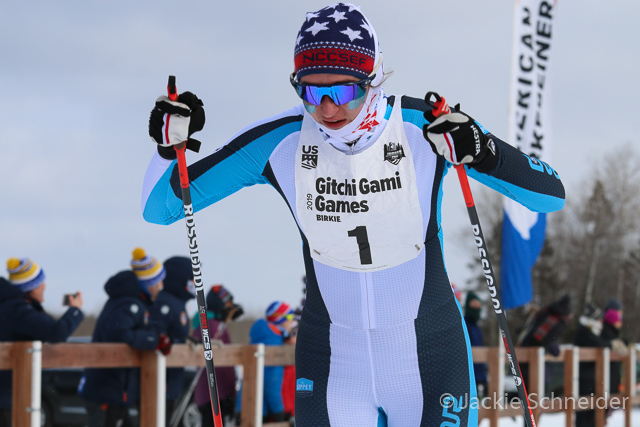 The weekend kicked off with the classic sprints. In the women's race, Lucinda Anderson qualified first and kept the momentum going throughout the heats, winning both of the quarter and semi finals. Her efforts stamped her ticket to the finals, making her the favorite. The finals were a mix of junior and collegiate women, all fighting for the win. Anderson remained undefeated as she skied to a convincing first place finish 3.38 seconds ahead. The battle for second ended in a tie between CSS teammates Benzing and Hannah Bettendorf who finished with a time of 3:59.35.
"Going into the weekend I was excited that we got the chance to sprint, since we don't have any sprint races in the CCSA, besides Senior Nationals," said Peterson. "Personally, I am not much of a sprinter, but they are always exciting and a blast to do. It was awesome to see two of our boys on the top of the podium! [Jacob Ajax and Thomas Woolhouse] Also, super awesome to watch half of the final men's heat contain Phoenix!"
In the men's race, Ajax who has consistently showed his strength in classic skiing no matter the distance, season after season, started the day qualifying second and then continued to win his heats, confirming his spot in the finals.
"The sprint course was fairly easy with a sketchy downhill corner at the end," said Ajax. "The first two heats were fairly straightforward because I just led the whole time but in the final I was getting boxed out for the first part and I was in 4th place at the top of the technique zone. Fortunately, on the next uphill the far right track was open and I double poled hard up the hill and was able to go into the sketchy downhill corner in first and carry my speed through the corner to finish uncontested in the stadium."
Ajax had a commanding 3.39 second lead over teammate Thomas Woolhouse (Mora, MN, UWGB) and Alex Nemeth (St. Paul, MN) of LNR.
The Gitchi Gami Games concluded with a 10k classic mass start for both the men and women.
"The cold threw a bit of a loop into everyone's plans!" Said Jack Christianson of CSS. "Once we were able to get out on course our whole team was seemed stoked with how the skis were kicking, and they were even running pretty well for such cold temps! The tracks were in great condition and Cable really lends itself to big striding so that was kind of our game plan for the day."
Anderson dominated the women's field once again. Anderson won the women's 10k by 55.9 seconds ahead of teammates Emma Albrecht (Stillwater, MN) and Libby Tuttle (Minneapolis, MN) who was third and secured a Loppet Nordic Racing podium sweep. Peterson was fourth overall and was first for the collegiate women, while Cecelia Boyle (Oakdale, MN, CSS) was second and Maddie McKeefry (Andover, MN, UWGB) was third.
"On Sunday, both men and women had a 10k. The course is a lot of fun. There is a long technical downhill on the backside of the course that is a major source of recovery for the climbs," explained Peterson. "I found that I really needed to hammer on the climbs because each one had plenty of recovery after. Something else everyone had to take into consideration was the temperature.. these were the coldest temps we have had to race in this year. It was really important for me to get out in the cold to get in a proper warm - up, yet not be out there longer than I had to be. All in all, I think it was a great weekend with good competition (some rocking fast juniors) to prep us for our upcoming collegiate races! Very excited for the CCSA races ahead, and to see all of our hard work start to pay off!"
In the men's classic mass start, the College of St. Scholastica men dominated the podium. In the final stretch of the race, Bratbak and Nick Matelich (Bozeman, MT) were neck and neck but Bratbak was able to pull away and secure first by just 1.1 seconds ahead of Matelich, while Jack Christianson was third grabbing CSS a podium sweep.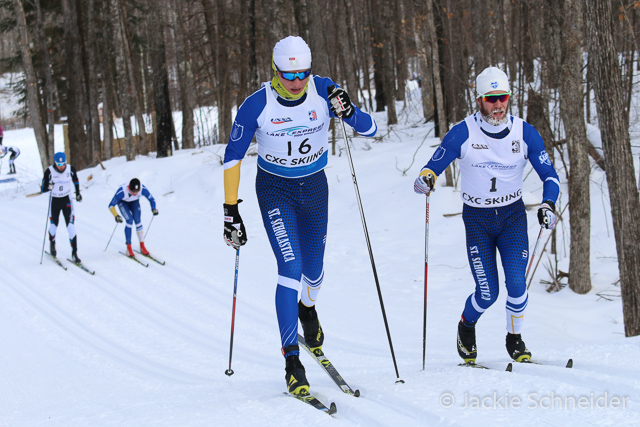 "The full first lap was a bit of a mad scramble for positions but by the time we got to the second lap it had settled down a bit," said Christianson. "Emil and Nick did a lot of the leading early on until the three of us were able to get away from the field a bit at the start of the final lap. They put the hammer down over the top of the last big hill and dropped me a bit off the back! It was so cool for us as a team to be able to sweep the podium, and we're looking forward to carrying some momentum into the CCSA Qualifiers next weekend in Rhinelander!"
The CCSA will have their first collegiate races of 2019 January 26 - 27 in Rhinelander, WI.
RESULTS
---
EISA
JACKSON, New Hampshire (January 18 - 19, 2019) - The Eastern Collegiate Ski Association was back in action over the weekend for the University of New Hampshire Carnival which was held at Jackson XC. The competition consisted of a 15/20k classic on Friday and a classic sprint race on Saturday. Minnesota native Rosie Frankowski (Minneapolis, MN, APU) jumped into the college race and won first in the 15k classic, while Katherine Ogden (Dartmouth) grabbed first for the collegiate women and Lydia Blanchet (Dartmouth) won the women's freestyle sprint . Bill Harmeyer (University of Vermont) was undefeated for the men, winning both the 20k classic and the freestyle sprint.
In the women's 15k classic, Frankowski had a commanding lead over the women's field, finishing nearly 28 seconds ahead of Ogden who finished second overall and first for the collegiate women. Frankowski also had a strong finish in the classic distance race at U.S. Nationals, where she finished fifth. Ogden had a big lead of her own in the women's collegiate field. Ogden skied to a convincing first place finish, 35.3 seconds ahead of teammate Leah Brams (Dartmouth) and Annika Landis (Middlebury) who denied Dartmouth from a women's podium sweep. Minnesota native Margie Freed (Apple Valley, MN, University of Vermont) had a strong race finishing 11th overall, just missing out of the top ten by 1.5 seconds. Three other Minnesota natives finished in the top 25 including: Renae Anderson (Golden Valley, MN, Bowdoin College) was 18th, Abigail Drach (Eden Prairie, MN, Dartmouth) 22 and Ingrid Thyr (Minneapolis, MN, Colby College) 23rd.
"The 15k classic mass start this weekend was pretty challenging with the competition starting out very strong," said Freed. "I tried to stick with the lead pack but eventually dropped back and was alone for much of the race. The course at Jackson is a 'true skiers' course meaning it tested the racer's fitness."
The men's 20k classic finish was not as predictable. The men's finish turned into a double pole derby. Harmeyer narrowly won the race again teammate Matias Oevrum who was just 2.1 second behind, while Lewis Nottonson (Middlebury) was third. Christian Gostout (Rochester, MN, Bowdoin College) led the Midwest men, finishing in the top 15, placing 14th. Sean Cork, (St. Louis Park, MN, Bowdoin College) grabbed a spot in the top 20 finishing 19th, Scott Harrison (Mound, MN, CBC) 20th, Will Bodewes (Minocqua, WI, University of New Hampshire) 24th and Nick Gardner, (Stillwater, MN,Williams College) finished 25th.
The UNH Carnival concluded on Saturday with a 1.4k freestyle sprint. In the women's race, Dartmouth dominated the podium. Blanchet was first, Ogden second and Taryn Hunt-Smith (Dartmouth) finished third. Freed had another impressive race and finished in the top ten, grabbing seventh place. Skylar Tupper (Minneapolis, MN, Colby College) and Renae Anderson were in the top 25, finishing 21st and 25th, respectively.
"The skate sprints were a nice change of pace the next day," said Freed. "I do not typically consider myself much of a sprinter but Saturday I did. It was exciting to be part of the heats, and with good conditions it was a very fun day overall."
The men's sprint also ended with a podium sweep, but this time by the University of Vermont. Harmeyer won his second race of the weekend, followed by Karl Schulz and Oevrum who was third. Anders Sonnesyn (Plymouth, MN, UNH) who was skiing on 'home turf' had an outstanding race, grabbing a spot in the top ten finishing 9th. Torsten Brinkema (Minneapolis, MN, CBC) was 13th and Will Bodewes finished 16th.
The EISA will return to competition February 1 - 2 for the University of Vermont Winter Carnival in Stowe,VT at the Trapp Family Lodge. Races will include a 5/10k skate and a 15/20k classic mass start.
RESULTS
---
RMISA
BOZEMAN, Montana (January 18 - 19, 2019) - The Rocky Mountain Ski Association travelled to Crosscut Mountain Sports Center where Montana State University hosted their Invitational. Athletes competed in a 5/10k freestyle and a 15/20k classic mass start. For the second weekend in a row Guro Jordheim University of Utah (UU), and Kornelius Groev of University of New Mexico (UNM) won the women's and men's freestyle races. They both won the freestyle races the weekend before in Steamboat Springs, CO. Hedda Baangman of the University of Colorado and Ricardo Izquierdo-Bernier who competes for UNM won the women's and men's classic races. Once again, Michaela Keller-Miller (Plymouth, MN, University of Alaska Anchorage (UAA)) had a strong weekend of racing with a top ten finish in the freestyle race and was 11th in the classic race.
"The race course this year was different from when they hosted two years ago and it was a nice mix of steady uphills, downhills, and rolling flatter sections," explained Keller-Miller.
The weekend of competition kicked off with a 5/10k freestyle. Jordheim, who is now undefeated in the women's freestyle races, won the 5k freestyle by 7.4 seconds ahead of teammate Mariah Bredal and Taeler McCrerey (Denver University) who was third. Michaela Keller-Miller continued her climb in the women's freestyle results and skied to an impressive 9th place finish, just 13.4 seconds out of the top five. Keller-Miller finished 12th in last weekend's CU Invitational in Steamboat Springs, CO. Minnesota natives Anja Maijala (Wrenshall, MN, University of Alaska Fairbanks) and Hannah Rudd (Plymouth, MN, UAA) both grabbed a spot in the top 20 finishing 17th and 18th, respectively.
"The conditions on Saturday were quite soft from new snow," said Keller-Miller. "This made it more important than usual to stay light on your feet and push for every second. I was really happy with Saturday's race as the UAA girls had three in the top 10 and finished second behind Utah in the women's race."
In the men's 10k freestyle, University of New Mexico teammates Kornelius Groev and Ricardo Izquierdo-Bernier went one and two, while Ola Jordheim (UU) finished third, denying UNM a podium sweep.
The weekend of competition concluded with a 15/20k classic mass start. In the women's race, Hedda Baangman (CU) wasn't going to let Jordheim sweep both podiums for the second weekend in a row. Baangman was out to win as she skied to a convincing first place finish 30 seconds ahead of Jordheim, while Kati Roivas (UAF) finished third. Keller-Miller improved her classic results as well, finishing 11th overall, just 17 seconds out of the top ten. Rudd was close behind Keller-Miller, finishing 13th, while Maijala was 24th. This RMISA invitational had a very competitive field with just 35 women racing.
"Sunday's conditions were also fairly soft from another round of snow, but the tracks still held decently firm which was nice!" said Keller-Miller. "I skied most of Sunday's race around a few of my teammates and ended up duking it out in the last kilometer with one of them. We were able to put four girls in the top 13 which was a nice progression from last weekend's races."
In the men's 20k classic, once again the University of Mexico teammates Izquierdo-Bernier and Groev skied together, but it was Izquierdo-Bernier who finished first. Maximilian Bie (UU) finished third.
The RMISA will compete February 1 - 2 at the New Mexico Invitational in Red River, New Mexico at the Enchanted Forest Cross Country Ski Area. Races will include a 7.5k classic and a 5k freestyle.
RESULTS
About the author...

Mary Kozloski is from Green Bay, WI and is a UW Green Bay Ski Team Alumni, where she skied and studied Communications and Business Administration for four years. Mary continues to love and stay connected to the sport through writing. She is a travel and outdoor enthusiast and enjoys exploring everything Colorado has to offer, which she has called her new home state since fall of 2016.