Collegiate Racing Recap: CCSA, EISA
by Mary Kozloski
February 18, 2019
CCSA/SuperTour
MINNEAPOLIS, Minnesota (February 16 - 17, 2019) - There was an extremely exciting atmosphere for the CCSA races hosted at Theodore Wirth Park on Saturday and Sunday for the Mayor's XC Challenge. Not only were these races high stake collegiate NCAA qualifiers, the collegiate athletes were also competing alongside SuperTour skiers as well. Cold temperatures greeted the athletes for the 15/20k classic mass start on Saturday and the 5/10k freestyle on Sunday. The SuperTour skiers also competed in a sprint race on Friday. Zak Ketterson (Bloomington, MN; NMU) continued his collegiate winning streak and also dominated the SuperTour field as well. Abigail Jarzin (Green Bay, WI; NMU) grabbed her second collegiate podium in just two weeks in the 15k classic, while teammate Nicole Schneider (Plymouth, MN) was first in both the collegiate and SuperTour field in the 5k freestyle. This weekend was also a chance for the Loppet Foundation to test out the course for the highly anticipated Fastenal Parallel 45 World Cup race March 14 - 17, 2020.
The weekend kicked off with a 15/20k classic mass start. The men completed five grueling laps and a big lead pack stuck together for the first three laps when Ketterson started to put his strategy and tactics into action. After the third lap Ketterson began to lengthen his lead but was not breaking away from Benjamin Lustgarten (Craftsbury Green Racing Project) easily. Ketterson and Lustgarten stuck together throughout the fifth lap, making this distance race an all out sprint finish. Ketterson did not back down until the very end and secured first in both the SuperTour and collegiate field .9 seconds ahead of Lustgarten, while Mathias Rolid (NMU) was third overall and second in the collegiate field. Kjetil Banerud (NMU) secured the podium sweep for the NMU men finishing fourth overall and third in the collegiate field. Ian Torchia (Rochester, MN; NMU) was seventh overall and fourth for the collegiate men, while Reid Goble (Harbor Springs, MI; Michigan Tech University) rounded out the top five, finishing fifth for the collegiate men.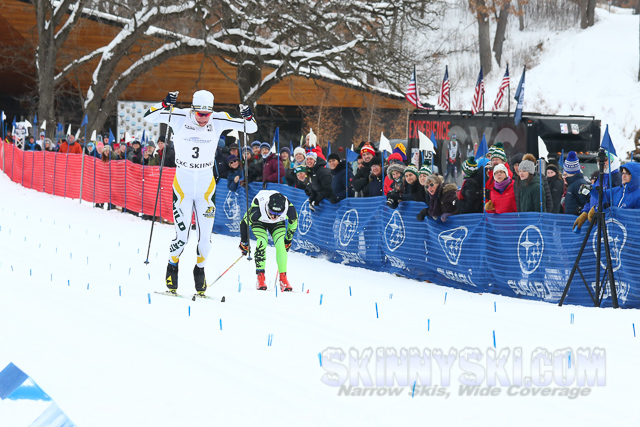 "I have been looking forward to these races for a long time because it's not often that you get to race a SuperTour on such a familiar course," explained Ketterson. "Having raced at Wirth so much in high school I knew the venue very well and felt at home."
In the women's 15k race, Jarzin stuck in the top five mix of the SuperTour field throughout the three laps and was continuing to create a large gap in the collegiate field. The top three women of the lead pack broke away from Jarzin and Becca Rorabaugh (APU Nordic) who had been battling for the fourth place spot. In the final stretch Jarzin and Rorabaugh were head-to-head in an all out sprint for fourth but it was Rorabaugh who was able to grab first by a toe, finishing just .4 seconds ahead of Jarzin who was fifth overall. Jarzin dominated the collegiate field, finishing two minutes ahead of teammate Schneider and Amanda Kautzer (Plymouth, MN; MTU) who was third. Julie Ensrud (Saltnes, Norway; NMU) and Katerina Hyncicova (Liberec, Czech Republic; NMU) rounded out the women's collegiate top five finishing fourth and fifth, respectively.
"The classic mass start was fun as I got to ski with a few professional athletes from Craftsbury and Stratton Mountain," said Jarzin. "Mass starts are always a little crazy in the first few kilometers so tactics don't always work, but I was able to stick with the leaders and get in stride with them for the majority of the race."
The Mayors XC Challenge concluded with a 5/10k individual freestyle race. Ketterson returned to the course on Sunday ready to dominate once again. In a competitive field, Ketterson grabbed second overall 5.1 seconds behind Matt Liebsch (Orono, MN; Pioneer Midwest) and was first for the collegiate men, finishing 8.1 seconds ahead of teammate Torchia who was second in the collegiate field. Torchia was sixth overall in the SuperTour rankings, missing out of the top five by 1.4 seconds. Banerud was back in the third place spot, while Michigan Tech University teammates Patrick Acton (Eagan, MN) and Gaspard Cuenot (Le Cerneux-Pequignot, Switzerland) rounded out the top five in fourth and fifth, respectively.
"I was able to perform well and push myself to some good results and I am excited to keep the momentum going into regionals and NCAAs." Said Ketterson.
In the women's 5k freestyle Schneider not only won the women's collegiate race, she also grabbed her first SuperTour win. Schneider is no stranger to the collegiate podium as she has been dominating the CCSA for several seasons, but now Schneider can add a new title to her name. Schneider skied to a convincing first place finish, seven seconds ahead of fellow Minnesota native Alayna Sonnesyn (Plymouth, MN) and teammate Jarzin who was third overall, just .2 seconds off of second place and second in the collegiate field. Goble was in the top ten overall grabbing seventh and was third for the collegiate women, while Nadine Matter (Engelberg, Switzerland ;NMU) and Kautzer were fourth and fifth, respectively.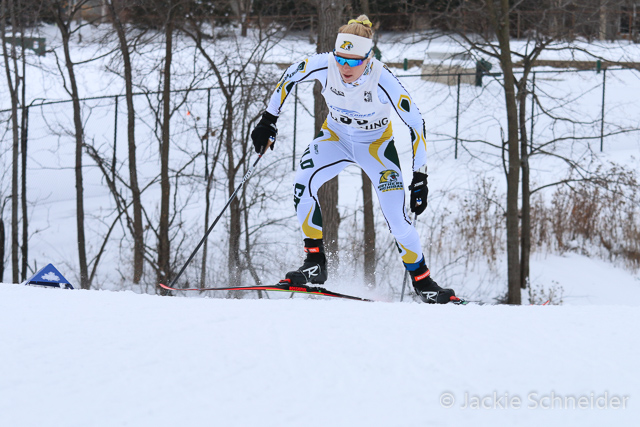 "Sunday's individual start was a shorter race but equally as difficult," commented Jarzin. "I definitely felt the 15k in my legs when I was climbing all the uphills in the 5k skate:) Overall it was a fun weekend of racing on good snow with lots of fast skiers from around the country."
Just one weekend of competition remains until the NCAA Championships, March 6 - 9, 2019 in Stowe, VT at the Trapp Family Lodge and Stowe Mountain. The final weekend of competition for the CCSA is February 23 - 24 in Houghton, MI for the NCAA Central Regional Competition.
RESULTS
---
EISA
MIDDLEBURY, Vermont (February 15 - 16, 2019) - While the CCSA athletes were battling the cold once again, the EISA skiers had warm temperatures for the 96th Middlebury Winter Carnival at the Rikert Nordic Center. Competition included a 10/15k classic mass start on Friday and a 5/10k individual freestyle on Saturday. Katharine Ogden (Landgrove, VT; Dartmouth) and Sam Wood (Harpswell, ME; Middlebury) grabbed the women's and men's classic distance wins while University of Vermont (UVM) skiers Karl Schulz (Lake Placid, N.Y.) and Evelia Sutro (Carbondale, CO) swept the men's and women's freestyle races. Minnesota native Margie Freed (Apple Valley, MN; UVM) who has had an outstanding season so far, grabbed her second podium of her collegiate career in just one month, with a second place finish in the women's 10k classic.
The weekend of competition kicked off with a 10/15k classic mass start. Freed mentioned that due to the warm conditions she was nervous about the wax situation because conditions were changing a lot. Freed skied on zeros, which was a smart decision, as the skis performed in her favor. Ogden and Freed broke away from the pack and challenged each other until the final kilometers of the race. In the final stretch, Ogden was able to slightly widen her lead to win the race by 3.5 seconds ahead of Freed, who had a nearly 27 second lead over Sutro who finished third. This was Freed's best collegiate finish, beating her third place finish in the 10k classic at the St. Lawrence Carnival in January.

"I had a lot of fun during the 10k classic because it was different than the usual length races," explained Freed. "I have been working on tactics this year which was my main focus during the race, and it paid off."
Three other Midwest natives finished in the top 25 including: Renae Anderson (Golden Valley, MN; Bowdoin College) in 12th, Ingrid Thyr (Eden Prairie, MN; Dartmouth) 23rd and Skylar Tupper (Minneapolis, MN; Colby College) 25th.
In the men's 15k, the top three men, Wood, Callan Deline (Dartmouth) and Lewis Nottonson (Middlebury) stuck together making for an exciting finish. In the final kilometers Wood and Deline were duking it out and were able to slightly break away from Nottonson. Wood was able to steal first from Deline by a toe, winning by just 2.3 seconds while Nottonson grabbed third just three seconds behind Deline. Minnesota natives Nick Gardener (Stillwater, MN; Williams College) and Sean Cork (St. Louis Park, MN; Bowdoin College) grabbed spots in the top 25 finishing 23rd and 25, respectively.
The Middlebury Winter Carnival concluded on Saturday with a 5/10k individual freestyle. Sutro, who has been no stranger to the top of the podium this season, was back at it in the women's 5k freestyle. Sutro did not let Ogden get a second podium of the weekend as she finished 4.8 seconds ahead of her, while Lydia Blanchet (Dartmouth) finished third. Freed landed another top five finish finishing fifth. Anderson had one of her best collegiate results yet, grabbing 11th, just narrowly missing the top ten by .6 seconds.
"For the skate 5k the next day, corners were icy and I was not as confident on them as I would have liked to have been," Freed commented. "To make up for this I really had to push on the uphills. It was a good weekend for other Midwestern skiers as well which is always fun to see."
In the men's 10k race, Schulz (UVM) won the race by nine seconds ahead of teammate Bill Harmeyer and Wood (MID) who finished third just 3.5 seconds ahead of Finn O'Connell (UVM), denying the UVM men of a podium sweep. Cork had another strong race and snatched a spot in the top 15, finishing 13th while Gardner finished 16th.
Just one weekend of competition remains for the EISA until the NCAA Championships. The Bates Carnival will be hosted on February 22 - 23. Competition includes a 5/10k freestyle and a 15/20k classic.
Photoset: Middlebury Carnival

Classic - 76 photos (from Linda Kerker)
Photoset: Middlebury Carnival

Freestyle - 52 photos (from Linda Kerker)
Top Picks (high res)
RESULTS
About the author...

Mary Kozloski is from Green Bay, WI and is a UW Green Bay Ski Team Alumni, where she skied and studied Communications and Business Administration for four years. Mary continues to love and stay connected to the sport through writing. She is a travel and outdoor enthusiast and enjoys exploring everything Colorado has to offer, which she has called her new home state since fall of 2016.