NCAA Championships Preview
by Mary Kozloski
March 5, 2019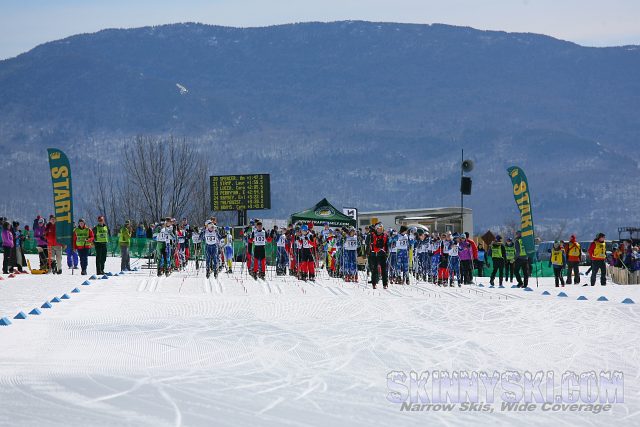 STOWE, Vermont - There will be a strong Midwest presence at the highly anticipated 2019 National Collegiate Ski Championships in Stowe, VT March 6 - 8, hosted by the University of Vermont, who has hosted NCAAs five times. Twelve Midwest athletes representing teams from each collegiate region, will put all of their hours of training and racing to the ultimate test. The athletes will compete in two races including a 5/10k freestyle and a 15/20k classic race at the Trapp Family Lodge Nordic trails. In addition to NCAAs, The Trapp Family Lodge Nordic trails have also hosted the 2014 Junior National Championships, where many of the same Midwest skiers competed as juniors. The Midwest athletes include three men: Zak Ketterson (Bloomington, MN; NMU), Ian Torchia (Rochester, MN; NMU), Patrick Acton (Eagan, MN; MTU), and nine women: Abby Jarzin (Green Bay, WI; NMU), Nicole Schneider (Plymouth, MN; NMU;), Sarah Goble (Harbor Springs, MI; MTU), Amanda Kautzer (Plymouth, MN; MTU), Sadie Peterson (Mora, MN; UWGB), Margie Freed (Apple Valley, MN; UVM), Renae Anderson (Golden Valley, MN; Bowdoin College), Michaela Keller-Miller (Plymouth, MN; UAA) and Anja Maijala (Wrenshall, MN; UAF). These athletes have had breakthrough performances throughout the season which landed them in well deserved spots for the NCAA Championships.
Athletes to watch in the 2019 NCAA Championships are Ketterson and Torcia. Ketterson was nearly undefeated in the CCSA region and also had outstanding performances at the U.S. National Championships in January. He qualified for the U23 Championship team, but ultimately declined the trip to focus on NCAAs. Torchia is the defending NCAA champ in the distance race. Torchia won the men's 20k freestyle mass start at the 2018 NCAA Championships which were hosted in Steamboat Springs, CO at Howelsen Hills. He has also had a strong season finishing well in SuperTour races early in the season and CCSA wins.
In the women's field, Jarzin, Schneider, Goble and Freed were consistently winning or in winning contention at their region collegiate races throughout the year. Jarzin is making her NCAA debut as a freshman. Jarzin has launched to the top of the CCSA results alongside teammate Schneider who had won several collegiate races along with her first SuperTour win this year. Schneider is no stranger to NCAA Championships competition, this is her third time qualifying for NCAAs for the CCSA. Goble and Freed each had their best collegiate seasons to date, consistently finishing in the top three to five, Goble also won a few of the CCSA races.
All 2019 NCAA Skiing Championship Athletes
HOST
VENUE
STREAMING
SCHEDULE
Wednesday, March 6
10:00 a.m. Men's 10k Freestyle individual

12:00 p.m. Women's 5k Freestyle individual
Friday, March 8
10:00 a.m. Women's 15k Classic mass start

12:00 p.m. Men's 20k Classic mass start
(Times are subject to change)
TIMING/RESULTS
WEATHER
About the author...

Mary Kozloski is from Green Bay, WI and is a UW Green Bay Ski Team Alumni, where she skied and studied Communications and Business Administration for four years. Mary continues to love and stay connected to the sport through writing. She is a travel and outdoor enthusiast and enjoys exploring everything Colorado has to offer, which she has called her new home state since fall of 2016.